7 Social Selling Best Practices To Be A Good Seller Online
Last updated 14 Dec 2020

.

1 min read
As a SHECO entrepreneur, social selling is one skill you absolutely need to learn if you want to make money from your cell phone.
In this article, you'll learn 7 social selling best practices to help you learn how to be a great seller and sell more SHECO products.
1. Build relationships
Many sellers approach sales like a one-night stand. They're more focused on getting the sale than on building a relationship with the customer.
As a customer, this is off-putting because no one likes to be sold to and no customer likes feeling that they are just being used to make a sale.
People buy from those they Know, Like and Trust, so the key to selling more products and services is to reach out to people who Know, Like and Trust (KLT) you.
You can boost your KLT factor by nurturing your leads, building a great relationship with them, and improving your customer relationship skills.
2. Cultivate trust and rapport
Rapport is defined as a "close and harmonious relationship in which the people or groups concerned understand each other's feelings or ideas and communicate well."
Building trust and rapport are not easy today as there are so many sellers selling the same products online. But it's the only way you will get your customers to choose you over other sellers.
The way to build trust and rapport is to LISTEN to your customers first. Show empathy and ask questions. Don't just start bombarding new contacts with messages asking them to order from you.
As the famous Theodore Roosevelt quote goes, "People don't care how much you know until they know how much you care." Ask yourself, what does this person really need and why would they choose me as a seller over others?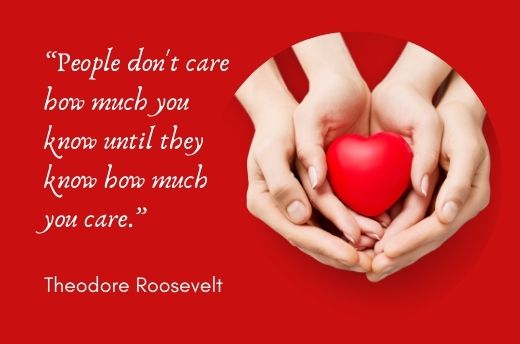 Ask your customers whether there's anything they need help with, even if it has nothing to do with your products. Is there something they have been looking for that they are unable to find?
Reach out, be genuine and friendly. The reason people prefer to take recommendations from friends is that they know that their friends truly care about them.
If you can show your potential customers that you're someone who cares more about their needs than your short-term profits, they will trust you over other sellers and prefer to order from you.
3. Stay in touch regularly
The key to building relationships with anyone is to stay in touch regularly. One of the best ways to keep in touch is to build your own community, like a WhatsApp group or an invite-only community on SHEROES.
Keeping in touch doesn't mean you should keep sending Good Morning and Good Night messages on WhatsApp (most people hate them!). Instead send something useful, such as a review, a testimonial, or a YouTube video highlighting the benefits of a product.
4. Create your own content
SHECO sellers get access to beautiful images and videos for their promotions. But if you want to stand out and be noticed, don't just post the same things that everyone else is posting.
Be unique and add your own personality to your content. Add your own intro and outro to a SHECO video or use the product images in creative ways.
Download a free design app like Canva and design attractive and unique creatives for Instagram, social selling on Facebook, and selling products on Pinterest.
One best practice for a good social selling strategy is to create a content calendar with ideas for different posts on different days so you can keep your followers engaged and interested.
One excellent social media sales strategy that works to boost sales is to send out gift ideas and gift guides for all the important gifting days, such as Valentine's Day, Diwali, Christmas, Mother's & Father's Day, Teacher's Day and more.
5. Use value-based social selling
According to Hubspot, value-based social selling is an approach that focuses on benefitting the customer throughout the sales process.
It means providing value to the customer so the sales decision is made based on the potential value the product can provide.
Here's how you can implement this concept in selling SHECO products. If you have a passion or a hobby, start creating useful content around it.
For instance, if you're passionate about using only natural and organic skincare products, you could start sharing content on the dangers of harmful chemicals and the benefits of using natural products.
This way, you're adding value by sharing useful information and making your followers aware of why they should choose your natural products over others.
Value-based social selling or pre-selling is a great way to start building your sales funnel on social media because it will attract the people who are interested in your products for the right reasons.
You could start a YouTube or Instagram channel or a free blog/newsletter on Substack.com and build your following by posting regular content around your passions and hobbies.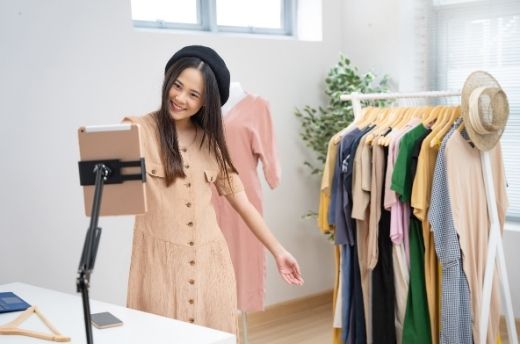 6. Learn the best social selling strategies
If you're planning on using social media for sales, you must stay up to date with the latest social media trends. Social media networks make changes almost every day and are always adding new features.
In 2021, with a Facebook business page, you can sell on the marketplace or create shops on Facebook and Instagram and promote your products using new creative formats such as Instagram Reels and Stories, while selling through Pinterest requires a different approach.
Keep reading our latest social media selling tips for SHECO entrepreneurs, like the ones below, to stay updated on the changes on social media networks:
· Social Selling - Part 1: How To Sell On Pinterest
· Social Selling – Part 2: How To Sell On Facebook
· Social Selling – Part 3: How To Sell On WhatsApp
· Social Selling – Part 4: Instagram Marketing In 2021
Don't forget to attend all the SHECO product training conducted by product experts and direct sales coaches so you can benefit from one-on-one sales coaching in the retail sales coaching sessions of the SHECO Academy.
These exclusive sales training and coaching sessions will help you understand how to sell SHECO products and the best products to sell on social media. You'll also learn effective sales coaching tactics and sales coaching techniques to boost your social media sales.
Read the stories of successful SHECO sellers, like Amita Chauhan and Pranavi Gupta, to learn how to be a good online seller.
Follow the Indian social selling experts on YouTube to learn about the latest social media news and social selling processes so you can boost your sales through social media.
7. Always follow up after a sale
So now you've made a few social sales and are enjoying being a successful SHECO seller. Now it's time to improve your social selling score by following-up with your brand new customers.
When you follow-up with customers after a sale, thank them for choosing to buy from you, ask them for feedback on the sales process and the products, and if there's something you can do better.
Also, ask if they can send you a review on video or any other way they prefer and if you can share their review on your social channels. Genuine customer reviews are one of the best tools for selling products on social media.
I hope this article on how to be a good seller online has given you some insights into the art of social selling via social media networks.
Whether you're using social media for sales prospecting or using social media to sell products, these tips will help you become a successful SHECO entrepreneur.
---

Priya Florence Shah
---
---
Similar Articles You love