Secrets Of Successful SHECO Entrepreneurs: Amita Chauhan
Last updated 1 Oct 2020

.

1 min read
In this series, we'll be featuring our successful SHECO Partners and the secrets of their success. No idea what SHECO is? Keep reading…
SHECO is the social commerce program started by SHEROES to connects brands with women entrepreneurs, leveraging the SHEROES platform as a distribution channel for their products and services.
SHECO Partners resell products from brands like Sugar Cosmetics, BeatO, Toppr, MedCords, Keto India, Emoha Elder Care Subscription and more, on the SHEROES platform or anywhere on the internet.
These are high-margin brands, so being a SHECO Partner is a huge advantage, even if you're a reseller with other apps and programs.
Our successful SHECO Partner, Amita Chauhan, is no stranger to us at SHECO. She was the SHECO Partner of the month for August 2020 and is one of our most successful SHECO entrepreneurs.
Her can-do mindset has amazed us time and again. Here are her secrets of success in her own words.
About Me:
Myself, AMITA CHAUHAN, from Kolkata, a customised fashion designer , Sheprenuer, Food Stylist, Blogger, Freelancer, Poetry and Content Writer, Artist, Online Tutor and a Homemaker. Being creative is my hobby, which reflects in my cooking, designing, writing etc.
I love Travelling and learning new things. I want to be an Established Entrepreneur being a designer label and have my Customised Boutique. My favourite thing is my Everlasting Smile, Seeing Happy Clients in Saadgi Collections and, of course, Chocolates and Ice-cream 💖
What I love about SHECO:
Great Experience and I am proud to be a SHECO Entrepreneur. SHECO Entrepreneur is an everyday learning process with new tricks and tips about products and improvising our work process.
My secrets of success:
My goal is to be successful and create my identity as an established SHECO entrepreneur.
The products I tried to sell were
Beato, Ivillage Mask, Keto, Sprightly, Navvayd, Toppr, Clever Harvey, Emoha, Aayu, Positively Perfect, Home Decor, Bedsheets and Clothing.
I was successful in selling Beato, Ivillage Mask, Navvayd, Sprightly, and working on some closure deals of Keto, Positively Perfect.....
My selling tactics in my successful campaigns involved sharing videos with detailings in my voice, impressive pictures and some product related stories.
My Clients loved my videos and were happy to get all information about the product and happy with my services and collection ... Looking forward to sharing more Creativity with my clients.
My next BIG goal:
I'm looking forward to making a Hat-trick with SHECO Partner Of The Month.
My advice to SHECO Partners:
Be Creative , Be Consistent, Keep Sharing and have Patience…
Great advice, Amita! Keep going and we're sure you'll reach that Hat-trick!
The SHECO Partner program is one of the ways that SHEROES helps women earn money without investment from the comfort of their homes.
Even if you've never had a business before, you can learn how to resell products and subscriptions with our free training in the SHECO Academy.
So if you like the idea of earning money with your cell phone in your spare time, click here to sign up as a SHECO Partner. 👈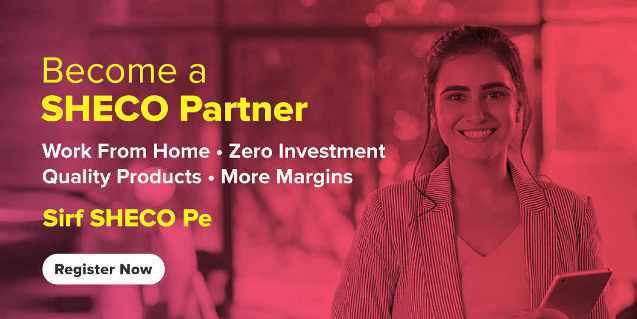 ---

Shiny Hoque
---
---
Similar Articles You love