Social Selling – Part 2: How To Sell On Facebook in 2020
Last updated 9 Feb 2021

.

1 min read
In the second part of our series of articles on social selling, we provide tips on how to sell on Facebook in 2020 as a SHECO Partner.
Despite how much we love to hate Facebook, it is still one of the biggest social networks online and an important way of reaching out to your customers, especially in the business to consumer (B2C) segment.
Even though younger people are spending more time on platforms like Instagram, more people over 55 are joining Facebook every day and during the second quarter of 2020, Facebook reported almost 1.79 billion daily active users (DAU).
The average user spends 38 minutes a day on Facebook and by 2023, the number of Facebook users in India is expected to reach 444.2 million, up from 281 million in 2018.
Learning how to sell on Facebook can help you generate your first sales or increase your business reach without spending any money. Here are the fastest ways to start promoting your SHECO business free on Facebook.
Even though it's free, we don't recommend starting a Facebook Page in 2020, because organic posts from Facebook pages reach just 5.5% of Page followers.
On the other hand, Facebook Groups are rocking and Facebook Group posts still get a lot of organic visibility in the newsfeed.
So, what are the differences between Facebook Pages and Facebook Groups? Basically, Pages are for Brands and Groups are for Communities.
While Pages are used to showcase a brand's products and services, Groups are used to build a community of people around a common interest.
Join Facebook Groups For Sellers
There are millions of people in Facebook Buy & Sell Groups. The fastest way to start selling on Facebook is to join a number of Facebook Groups where your target audience can be found.
Make use of the Discover feature to find the right groups to promote your message. You can join groups based on city, gender, or interest and share useful and original video content based around the SHECO product or subscription you are selling.
Facebook will also show you recommendations for Groups you can join based on your friends, location, and interests. So, how can you sell SHECO products in Facebook Groups?
The best content to use in your Facebook posts is square video content as the average engagement rate is 6.13% for Facebook video posts (as compared to an average engagement rate of just 3.6% overall).
How To Create Engaging Facebook Videos
Facebook's News Feed now favours video content that people seek out and return to regularly and that inspire interaction and conversation among people watching that content.
Live video is also being favoured and gets more engagement. Follow the tips below to create and share engaging Facebook videos.
Don't start the video with a long introduction of yourself and your resume. Your audience doesn't have the attention span to watch that, nor are they interested in you personally.
All they want to know is what you can do for them, so start your Facebook video with a burning question that they want the answer to.
For instance, an introduction to a video that sells the Emoha subscription could start with the question, "Do you worry about your aged parents when you're away from them?" Continue by answering your own question and explaining the benefits of the product in the rest of the video.
ALWAYS have a Call-To-Action (CTA) at the end of the video, where you ask them to post a comment below the video if they are interested, or message you privately on Facebook Messenger.
Make sure you're well-dressed, presentable, and have a little makeup, but don't be overly formal in your videos. Speak as if you're talking with a friend.
Make your video no more than 2 to 5 minutes in length, as social media users don't have the patience or attention span to watch long, promotional videos. Square videos work best on Facebook and Instagram.
Also read:
Some more things you can include in your videos:
Positive customer testimonials for the product
Cute emojis and animations to keep your customers interested (you can use an app for this)
Add captions and text overlay as many people watch videos with the sound off
A watermark to prevent other people from copying your videos and using them
How To Sell On Facebook Marketplace
Facebook Marketplace is a good option for SHECO Partners who want to start selling to people in their local area without a shopping cart or fees.
However, it is not yet available in all cities in India. You can check to see if your city is listed in the Facebook Marketplace Directory.
When you sell an item on Marketplace, you create a public listing that can be seen by anyone on and off Facebook. This includes people on Marketplace, News Feed, Facebook search, Facebook groups, search engines and other places on or off Facebook.
You can also choose to post your listings to any Buy and Sell Groups you're a member of. Once you post your items, Facebook members in your city will get in touch if they want to make a purchase.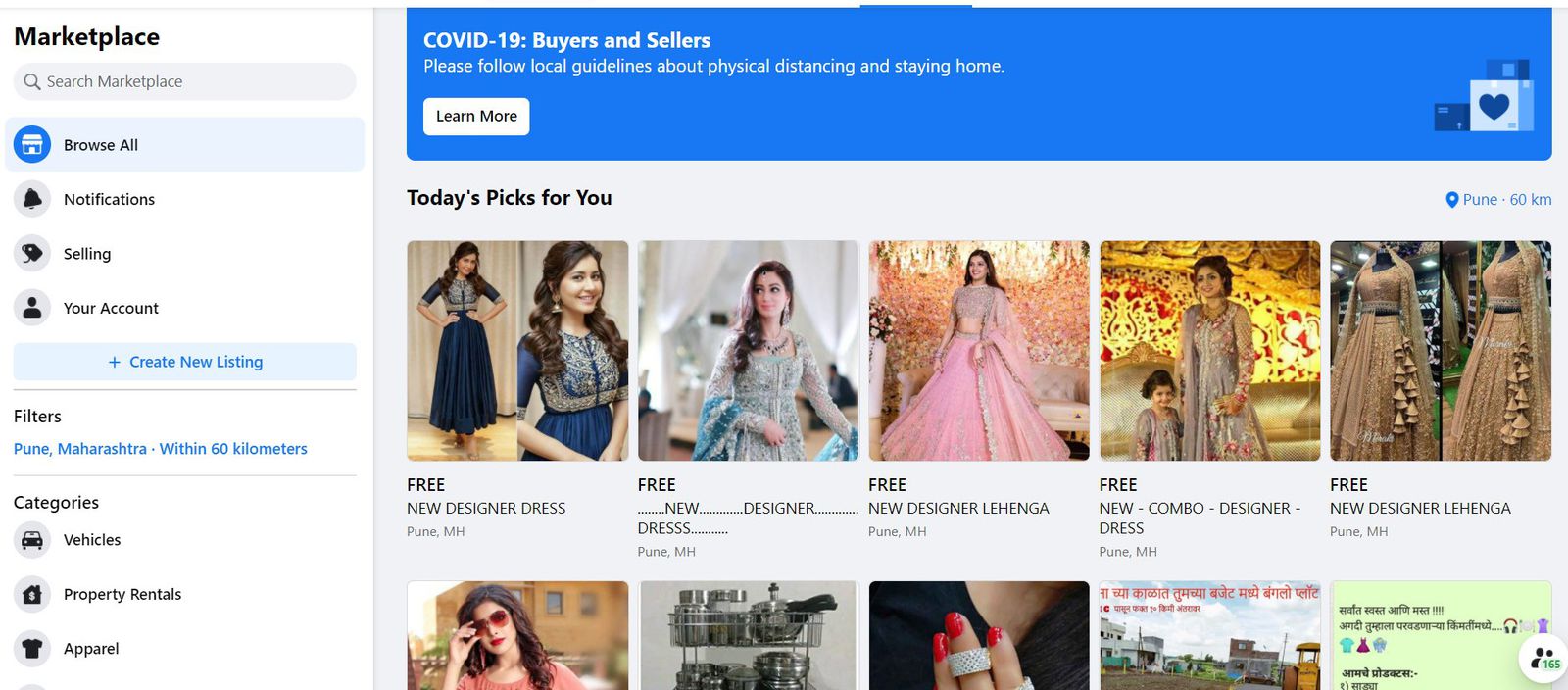 One of the biggest benefits of selling on Facebook Marketplace is that sellers don't have to pay to list products as they do not charge sellers fees to create listings for inventory that they want to sell to buyers.
If you're interested in selling on Marketplace as a frequent seller, the best way to get started is to create your first listing. Here are the steps you'll need to follow:
Step 1: Navigate to Marketplace
Step 2: Click + Sell Something, then click Item for Sale.
Step 3: Add photos and information about what you'd like to sell.
Step 4: Click Post.
Alternatively, you can also create a listing from within a Buy and Sell Group. Categorizing your item properly will help ensure people can more easily find it. Click here for more information on how to sell on Facebook Marketplace.
Focus your Facebook marketing efforts on posting in Facebook Buy & Sell Groups and promoting products in the Facebook Marketplace and don't forget to post on your own Facebook profile as well.
Guidelines For Safe Transactions On Facebook
NEVER share your personal phone number in a public Facebook image or video as people may misuse it and harass you. Ask customers to connect with you via Facebook Messenger instead. Once you have confirmed your customer's identity, you can share your number with them privately.
NEVER share your personal financial information (Aadhar number, PAN number, Bank logins etc.) with customers, as they can easily be misused. It is best to use PayTM, Google Pay, or any other safe payment methods to accept payment online.
I hope these tips help you get started with selling on Facebook in 2020. If you're not yet a SHECO Partner, click here to join and start earning from your cell phone.
Also Read:
---

Priya Florence Shah
---
---
Similar Articles You love