Secrets Of Successful SHECO Entrepreneurs: Pranavi Gupta
Last updated 10 Sep 2020

.

1 min read
In this series, we'll be featuring our successful SHECO Partners and the secrets of their success. No idea what SHECO is? Keep reading…
SHECO is the social commerce program started by SHEROES to connects brands with women entrepreneurs, leveraging the SHEROES platform as a distribution channel for their products and services.
SHECO Partners resell products from brands like Sugar Cosmetics, BeatO, Toppr, MedCords, Keto India, Emoha Elder Care Subscription and more, on the SHEROES platform or anywhere on the internet.
These are high-margin brands, so being a SHECO Partner is a huge advantage, even if you're a reseller with other apps and programs.
But, back to our successful SHECO Partner, Pranavi Gupta, and her secrets of success. Here they are in her own words.
About Me:
I am a very fun-loving person. I love to read, write, dance, motivate, such that I create positivity in my surroundings.
Also Read: Know, Like and Trust (KLT) - The Key To Creating Happy Customers
I'm an HR professional at Apptad technologies, as well as a SHECO Partner. I enjoy my work and am passionate about traveling the world.
What I love about SHECO:
My experience with SHECO is really great, as the guidance and support we get at each step motivate me to learn so much and perform better, and this is enhancing my personal knowledge as not a single day is wasted without learning something.
My secrets of success:
I've learned that consistency is Key, a not-giving-up attitude and hard work pays off always. I want to be a successful entrepreneur and get recognition as well as earn well for myself and be independent financially.
I tried selling almost all SHECO products and pitched all to different people according to the needs I felt they might have, whether it was a service or a product.
Also Read: 6 Steps To Nurture Leads And Get More Sales
My successful sales were for Sugar Cosmetics, fREADom, Positively Perfect, Synercent Crafts, Mulmul Saree, Medcords, Aayu.
I was honest to customers and first interacted and tried to understand what they need and pitched them accordingly. I highlighted why they should buy that product, so they happily purchased it.
All the feedback was superb and the customers were extremely happy. They appreciated the products and services.
I'm going to share one feedback every week and then I'll compile all and make a feedback video so that it will impact new people and the existing customers will feel good too.
My advice to SHECO Partners:
My advice to SHECO Partners is to be consistent. Never lose hope. Never give up. Sooner or later, your hard work will bear fruit.
My next BIG goal:
My next big goal is reaching to more customers and to make Rs 20 thousand per month by selling online SHECO products and also add more amount to my bank balance.
Also Read: 10 Secrets Of Successful SHECO Entrepreneurs
Wow, Pranavi, go for it! That's a goal worth accomplishing, we say! 🙌
As you can see from Pranavi's story, even if you've never had a business before, you can learn how to resell products and subscriptions with our free training in the SHECO Academy.
The SHECO Partner program is one of the ways that SHEROES helps women earn money without investment from the comfort of their homes.
So if you like the idea of earning money with your cell phone in your spare time, click here to sign up as a SHECO Partner. 👈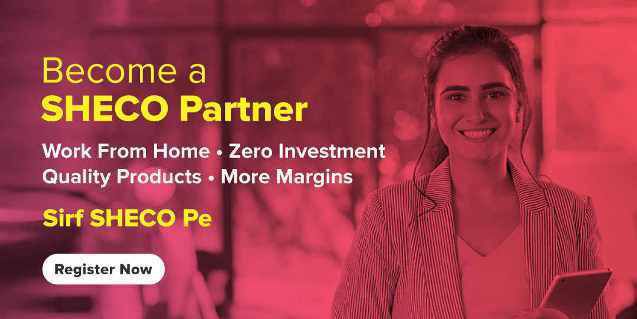 ---

Shiny Hoque
---
---
Similar Articles You love