10 Most Successful Women Entrepreneurs In India & Their Journey
Last updated 3 Jan 2020

.

1 min read
India is and had always been a hot favourite destination for trade and business. With favourable climate, affordable amenities and a huge amount of manpower, India has become a hub for growing commerce day by day. And while it is prospering from the business front, our Indian women have left no stone unturned to make the most out of it.
With minimum to no support women in business have proved that leading a company all by themselves is not beyond their ken.
In a country like India where some of the Indian women are much neglected, there are some who have soared higher. Thanks to these powerful ladies, that they have faced struggles, challenges and made their way to the top list of entrepreneurs in India. This has not only helped the society economically but also has done a lot in terms of exposing the potential that a woman holds.
Let us see the 11 Successful Women Entrepreneurs In India, who have proved that a woman can rule any world if she determines to.
#1. Vandana Luthra – Founder of VLCC
" I am not VLCC, I am a part of the 6000 professionals who run it."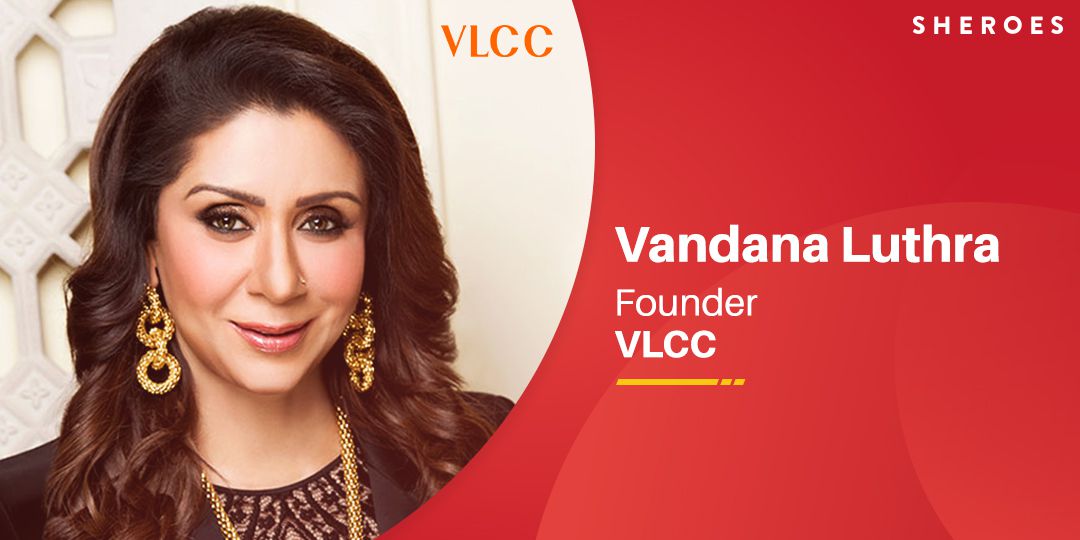 Age: 49
Education: Polytechnic for Women in New Delhi
Prior Work Experience: homemaker
Who doesn't know VLCC?
It is a beauty and wellness giant and has its presence in 11 countries across Asia, Africa and the GCC (Gulf Cooperation Council). It is widely recognized for its weight loss solutions and therapeutic approach to beauty treatments. One stop-solution for every beauty related query, VLCC has a staff strength of over 4,000 professionals, including medical doctors, nutritionists, physiotherapists and cosmetologists, and having served over five million consumers (including repeat consumers).
The founder, Mrs. Vandana Luthra, is awarded the Padma Shri in 2013 for her contribution and is listed as the 33rd most powerful woman in business in India by Fortune India, in 2015. Along with these accolades, she was also appointed as the Chairperson of the Beauty & Wellness Sector Skill Council by the Indian government. Furthermore, she is a General Body Member of the New Delhi-based Morarji Desai National Institute of Yoga. The Steering Committee and the Sub-Committee formed by India's Ministry of Skill Development & Entrepreneurship on the Pradhan Mantri Kaushal Vikas Yojana also has her as an active member.
But nothing happens in one day. Vandana and VLCC didn't happen overnight. A homemaker initially, Vandana started her journey in 1989 when the first of her two daughters was only 3 years-old and today a grandmother to three kids, Vandana still lives her dream.
Remembering her days of struggle she says, "When I started, there were hardly any women entrepreneurs in India. It was a male-dominated environment. I had to face a lot of criticism, a lot of people tried to ensure that I did not succeed and grow. The only thing I believed in was that my concept was unique, unusual and it was being introduced in India for the first time.
It took me a good five to six years to convince the medical fraternity to understand that wellness was a larger domain and it required the collaboration of beauty, health and fitness experts; in other words a cosmetologist, a nutritionist, and a doctor. Eventually, I did manage to convince them".
#2. Suchi Mukherjee – Founder & CEO of Limeroad
"You need to start off with basics and device a plan to deal with teething issues."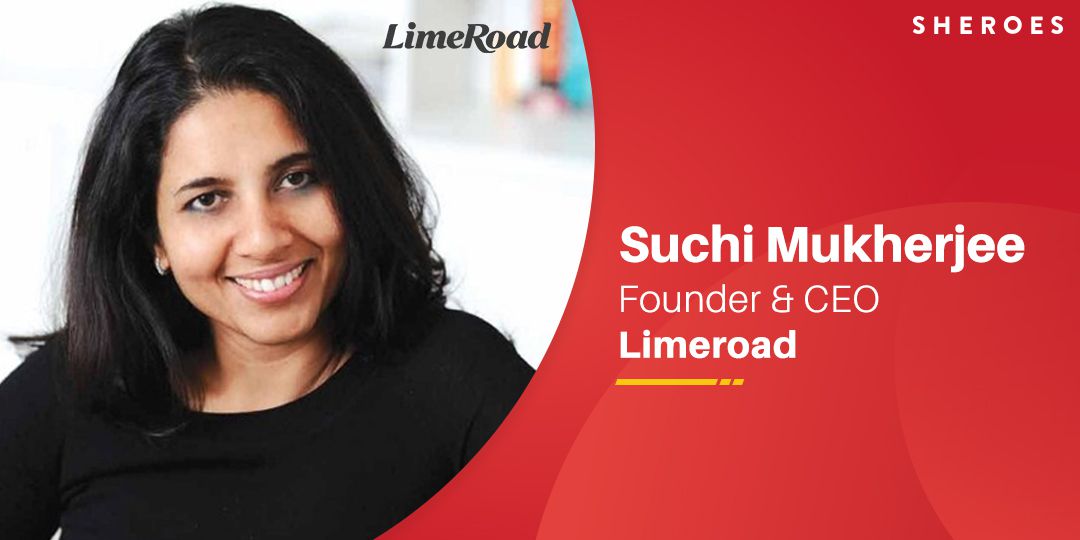 Age: 45
Education: Economics and Finance from London School of Economics
Prior Work Experience: Lehman Brothers Inc, VirginMedia, eBay, Skype, Gumtree
Suchi, a woman of substance, always envisioned of building and growing businesses that are focused on simple yet in-demand consumer products. It is said, that the idea of Limeroad came to her, while she was on her Maternity leave.
She embarked on the journey of making Limeroad, in 2012 along with Manish Saksena, Ankush Mehra, and Prashant Malik. The company has now raised a funding of $20 Million from Lightspeed venture partners, Matrix Partners and Tiger Global. Limeroad has a strong team of 200+ IIT-techies to NIFT-design geeks. It has 1.5 million scrapbooks posted by users so far, and 100,000 scrapbooks made per day. Their Gross Merchandise Value (GMV) has also grown by a massive 600% since their launch.
If you want to earn money online, read our Hindi article on it. Click Here!!
Nevertheless, Suchi and her associates had to face numerous challenges like, finding the right people to build a solid team which has a combination of skill and can-do attitude, getting the right kind of infrastructure. Amongst the N-number of hurdles like complex bank processes, net gateways for the payment methods and refunds, delivering unique products at an economical price, the most troublesome part for Suchi and her team was to partner with vendors to ensure a sustained stream of products. The existing eco-system for the professionally trained vendors is a daunting task to date. But as she was determined to achieve what she had dreamt of, nothing could hold her back.
#3. Richa Kar – Co-founder of Zivame
"If you are strong, focused and passionate about what you want to do, everything falls into place."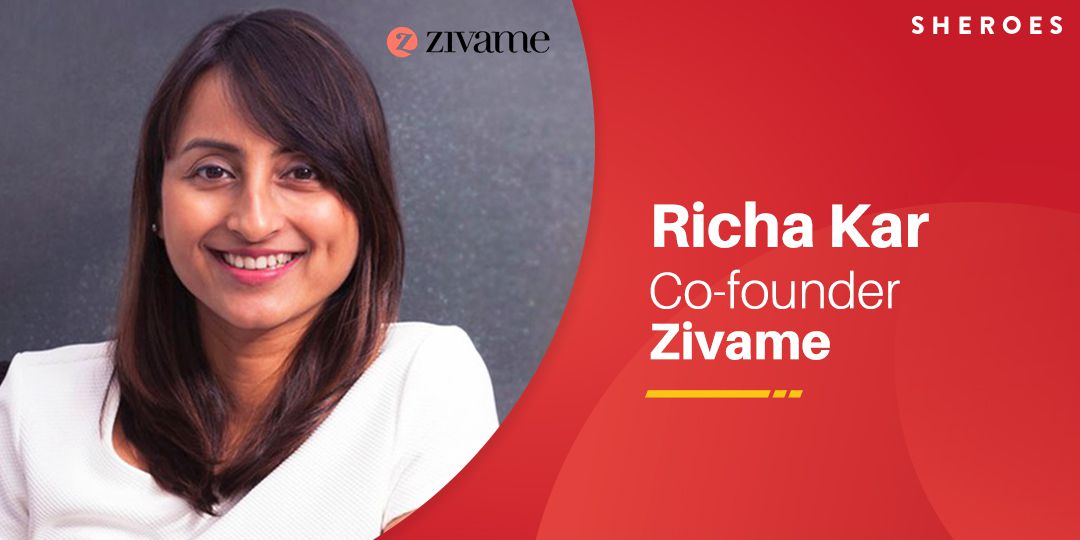 Age: 30
Education: Narsee Monjee Institute of Management Studies
Prior Work Experience: SAP, Spencer's Retail Ltd.
Richa is the proud founder of online lingerie store Zivame, which is derived from a Hebrew word 'Ziva' which means radiance and Zivame stands for a 'radiant me'. She has practically changed the way women used to think and buy their inner wears. Zivame has been successful in educating Indian women across the country about intimate wear.
Richa, who bravely removed the shyness from lingerie and added a fashion element to it, grew up in Jamshedpur and completed her engineering from BITS Pilani. She worked briefly in the IT industry and later acquired Masters' degree from Narsee Monjee Institute of Management Studies in 2007. After that, she worked with a retailer and global technology company.
So what made her come across this unique idea of selling female inner wears, online, that too in a conservative country like India. When asked, she says, "It was around March when I realized that there is a high surge in orders during Valentine's Day sales period. Almost a quarter of the lingerie maker's sales were generated online".
Once the idea struck her, there was no looking back. With an initial investment of rupees 30 Lakhs, from friends and family, Zivame.com went online. She did face a lot of apprehension and discomfort while explaining her business idea to her family and others. But she was firm to rise above all, which she certainly did.
#4. Falguni Nayar - Founder & CEO of Nykaa
"I am building Nykaa to have a life of its own."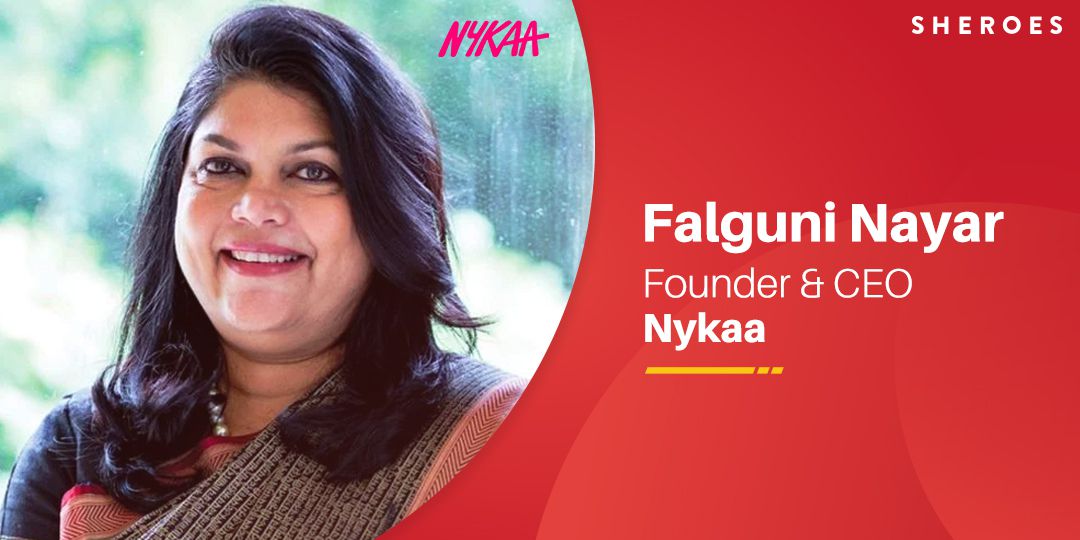 Age: 50
Education: IIM A
Prior Work Experience: Temasek, Kotak.
Think of a woman who is an IIM-A alumnus, a former MD Of Kotak Mahindra Capital Company, mother of two and a fifty-year-old. Now place yourself in her shoe, would you like to launch a dynamic e-commerce business or lead a complacent life ahead?
Some women won't, just like, Falguni didn't. As it is rightly said, it is never too late, Falguni quit the job at Kotak where everything was going absolutely right, to become the successful beauty entrepreneur.
Today, Nayaka sells more than 35,000 products from 650 brands, both international and Indian, luxury and mass, and is constantly adding new labels to its stock. According to the news, ' TVS Capital invested about Rs.25 crore and they have also got Rs.60-crore Series C fundraising is a clutch of investors, including high net-worth individuals, non-resident Indians (NRIs) and family offices.' Also, it receives 15,000 orders a day, mostly from consumers between the ages of 22 and 35.
#5. Vani Kola - Founder & Managing Director of Kalaari Capital
"Having a great work culture is not an option – it is a necessity"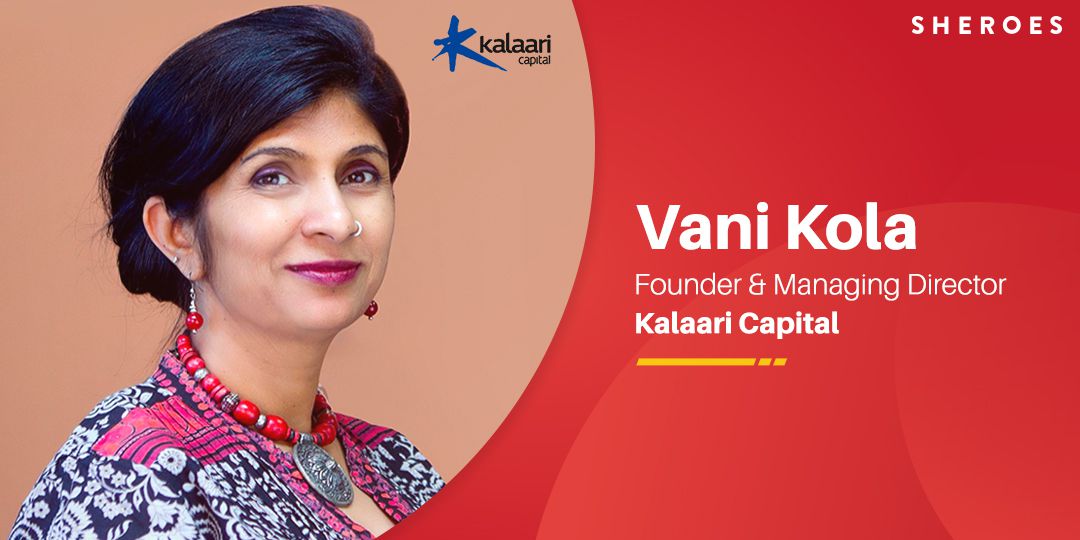 Age: 51
Education: Arizona State University
Prior Work Experience: Certus Software, Rightworks
I bet, many of you probably might not know this lady very well. Vani Kola is the one who has a solid reputation for picking the best young minds and mentoring them to build successful enterprises. Ever wondered where did the investment for the startups like Snapdeal, Myntra, VIA, Apps Daily, Urban Ladder, Zivame, Power2SME, and Bluestone, come from?
Well, she is called the " The Mother of Venture Capitalism in India". According to her own websites, below are the 5 things to know about her,
It took her 2 months to decide to move back to India even after spending 22 years in the US.
Her daughters are her inspiration.
Being in a profession of high intensity, she needs to maintain her stance and she does so by meditating.
While many are appearing for their SSC at the age of 16, she enrolled for the engineering degree.
Only studies were never her goal, she has climbed Mt. Kilimanjaro and also completed multiple marathons.
This wonder woman is profiled in numerous books and has been identified as one of the Fortune Most Powerful Women in Business. She has been a successful entrepreneur in Silicon Valley for 22 years and now works with first-time entrepreneurs to build strong global companies. She focuses on technology companies, leveraging India's domestic growth to create high growth enterprises.
The name Kalaari capital is sourced from Kalaripayattu, which is a form of martial arts which was originated in Kerala. This form is known for its power, artistry, creativity, collaboration, focus and rapid, soaring movements. With a total of 55 investments and around 2,000 proposals a year, Kalaari Capital has become India's leading investor in early-stage businesses. It not only invests but also takes care of the entrepreneurs under them throughout every aspect of growth and leads them to success.
Not fearing the failures, stereotypes and marching towards the success, Vani says, "The cliché is true; Silicon Valley is a vibrant place full of ideas and possibilities. When I started my own company (Right Works Corp), I was willing to accept failure."
#6. Pranshu Patni - Co-founder of Culture Alley (Hello English)
"Women need to very show the investors that they're committed to their plan and need to let the merchandise represent itself"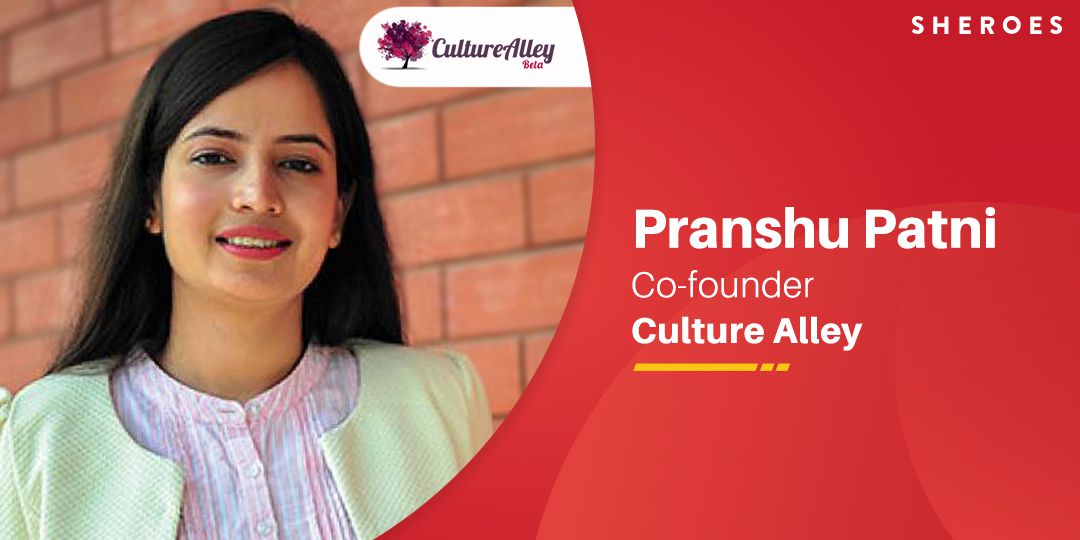 Age: 26
Education: Narsee Monjee Institute of Management Studies
Prior Work Experience: Wipro
The startup launched its English language learning application in October 2014. In eight months the English app has seen 3 million installs on Android from India. They have recently raised $6 million from Tiger Global and Kae Capital.
Learning an alien language is not an easy but an indispensable task, at least when it is the need of an hour. This is what Pranshu realized, when her husband, had been to China for an exchange program. Since he was a vegetarian, it was a mandate for him to learn basic Mandarin, in order to explain the locals about his eating preferences.
This idea got her thinking and analyzing to the extent, where she decided to leave her job and focus on her entrepreneur dream, founding (CultureAlley is the parent company) Hello English. Pranshu and her team since then did an extensive research on the idea and initially thought of creating an app that could help people learn different foreign languages. But something changed her mind.
Read: 21 Women Share How They Overcome Entrepreneurial Challenges - Part 1
Digging out the numbers she says, "One billion people from all over the world try to learn a foreign language every year; about 60 percent are learning English". Hence, they developed a free app that could help native Indian speakers learn English in the most effective way possible. The team employed language experts from Oxford University for help with the app as well as local experts who specialized in each of the languages supported by Hello English. As a result, the app was developed from the user's perspective. With 475 interactive lessons and games associated with reading, writing, speaking, and listening, it also has a bilingual dictionary, available in 22 languages.
Pranshu and her idea have bagged a couple of badges to prove her excellence. Most prominent ones are
2015: Listed as Forbes India's 30, under 30 achievers for creating an app that is one of the top 10 educational apps in the world
2014: Received the Most Innovative Mobile App for India Award from the Internet and Mobile Association of India
2016: Received the Most Innovative Mobile App for India award from the Internet and Mobile Association of India (IAMAI).
2016: Best Apps of 2016 in 'Made in India' category by Google Play Store
2017: Number #3 Educational app on Google Play Store in India.
Here is some money earning the best apps information in Hindi. Click Here!!
#7. Shradha Sharma - Founder & CEO of YourStory
"When you know you have to fend for yourself every inch of the way, it gives you a different kind of grit and tenacity"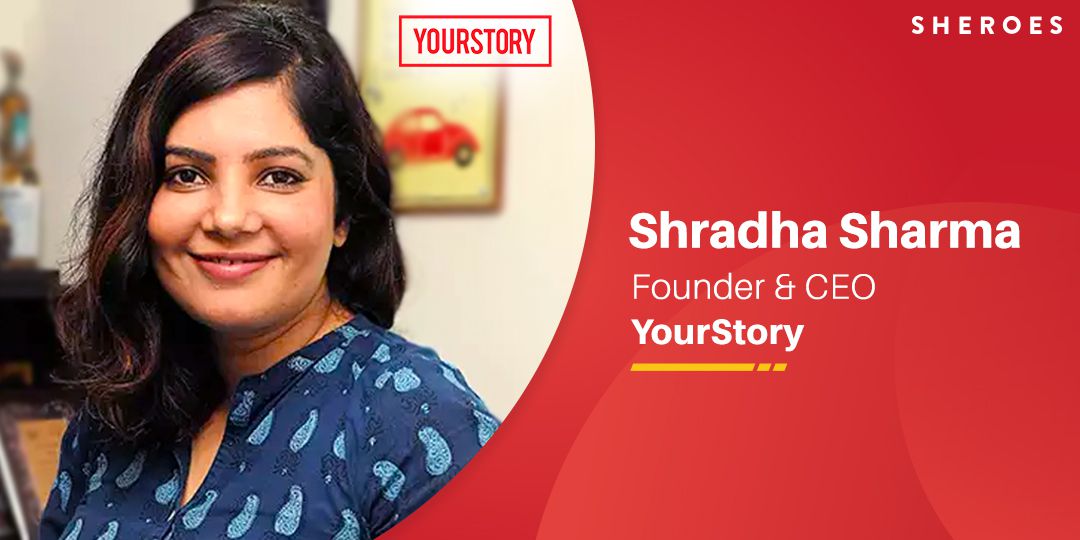 Age: 30
Education: MICA
Prior Work Experience: CNBC TV18, The Times Of India
How well do you handle negativity?
How well have you faced the adversities in your life?
These reflections are what has made Shradha Sharma, the successful lady she is today. With a unique idea of enterprising the storytelling concept, Shradha has mastered the art like no one else. In her interview, she emphasizes on the below three points,
1. Most of our defining moments in our lives are shaped by adversities we face and overcome. They will continue to shape who we are. Let's embrace adversity.
2. I have a story. You have a story. Everyone has a story. Be bold and share your story. If you are not happy with your current story, go ahead and change what you need to change to make a better story.
3. Let's start listening and learning from stories of others, people who have faced and overcome adversities. They will help us think better and in turn, shape our own stories in a powerful way. We have 15,146 plus stories right on our website if you are looking for a starting point. Let's Start, it."
A girl from the city of Patna, who was raised in a broken and dysfunctional family, having a minimum support system, is today marshaling the stories coming across from an utterly diverse background.
#8. Upasana Taku - Co-founder of Mobikwik
"Kick up a storm or die trying"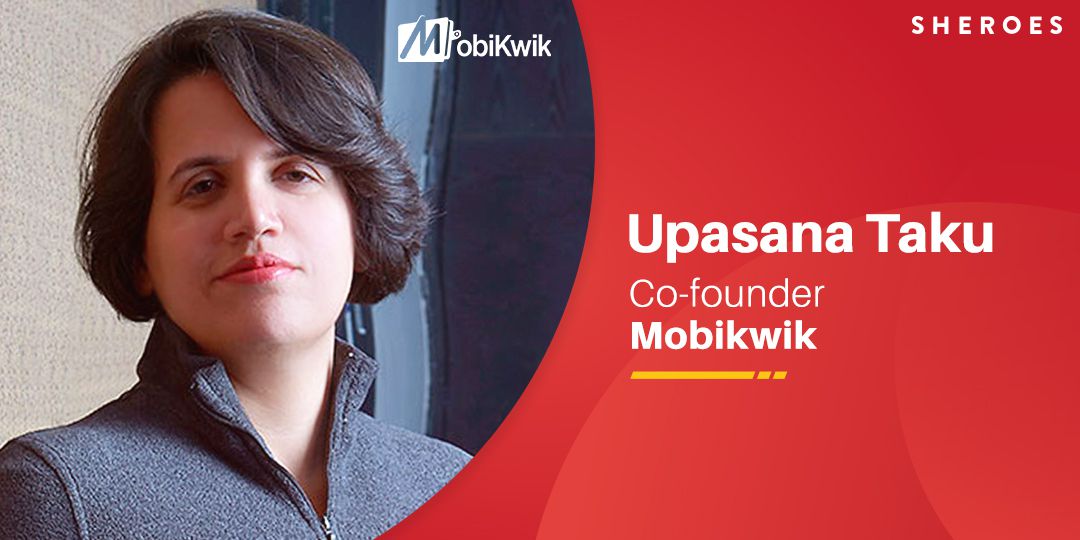 Education: Stanford University
Prior Work Experience: Paypal, Zaakpay, 2020 Social
Kashmiri by blood and having Gujarat as alma mater, Upasana has relentlessly fought her way to the top. She worked on her marriage day, she shared home-cooked meals with the team of 5, gave up the luxurious lifestyle, patiently ignored to the gender bias and faced multiple challenges only to give back to her homeland. Of course, she had the entrepreneur calling from within her but also wanted it to be in the best interest of others too.
She left a promising career in the silicon valley, only to give financial access for the underserved, in her country. There was no looking back until she founded MobiKwik along with her husband in 2009.
Speaking about her company, she says, "MobiKwik was very simple and need-based. We launched MobiKwik as a recharge platform and, soon, it became the mobile wallet of every Indian. I take pride in saying that MobiKwik was the first mobile wallet of India. We are quite a bit dependant on the trivial amount for either change or paying for mobile recharges. With the invention of MobiKwik, one can easily do these payments without worrying about the actual cash. Your phone hence acts like your wallet."
Further speaking about her journey she says "Tenacity is key. When you start something new, the ecosystem doesn't accept you easily, people say no. It took us 10 months to get the first bank on board for wallet loading, while the second one happened in 15 days. It took us 3-4 months to get our first few top merchants in 2014. Within 3-4 months we closed eBay, Domino's and other large merchants. All because I held on tight."
#9. Shahnaz Hussian – CEO of Shahnaz Herbals
" You don't have to be born as beautiful, you have to acquire it."

"I believe that one should never stop trying because that way, you cannot fail. I believe that nothing is impossible. You can be what you will yourself to be. You can make your own destiny."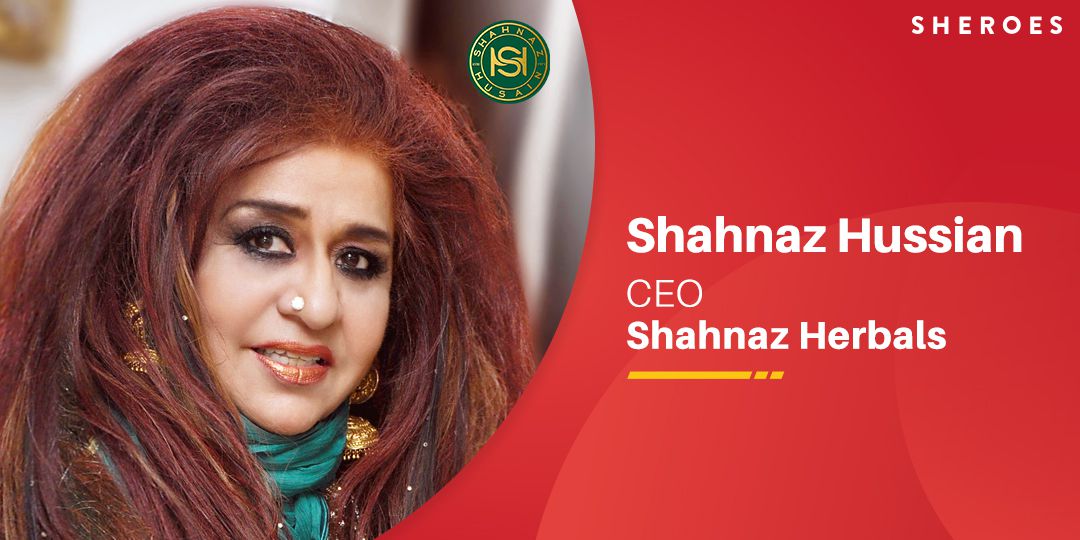 Education: La Martiniere Lucknow, La Martiniere Road
Shahnaz was married while she was a teenager and also became a mother soon. Remembering the time she says, "When I turned 16, my daughter was a month old. She was like a little toy doll to me and then, as she grew older, we became best friends too. She attended junior school and I enrolled in senior school. We shared everything."
You can start a business in less money and start earning. Click here to read in Hindi.
But she always knew she was not going to be a housewife only, all her life. She fought against all the odds and ultimately became a brand in herself. She is known as the "Queen of Herbal Beauty Care" and was awarded Padma Shri by the Government of India in 2006. She is the most prominent businesswoman in India, who has her business running over 138 countries, which has around 600 franchises and associated clinics across the world.
As it is rightly said, only dead fish goes with the flow, Shanaz never let the challenges overcome her aspirations. She studied beauty even after her marriage, managing all the task of a wife, mother, and daughter-in-law. When she was 27, she shifted to Tehran with her husband. She slogged and worked extremely hard to get a job as a Beauty Editor of Iran Tribune. It is said that she would write on every topic one could think of and managed to give 10,000 words a week, which was far more than the expectation (500 words).
While she was specializing in cosmetology and trichology, she dealt with numerous skin disorders and came to know that most of them were a result of the inclusion of synthetic products. That is when Shahnaz thought that she would start a herbal clinic.
With a minimum investment of rupees 37,000 from her father, she started her salon in the veranda of her house in Delhi, in 1977. Fortunately, she had her technology from abroad and was all set to fly.
With a totally new concept of "care and cure", along with the formulation of her own Ayurvedic products, she began with Shahnaz Herbals Inc.
#10. Sairee Chahal - Founder & CEO of SHEROES
"I was faced with questions like can you do it? Gladly, things are changing and now, they can see me doing it"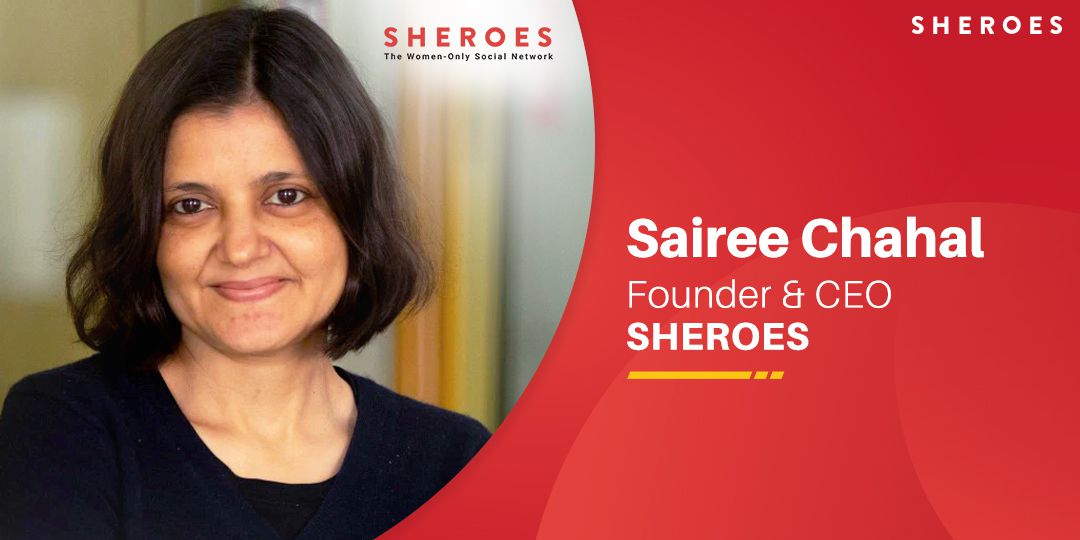 Age: 40
Education: IMT Ghaziabad, Jawaharlal Nehru University
Prior Work Experience: Heidrick and Struggles, CII
CEO and founder of Sheroes, Sairee is not only an inspiration for other women but also has strived hard to make a direct impact by finding jobs for them. She is a finalist for the Cartier Women's Award Initiative for 2012, an Aspen Fellow, nominated for the Editor's choice for L'oreal Femina Women's Award, featured in India Today and a mother isn't content to rest on her laurels. She is constantly walking on the roads of a mutual growth of women and towards their complete inclusion in the workplace.
Sairee says in Tech in Asia in a recent interview that, "The idea for Sheroes came from the observation that I was surrounded by so many women who had left their career options behind for social responsibilities [such as raising a family]. I just want to show them that this doesn't need to be the end of the road."
Sairee, who is a former journalist is currently holding a "Sheroes summit" in major Indian cities to connect women professionals with businesses. She further adds, "The push toward a Digital India is a watershed moment for all educated women in the country. Digital access is a boon to those who cannot engage in a typical 9-to-5 job yet wish to continue their careers."
Her robust initiative has helped over 1,000,000 women across the country, from various background. Sheroes is being used by as many as 2000 corporates, having the presence in 65 cities. According to Nasscom, there was a 50 percent increase in women joining the start-up ecosystem over last year.
To know about how to earn money from laptop in Hindi, Click Here!!
Sheroes is not only about finding jobs, it is a lot more than that. It is a community altogether, where a woman is safe, free to talk her mind out, can seek for help from the experts, read and be informed about every aspect of life and connect with many women like her, who are sailing on the same boat.
After researching about these fabulous ladies, reading and listening to their success stories, I feel convinced that a woman does not need any support to become something. She has it all, only one thing that needs to be done is to start the journey, never losing hopes!
---

Sainy Banerjee Pal
---
---
Similar Articles You love