Down's Syndrome Never Stopped Me From Exploring Life
Last updated 28 Aug 2019

.

1 min read
It all began in 1980. I was born with Down's Syndrome in Vienna, Austria. It was a beautiful morning, there was snow everywhere and my father was going to throw a huge party after my mother came back home. It was a shocker to my father when he was told that he had a child who will never learn and should be institutionalized.
(You Should Consider: Having a Double Marker Test during First Trimester to diagnose Down's Syndrome)
My name is Nimmi.
While this drama was being enacted in the background, my mother was waiting eagerly to hold me in her arms. My mother loved me the moment she saw my beautiful face. My mother is a strong woman and I know I was loved. I would nurse for hours, she would patiently make sure I was fed on time. My father would ensure my hole in the heart was attended to. It didn't matter what the doctor said, what mattered was the affection I got from the two most important people in my life – my mother and father.
You might be wondering whether there was a party after I reached home. There were quite a few parties because my elder sister and cuddly dog, Dolma, made sure my parents keep everyone entertained. It wasn't always pleasant for my mother or father. There were times when both of us kids made my mother see stars during the day. As much as my father wanted to contribute, his hectic job kept him from doing a lot more.
As years passed, I became stronger and opinionated. I went to several schools to learn what everyone learns. It was easier for my parents to get schooling for me in Toronto, Canada. I learnt my alphabets, basic reading skills, honed my abilities through theatre. I am told, I was extremely naughty.
One incident, amongst many, stands out. I used to love running out of the house without telling anyone in the family. I would get into the elevator, hit all the buttons and see what happens every time the elevator would stop. It didn't sit very well with my parents though. It still didn't stop me from doing what I loved, multiple times. I would steal the laundry basket, take the clothes within it and throw it out the window. It was a joy to see the clothes flying down. My brother and sister would sometimes join me with the silly things I would do.
Sometimes I would see my sister fight with other children because apparently someone said something bad about me. I do not understand these things.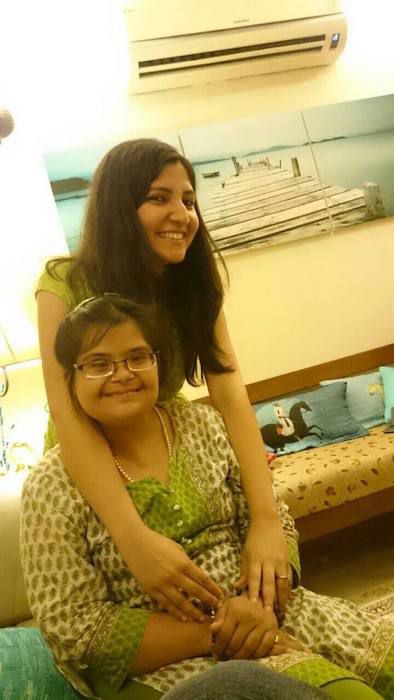 Nimmi with her sister-in-law
My father's job took us to several countries. The displacement did create certain challenges with my learning. In some places, I was treated well. In other places, I wasn't given the opportunities I deserved.
I need a stable schedule with patient explanations. I like to learn. My capacities to contribute were enhanced in accepting environments. I like to take my time to complete tasks. People around me want things to be done fast. I do not appreciate speed, I would like to do my activities with care. My parents and siblings have tried to give me what I like. There are aspects of life which I am not well versed with, however, that's where my nurturing family comes in. They have been ensuring my innocence isn't being misused. My vulnerability has been a challenge for my family. I like to trust people who are nice to me. I do not understand subtle or mixed communication styles.
My siblings found colleges to go to, after school. In my case, my parents had to find alternatives. After we moved from abroad to India, there were no schools or colleges that would readily accept me to their establishment. I studied in a special needs school at Jaipur, in Air Force Golden Jubilee Delhi, at Tamanna and from 1997 onwards, in Muskaan. I love dancing and have guided other partners in front of an audience of more than 500. Gradually I became conscious of my surroundings and stopped participating actively. Even now, old songs make me want to dance and sing along.
Recently, I enjoyed my 38th birthday with my family. My sister-in-law, her parents, my younger brother, my elder sister, my brother-in-law and her children made my evening magical. We listened to my favourite songs from DDLJ and to ghazals by Jagjit Singh.
Read: Best inspirational movies that you must watch.

Nimmi with her family

The combined efforts of the family and Muskaan, make me very happy. I would like to continue to bring in stipend which I used to get at Muskaan. While I may not completely appreciate the value of money earned, I do like to earn. The envelope I received for the work I did, had made me become surer of myself. I liked the fact that I was an earning member of my family. For the past two years, I have been working in the data entry centre but I no longer receive a stipend.

Nimmi with her friends
I am asked by my family members whether I would like to change my workplace. Once again, I am not sure because I do not know any other place of work. Every day I leave for Muskaan knowing I have something to do. I meet my friends, have snacks and lunch. In case I ever get an opportunity elsewhere, I am confident I will make a positive difference. I do not shy away from hard work, provided I have an environment which doesn't keep interfering with my defined tasks. I am happy to accommodate changes with a little heads up. Each day is a new day and I look forward to each one in anticipation.
This article has been authored by Nimmi's elder sister, Madhavi Gupta. Madhavi is a social innovator and the founder of Awareness for Inclusion Foundation. For the past six years, she has been involved with Muskaan, a New Delhi based NGO for adults with intellectual disabilities. She has organized several events and fundraisers in the social sector. Her contributions to the Inclusive India Campaign launched by the National Trust, Ministry of Social Justice and Empowerment in 2017 have been well recognized.
---

SHEROES
---
---
Similar Articles You love