How Rujuta Diwekar Turned Her "Offbeat" Career Into A Business
Last updated 30 Jul 2018

.

1 min read
When it comes to food, instantly, a lot of researches and theories pop up in our minds. Having someone call out the facts as they are, is a much needed relief in today's confused world of being stuck between ancient and global food habits.
One such woman is celebrity nutritionist Rujuta Diwekar, who breaks all myths surrounding food and asks you to go back to your roots. We got talking to her about her profession, the challenges she has faced and her story in general.
Also read: Pregnancy tips for healthy delivery.
What inspired you to write a book on pregnancy? Can you share any personal experiences of the women you have met?
Kareena, in bold letters, is the inspiration behind the book. Her pregnancy and the frenzy around her weight loss are instrumental in the book being written. Also, pregnancy from the Indian point of view was a story waiting to be told. We have trimester specific heritage recipes that are timeless, passed down through the oral tradition from mothers to daughters and they have been crowd sourced for this book. There are meal plans, exercise routines and FAQs for every phase of the pregnancy and even for post delivery.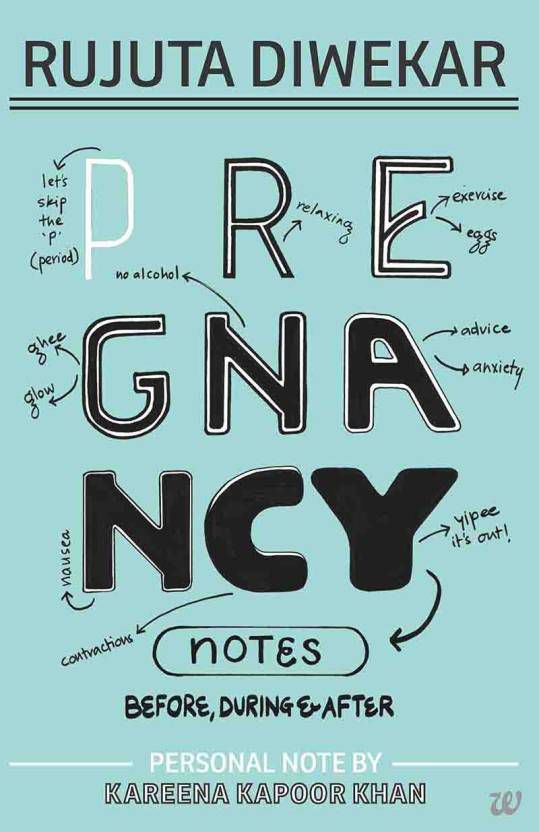 From a humble middle class family to an entrepreneur - any lessons that have stayed with you?
For starters, mine is a pretty regular Mumbai story. If you pick any random person from the streets of Mumbai, it would probably be someone who has the exact same profile - from being very middle class to being on their own. So one of the big lessons you learn from just living here (being street smart as it is called) is don't take yourself lightly when there is no money in your pocket and don't take yourself seriously just because you have some money.
While name, fame and success is chanchal, work is not. It's the only constant, it's the only thing that matters, while you are struggling and even while you seem to have made it.
It's like that Zen proverb - Before realisation, chop wood and draw water. After realisation, chop wood and draw water. Kaam matters and naam doesn't.
What made you decide to become a nutritionist in a world where we are expected to be engineers, doctors and teachers?
Within the Indian society, we have a natural exclusion program. By the time you are in the 2nd or 3rd standard, your parents and the society around you figures that you are not intelligent enough (via scoring enough marks in school exams) to become something heroic like a doctor or an engineer. You are not even a little above average to become a teacher, banker etc.
So very early in life, you figure that you have no other option, but to pursue something where you see meaning and purpose. In a sense, being an average or a below average student is a HUGE blessing, because it sets you on the path of self discovery, gives you the courage to follow your own lead and there's that added advantage of not having pressure from family or society, because no one is expecting you to succeed anyway.
Fitness, truly is my calling. I love everything about it - the people, their journeys, the gyms, the sweat, the being thought off as a yeda by others, the hierarchy where your sound advice is constantly questioned by run off the mill, unsound advice by some doctor, tabloid headline or a kitty part aunty. If you look at it, it's a gold mine of opportunities, endless ones where you could leave your mark, if you do it right.
Also read: Pregnancy symptoms before missed periods
Tell us about the supportive and inspirational women in your life.
If you asked my 10 year old nephew, he would tell you that within every boy is a girl and within every girl is a boy. My journey has been a collective effort of many people in my life, but mostly that of my clients. Kareena, who taught me way back in 2007 that compliments often present themselves as criticism. Anil Ambani, who helped me understand that the only way to get anything done is to plan ahead of time - that way, in that moment, you only execute and then there is no excuse to not do a good job. Lally Dhawan, who would even dictate text messages that I would send to my filmi clientele way back in 1999 - 2000, so that I could get my tone right, get my work done and appear like a thorough professional.
Then there are women, countless of them, who lived before us and faced the wrath of the society so that the rest of us could go to school, have careers, make money and essentially have a life of our own. Ramabai Ranade, Savitribai Phule and many other women and men, who championed the cause of a return to a more equal society.
Without them, women wouldn't have the liberties we have now. And therefore, as a society and a country we must ensure that these are not lost, that their sacrifices don't go waste and that whatever measures are required in terms of education and laws are brought in place to ensure that women and girl child foetus in our country are safe.
Do you face challenges being a female entrepreneur? How do you overcome these?
Honestly, none. In 2009, I was at a breakfast meeting for 'women in fitness' in Las Vegas, United States. And somewhere halfway in the discussion, the speaker pointed to me and said come and share all the hardships that you have gone through. I was the only Indian, or brown for that matter. As a person from the developing world, they perceived that I have fought many social norms to get to where I am, but I had to disappoint them too.
There are zero challenges that I have faced for being a woman, no one took my advice less seriously because I was a woman, no one paid me lesser because I was a woman. But I learnt that morning in Vegas, that this was an anomaly in the fitness world. Women, in the so called developed world, have to put up a much tougher fight to be heard or taken seriously. Even recently two girls in the US, who run a business, were in news for signing off as a man on the emails for their work to be taken seriously. So not much seems to have changed there.
My challenges were more profession specific, how to let people know that what I do is of value, that the advice or recommendations are backed by the latest in fitness and nutrition science (and therefore sound different from the propaganda of weight loss, food or Pharma industry), how to make enough money to pay the EMI for the house I bought, how to schedule clients in a way that you make it on time inspite of traffic etc.
Do you think, as entrepreneurs, women are not taken seriously?
No. But then people tell me that maybe it's because of Mumbai, that I can so confidently say no. Our native people here are the Kolis and everyone here (especially the ones who travel by local train) knows that it's their women who run the business, handle the money, wear all the gold jewellery. If you did try and chain snatch a Koli woman, she will break you into pieces without breaking into a sweat. So in a way, women and money or women and power, is an acceptable norm, it's cool.
The problem is that fringe professions, like mine, are not taken seriously. It is changing dramatically though, and I would be a fool to not acknowledge that. But yes, the struggle was that no one wanted to monetarily back a fringe profession. My loan of 5 lakhs in 2004 for setting up a gym took 45 days to sanction, even after having all papers in place and a flat of about 20 lakhs as a collateral. Today though, everyone is looking at fitness as the hen who is going to deliver golden eggs, but there are many other professions which are waiting to go mainstream and struggling to get the finances to get on their feet.
And then SHEROES, there are mainstream websites like yours which call entrepreneurs, women entrepreneurs. Almost sounding like women have somehow captured a title meant exclusively for men. So unknowingly, we all play that game and we need to stop. (Point noted!) There's a third gender now, tomorrow there could be fourth who knows fifth. Scotland's already planning for gender neutral bathrooms and it's time we learn that people are people, not genders, races, religions etc.

Rujuta Diwekar

How do you manage to strike a balance between work and personal life?
By not striking it at all. My work is my personal life and my personal life is my work. I don't see any difference in both. They are a natural extension of each other and this whole balancing act is over-rated. I am a fourth generation working woman in my family, my mother worked for 35 years before retiring and post 60, has made a career for herself as a speaker on the topic of Chemistry in the Kitchen. Many women in my family are BMC school teachers - they do poll duty, go around door to door for surveys, work on weekends when there are polio vaccination days, etc.
As a family, we don't miss them, we are proud of the work they put in outside of the school hours. There is a sense of security of being raised in a family that doesn't miss the woman because they need a hot meal cooked and served by her. But instead, keep a hot meal and hot chai ready for her when she comes back home after making the world a better place.
The ball really is in the court of men and society at large. Do we have it in us to support and celebrate women or are we built in a way that will endanger every dream that a woman will nurture?
The one strong woman quote that you live by?
Satyam vacha, dharmam chara - speak the truth and live by your dharma or principles. At least that's what I work towards everyday.
What is the 'one' health advice that women must follow?
Eat local, think global.
On the subject of conceiving, is there a 'right' time to have children? Your take.
The right time is when you listen to your heart and not to some reference range or societal expectation of when you should have children or for that matter, even marry.
Also read: Pregnancy test at home.
Any parting tips for women to #takecharge of their life?
Ab nahi, toh kab? If not now, when? It's never too late to live life on your terms. Consequences are much more palatable when they come out of choices you have made for yourself and have not been made for you by your father, brother, husband or son.
To know about pregnancy diet tips and a whole lot more, read Rujuta Diwekar's new book 'Pregnancy Notes' available in stores and online. Rujuta has had 5 best selling books in the past and has a huge fan following on social media.
Share your pregnancy stories with us in the comments below, we'd love to know!
---

Nirupama Kondayya
---
---
Similar Articles You love