15 Best Hollywood Horror Movies Of All Time
Last updated 31 Jul 2020

.

1 min read
Do you really know what kind of a person you are?
Or struggling to find out the kind of man your husband or boyfriend is?
Believe it or not, movies are a great way to find out a personality type. And horror movies are no exception!
If you are a person who gets scared with the tiniest sound at the night or you claim to be strong but by heart you are as timid as a rabbit, watching a horror movie can be extremely fun as well as can frightening the life out of you. It is even interesting to find out how resistant is your boyfriend, bestie or any sibling, to the horror actions!
Whosoever you think, you or your known ones are, you will never know how you end up reacting while watching a horror movie.
But before scaring the hell out of you, I must also give you a list of best rom com movies to watch with your besties.
Now, grab your munchies and save a night for watching one of these 15 of the Best Hollywood Horror Movies of all time and be thoroughly thrilled!
#1. Grudge (2004)
IMDb - 5.9/10
Metacritic - 49%
Rotten Tomatoes - 39%
We do hold a grudge against people, right?
But how horrifying would it be, if someone would curse us to an extent that it could take up our lives. Such is the story of this movie. The movie Grudge depicts a chain of a curse. This curse, given by an entity, is born when someone dies in the grip of a powerful rage or extreme sorrow. Don't miss out this movie if you want to experience a chill running down our spine.
#2. Scream (1996)
IMDb - 7.2/10
Metacritic - 65%
Rotten Tomatoes - 79%
This movie is based on a real-life case of the Gainesville Ripper. The movie is about the phone call and how it leads to series of murders. While watching the movie, there might be several instances, where you would want to switch off the TV and forget about it. But something will grip you and you would find yourself watching the movie till the mystery is unfolded.
#3. Forget me not (2009)
IMDb - 5.2/10
Roger Ebert Reviews - 2.5/4
Ever wondered, if you play a foul prank on your friend, what will be the consequence?
She might be angry or upset with you. But what if she tries to go to another level altogether.
This story revolves around a mysterious girl, who is murdering around the lead actress (Sally) 's friends and also ends up, almost taking Sally's life. What to know why?
Watch this movie to feel the butterflies in your stomach as the answer is exposed with a scary message "Best friends forever, right Sally?".
#4. The Exorcist (1963)
IMDb - 8/10
Metacritic - 82%
Rotten Tomatoes - 86%
We all know about exorcism, don't we? But to watch the details is where the main challenge lies. This story starts with a priest at an excavation at Iraq where a statue of Pazuzu is found. But how he ends up doing the exorcism rituals on a small girl, whose soul is in danger, is all that the movie is about. To witness the series of bizarre, vulgar acts of the little girl under the possession of the demon is worth watching. This is certainly not the weak hearts, so do watch it with someone and not alone.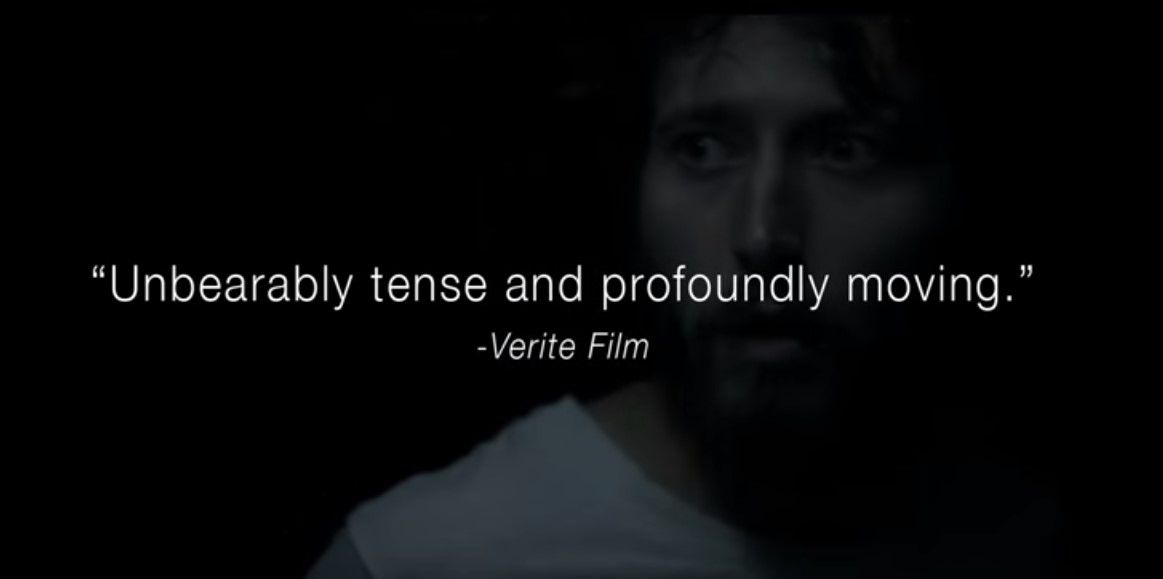 #5. They look like people (2015)
IMDb - 6/10
Rotten Tomatoes - 89%
Horror Freak News - 4/5
This is a psychological thriller but has got enough to turn your peaceful nights into a sleepless one. Two old friends reunite and happen to find out that both are sailing in the same boat. Everything seems to be good, till the time one of the friends encounters a series of weird realizations. Watch this movie to find out what drives him crazy to the extreme extent that he is on the verge of killing his old friend.
#6. The Cabin in the woods (2012)
IMDb - 7/10
Rotten Tomatoes - 92%
Moviefone - 72%
Some American college students are out for making their weekend one adventurous one in a deserted cabin in the woods. There they find mysterious objects and dairy as well. Despite a friends warning, one of them reads out the spell. This, in turn, summons a zombified creature. Want to know what happens next? Get this movie downloaded and be set to go for a horror-coaster ride.
#7. The Conjuring (2013)
IMDb - 7.5/10
Metacritic - 68%
Rotten Tomatoes - 89%
Very few Hollywood horror movies have become famous just by their name. But this one gives you enough of heebie-jeebies to last for a week or more. A sweet family with their pet dog, move into a dilapidated farmhouse, only to later realize that it is severely haunted by some supernatural power. After facing several horrifying sightings and accidents, the couple decides to call the demonologists. The analysis done reveals that the plot was of an accused witch who sacrificed her week old child to the devil. Sounds enough scary, isn't it? Another movie that is strongly recommended not to watch alone especially at night hours.
Also read to watch best mystery movies.
#8. Paranormal activities (2007)
IMDb - 6.3/10
Metacritic - 68%
Rotten Tomatoes - 83%
Want to watch something that is real? Without any second opinion watch this movie named Paranormal activity. Here no ghost would appear in the scariest form to make you have a bundle of nerves. The real footages are too intimidating and too hard to forget. A must watch for the ones who don't believe in ghosts!
#9. The innkeepers (2011)
IMDb - 5.5/10
Rotten Tomatoes - 79%
Roger Ebert Reviews - 3/4
As the name suggests, this story is about the two employees at a once-a-very-famous-hotel turned into a deserted one. Both of them being ghost hunting enthusiasts, decide to stick to the hotel, even at its last week of operation. They try hard to dig into the details and find out that a bride had committed suicide and her body was hidden in the same hotel. One of the employees manage to reach up to the dead body to find out the actual reason for the haunting but is killed in this process. But is that the end of the story? To know the answer watch this movie, and I assure you won't be disappointed.
#10. Annabelle (2014)
IMDb - 5.4/10
Metacritic - 37%
Rotten Tomatoes - 29%
How about playing with a doll, only to find out that it is not merely a doll but a dangerous demon? This movie is a prequel to the movie conjuring and is scary to an extent that you find yourself having a cold chill running down your spine. Will leave it up to you, how you describe this movie.
#11. Lights out (2016)
IMDb - 6.3/10
Metacritic - 58%
Rotten Tomatoes - 76%
A terrific piece of work in the horror genre by Hollywood. This movie will surely keep you glued to the story irrespective to the horror that it creates at every instance. A supernatural power Diana starts killing her friend Sophie's near and dear ones, so that she doesn't have to share Sophie with anyone. Diana has no existence in the world full of light. Will Sophie's daughter and her son manage to save their mom from this evil spirit? Just a piece of advice if you dare to watch it alone that too with lights off, be it at our own risk.
#12. The Ring (2002)
IMDb - 7.1/10
Rotten Tomatoes - 71%
Teenagers Katie and Becca happen to discuss an urban legend about a videotape. It says whoever watches it dies seven days later. This is when Katie confesses that she watched the tape with her friends the previous week. Unfortunately, that night, Katie dies and Becca goes insane. Want to know what is this chain all about, tune in to your TV but wish that this movie doesn't turn out to be the same videotape.
#13. Mirrors (2008)
IMDb - 6.2/10
Metacritic - 35%
Rotten Tomatoes - 14%
Read these lines from Wikipedia:
"....Ben pulls himself out of the rubble and stumbles out of the building. Policemen and firemen are everywhere in the street, and a body is seen being taken in a bag by paramedics, but nobody notices Ben. He looks at the older security guard's name tag and sees it is written backwards, realizing everything is in reverse (like in a mirror). He comes upon a mirrored surface in the city and fails to see his own reflection as he reaches out to touch it. He realizes that he was actually crushed under the rubble and is now trapped in the mirror world: In the living world, his hand appears as a handprint on the glass surface."
Sounds scary as well as interesting? Don't waste another thought in doubt for this horror movie which has a completely unique story to tell.
#14. It Comes At Night (2017)
IMDb - 6.2/10
Metacritic - 78%
Rotten Tomatoes - 88%
Is horror movie always about the demons and evil spirits? Imagine how would it feel to kill your loved ones only to stop the severe epidemic from further spreading? To feel the despair, pain, and horror, in other words, do watch this movie.
Also read best romantic movies to watch.
#15. Insidious (2010)
IMDb - 6.8/10
Rotten Tomatoes - 65%
Last but certainly not the least. Did you know that some people are born with an ability to travel in their dreams to an astral plane? Some even go as far as the further. But it's not a pleasant journey. The "further" is the place for the dead, who has a tortured soul. Worse, the souls can even take control of your ability and by your body, they can come to the world of reality. Sounds terrific? Watch this movie tonight to experience the thrill that can not be described by the words alone!
Tell me which one is your favorite horror movie from Hollywood?
---

Sainy Banerjee Pal
---
---
Similar Articles You love