SHEROES
Last updated 10 Jul 2018

.

1 min read
All About Metastatic Cancer and How To Be Strong Like Sonali Bendre
I am Capricorn so very balanced. I treat my highs and lows pretty much the same
- Sonali Bendre
We know her as a strong woman, the star of Superhit movies like Sarfarosh and Diljale. She is recently diagnosed with metastatic cancer.
This news came out via her Twitter and Instagram Handle -
Sonali Bendre's Twitter Post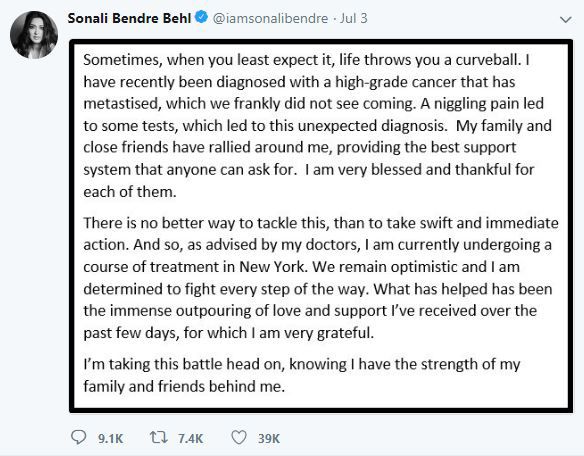 Sonali Wrote
Sometimes, when you least expect it, life throws you a curveball. I have recently been diagnosed with high-grade cancer that has metastasized, which we frankly did not see coming. A niggling pain led to some tests, which led to this unexpected diagnosis. My family and close friends have rallied around me, providing the best support system that anyone can ask for. I am very blessed and thankful for each of them.
She Also mentioned about her treatment in New York
There is no better way to tackle this than to take swift and immediate action. And so, as advised by my doctors, I am currently undergoing a course of treatment in New York. We remain optimistic and I am determined to fight every step of the way. What has helped has been the immense outpouring of love and support I've received over the past few days, for which I am very grateful.

I'm taking this battle head-on, knowing I have the strength of my family and friends behind me.
Sonali Bendre's Instagram Post
Sonali Bendre's Film Career
Starting her Big Screen Career with Aag (1994) she did around 45 movies in Hindi, Tamil, Telugu, Marathi, and Kannada film industry.
At the very Advent of her Career, she won the Filmfare Award for Lux New Face of the Year and Star Screen Award Most Promising Newcomer-Female.
Later on, she bagged several other awards for her roles in Movies and as Reality Show - Judge.
Also read: Best Rom-Com Movies.
Metastatic Cancer, its Symptoms, Treatment and Survival Rate?
The spread of cancer to a new part of the body is called Metastasis. Cancer cells break away from the original tumor and enter the bloodstream or lymph system, which carries them to other parts of the human body. The Stage II or Stage III Cancer is generally referred to as a the Metastatic Cancer.
The Metastatic Cancer has some common symptoms like - a headache, coughing, heavy breathing, dizziness and several other everyday irregular health signs. The easiest way to diagnose Cancer is to get a regular CBC (Complete Blood Count) done at an interval of every 6 months.
The People diagnosed with such Cancer have a generally 5 percent (Five-Year Survival rate).
Typically, such cancer requires a Systemic therapy. At times medications are given orally or injected into the bloodstream to reach cancer cells throughout the body, through processes such as Chemotherapy. Few other medical treatments include biological therapy, radiation therapy, surgery, or a combination of these.
(Also Read, the Story of this brave woman who Came out of the Cancer Closet Bravely!)
Female Celebrities who Won the War against Cancer
#1. Lisa Ray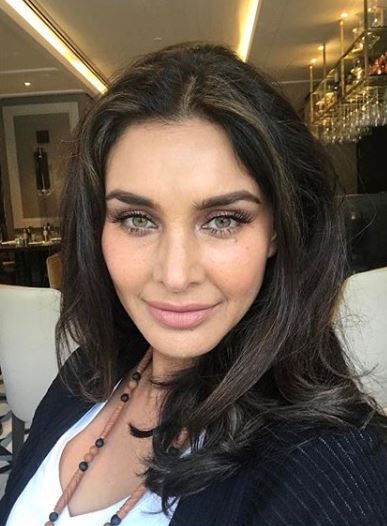 Canadian-Indian Actress diagnosed with Blood Cancer in 2009, fully recovered in 2010 after a Full Stem Cell Replacement.
#2. Mumtaz
The Bollywood Diva of 1960s was diagnosed with Cancer at the age of 26. She defeated Cancer after a 28-year long fight at the age of 54 with several Chemotherapies. She's 70 now.
#3. Manisha Koirala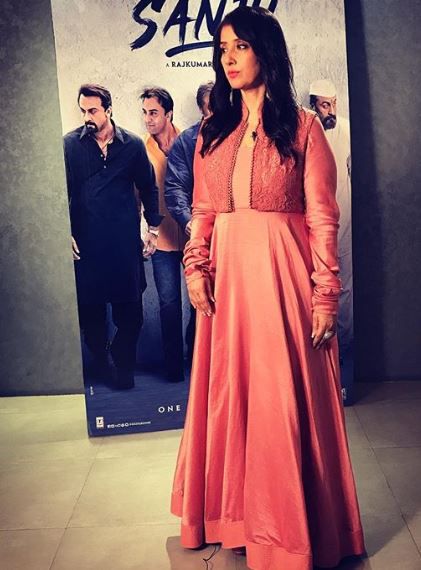 She was diagnosed with Ovarian Cancer in 2012. After a tough fight and treatment in New York, she recovered from cancer. And recently acted as Nargis in Sanjay Dutt's Biopic Sanju.
We wish for Sonali Bendre all the strength and support to fight and win against this tough phase of her life.
---

SHEROES
---
D*****

Hi. Its another fight tht we hv to win i m akso suffsring ftom TURBT is tumour frm 2014and doc told me tht may b we hv to rove utrus n i had no bby at tht time. In 2015i m blessed wd bby boy n i m fine now. I knw its tough time but we hv to win. Gud luck.
N*****

Get well soon dear
H*****

Get well soon... Amen
G*****

I pray that she recovers🙏
R*****

May God bless you for speedy reco very
K*****

God bless u with speedy recovery

B*****

Get well soon....mam
A*****

God bless u.. Get well soon
A*****

Good wishes for yours sooner recovery .. God bless ❤
S*****

Sonali....must watch Gregg Braden on you tube....he talks excellent about cancer and healing..... And do meditations and reflexology will cure you
A*****

Get well soon e strong as u are.🤗

T*****

What is the main symptoms of cancer .
S*****

Charushila Dalal. How would you cure her ?
S*****

What cure do you have Charushila? How many have you cured? What types and stages of cancer have you cured? Why haven't you shared this magic potion with the world? Why are you letting people suffer and die when you know the solution to cancer?
C*****

Anyone having contact with Sonali Bendreji, I hv solution on Cancer patient, plz give me her number if anyone knows how to reach to her.plz msg me
A*****

Get well soon dear
S*****

Wish to her getting well soon
Similar Articles You love