SHOPonSHEROES Arts And Crafts Stores With Beautiful Handcrafted Gifts
Published on 12 Jul 2021

.

1 min read
Check out the talented artists and crafters on SHEROES selling beautiful handcrafted gifts in their SHOPonSHEROES arts and crafts stores.
Ever since SHOPonSHEROES launched, talented artists on SHEROES have been starting their own arts and crafts shops to sell their handmade products online.
It's fun and addictive to go through the SHOPonSHEROES feed and browse through all the gorgeous and unique handcrafted products available in the art and craft stores.
To make it easier for you to find the best handmade gifts and art-craft items, here's a list of some of these arts & craft on display on SHOPonSHEROES.
Remember, when you purchase a product from SHOPonSHEROES, you're supporting a budding women entrepreneur.
1. Narayanee Sai's Hummingbird Mandala
Narayanee Sai's sells beautiful paintings and mandala art in her Art Universe SHOPonSHEROES. This beautiful and colourful mandala-based hummingbird painting on a wooden surface is a reminder that life is colourful and our happiness lies within us.
Hummingbirds are seen as healers and bringers of love, good luck and joy. They are messengers from Heaven and remind us to always be seeking out what's good in life.
Seeing a humming bird in a dream is a sign for us to pay attention and concentrate on new ideas. They remind us to stay adaptable and to accept the reality of change with a happy heart.
Because hummingbirds alone have the ability to fly moving their wings in the pattern of an infinity symbol (the figure 8), they are a symbol of eternity, continuity and infinity.
This beautiful painting of humming bird was created on a wooden surface of 25cm diameter. It is very unique and has mesmerizing colours.
Click here to buy it on SHOPonSHEROES.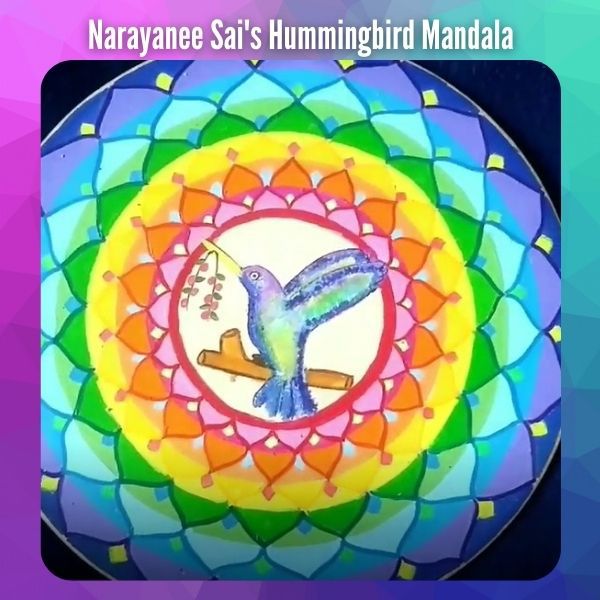 2. Shireen Mullick's Designer Handmade Soaps
Shireen Mullick's Nature's Magic SHOPonSHEROES sells some of the most beautiful designer handmade soaps. Blending luxurious shea, cocoa, and mango butters, the soap base is specially designed to nourish and cleanse the skin.
Mango and cocoa butter are renowned for their restorative moisturizing benefits, while the soothing power of shea butter provides a pleasant finishing touch to this base.
Her artisan soaps are free from SLS, parabens and other harmful chemicals and are handmade with love. The intense conditioning properties of the soap dampen the bubbles one might expect in soap, but still produces a luscious lather.
Click here to buy them on SHOPonSHEROES.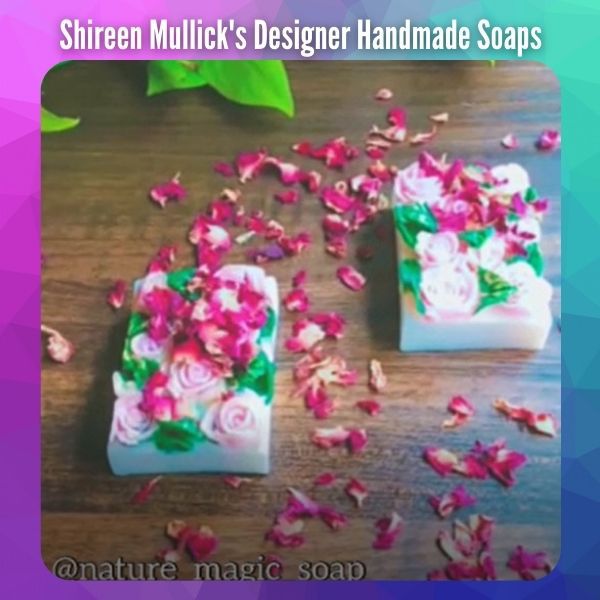 3. Nisha Sunil's Oil Paintings
Nisha Sunil's SHOPonSHEROES art store is called Nisha's Paintings and it features amazing artworks, including this oil painting of a lady with umbrella on a 24*36 canvas.
Click here to buy it on SHOPonSHEROES.
4. Harshita Sharma's Personalised Stone Art
Looking for unique handmade gifts for your loved ones? Check out this awesome Personalised Stone Art (Single Portrait) that stone-artist Harshita Sharma is selling in her Rockshouter By Harshita SHOPonSHEROES.
Harshita's hand-painted waterproof stone art will not dull over time and comes with a stand. Shipping is included in the price.
Click here to buy it on SHOPonSHEROES.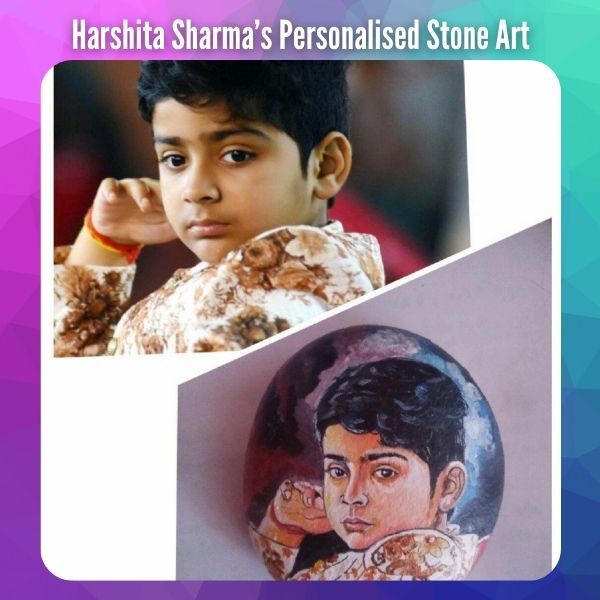 5. Ashwini Gokhale's Handcrafted Macramé Products
Ashwini Gokhale sells beautiful handcrafted macramé products. Here are some of the products you can purchase in her Sagaciousyou SHOPonSHEROES.
Click the links above to buy these products in Ashwini's SHOPonSHEROES.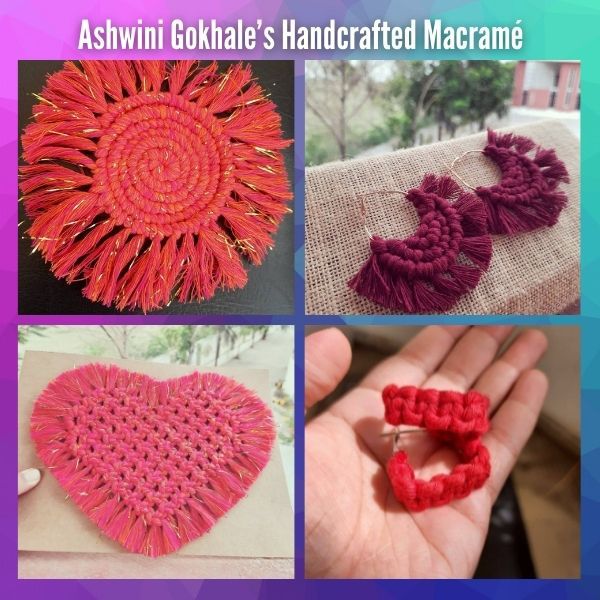 6. Anantha Jothi's Handmade Crochet Bracelets
Anantha Jothi's Handmade SHOPonSHEROES features this pretty handmade crochet bracelet combo. It makes the perfect handmade gift for a friend.
Click here to buy it on SHOPonSHEROES.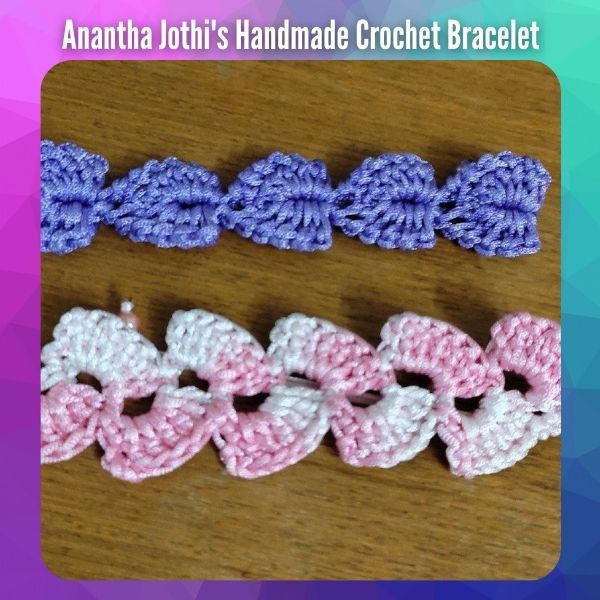 7. Shivani Baranwal's Patchwork Owl Cushion
Shivani Baranwal's SewSaw Handmade SHOPonSHEROES features this charming Patchwork Owl Cushion that doubles up as a pillow toy and can be used by both adults and children.
Click here to buy it on SHOPonSHEROES.
8. Simranjeet Kaur's Bliss Mandal Art
Graphic Designer, Simranjeet Kaur started a SHOPonSHEROES under the name Rzaacreators where she sells art and graphic design services and courses.
She also takes orders for handmade rainbow mandal art painting which is shipped in 7 days and includes the frame.
Her Bliss Mandal Art wall hanging or wall painting makes a gorgeous home decor item or creative homemade gift for your loved ones.
Click here to buy it on SHOPonSHEROES.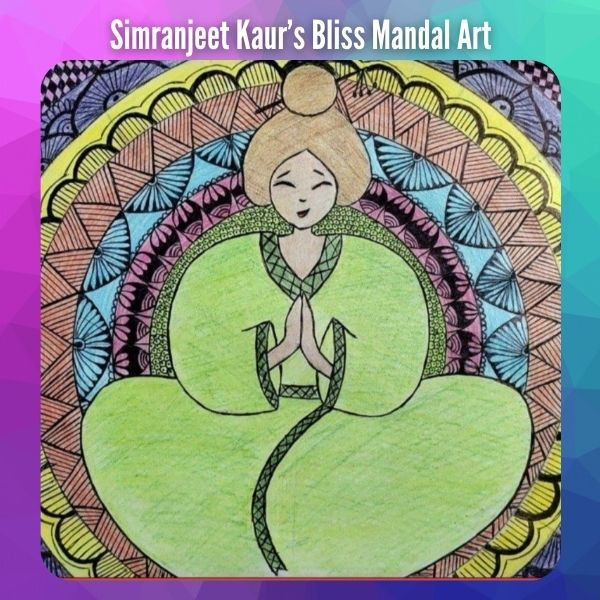 9. Naina Agarwal's Handmade Crochet Thal Posh
Naina Agarwal's SHOPonSHEROES is called Naina Creative and she offers handmade crochet items like this beautiful 12-inch pink and blue Handmade Crochet Thal Posh or Thal cover.
Click here to buy it on SHOPonSHEROES.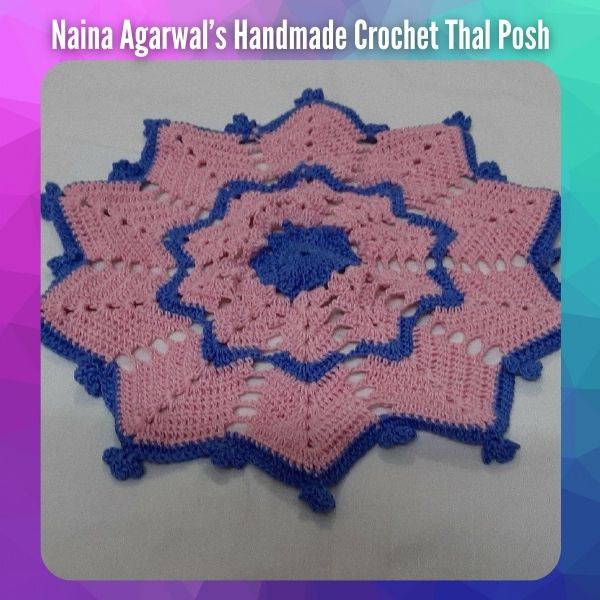 Do you have a SHOPonSHEROES selling your own handmade crafts or creative homemade gifts? Do leave a comment below with the link to your own SHOPonSHEROES.
---

Priya Florence Shah
---
---
Similar Articles You love