Mahima Sharma
Last updated 22 May 2019

.

1 min read
Rajkumari Celebrates Her Single Life With SHEROES
She hails from the lush state of Manipur and holds a Masters Degree in Tourism Administration (MTA) from Bengaluru. The initial working years involved her to work for about a year at a BPO in Chennai and later as a Travel Agent in Mumbai for a brief period. She had to give up that life as the family circumstances worsened back home. She came back to Manipur and has been looking after her parents since then.
But the 40-year-old Rajkumari Dayamenti has no remorse, except for one thing. Her life as a single lady.
"Mahima I have two younger brothers who work in Mumbai. Since my father is a retired and aged person, I am with my parents and we do share all the ups and down as usual like every family does. I would rather say WE MANAGE AND SUPPORT EACH OTHER. In fact, my father's pension supports me while I am looking for a job as a freelancer at this age. And the rest we manage from our small farm by selling its produce," says a very humble Rajkumari, who adds that there is no one to look after her parents.
But also accepts that she used to long for a life-partner. Only till she found a beautiful life at SHEROES.
"At a certain point in life, I did realise that I do need a life-partner. But I was too naive to approach anyone through these matrimonial sites. It is not an easy task, Mahima. The reason I find it tough is that when you approach an unknown person, you may not like what he talks, but to maintain your own dignity at times you have to stay silent, even at his nasty questions and answers. And to add to the woes, the neighbours and their jibes add more trauma. There came a time when I decided enough is enough. I will not let anyone fade away my life!" recalls a very determined yet angry Rajkumari. And I question myself, "Why can't one respect the choice of a woman?"
Rajkumari says she found that respect at SHEROES.
"You know Mahima, Manipur is a great place to live. I can say it safely that gender bias is comparatively less here. But when it comes to being a single woman, society is just the same, as it is across the world. All they will ask you is, "When are you getting married or why are you not getting married?" I had so many friends in Manipur. But after they got married, they too got busy with their lives and even changed their stance towards me as a single woman. I decided not to visit them or contact them. Enough of humiliation," and suddenly Rajkumari comes out of remorse to chuckle with joy, "I got to know about SHEROES through the internet. And this is my family now. My true friends who do not judge me at all. Today I am regaining my lost confidence and can say with pride that - I have two hearts, one for my parents and another one beats for SHEROES."
Rajkumari adds," I have made great friends at SHEROES. Life has totally changed since I see the ray of hope through SHEROES, a bright light. And now I am confident in who I am. I am 40 and I have learnt that it is not important to get married. It is rather important to get married to the one who understands you, accepts you as who you are. Till then enjoy life with your parents, since their love is unconditional and supreme. Value your parents."
And that change reflects not just in her words, but also at the umpteen posts she keeps making at SHEROES. take a look at this one.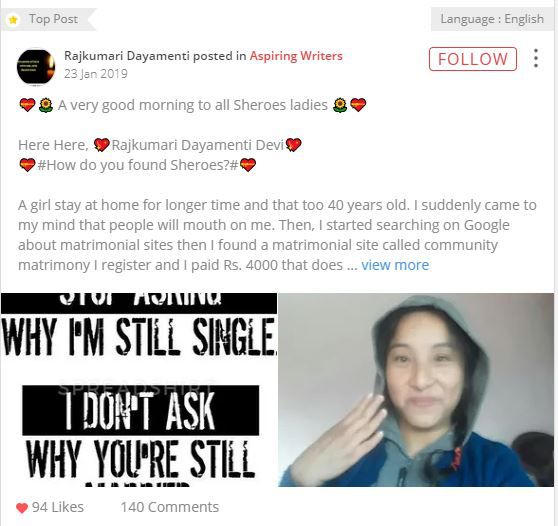 Rajkumari Dayamenti laughs to inform, "I was born in a very happy and content family; we don't have great money, but we know that we aren't poor either. Because we are enriched with love for each other. We standby each other in the toughest of times. Our love for each other is our strength and it will always be."
Rajkumari has come a long way. She not only encourages and inspires her friends at SHEROES with her funny posts and also take them through the culture of Manipur with detailed posts about Manipur and the North East. Check out this one!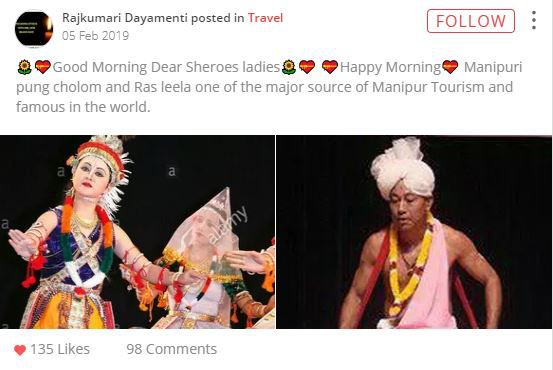 She informs that after SHEROES happened to her she is planning to hone up her skills and has made humble beginnings by earning online. She will share the details the next time, but for now, she leaves us with a beautiful message:
"Choose a life-partner not because you need him, but because you both strike a mutual understanding, love, respect and trust. But if you are single, there is no reason to get depressed. #BeYourOwnRani like me. Us women are SHEROES. So take pride in who you are. Thank you for being my buddies, my family. I love you all. Cheers!"
I am sure Rajkumari Dayamenti's life-story in our ongoing #MeetTheSheroes Series has left you inspired. So you must share it among your friends and also pour some love for her in the comments column. After she says you all her family! Here is where you can follow her on SHEROES.
Hindi Version Of This Article -
पढ़ें इस लेख को हिंदी में - शादी समाज के लिए नहीं, प्यार और आपसी समझ के लिए करना चाहती हैं राजकुमारी
---

Mahima Sharma
---
M*****

Well said Rajkumari! I appreciate each n every word of yours.Marriage shud not b d aim in life.Happiness is essence of our lives. God bless uh dear!
N*****

Hmmm...I think yha single ladies hm jaise ik hi trh se survives kr rhe hai....Really sheheroes me aakr kisi or ki jroorat mehsoos nhi hoti....
T*****

Mai Aaj pdhi hu or kuchh hd tk meri life v aapki life jaisi hi mhsus huaa .Mai v Singal ledy hu.or economicly Apne family pr depand hu...Mai v jivnsathi k liye aisi hi soch rkhti hu....Singal rhne me mujhe kuchh dikkt nhi pr family mujhe kB tk sport kr payegi PTA nhi Mai aisi jgh ki tlas me hu jhan Jake sukun se ji sku pr hmara smaj Singal ledy k liye ek jaisa hi hai......ye soch ksm aage nhi bdha pati.pr aapko sunkr achcha feel hota hai k km se km AAP to apni srto pr ji rhi hain
A*****

You are just awesome dear.😍😍 We are love you forever.😘😘😘 Manipur kabhi aaungi to milna jarur.😅
R*****

You are simply superb dear , and very honest with your life fund🤗😍💖 Yes we all are family here and I am also feel proud to be a part of Sheroes to feel like Shero now 😍 stay blessed and stay happy dear
A*****

Kya ap Hindi me bhi likhti h
B*****

Very inspiring. Hats off to Mahima
S*****

Hi Nice to meet you on sheroes
R*****

💝Thank You dear all for your love and support and strength.. My heart💝 is overflow now, couldn't control. You all are my power, I am not alone.💝 💝Thank You dear "Mahima Sharma ma'am".⚘🕊 Thank You dear "Sheroes".
S*****

Congratulations for Ur story to get published Rajkumari ji .... I felt some where happy that u following it heart and not pressure of society ... Feeling proud of u ..
S*****

Lots of love and best wishes to you rajkumari. Even i m single at 36. Sheroes and women like u are inspiration for me also.
M*****

You're super . I appreciated your boldness dear. You're the inspiration to the women who are single and facing such situations actually you're facing. God bless you and give a great life to you.
D*****

Really heart touching.. proud of u dear. Not only you all other friends too @reena thakkar, @ Shiva Tiwari, u girls rock.. however I have a request... Pls do find a person who really understands you and accepts u as who u are. There is nothing wrong in staying single dears but there will be a stage where u will long for a companion. Maybe now u are taking care of ur parents but after a few years, u will need someone to share your life with. I have seen one of my single neighbor regret it. So, my loved ones.. be positive as always.. there is surely someone out there who will come for you understanding what u r.

R*****

I feel so connected with your story. I'm 38 and still single. I m brought by my maternal grandparents as my mum passed away at when me and my sister were young. Being single is tough in this society. People judge you and assume things for you. I have my share of struggle. I too believe in marry when you feel like and you find someone with whom you can connect at all levels.
S*****

Even im single @35 hold same story as your kind of as to give up a break to career bcoz of family responsibility ...my mother being diagnosed with nueroendocrine tumor in 2014 ....looking after her was my prime priority being a single child and now on 28th nov 2018 i lost my father suddenly you cn understand wht im going through but i never regretted being single ...will marry smone who understand me for wht im.....and women like Rajkumari is a true inspiration....thank you @ mahima sharma for sharing such a inspiring story ....loads of thanks to you....
S*****

Lot of goodwishes to you dear....all the very best...
P*****

Sending love and power to you ❤️
S*****

Good luck. More power to you.😊
D*****

Awesome sissy good luck very proud of you keep rocking
A*****

Great thought , I have become your fan actually
A*****

Dear Rajkumari jee....I will love to say U claim U r single but I don't agree 'coz when U r with us & We all LOVE u sooo Much...u r soo Deeply connected with us then U r not single & u r surrounded by our Loving Friendship 💕💕💕
M*****

Hello brave Lady, I'm mother of 2 young boys...My elder sister is unmarried and looksafter my old nd sick parents..she is best support system for all of us..she has no personal life and after watching her glowing, happy face I always wondered where did she got such energy and stamina to handle alone all things like a superwomen...I'm married,two kids...still that feeling of emptiness haunt me..so who is more happy, healthy and blessed... Enjoy this single status and world is full of love and happiness.
P*****

Proud of you @Rajkumari 😍 Bravo! Love you.
C*****

Proud to know a strong woman like you @rajkumari daymenti. A true Rajkumari indeed! :)
S*****

Hello princess how are u. Ur really lucky to have such attitude maam. Having life partner is not important. He need to realize that we r his life. It's true. And say namaskar to ur parents and loved ur spirit. Keep smiling darling😊😊😊😊😊
T*****

Proud of you....we all Love you so much dear❤️❤️❤️❤️❤️❤️


P*****

Great!! Very nice to read about you dear Rajkumari! You are doing great!
N*****

What you are doing is truly inspiring.....why is anyone judged for his or her marital status in our society is still a question to me....Loved your point of view about choosing a life partner....
T*****

Truely inspiring...loved your spirit Rajkumari
S*****

Wow great 😍😍 @rajkumari amazing you are 👍👍
P*****

Wowowo @Rajkumari...bravo...proud of u..you are a real princess. @Mahima sharma great job.
S*****

Inspiring.. proud of you sister.. you are the real Quee...🤗🤗🤗❤️❤️❤️❤️
H*****

Thanks for sharing your point of view Rajkumari. Esp. the point that you made about choosing your life partner... Bravo!
J*****

Rajkumari... Who are really a living legend and great inspiration to all if us. I am proud of you dear... You choose to live your life to the fullest... Sheroes is bubbling with fulltoo energy with super-duper sheroes like you. I'm speechless for the kind of responsibility you have towards your family.. Family always means first our paternal family and gradually we add our relationships and extended family. You are such a sweetheart... Take care and thank you so much for your inspiring posts and continue to stay blessed 🙏🙏🙏 May you pursue all your dreams. Blessed.
U*****

Proud of you my dear😍 Power to you 😍 You are a real Rajkumari 😍
A*****

Very nice. Proud of you my dear Rajkumari....your name is only enough. Yes you are princess my dear. Thank you for sharing Mahima Sharma here
D*****

Rajkumari,you are real rajkumari ,we all love you so much ,♥️♥️♥️♥️♥️😘😘😘😘😘😘😘 you are our super SHEROES
S*****

Inspiring... Be brave and strong...
❤*****

Woow dear rajkumari U r reallly so brave and great, we all love u sooo much 😘😘😘😘😘😘😘😘💜💜
S*****

Woooaah!! I was waiting for this story😍 Love you Rajkumari!! Congratulations
R*****

Wow great rajkumari 👏👏👏👏👏
M*****

Loads of love, hugs, strength . God bless you. Rajkumari 💕🤗
D*****

@rajkumari damyanti..proud of you dear
K*****

Wowwww.. Proud of u @Rajkumari Damyanti... @Mahima Sharma Great work.... 😘😘
G*****

Here comes our queen of hearts, loud applause to you brave lady, lots of love and hugs, 😘😘😍😍
Similar Articles You love