Mahima Sharma
Last updated 18 Apr 2019

.

1 min read
"I've Been My Biggest Motivator And Encouragement!"
Her art-work forms not just the cover page of the first SHEROES magazine, but has even been done for the SHEROES Summit.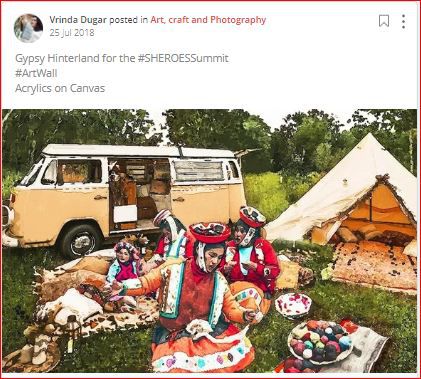 She is among the most prominent faces of the SHEREOS' Art, Craft and Photography Community. She calls herself a self-taught artist. She shares when in school, she always day-dreamed about setting up her own business. She sold her first painting when she had just completed her class 12th exams. And held her first solo exhibition in college, where she sold 14 paintings in just one day! Since then, she says, she has never looked back.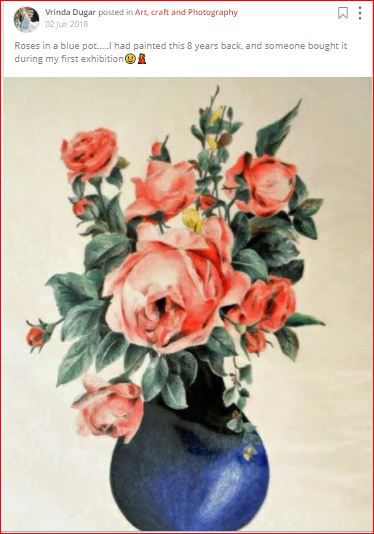 So let's get up-close and personal with 27-year-old Jaipur based Vrinda Dugar, the proud owner of Art By Vrinda with a Masters in English Literature!
She laughs and slowly begins opening up, "After the success of my first solo exhibition in college, I was also fascinated by designing and started making small patterns that I thought could be lifestyle products, but I never showed them to anyone. Then one day, on a friend's insistence I approached Ratan Textiles with my work. They felt I had a good hand and educated me about design from scratch. I owe everything I have learned about Textile Design and printmaking to them."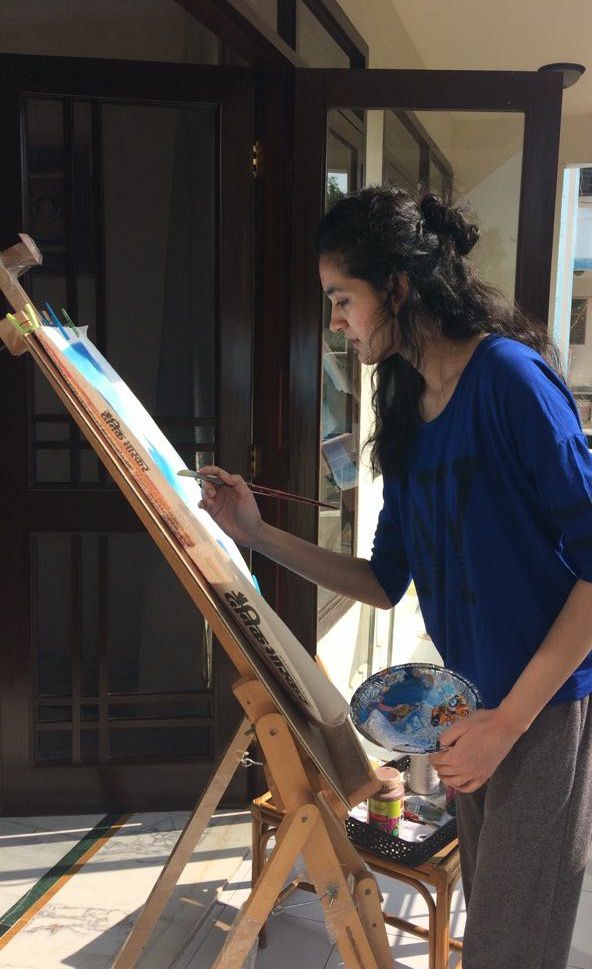 And she adds that her paintings are now not only in personal collections, both in India and abroad, but also adorn the walls of various lead hotels and resorts in Rajasthan. "The other part of the business deals with designing prints for design houses, export houses. I have also partnered with a Surat-based Textile conglomerate (that is closely associated with Bollywood, the film industry and top-notch designers like Manish Malhotra ) to set up a design studio in Jaipur in order to retail apparel pan India, of which I am the Director/ Creative Head," informs Vrinda.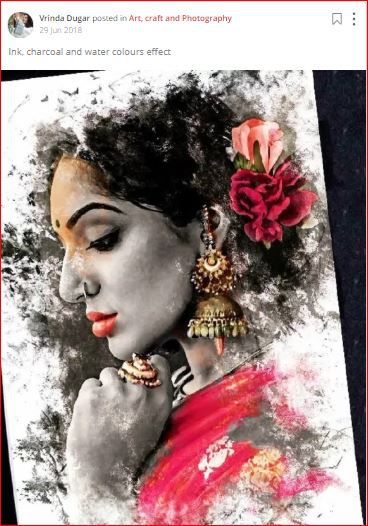 "But the success ride has not been as easy as it sounds Mahima", asserts Vrinda. "I am the only child of my parents. I am a Marwari, born in Calcutta, brought up in Bangalore and presently in Jaipur. Like every typical Indian family, my parents were trying to get me married and were in the lookout for a suitable match. I was reluctant because I was burning with ambition and was determined (I still am) to start something of my own. I firmly put my foot down and asked my family to give me 6 months to prove myself."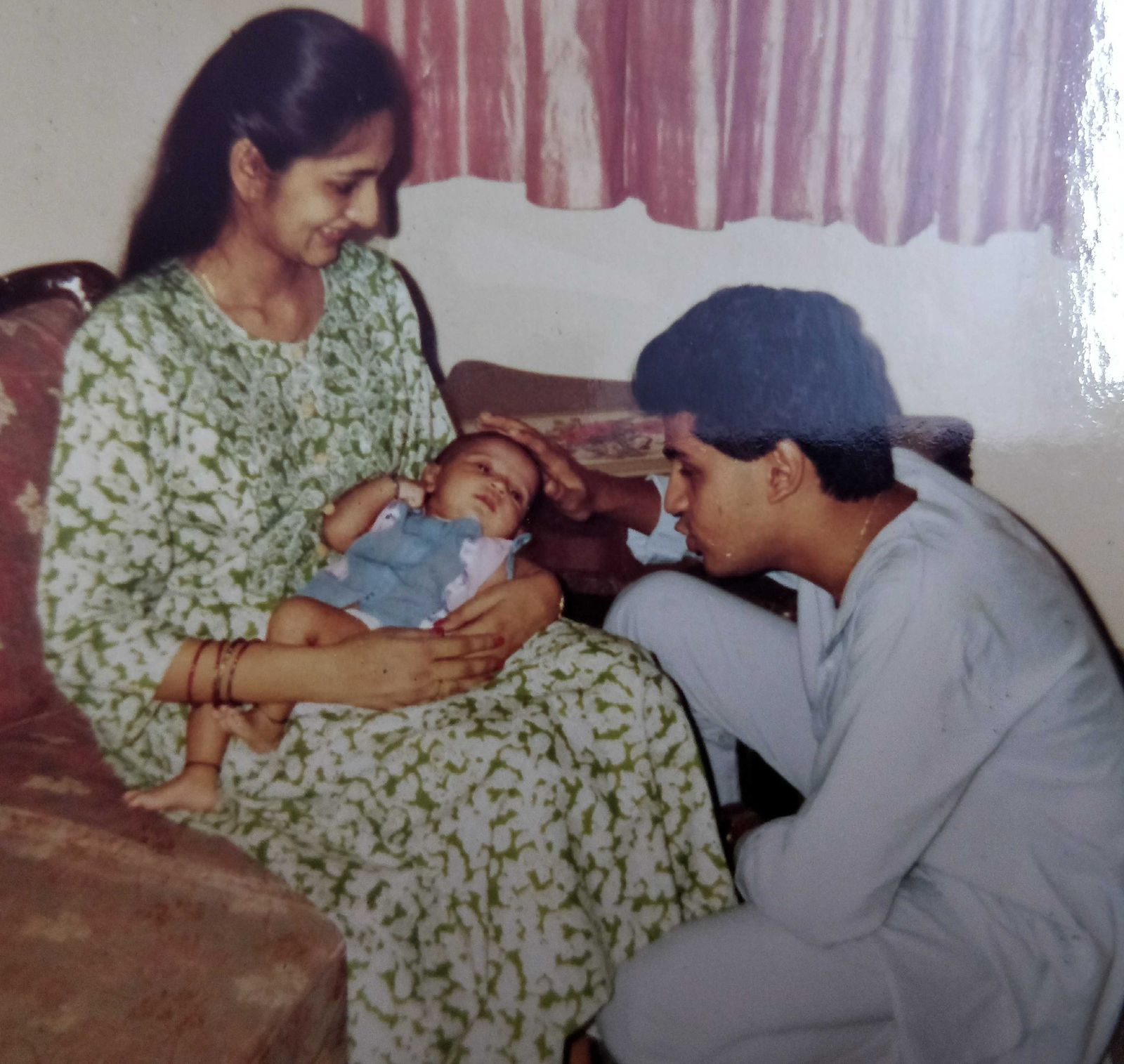 She informs that when she turned down a stable job offer without telling her parents, her father was angry and did not speak to her for a month. "I dreaded going for family gatherings because the conversation would boil down to either my marriage or my work. But I didn't lose hope and gave myself a pep talk every day – that's why I say that I've been my own biggest motivator and encouragement."
This was also the time when she joined SHEROES. She recalls the days as, "When I had joined SHEROES, I was not in a healthy frame of mind. Work was slow, pressure from my family was building up, and I was contemplating moving to another city to look for a job. Anything seemed better than getting married. I stumbled across SHEROES through social media. What interested me was how it helped girls and women alike to find employment suitable to the requirements and that was just what I wanted at that time. Then I also saw the different communities they had for Art and Relationships and Start-Ups and Cooking and what not. That piqued my interest and I joined the Art and Craft Community. And the response I have received ever since has been heartwarming. It's contributed to my journey by giving me several opportunities. For instance, this interview with you Mahima is one such opportunity that SHEROES has given me!" Chuckles a now-very-upbeat Vrinda, whose family she says is now super-proud of her. "So much so that my father became huge support in getting my design studio ready. As of now, I have a team of 20 ( includes designers and karigars) that I wish to expand with time."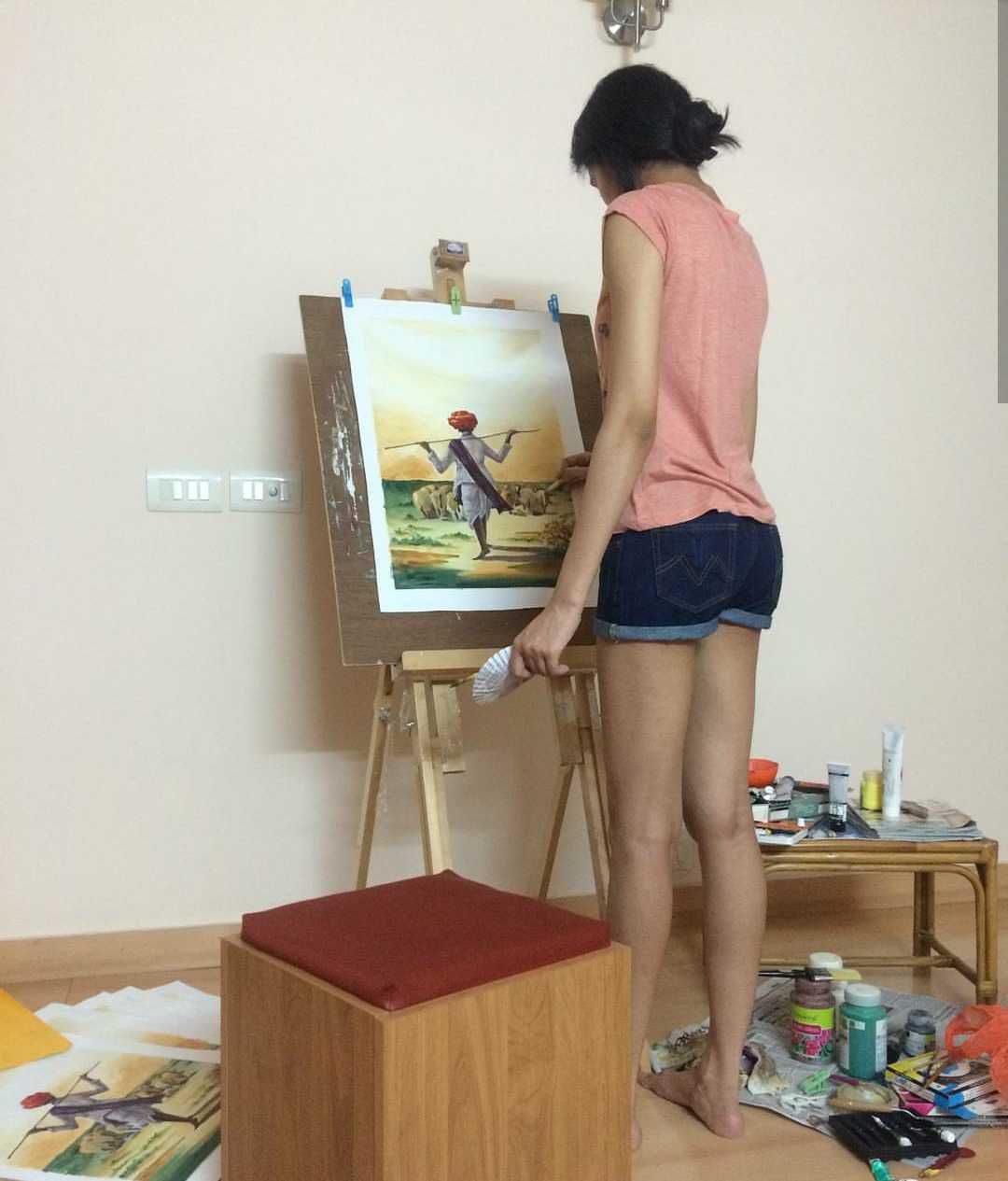 She continued to share her work on SHEROES even when the rough patch was over; she asserts that was her way to pay gratitude, to motivate other young passionate artists like her. She also holds Community chats at the Art and Craft Community to groom other artists. And during this journey at SHEROES, she says something awesome happened, "I was over the moon when I was approached for the cover design. Since SHEROES is all about women there seemed to be nothing better than to design something with girl power on the cover page. And I hope Sheroes gives me more opportunities like this in the future."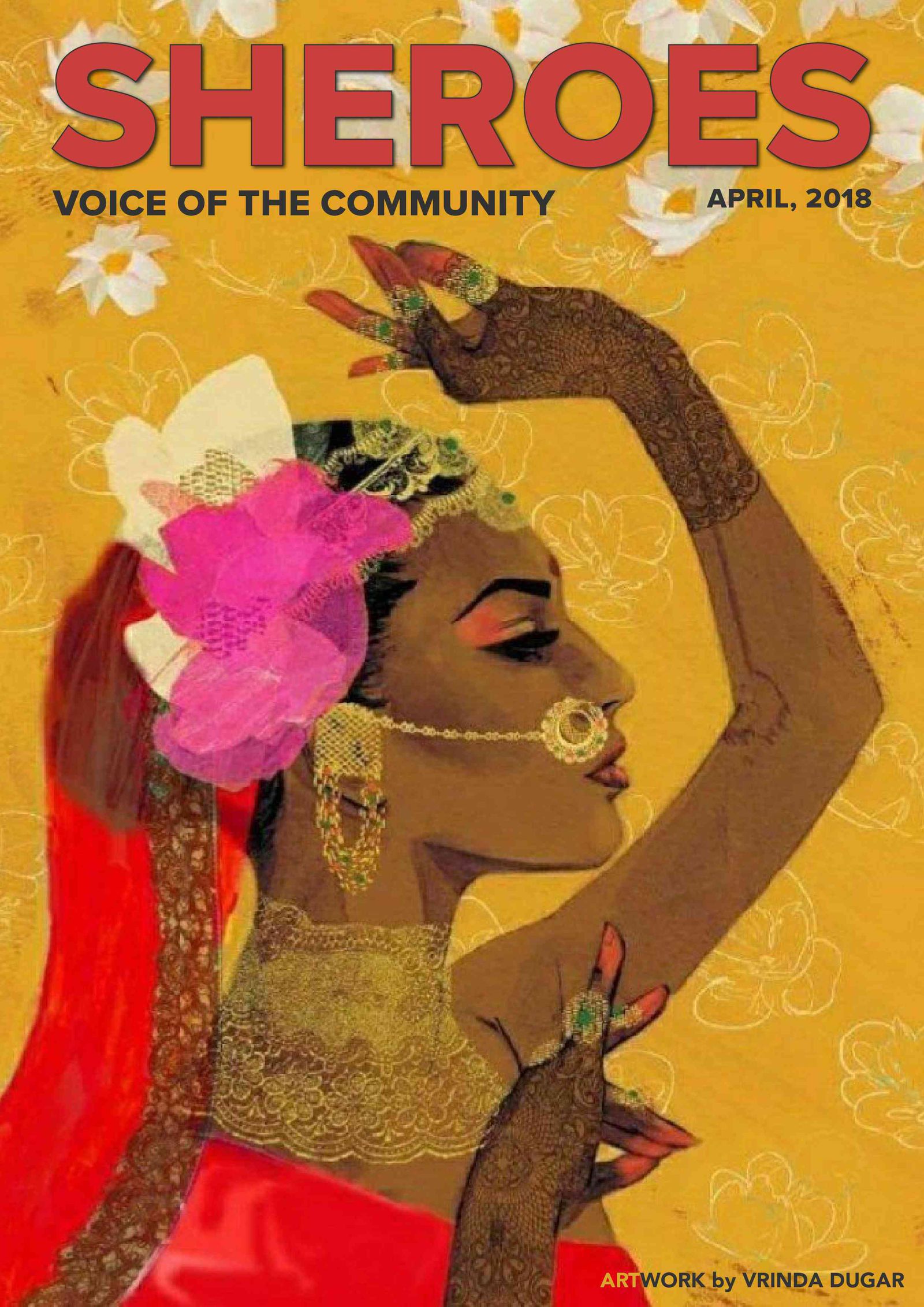 So who is this artist at heart, actually? "Mahima, at heart I'm a simple girl...a trained Bharatnatyam dancer, a yoga enthusiast and a typical bookworm with a small home-library of 600 books!"
And now...the biggest revelation of her life! Vrinda is soon getting married to her childhood sweetheart!
"Ha ha, like all adolescent children, we have even exchanged small love notes. Since Keshav was in class five, he was sure he would marry me one day. But as destiny had it, we parted ways after class 10th, once we changed schools. We were not in touch for the last 10 years. Keshav would occasionally write a mail to me, but my responses used to be pathetic – I would either answer his emails in a single sentence or not reply to them at all. But he didn't lose heart and kept going. In April 2018 he had just returned from a 3-year stint in Mumbai and connected with me again though this time it was purely professional or so he says. He contacted me to buy a painting he wanted for his office. This time for some strange reason I decided to talk and we met for coffee. From this point-there was no looking back," a bold, yet now little shy Vrinda details her cute love story.
So what's your message to young women like you Vrinda, who wish to break barriers and chase their dreams? She signs off saying:
"Follow your heart with all your mind and courage as passion trumps over everything else. All that is required is oodles of patience and willingness to work hard."
That was Vrinda Dugar in an exclusive chat with me in our #MeetTheSheroes Series. Don't forget to share her story and pour some love for her in the comments column, if it has left you inspired. You can follow Vrinda on SHEROES.
Hindi Version Of This Article -
पढ़ें इस लेख को हिंदी में - सपने देखने और उसे पूरा करने की जिद पालने वाली वृंदा दुगर |
---

Mahima Sharma
---
S*****

Unique art,i really love it
V*****

Lovely art you have
M*****

You are most welcome dear Vrinda. It was lovely to capture your story. Love

R*****

Very good can u helps me my daughter is 12year old and she tried and interest this can u guide me how can I helped her

P*****

Superb 👍 I love it.
V*****

Thank you everyone for all the love & support...it's overwhelming 🙏♥️
A*****

Beautiful story of a artist
S*****

Your story is so inspiring.
S*****

Lovely! Vrinda I will tell your story to my daughters. All the best ,💜

P*****

All your paintings are fabulous.
U*****

You are a superb artist dear vrinda,.. Great going.. Keep rocking on your own way... God bless you 🙌🙌👍👍👍👍
V*****

Keep it up dear....u'll always rock
R*****

You are the super talented girl..... keep growing 💜

G*****

Great dear Vrinda , your success story starts when you stood by yourself , and you did it, 👍👍What an art, you are a blessed child. Long way to go dear. 😘😘
P*****

You are the inspiration for all..Hats off to you dear... keep growing 👍😘

S*****

You're a tough girl. Motivating👍👍💕💕
V*****

Thank you so much Mahima & Sheroes..... grateful 🙏😇
P*****

You are super talented, fabulous artist ..loved it...kudos ..girl!!!
Similar Articles You love