Trushika Narang
18 Jun 2019

.

1 min read
21 Summer Beverages That Will Blow Your Mind
Imagine yourself sitting on a big woven wood chair and sipping a glass of margarita at a beach café in a tropical island, surrounded by cheerful people spending nice time together. Now let us imagine having these summer drinks that capture the flavour of Sun & Sea with your friends and relatives at your own home.
Yes, you are getting that right, beat the heat this summer by sipping on these frozen drinks at your place. Here is a list of some of the best summer drinks to quench your thirst and keep you cool all season long, no matter where you are.
From creamy frosted lemonade to strawberry mango punch served with flavoured ice, the whole family can chill out on a hot summer day with one of these drinks.
#1. Strawberry Coconut Lemonade:
Lemonade is a typical summer drink, which refreshes the mind and when infused with some frozen strawberries and coconut water, it can relish your taste-buds and quench your thirst. The recipe is as simple and quick, just add crushed frozen strawberries to coconut water with a hint of sugar, lemon, water and shake it up.
#2. Avocado & Yoghurt Smoothie:
The avocado and yoghurt smoothie is light, sweet in taste and extremely healthy. All you need to do is add honey in a warm cup of milk and stir it well into a blender. Add yoghurt, avocado and ice cubes to the blender. Make sure that the mixture is blended smooth and well for a perfect drink.
#3. Apple & Cinnamon Drink:
The rich flavour of apple with chunks of cinnamon and a touch of Nutella gives you an exotic smoothie. To get this luscious taste, wash, peel and dice the apple so that it can be blended easily. Put the diced apple pieces into a blender with milk, cinnamon and sugar. Blend the mixture until it gets creamy and smooth. Once it is done, serve it with vanilla ice-cream and feel the delight.
#4. Watermelon & Lemon Juice:
The duo of classic lemonade and freshly cut watermelon is a refreshing drink to embrace yourselves this summer. This easiest recipe only calls for blended pieces of watermelon. Extract the juice and add lemon juice and mint to it. Mix the juices well to enjoy the good sips.
#5. Mango & Coconut Milk Smoothie:
It's time for your childhood favourite fruit to give you chills this summer. Combine mango, coconut milk and one cup of ice water in a blender. Blend the mixture smoothly and add some more ice water to it for the desired texture. Serve the delicious and refreshing tropical mango coconut smoothie for a perfect treat this summer.
#6. Cold Coffee with Coconut Milk and Sprite:
No matter what the temperature or mood is, sipping a glass of coffee always refreshes the mind and helps to bounce back to work with full enthusiasm. We have been drinking cold coffee all our lives, but have you ever tried having it a with coconut milk and a cup of sprite. It may sound weird, but the taste will make you crave for it again. All you need to do is mix the coffee with coconut milk and half cup of sprite with ice cubes on the top. Mix it, shake it and have it!
#7. Soda Water & Orange Juice:
Let's get to know about this recipe of sparkling water with some orange fruit juice. This is a cold, balanced and bitter beverage to keep you refreshing and lively throughout the day. To get the best of the flavour, peel the orange, extract the juice and put it in the soda water. Shake it hard to get the essence of orange in the drink and you can also add two slices of orange for an intense flavour.
#8. Fruit Pina Colada:
You have really not lived the summers whole-heartedly if you miss to sip the most famous drink of the season. Yes, you just cannot miss sipping Pina Colada in summers which is a blend of coconut cream and pineapple juice. Mix the two juices with crushed ice, pour it into a glass and garnish the drink with pineapple wedges and some cherries.
#9. Berry with Sprite:
Take all the kinds of berries you have heard about like gooseberries, blueberries, raspberries, blackberries and strawberries. Take these fresh frozen berries and slush them into a glass of sprite with some added flavour of mint. It is considered to be perfect party drink and the taste of mixed berries will leave you luscious.
#10. Custard Apple with Milk:
The custard apple season is here so relish your taste buds with this healthy and fancy drink. Cut the custard apple, remove its seeds, scoop out the flesh and blend it with milk and sugar. Blend it till the mixture is smooth and treat yourself with this cool, filling and nutritious shake. To get some more slurps, add a spoon of vanilla powder and shake it well.
#11. Mix fruit with Ginger Soda:
This is one of the coolest summer mixtures with a delightful blend of mixed fruits. Put the mixed fruits together in a glass and sprinkle it with little sugar. Now pour the iced ginger soda in the glass and garnish it with some chopped ginger. This fruit-infused ginger drink is a crisp and refreshing combination with absolutely no artificial sweeteners.
#12. Matcha Green Tea Smoothie:
Ever thought of having a frozen green tea in summers? This matcha green tea smoothie is a pack of fruits and veggies which is utterly creamy and delicious. All you need is frozen mangoes, bananas with some baby spinach. Blend all the fruits together in a glass of light coconut milk and add two tablespoons of matcha green tea powder to it.
#13. Roasted Peach Strawberry Fizz:
Beat the heat with this sweetest and coolest drink this summer. And it will not take much of your time, just a few of your minutes. Cut the peaches and strawberries in half, roast them a little and then blend it. Add a little apple juice and some sparkling water to enjoy this lovely drink.
#14. Cranberry Pomegranate Detox Smoothie:
Summers are all about having sweetened drinks which also makes you to put on some kilos. How about losing calories while sipping a glass of a frozen drink? This glass of healthiest smoothie will not only make you feel the chills but will also detoxify your body. Blend the fresh cranberries, unsweetened pomegranate juice and peeled orange together. Sprinkle some flax seeds and cinnamon on it and have it in full glass of crushed ice. And you'll love it to the core!
#15. Watermelon Lemonade:
This is a quick, healthy and a refreshing drink majorly suggested in large gatherings. The secret of the drink is to use the watermelon ice cubes rather than directly pouring the juice into the drink.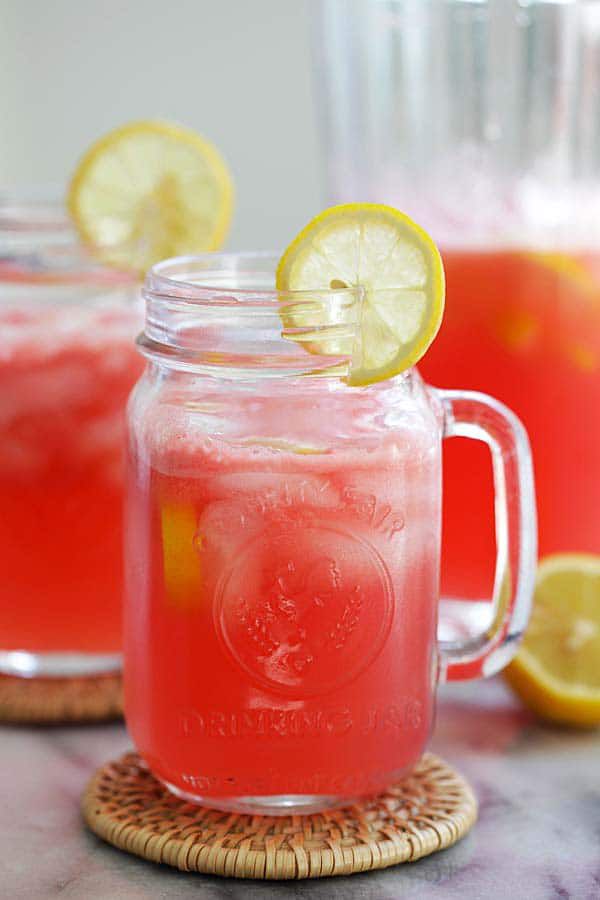 #16. Cherry Chia Lemonade:
Let's admit it that no summer drink can be complete without an essence of lemon and crushed ice. Try this new, quick and fun to make recipe with few simple ingredients. Get some juicy cherries and blend them with chia seeds and lemon juice. Chia seeds are rich anti-oxidants which when consumed on daily basis can do wonders to your body. And having a glass of lemonade cherry chia is a best way to include chia seeds into your diet plan. Follow the three easy steps – soak the seeds overnight, blend it with cherries and put lemon juice to it in the glass.
#17. Pineapple Mojito:
Intake some naturally sweetened fruits in the form of juices this season. Pineapple mojito is prepared using fresh pineapples and grape juice. The drink also serves you less calories as compared to other drinks. This tempting, easy to prepare drink loaded with fresh fruit flavours will cool you off on a hot summer day. Cut the pineapple into small pieces and add some mint leaves to it. Bruise the leaves a little and extract the flavour out of it. Now put the ice cubes into the mixture, in addition to grape juice, lime juice and soda water. Gently mix it and add a couple of lemon slices and enjoy your drink.
Here are a few more Healthy Home-Made Summer Desserts
#18. Mango Raspberry Punch with 7 UP:
The real mango flavour with those delicious fresh raspberries and crushed ice, this drink is a truly a delight for your sweet tooth. Blend a cup of raspberries and mangoes until you see the smooth pulse of the fruits. Pour the mixture into the ice tray and let the cubes freeze. Now put the fruit ice cubes into the glass of 7 UP and smitten yourselves with sweetness and love.
#19. Double Apple Iced Tea:
We all have grown up hearing this famous proverb, 'An apple a day, keeps the doctor away.' So let's benefit ourselves with a variety of fresh apples and juice. To make this drink, boil the water in a saucepan and add the tea bags. Stir it twice and leave it for some time to get it cool. Now put a thin slice of apples and the apple juice into the iced tea solution and put loads of ice to it to enjoy the double apple flavour.
Check Out Some Home Made Summer Salads
#20. Minty Melon Slushy:
As soft as the name suggests, the drink contains pulpy melon with an added flavour of fresh mint. Grab the melon pulp and blend it with lime juice, honey, mint and soda water. Sprinkle some salt and put multiple ice cubes to it. Blend it until the mixture gets smooth and enjoy this incredibly refreshing slushy.
#21. Non-alcoholic Sangria:
This drink celebrates the taste of all flavours and gives you a refreshingly amazing drink. Take some fresh kiwi, orange slices, star fruit, fresh cranberries and put them in a pitcher of mixed juice. Let the fruits float on the top and allow some to settle down in the bottom. To get the best of its flavour put the ice popsicles and have a glass of this sensational drink.
Take the 21-day bucket challenge with these easiest and amazingly refreshing drinks. Quench your thirst, set the mood and enjoy.
Feel free to play around with the quantities to suit your taste.
Keep these summers simple - Get your drink and sing along!
---

Trushika Narang
---
V*****

Refreshing post, love it
S*****

Great options. Good read. 😄


Similar Articles You love