"I'M Glad I Took A Leap Of Faith": Shruti Kode's Inspiring Journey
Last updated 21 Jun 2018

.

1 min read
Landing a great job straight after college is what most of us dream about. At 22, Shruti Kode managed to bag a rather coveted gig as a Business lead at Terribly Tiny Tales, the world's most celebrated micro-fiction platform. Dealing with brand managers and cracking deals days after her final exams from college. Life seemed pretty sorted for Shruti.
Until she decided to quit it all and kickstart a brand new career as a makeup artist. But she doesn't regret it one bit. In fact, she is all smiles as she tells us her story.
How It All Began
"As cliché as it may sound, ever since I was a little girl, I was always fascinated by mom's and aunt's makeup. My aunt is a makeup artist herself and she had this vanity bag filled with makeup and it was legit like my Wonderland. It was a childhood dream of mine to own a vanity bag full of makeup when I grew up. I now look at my own makeup filled closets and vanity bags with the same excitement and I can't tell you how happy it makes me!
I love how creative you can get with makeup. It's like faces are a canvas and you can create a beautiful painting using a brush and some makeup. It's beautiful. The look on my client's face after they see themselves in the mirror is what makes me the happiest. Nothing can be compared to that feeling. "
Indeed, you can't express your emotion when you follow your childhood dream and make a business out of it. But as it goes, taking a leap of faith is not as easy as it sounds.
Taking The Plunge
Nevertheless, quitting a comfortable, well-paying job is a big decision to take and it was no different for Shruti. "It was one of the toughest things I've had to do. There were a lot of challenges rolled into one. There were so many things I had to give up on - the stability of the job, the comfort of knowing that a good salary will be credited to my account on the 1st of every month and most importantly the wonderful people I worked with at Terribly Tiny Tales. It wasn't a decision I took overnight. There always is a fear of the unknown.
But the drive of turning my passion into my profession was what pushed me. I'd look at people doing what they loved for a living and wonder 'Why not me?'. That idea did it for me. Of course, it took a lot of planning and prepping to finally take that leap of faith but gurrl... I am glad I did." she says.
Laying The Groundwork
So what kind of planning and prepping went in, exactly?
"First off, I asked myself if this is something that will make me happy. It was my childhood dream, but was it worth it? It was. That was the most important thing to me and beyond that, everything just fell in place.
The universe does listen. Just when I was at the crossroads of my career - big questions about my vision for my role at TTT were being asked to me. At the same time, I came across Namrata Soni's Instagram post about her academy. It was regarding a new professional makeup course that was going to begin 2 months from then. There was a meet and greet session that was happening the following week with her and I decided to go for it. I thought, let me go check it out. If nothing, I'll get to meet the woman who's work I've admired for the longest time and tell her that in person. I had nothing to lose. So I went, and the rest, as they say, is history."
"(Editor's note: So True. All you need is the courage to face your fears. Sometimes you need to talk to a person whom you have admired, sometimes you need to tell about your dreams to your parents or spouse and sometimes it is just you who is full of fear to take that one step ahead and create history. There are so many women in Sheroes community who have taken the plunge and are now fulfilling their dream.)"
Getting The Right Skills
"I quit my job. What followed was 9 intense weeks of hands-on training for hair and makeup with Namrata Soni herself. It was such an amazing experience. I was learning something new every single day and I loved every minute of it. Just the process of walking into class not knowing something and walking out having learnt it at the end of the day was so satisfying.
After learning all the techniques, I worked on my social media presence and started putting my work out there for the world to see. I kept practicing on my mom, sisters, friends, friends of friends - you name it!
Slowly people started knowing about what I do and I started getting called for shoots, events, weddings and the likes." she explains.
And thus was born Makeup and Hair By Shruti. Within just six months, she has already worked on a bunch of ad films starring the likes of Naveen Polishetty and Aisha Ahmed. She also has some bridal shoots underway. Her favourite bit though is taking personal makeup workshops and helping women be the best version of themselves in their daily lives.
She adds, "For me, makeup is not about changing the way you look or using it as a mask to hide imperfections. It's simply about creativity, keeping it minimal and highlighting your best features. Less is always more."
People Matter Most
Shruti has also been blessed to be surrounded by people who love her and push her to be better. "I have the BEST parents in the whole world. They're my biggest support system in every way possible. They've always taught me to follow my heart and do what makes me happy. I could not have done this without them. While my dad is my biggest cheerleader, my mom is my harshest critic. He'll say my makeup is on point just by glancing at my face and my mom will tell me how the left wing of my eyeliner is a little off; also by just glancing at my face. And my brother is supportive and all, as long as I don't use him to practice eyeliners on. His words not mine." she laughs.
"Apart from my family, my biggest support system has been my friends. I'm so blessed to have a group of girls who are fiercely supportive and excited about my passion. Right from tagging me on everything makeup related to already booking me for their future weddings as the makeup artist, I could not have been luckier. I have guy friends who volunteer to go shop for makeup for me whenever they're traveling because they know I'm always looking to buy more makeup! My boyfriend can now name 5 types of foundations alone. I guess what I'm saying is each one of them has played their own role in supporting me in more ways than one and i couldn't have been more thankful!"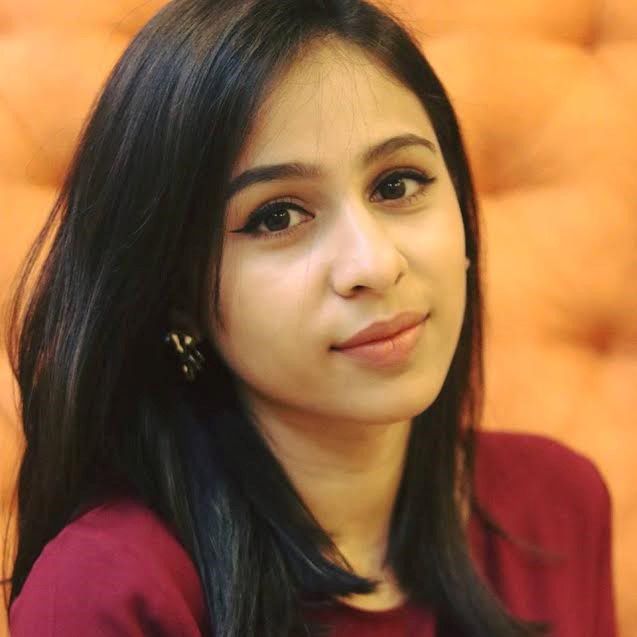 The Road Ahead
So what lies ahead for Makeup and Hair by Shruti? "So much! I feel like I'm just getting started," she smiles, "I definitely want to explore makeup blogging. At some point get into makeup production and have my own beauty empire. On a slightly different note, I want to study and get a degree in business as well. I feel like that's essential to start and grow a beauty business. And of course, keep upgrading my skills with makeup and never stop learning. There are new techniques, products coming out every single day. It's so exciting! That and whatever else that the universe has planned for me."
Shruti clearly is an inspiration for women to chase their dreams and pursue their passion without looking back. When love and skill do some hard work together, the rest just falls into place. We ask her if she has a message for women reading her story.
Here's what Shruti says, "Follow your dream, do it for the right reasons, work your butt off to make it happen and don't give up. Oh and have hella fun while you're at it!"
---

Palak Kapadia
---
---
Similar Articles You love