10 SHECO Health And Wellness Brands To Support Your Health And Vitality
Last updated 22 Apr 2021

.

1 min read
The SHECO marketplace has a number of top-quality natural health products. Here are 10 of the health and wellness brands you can find in the SHECO marketplace.
From energy bars to herbal remedies, menstrual and sexual wellness products to diabetes kits, Superfoods to sanitary pads and face masks, these natural health products and health brands will keep you and your family safe, healthy and full of verve and vitality.
1. Hearty Bite Natural Superfood Energy Bars
Hearty Bite Natural Superfood Energy Bars bring the promise of pure goodness present in a handful of your favourite nuts, seeds and dry fruits and have essential fats, antioxidants and minerals to replenish your body's needs.
These convenient healthy energy Bars are all-natural health products that contain no added preservatives and no added sugars and provide a great combination of health and taste.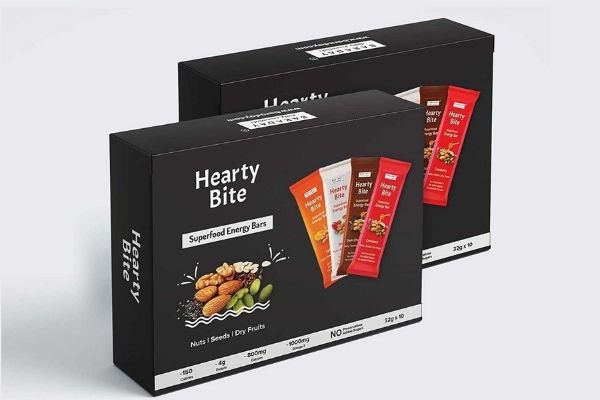 Whether you need a healthy post-workout snack, a quick snack for hungry kids after their play session, a mid-day snack during a hectic workday, or a travel snack you can carry in your purse, these healthy energy bars will provide a convenient and natural pick-me-up any time of the day.
If you've been searching for health foods online, Hearty Bite Natural Superfood Energy Bars will give you the energy boost you need to get through the day.
Click here to order Hearty Bite Natural Superfood Energy Bars from a SHECO Partner.
2. Sprightly Healthy Snacks
Sprightly is another SHECO health brand that makes nutrition products and a wide range of healthy snacking options designed to boost your vitality, prevent chronic disease, help you maintain your ideal weight and maintain a good energy level throughout the day
Their healthy Ready To Eat (RTE) roasted and baked packaged food products offer a guilt-free snacking experience. Their tasty snacks are available in different nutritional combination to cater to your individual needs.
You can find both low-calorie snacks for those with coronary disease and obesity to high-calorie snacks for athletes, youngsters and slim people. Get sugar-free nutrition products for diabetics and specially-planned meal combos for kids.
Sprightly even makes specially-designed snacks for patients with high blood pressure, cough and cold. Try their tasty and filling quinoa puffs or their delicious amaranth cranberry and apple cinnamon superfood bars.
Their natural health products are designed to specifically serve a variety of consumer groups like pregnant women, growing kids, diabetic patients, those seeking balanced diets and more.
Click here to order Sprightly Healthy Snacks from a SHECO Partner.
3. Timios Healthy Snacks For Kids
Timios is a SHECO brand that specializes in healthy snacks for your little ones, especially on those busy days when you struggle to pack good, wholesome, guilt-free meals and snacks for your little ones.
Try some Timios Berry and Nutty Bars loaded with dates, nuts, oats and many more wholesome ingredients for a quick and healthy snack. Their motto is to provide 'Honesty in Every Bite' with flavours, colours, and textures that will tempt and delight your kids.
From babies to toddlers to school-goers, Timios provides a range of healthy snacks that your kids will love. Their healthy snacks include an age-appropriate range of products loaded with goodness on the inside and fun on the outside.
Their products are free from any artificial additives and are made using the best ingredients with only natural preservatives, so you know you're making the right choice for you and your kids.
Click here to order Timios Healthy Snacks For Kids from a SHECO Partner.
4. Gynoveda Women's Health Supplements
Gynoveda utilises the natural goodness of Ayurveda to help women take charge of their health and well-being. Their Ayurveda herbal medicines and health supplements will help you boost your immunity and detox your body for natural health and vitality.
Gynoveda has combined ayurvedic herbs with the power of technology to create permanent and safe solutions to your health issues.
Their health supplements include:
This is the Vedic women's health and wellness formula for full-body detox and a uterine detox for healthy periods.
It works while you sleep to flush out toxins, purify the blood, clear dead cells for glowing skin, and prevents lifestyle disorders, acidity, and bloating.
This natural health supplement is akin to a wake-up pill to give you strength all day. Formulated for women's strength and vitality, it is a rich source of vitamin C and folic acid.
This natural health supplement enhances immunity to viruses, flu, and other infections and prevents frequent cough and cold. It also helps reduce fatigue, boost energy and ensure healthy periods.
Click here to order Gynoveda herbal supplements from a SHECO Partner.
5. ForHer & ForMen
Are health issues and stress taking a toll on your marriage? Is your marriage under pressure due to impotence and sexual inadequacy? Are you experiencing menopause symptoms such as vaginal dryness?
Forher & ForMen make a number of natural health supplements and sexual wellness supplements formulated with ayurvedic herbs and nutrients to help couples overcome the obstacles of married life.
Their natural and sexual health supplements for men's sexual wellness include De-Stress+ For Men, Genesis+ For Men, Perform+ For Men, and Immunity+ For Men.
Women can avail of natural health supplements such as ImmunOx For Women, Sleep Gummies for women, V-Protect vaginal insert capsules for women, and Natural Estrogen menopause supplement for women.
All-natural health supplements from Forher & Forshe are formulated by experienced doctors and pharmacologists and manufactured with high-quality ingredients. They are delivered discreetly through free doorstep delivery.
Click here to order Forher & Forshe natural health supplements from a SHECO Partner.
6. Bold Care Sexual Wellness Products
Bold Care Sexual Wellness Kit includes proven allopathic and ayurvedic medicines to holistically treat sexual dysfunction in men. Their science-backed sexual wellness products will help men take charge of their sexual wellbeing.
The Bold Care Sexual Wellness Kit contains ayurvedic supplements and two prescription medicines proven to show results in as little as 45 minutes. It can help boost mood, reduce stress, improve blood flow, libido and desire.
All the prescription medicines have been approved by the USFDA and are completely safe to use. They also offer a free doctor consultation as prescription medication can only be taken on the advice of a medical professional.
Bold Care Surge energy booster tablets for men contain L-Arginine, Gokshura, all-natural Tonkat Ali and other ayurvedic herbs to boost blood flow and strength with zero side effects.
Bold Care Forever is an all-natural, stamina booster supplement for men that contains ayurvedic herbs and antioxidants like Ashwagandha, Shilajit, Safed Musli, Shatavari. These improve overall health, relieve stress, uplift your mood, and increase energy levels.
Bold Care Progeny is a natural strength booster supplement for men that contains natural enhancers like L-Carnitine, CoQ10, and vitamins to support men's drive, vitality, and performance. It is vegetarian, gluten-free, has zero side effects and improves health naturally to increase overall strength and performance.
Backed by doctors for quality and safety, Bold Care's products are designed to have a long term impact on enhancing drive, energy, and performance in men.
Click here to order the Bold Care Sexual Wellness Kit from a SHECO Partner.
7. BeatO Smartphone Glucometers
The BeatO App is your personal diabetes care and management assistant that empowers you to manage your blood sugar levels round-the-clock through your Smartphone.
Their innovative Smartphone glucometers are extremely small, making them convenient to carry and take accurate readings. All readings are securely saved on BeatO App and cloud to access anytime
You'll get an automated alert every time your Blood Glucose reading exceeds the controlled range and you can also let your family, friends and doctors track your health from anywhere.
The BeatO app offers personalized insights based on your health profile and Blood Glucose trends to help you understand how your diet and lifestyle affect your blood sugar levels.
Their diabetes specialists and doctors are always available to answer your questions at the click of a button.
Click here to order your BeatO Smartphone Glucometers from a SHECO Partner.
8. BagOfHerbs (BOH) Superfoods
BagOfHerbs (BOH) is a company that offers a range of herbs, spice mixes, seeds and more. Some of their best health products are their Bag of Herbs Breakfast Mix and BOH Superfoods which include foods rich in nutritional value.
BOH Superfoods are the perfect meal in a bag and can be consumed in salads, with cereals, or with muesli, porridge, milk, sandwiches, smoothies, oatmeal or as snacks. Pick from your favourite BOH Superfoods to add to your breakfast, salads, and smoothies, or just snack from the bag.
The Bag Of Herbs Breakfast Mix is an organic, ready to eat, healthy, nutritious and tasty snack enriched with dried fruits and seeds to make your breakfast the best meal of the day.
It contains over 14 dried fruits, seeds and nuts including pumpkin seeds, sunflower seeds, flax seeds, watermelon seeds, walnuts, cashew nuts, almonds, cranberries, blackberries, dried pineapple, dried apricot, and dried cherry.
Click here to order your BagOfHerbs (BOH) Superfoods from a SHECO Partner.
9. Saathi Biodegradable Pads
Saathi pads are biodegradable and compostable sanitary pads, manufactured using banana fibre for the leak-proof outer layers of the napkin because of its highly absorbent properties, and the environmental and social benefits of its supply chain.
Saathi is a purpose-driven manufacturing company dedicated to making eco-friendly hygiene products that use an alternative, plant-based materials with zero-waste production. Its mission is to create hygiene products that are good for the body, environment, and community.
The average conventional sanitary pad contains 3.4 grams of plastic. This can not only cause rashes and irritation but also creates enormous amounts of sanitary pad waste which is bad for the environment.
Saathi pads are designed to degrade 1200 times faster than plastic pads and completely break down within six months. Since they don't contain harmful chemicals they will not cause rashes and irritation.
Besides being designed to use natural, locally sourced materials, Saathi biodegradable pads are also gentle on the skin and Mother Earth and break down quickly upon disposal.
When you dispose of Saathi pads in a waste bin, they should degrade within 6 months, under normal conditions. By purchasing Saathi pads, you also give the gift of biodegradable pads to women in rural communities.
Click here to order your biodegradable Saathi Pads from a SHECO Partner.
10. IVillage Antiviral Organic Cotton Masks
Since we all need face masks, why not buy them from a team of dedicated and passionate professionals who are empowering rural women? IVillage is a platform that works to enable a successful and self-sustaining rural economy with its women at the centre.
Their efforts are aimed at the empowerment of rural girls and women to make them socially economically empowered, self-dependent and successful with the dignity to earn their own livelihood.
Guided by professional help, the women working at IVillage have learnt how to stitch protective and reusable masks for themselves, their children, and family members. Some of these women have risen from being housebound to being the sole earning members in their families.
Their Antiviral Organic Cotton Masks have a 3-layered filtration system with a filter pocket. The outer layer is netted mesh while the innermost layer is made of super-soft cotton, which makes it great for breathing. This reusable face mask has an antiviral shield for protection from the coronavirus.
The organic cotton fabric makes the mask comfortable and easy to wear. These comfortable breathable cotton face masks are great for elders, men, women and kids.
They offer greater elasticity and comfortable support as well as the knowledge that you're supporting and empowering rural women when you buy an IVillage Mask.
Click here to order your iVillage Antiviral Organic Cotton Masks from a SHECO Partner.
Also read:
---

Priya Florence Shah
---
---
Similar Articles You love