Enjoy Fun Children's Activities For Kids At Home With These SHECO Brands
Published on 12 Apr 2021

.

1 min read
Need fun children's activities for kids at home? These gifts for kids and educational toys for kids from popular SHECO brands will help you find fun, indoor activities for kids at home.
Ever since the lockdowns began and schools closed down, most outdoor activities for kids ended and parents started searching for quarantine activities for kids and fun things to do at home with kids in quarantine.
But, pandemic or not, who doesn't want fun activities for kids at home and educational toys and games to keep their little darlings happily occupied?
So, if you've been looking for fun things to do with kids at home or indoor summer activities for kids, here's a list of things to do with kids using the educational toys for kids and gifts for kids from our favourite SHECO brands.
1. Epically Ramayana Memory Game For Kids
As one of the most popular and engaging kids' learning toys, Epically Ramayana from Positively Perfect is also one of the best learning activities for kids to help them learn all about this Indian mythological epic.
Enjoy hours of indoor fun for kids and enrich your storytime with tales from Indian Mythology with this fun and educational indoor game for kids.
Devdutt Pattanaik, India's favourite mythologist, is the creator of the Epically Ramayana Memory Matching Game for Kids for which he did both the art and story.
It will make learning Ramayana fun for kids by matching illustrations of the famous characters (art cards) with their descriptions and the stories (story cards).
It comes with 64 Memory Cards made with sturdy and thick high-quality paper packed in a sturdy and compact box perfect to carry for travel and vacation.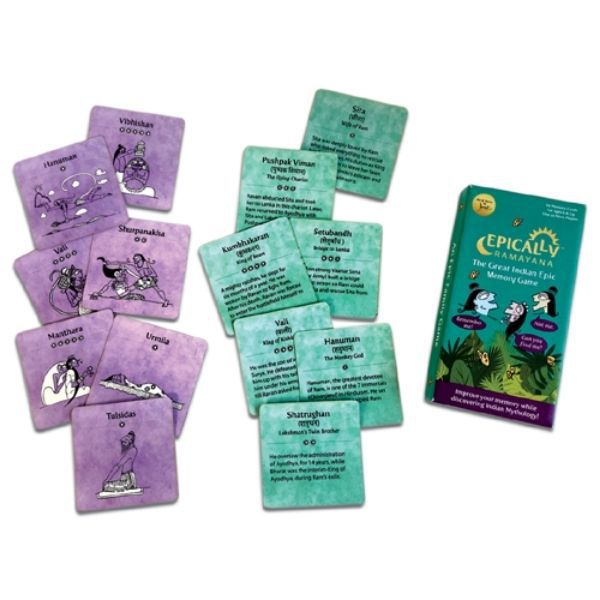 You can learn how to play this creative, educational game in just one minute and it takes anywhere between 15 to 25 minutes to play the game.
So, if you want indoor activities for kids at home, this is a great educational gift for 10-year olds and a fun-filled, engaging memory game that kids can play alone or play together as a family.
Purchase the Epically Ramayana Memory Matching Game for Kids from a SHECO Partner.
2. Epically Money - The Great Indian Money Game
Want fun activities for kids and educational gifts for children that teach them life skills such as managing money? Epically Money - The Great Indian Money Game – is a fun way to teach children decision making about money.
Developed in collaboration with many successful entrepreneurs from different fields, child psychologists, trainers, experienced teachers and financial consultants, this indoor game is designed to be played by 2 to 4 players of ages from 10 to 99 years and also makes a great educational gift for kids.
One of the best educational indoor activities for kids that also prepares them to live a happy and successful life by making good decisions about money, this indoor game will teach your kids about an important life skill that they don't learn in school – managing money.
From taking care of monthly expenses to saving and investing money, using the money for the right purposes such as caring for their loved ones and making memories to cherish, this is a game where children make their own decisions at every step.
Enjoy hours of fun and laughter punctuated by interesting conversations around money with the Epically Money Game only - the game where kids can win trophies at the end of each play.
Purchase the Epically Money Game for Kids from a SHECO Partner.
3. Smartivity Eco-Friendly STEAM Educational Construction Toys
In this fast-paced world of technological marvels, a practical understanding of STEAM concepts is critical to success in the future.
But what is STEAM? It stands for Science + Technology + Engineering + Arts + Mathematics and encompasses all these disciplines to provide a holistic understanding of the world.
Smartivity makes cool, educational, construction toys for kids aged 6 to 14 years old that engage their minds and bodies in hands-on constructive, educational fun.
If you've despaired of finding gender-agnostic kids toys for girls who love science, you should know that Smartivity's science toys and learning toys are not just construction toys for boys, but gender-agnostic STEM toys for kids that will keep both girls and boys engaged for hours.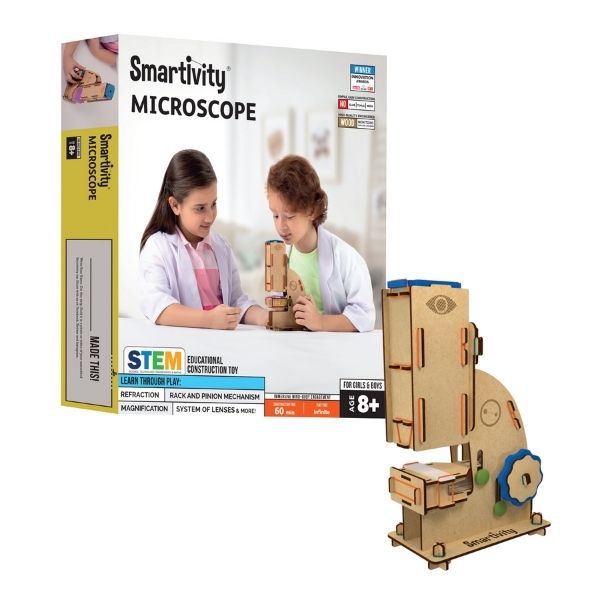 All their eco-friendly, wooden toys for kids use high-quality, re-engineered wood as the primary material and are child-safe, mess-free, made in India and trusted by over 50 lakh parents in 24 countries.
Smartivity's STEAM construction toys are designed to help your child gain confidence in building things with their own hands.
As fun, educational science experiments for kids at home, these STEM toys for kids inculcate a scientific temper and teach the practical applications of core concepts through play.
As your child builds their own STEAM educational construction toys with their hands, aided by the world-class instruction manual which is easy for children to follow, they not only get a hands-on understanding of STEAM fundamentals but also experience a real sense of accomplishment.
Smartivity science toys are like mini science kits for kids and each toy takes about 120 to 200 minutes to construct, so these science projects for kids will give them many hours of happy indoor play with the STEM toys they build.
Once these tech toys and construction toys are assembled, kids can follow the extended learning guides that contain concept explainers, experiments, and activities to learn STEAM concepts at work in these STEM toys' different mechanisms.
Your child will continue to explore, play and enjoy the variable gameplays with these cool, science toys for kids for a long time.
So if you're looking for fun STEM projects for kids and STEM activities for kids at home, you just can't go wrong with these educational toys for kids from Smartivity.
Purchase Smartivity's science toys for kids from a SHECO Partner.
4. Zoomin Storybooks
Imagine your child as the hero of their own story. This is what a Zoomin 5.5" Storybook can do for you.
Parents love buying kids story books because every child loves to hear stories that capture their imagination. But what could be more inspiring than a story that your child is the hero of?
A customized Zoomin Storybook will make your child the hero of their own story. Zoomin story books are available in 2 sizes – 5.5" and 8" – that are suitable for kids aged from one to eight years.
When you place your order for your Zoomin Storybook, you'll get a set of six books with six different stories where the animation character changes according to your child's gender.
These sturdy books are perfect for little hands as they're made from thick, high-quality cardboard that even your tiny tornado cannot damage. They also have rounded edges so your precious one won't get hurt.
So make your child the hero of their own story with a set of Zoomin Storybooks and introduce them to the pleasure of reading.
Connect with a SHECO Partner to purchase your Zoomin Storybook set.
5. Timios Healthy Snacks For Kids
All those indoor activities for preschoolers are a hungry business and healthy snacks are a must for growing kids after a busy afternoon of play. Healthy snacking is a serious business with Timios, a SHECO brand that specializes in healthy snacks for your little ones.
From babies to toddlers to school-goers, Timios provides a range of healthy snacks that moms will love, especially on those busy days when we struggle to pack good, wholesome, guilt-free meals and snacks for our little ones.
Timios means 'Honest' in Greek and their motto is to provide 'Honesty in Every Bite' with flavours, colours, and textures that will tempt and delight your kids. Timios healthy snacks include an age-appropriate range of products loaded with goodness on the inside and fun on the outside.
You can give your kids some Timios Berry and Nutty Bars for a quick and healthy snack after their play session. These energy bars are loaded with dates, nuts, oats and many more wholesome ingredients.
Their products are made using the best ingredients, so you know you're making the right choice for you and your kids. They use only natural preservatives so their snacks are free from any artificial additives.
With these branded SHECO products above, you now have plenty of hobbies for kids, creative activities for kids, and fun things to do with kids this weekend. And if your kids have a birthday coming up, they also make the best gifts for kids to nurture their body and mind.
From building toy cranes and enjoying exciting science activities for kids to playing educational games for kids, these are the best fun indoor activities for kids or rainy day activities for kids you can come up with.
Connect with a SHECO Partner to purchase any of these gifts for kids.
---

Priya Florence Shah
---
---
Similar Articles You love