Celebrate Raksha Bandhan 2021 With Rakhi Gifts And Rakhi Hampers
Published on 19 Aug 2021

.

1 min read
Celebrate Raksha Bandhan 2021 and send Rakhi gifts online with this collection of Rakhi gifts for brothers and Rakhi hampers in SHOPonSHEROES.
Looking for online Rakhi delivery to send Raksha Bandhan gifts to your beloved brother? Many of us are unable to meet our brothers for Raksha Bandhan 2021.
If you need to send a Rakhi online to him, this list of Rakhi gifts for brothers will help you show your love and caring for him.
From handmade Rakhis made by the talented craftswomen on SHEROES to Rakhi hampers from the SHECO marketplace, here are some of the gorgeous Rakhi gifts for brothers available in the SHOPonSHEROES marketplace.
#1. Shaam - Eco-Friendly Plantable Beej Rakhi
These plantable Beej Rakhis are embedded with bottle gourd, Tulsi, Amaranthus and Purslane seeds. They can be sown after the celebration and will grow into beautiful plants.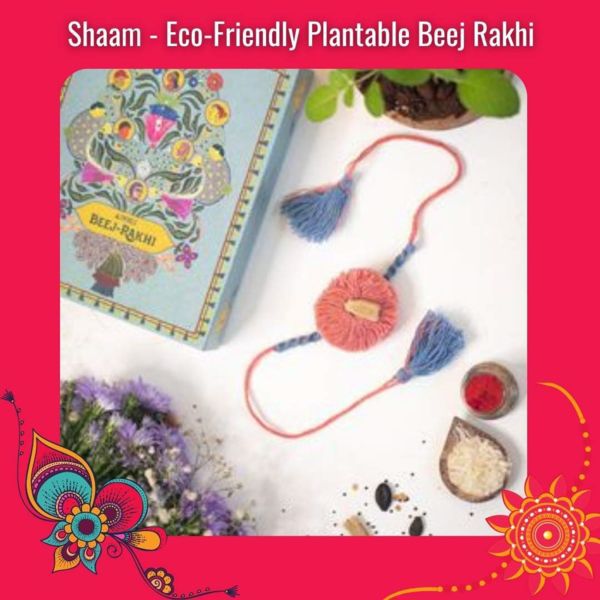 #2. Handmade Clay Rakhi Set
Grab this Rakhi set of 6 unique and customized handmade clay Rakhis from Maahi creations before they're gone.
#3. Beautiful Green Stone Rakhi
This beautiful green stone Rakhi is perfect for Raksha Bandhan. Express gratitude and love to your siblings and family through this special token of love.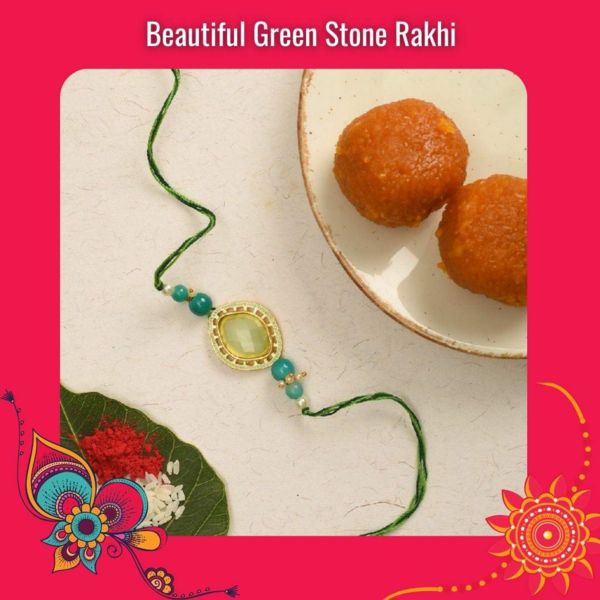 #4. Bal Krishna Rakhi
Make Rakhi more memorable for kids with this beautiful Bal Krishna Rakhi and let them express their own style.
#5. Rakhi Hamper For Bhaiya & Bhabi
Send your bhaiya and bhabhi this beautiful Rakhi Hamper that contains a Couple Rakhi, roli chawal, happy Rakhi chocolate bar, raisin chocolate bar with a Rakhi message, a bottle of Coca Cola, heart muffins, 1 nail paint, lip, 1 gloss, 1 pen, 1 Denver pocket talc and 1 small bouquet.
#6. Hearty Bites Rakhi Hamper
Hearty Bite Raksha Bandhan Hamper brings the promise of pure goodness in a handful of your favourite nuts, seeds and dry fruits and has essential fats, antioxidants and minerals to replenish your body's needs.
Each Rakhi Hamper contains 1 Rakhi and multiple energy bars (2 cranberry, 2 dark chocolate, 2 standard, 2 apricot), cashew nuts, almonds and a 3d printed heart-shaped bookmark with personalised Raksha Bandhan wishes. Get free shipping and delivery within 15 days.
#7. Open Secret Rakhi Special Tandoori Nuts & Cookies Gift Box
This Open Secret Rakhi Gift Box is the perfect way to celebrate Raksha Bandhan in classic style. Each handcrafted Rakhi Gift Box contains 12 vegetarian and all-natural nutty cookies, 1 pack of tandoori nut mix, 1 roli chawal, 2 Rakhis and a Rakhi card.
Their beautifully-packaged hampers enhances the charm of your gift and combine the immunity-boosting properties of rich Nutty Cookies with exciting merchandise to leave a lasting impression. Get free shipping and delivery within 15 days.
#8. Open Secret Nutty All Day Snack Sampler
Don't forget to check out the Open Secret Nutty All Day Snack Sampler that comes with 2 Packs of lip-smacking, immunity-boosting Nuts (1 caramel sea-salt nutty almonds + 1 tandoori masala nuts mix), 1 assorted family box (6 cookies loaded with dry fruits & chocolate) and 3 packs of nutty chips (1 choco almond + 1 spicy peanut butter + 1 lemon chilli almond butter chips).
#9. Open Secret Premium Rakhi Gift Hamper
This Open Secret Premium Rakhi Gift Hamper is a sinfully healthy combination of chocolates and nuts for a perfect for gifting your bhaiya and bhabhi.
This Rakhi Gift Box contains 6 packets of Chips+ 4 packets of nuts, 2 shake mixes, a shaker, 2 spreads, 1 assorted story box, roli chawal, 2 Rakhis, 1 Rakhi Card, 1 festive light and tray, 2 N95 masks, 1 DIY animal kit and 1 DIY butterfly kit .
#10. Naario Sampoorn Rakhi Hamper
This Raksha Bandhan, gift health with a Naario Sampoorn Rakhi Hamper from India's first women-led food products brand to offer natural, organic, and great tasting products, all pioneered by homemakers.
This Rakhi Hamper contains classic muesli, jaggery powder with chai masala, paan flavoured dark chocolates, handcrafted roli chawal platter and a handcrafted beautiful Rakhi.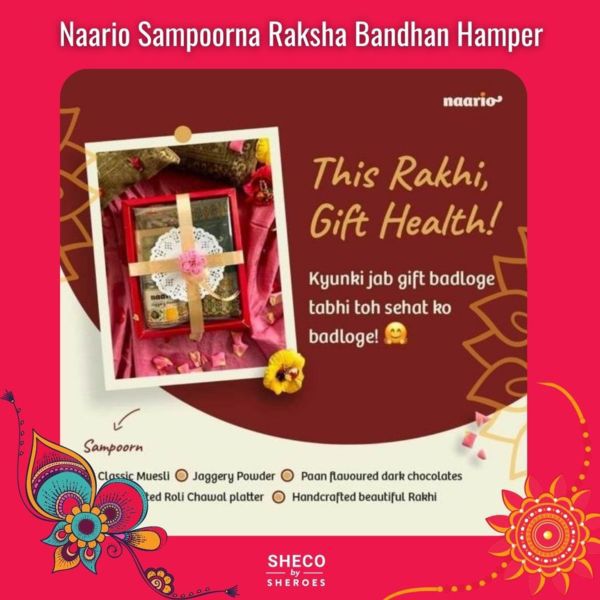 #11. Sprightly Dry Fruit Hamper Rakhi Combo
Sprightly Dry Fruit Hamper Rakhi Combo is a (with wooden tray) spicy almonds cashew, lime and herb. These guilt-free, nutritionally designed healthy snacking options are roasted, baked, puffed or fried, but with less oil.
#12. Rakhi Gift Flavour Bomb Box
Share the spice, zing and sweetness of Raksha Bandhan with Nutripanda Rakhi Gift Flavour Bomb Box. It comes with an assortment of absolutely zesty and tangy snacks complete with a sweet dose of gur chana, masala oats chips, Nutri Namkeen cream and onion makhana, gur chana, and achari quinoa chips.
#13. Regular Delite Rakhi Gift Box
Regular Delite Rakhi Gift is a wholesome snack combination by Nutripanda that will engage your tastebuds and boost your festive moods with a healthy touch. This beautiful Rakhi gift box contains 2 Rakhis, beaten chana, soya chips, Nutri Namkeen soya corn crisps, diet chidwa, and gur chana.
Also read:
---

Priya Florence Shah
---
---
Similar Articles You love