MUMYU - A Baby Care Enterprise Empowering 400 Women In Himachal
Last updated 30 Nov 2018

.

1 min read
In every household of Himachal Pradesh, there is at least one woman if not more, who knows how to stitch, sew and knit better than any trained professional. And over the ages, this craft has been transferred from generations to generations. These women are housewives, caretakers, and family keepers. They practice this craft to just fulfill the needs of their family, sewing and stitching clothes and sweaters and shawls for them or babies. The craft neither got due appreciation, nor any monetary benefit.
But one young woman decided to utilize this untapped potential. And bring a revolution in the field of Baby & Mother Care. Yes, a lot is said and claimed to be done in the field, but there are a few who walk the talk.
And one such person is SHE Starts Up! Community and BabyGogo Community's Champion at SHEROES, Shalini Sharma from Solan in Himachal Pradesh India.
Shalini is the founder of MUMYU - that creates a range of clothing and essentials for pregnant women, nursing mothers, and infants. This includes a whole range of conceptually designed clothes/apparels for pregnant mothers starting from 3rd month till delivery and also postpartum to early nursing moms. And each product is baby safe, mother safe as well as produced for the women, by the women with love and care!
(Don't Miss Out - 30 Good Reasons Why Women Should Work)
"MUMYU stands for Mum & You and also comes from the fact that Shalini's little son calls me so!" Shalini giggles as she starts off explaining the idea behind MUMYU.
What holds this brand different from others is that it is giving employment to 438 women from villages of some 12 districts in Himachal Pradesh! And MUMYU is just a year old!
Yes, it started in December 2017. And the number of women joining MUMYU is just growing since they are not just her employees, but 'creative partners.' They get a commission as per the tasks accomplished as well as the desired quality of the product.
34-year-old Shalini further details, "These clothes are being designed keeping in mind the needs of pregnant women, their sensitive specifications, occasional attire needs, comfort, profession, lifestyle and of course colour choice. Do check them out yourselves someday, these women create beautiful pieces of art from their own hands, woven with love and warmth. And there are strict quality check guidelines, thus I call my women team my creative partners, who get paid a commission only if the quality gets approved."
Shalini claims that following is the USP of the MUMYU products:
1. Made by mothers, for mothers, with warmth and love, in the natural environment of Himachal Pradesh.
2. All the apparels will be altered by MUMYU team post-delivery as per the size, so no wastage of money.
3. Cheaper as compared to the other brands. (A hand-made poochie is just for Rs 99/- and entire MUMYU essential bag will cost you less than an air-ticket for a holiday!
4. Each apparel comes with a story so a mother who is carrying /nurturing a baby knows, who made it. Each product has its own social and emotional value.
5. Baby products are designed by great grandmothers and mothers of native areas, they have been designing it since ages for their kids with their own hands. The products are natural, 100% chemical free, practical to use and also highly recommended for infants.
Shalini's question forces me to think, despite the fact that I am not a mother yet, "Mahima aren't we all jumping for all the foreign brands when it comes to maternity wear and child essentials? How correct is that? The first product you use for your child has to have a lot of value attached to it besides the cost. When you buy a product from a foreign brand, we don't know who made it, in what emotional or physical state it was made, what was the environment or what's the story behind it. Every product we make has the story of a woman attached to it, who has lovingly crafted it for you and your baby. Like this one....check this out...."
Shalini adds that it is not easy to be a creative partner of MUMYU or retain your work there, because there is three-stage quality check process right from hiring of the women to sales of the product they create. So much to take care of and that too spread across 12 districts! Why didn't you set up a Production Unit and avoid so many hassles Shalini? She smiles, "Imagine your child or children in your family wearing a snuggly, warm stuff made by a mother or a grandmother. And compare the emotion with that coming from a production unit. What will you choose? Also, the aim is not just to give that love to you and your child, but also tap the art, the craft of women across Himachal - EMPOWER THEM. Mahima, a startup, a business must not be always about money. It is time to #TakeCharge to #BeTheChange you want to see."
Having her birth roots in Chail, Himachal...Shalini has her dream well rooted and nurtured through her education as a Graduate in Medical Sciences from HP University and a Masters of Business Administration from Punjab University. She has her vision and plans ahead, well laid. She informs that joining SHEROES SHE Starts Up! Community has given a boost to her dream and despite being bootstrapped right now, she has hopes of local expansion. So far there is one branch at Solan with others planned at Shimla next year.
And what she adds next, is very heartwarming,
" You know 40% of our creative partners are above the age of 60! And they had not earned anything in their entire life before MUMYU happened.
The pride, the tears of joy that they hold, the hugs and blessings I get from them - all of these today are my motivation to ensure more and more women join my venture. In just one year we have delivered '60 packets of love' and received only positive, motivational feedback like - 'Thank you for making my baby feel loved and cared'...It feels as if my own Mom sent the jhablas for my child, Thanks Shalini.' So MUMYU is no longer my venture, but my pride today!"
(Also Read - Meet Two Sisters Who Are Recycling Old Clothes & How!)
MUMYU, which Shalini says is doing great through word of mouth, Social Media as well as SHEROES, will have its own website up and running soon. And the good news is that MUMYU enters offline retail after the online through its first store in Delhi/NCR which Shalini aims to set up by 2020.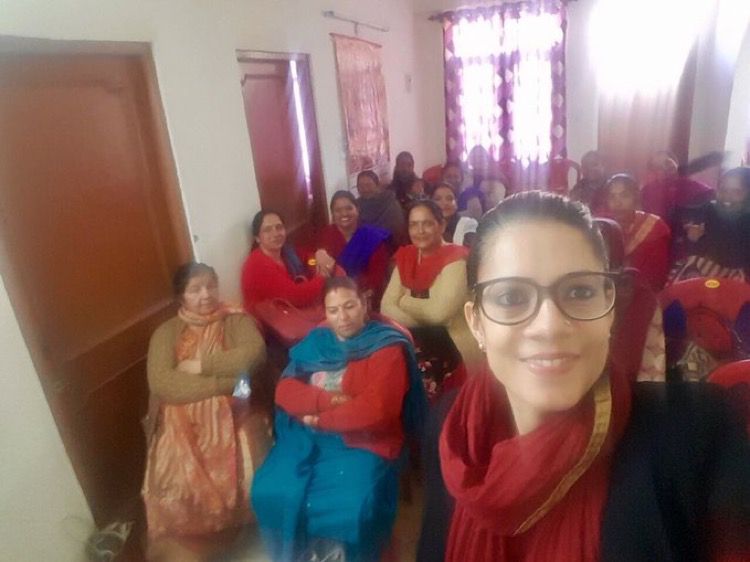 And she signs off with some inspirational advice:
"Be ready to fail many times, be ready to be criticized, be ready to be laughed upon, but BE READY TO WIN.

Your dream is your dream and no one else can achieve it for you, so you should be the one working hardest. Be practical and take strong, life-changing decisions."
Isn't that quite deep? So don't forget to share Shalini and MUMYU's story, so that more and more women can benefit not just by buying these crafts of love, but also join Shalini as creative partners.
---

Mahima Sharma
---
---
Similar Articles You love