Meet Champion Megha Batra Who Is Helping Us Know Our Legal Rights!
Last updated 27 Sep 2019

.

1 min read
Today I take you to meet 30-year-old Megha Batra, a lawyer who is charging up the environs of SHEROES by supporting women in better knowing their legal rights. And not only this, she takes up a lot of queries on one to one basis as well as at the "Family and Legal Matters Counseling support" Community.
The New Delhi based lawyer Megha says, "I joined SHEROES almost 10 months ago because I want to explore interact with ladies all over the country and help them in case of their legal needs." A great thought indeed, in the times when people are unaware of who their neighbor is! But then why is Megha helping the women out there, whom she doesn't even know? Or who are not even her clients, for that matter?
"You know Mahima, we cannot expect people to be human unless we are one. That's my simple belief. I have to do what needs to be done. That's it. What people do is their own Karma," asserts Megha who lost her father in her early twenties. She says it changed her as a woman and also gave her a perspective of life from a different angle altogether, that made her what she is today, she asserts.
"I was working as a Company Secretary in 2013 and in June 2013. I had completed my LLB, but unfortunately, due to the sudden demise of my father and family situations, I had to #TakeCharge of the family. I had to run the family as my brother was much younger than me and my mother was a home-manager. A relative insisted me to join his law firm and become a practicing lawyer. Armed with a law degree, I started working in that law firm to support my mother and younger brother. I had no choice you see. Side by side I began pursuing LLM, too."
But then the journey for a woman is never smooth. And Megha says she faced the same, "Being a lady lawyer is difficult or I should say being a first-generation female lawyer is very difficult and surviving in the environment is altogether a challenging task because you are working in a majorly male population. Due to certain issues, I had to quit the law firm. But I had a family to fend for. After sitting home for almost two months, or rather walking across the court corridors every day in search of work, I got my first case! Though it just gave me a, earning of meager INR 1,000, it felt like the biggest award of my life. I was overwhelmed. I knew Papa was blessing me from up there. As time passed, my dedication, as well as honesty, paid off. Today I have my own setup named "Gesetz Solutions LLP". She smiles with pride, and I smile in peace.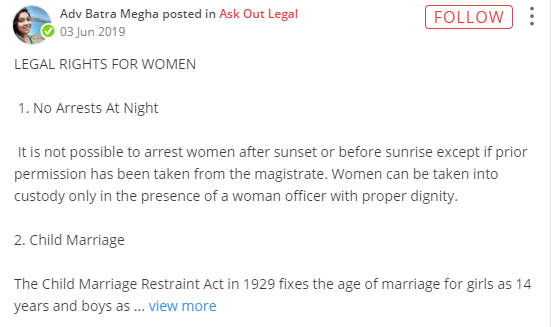 "Since my own life has been full of struggles and I had none to guide me, today, my main aim is to motivate women. Not only at SHEROES but elsewhere around me as well. I strive to provide them the basic knowledge of law which every woman should have and make them aware about the rights, which are given to them by the laws and help them in best possible way in order to save them from harassment, torture or any other thing which directly or indirectly harms them due to insufficient support(moral or financial ) to them. SHEROES has given me a perfect space to help the women in need. Today, I run two-Invite Only communities on SHEROES - "ASK OUT LEGAL" and "LEGAL HELP FOR WOMEN". You can join them and ask anything about what's troubling you. If there is a law against it, I will help you know your rights as well as guide you on how to move ahead," Megha roars like a lioness out there to protect her tribe.
She goes on in a very assertive tone, " India is a place where crime with women is very common and heard very frequently taking place. Women in India are at times not even safe at home; not even properly literate. What do they do in that case? My moral duty is to spread awareness. For instance, if I teach one educated woman about a certain law through SHEROES, she will definitely share the same with her domestic help, friend, relative, or any other worker, if the latter is suffering from something related to it (even if the former isn't facing the same). SHEROES is a circle of empathy. And through it, it is necessary that women be made aware of their few basic rights. Let me list a few here, which are so simple, yet far away from women's reach due to lack of awareness."
Equal Remuneration Act,1976
It is the law against discrimination in terms of remuneration paid to the women at the workplace For instance, if we talk about the women's cricket team, the ladies are paid peanuts in comparison to men's team. But then they can challenge it in court, if they wish to. (Either they are unaware or have fears from being dropped from the team, so they may or may not...that's another aspect).
National Commission Of Women,1990
It is working for the economic empowerment of women and aims at improving the status of women.
Indecent Representation Of Women (Prevention) Act,1986
It prohibits the display of any obscene material in context with women in any manner.
Sexual Harassment Of Women At Workplace (Prevention, Prohibition And Redressal ) Act, 2013
It protects the working women from any type of harassment at the place of work like sexual tones, invading personal space, etc. The #MeToo Movement was a brilliant outcome of this law, with women coming out in open to seek justice.
Medical Termination Of Pregnancy Act, 1971
It clearly states the conditions of the women under which the pregnancy can be terminated.
Hindu Marriage Act,1955
It lays the guidelines for getting married, judicial separation, divorce, etc.
SPECIAL MARRIAGE ACT 1954
It lays the foundation of not just inter-caste marriage but also inter-religion marriage "without conversion" from one religion to another. This is one act that not just women but all Indians must be aware of. It lay the foundation of not just the wedding but also the right to the protection of the couple.
The Prohibition Of Child Marriage Act,2006
It defines the age of getting married for both the bride and groom. Forced Marriages are prevented by this.
Protection Of Women From Domestic Violence Act,2005
It protects women from domestic violence and provides them residential and maintenance rights to live with dignity.
Dowry Prohibition Act,1961
It is for the prevention of giving and taking up of dowry by the parents of the bride and groom.
Megha Batra continues to inform, "Mahima, in the internet age, whenever a woman faces anything bad, she must hunt for the laws on Google to protect her rights, to get justice. Coming to women who are unable to read and write, as a society, we must follow the concept of EACH ONE TEACH ONE. But beyond that, too, there are many NGOs set up to help the poor ladies in terms of their health, sanitation or in case they need legal help also along with many awareness camps and programs are being organized by the Govt for creating awareness regarding their basic rights. Many colleges as a part of their projects also set up the group who visit villages for creating the awareness and sorting out their legal queries. Courts have also set free of cost legal help for the people for not financially viable but want to fight for justice." And I hold onto the faith that each woman who is reading this interview will share the above important aspects with every such down-trodden lady who she comes across. PLEASE DO, urge Megha and me.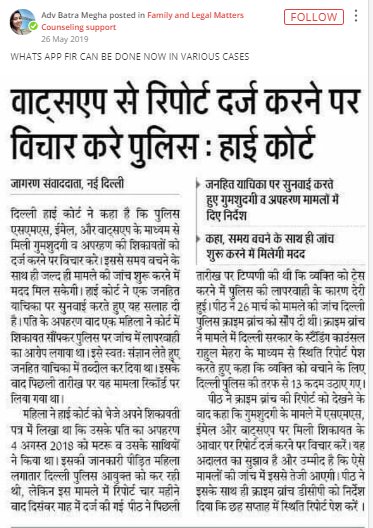 Manage cases at the court, motivate and guide women at SHEROES; motivate and guide women beyond SHEROES - all this in a day's work Megha? So much to do and so little time? "It's all in the brain Mahima if we decide we can do it, we surely can do it. My brother is just in Class 11. If I can ensure him a bright future in the absence of my father, I can surely make women aware of their basic rights - good enough for them to rise and shine from their dark past!" I am smiling.
Despite a hectic day, every single day Megha says she does find time to travel and explore new places. She says she is a foodie,and food and travel adds joy to her work. "Court closes by 5 pm. Post that it is usually my time unless I am preparing for a case another day. I don't procrastinate work. perhaps that's the reason that I do find time to unwind with dance, music, family time and some time with NATURE. And of course, when the court has a vacation, it is time for me too, to take one!" She laughs, and I join in. Because I am a passionate travel writer as well. And I promise to plan her next holiday.
It's time for Megha to head back to court; lunchtime that merged with this interview time, is over! And Megha leaves us with an inspiring message: "WOMAN, YOU ARE POWER. RECOGNISE IT, UNLEASH IT. Because no one else can do it for you. Be independent; stay independent and mark my words, all things will fall in place. Talk to me through SHEROES if anything is troubling you, I will ensure you get the best legal advice."
On that promise and note, I thank Advocate Megha Batra for inspiring so many women out there through this chat in our #MeetTheSheroes Series. And I urge all of you out there to share this article in your social circles; women must be aware of their rights. And don't forget to pour some love for Megha in the comments column. You can follow Megha from this LINK.
See you soon, with another SHERO in my next column.
---

Mahima Sharma
---
---
Like
Bookmark
---
G*****

Mam We are leaving together couple All my records I added his name as husband Now I want to remove husband name from aadhar Is there any legal procedure PL advise
P*****

Need ur advice mam....my married life is in troubled. Plz guide me
H*****

If I need some help can u help me.

L*****

Shall i ask any doubt @ megha batra

#*****

I love you mam ❤️ u r my inspiration ♥️
M*****

You are doing great Megha..Very inspiring....
P*****

Hi !I m Padma Baral. I want to take my maintenance expenses from my husband who is working in Indian railways.He used to threaten me not to give my expenses.he is taking salary above 80000.how much I can get out of that? Pls guide me.I m a house wife.pl guide me Thanks.
B*****

Hi I am bhoomi barot. I am student of law. You are inspection for me that how to help legal matters of women for those who are unaware and facing a lots of difficulties in their life.
M*****

Hi Megha me also a lawyer pleased to read about u
N*****

Keep going gal!! God bless you 😇❣️
S*****

I m so sorry...typing mistake ..I want to need ur help



V*****

Hello Mam . I need help from you. Will u guide me.
L*****

Hi mam good morning I need help from you
S*****

Hi mam.just wonderful

A*****

Gm mem please help me
A*****

Can u help me please ...can u give me yr advice...i dont know what to do ..i am going in depression
S*****

I need legal advice.. Please please help me out...9823576199
U*****

Way Indian low like this way any husband left their wife any time also leave their all responsibility for his wife also his child. How to stop this kind of rapist ? Way suffering only woman for children and her responsibility handling Alon. And if she fight for justice low giving only on dates. No one respect in India to us. If they understood they can stop rapes ND meaningless divorcees. I also suffering Alon with my life line who is 16yrs old. Still fighting with rubbish people ND stupid low. Give apologize, but only they can understand who is suffering. I m fighting for recovery ND he giving answer y should I gave she is earning. This is the mentality of rubbish people ND giving support to them our Indian low. In future may be not any single girl or woman want to be an independent if running like this way. Indian slogan beti padhao beti badhao. Yyyyyyyyyyyyy To see this kind of day that if she fight for her rights and opposite party saying she is independent ND earning lady. All man going to speak like this way in future because low is support them. Jago India jogo. Ghar k bahar ke sirf rapes dikh rahe hai Ghar k under Jo hum woman ko use karke divorce de Diya jata hai ye bhi rape hi huva na ? ND think on this, k ye bhi rape ki compare me cum nahi hai. I know this it's not in your hand but just shared with you, k iska koy solution nahi hai ?


Similar Articles You love