15 Female Freedom Fighters Of India (Fearless But Now Forgotten!)
Last updated 27 Jun 2019

.

1 min read
India being a 'Sone ki Chidiya', has always been the apple of the eyes of every ambitious ruler all over the world. Many came to our motherland and ruled. But have you ever wondered why did the Indians unite to fight against the Britishers in specific?
The British East India Company initially came to India in 1600 to trade items, but it was an utter treachery when a trading company gradually started to become a political ruler of the country.
Not only this but also with a lot many discriminations made against Indians in daily life, education, job opportunities, the East India Company passed inhuman laws against the Indians.
Our pre-independence struggle history speaks volumes about the extent to which the British settlers ruthlessly tortured our ancestors treating them as inherently inferior and therefore causing a massive damage to the entire ecosystem of the society.
But as Shashi Tharoor said in his book, An Era of Darkness: The British Empire in India:
"I do not look to history to absolve my country of the need to do things right today. Rather I seek to understand the wrongs of yesterday, both to grasp what has brought us to our present reality and to understand the past for itself."
We should also remember our freedom fighters to take inspiration from their lives. Bhagat Singh, Subhash Chandra Bose, Ram Prasad Bismil etc. are some of the forward thinkers of that time.
But apart from these well-known names, an unknown number of Indian freedom fighters have also fought against the British Raj with incredible valor and determination. And let us never forget that women of our country have never been at the back seat in this war for freedom.
Several women freedom fighters have their stories unsung, many have gathered praises but their contribution towards the society is and will always be laudable.
Let us thus remember some of the greatest ladies of our country, who have fought for the freedom of their motherland with ultimate grace, wit, and courage.
I went through a lot of goosebumps while writing their stories.
1. Begum Royeka
"Had God Himself intended women to be inferior, He would have ordained it so that mothers would have given birth to daughters at the end of the fifth month of pregnancy. The supply of mother's milk would naturally have been half of that in case of a son. But that is not the case. How can it be? Is not God just and most merciful?"
Born: 9 December 1880, Rangpur District, Bangladesh
Died: 9 December 1932, Kolkata
This great lady was perhaps the first amongst the other female freedom fighters, who fiercely fought for the gender equality, back in that time when the freedom was only a dream. She wrote novels, poems, short stories, science fiction, satires, treatises, and essays where she advocated that both men and women should be treated equally. She also emphasized the lack of education and claimed it, being the main reason for women's lagging behind.
(Although it's really tough to be like these Women, but here are 11 Strong & Confident Quotes for Women just to keep you motivated)
2. Sarojini Naidu
"We want deeper sincerity of motive, a greater courage in speech and earnestness in action."
Born: 13 February 1879, Hyderabad
Died: 2 March 1949, Lucknow
Born to a Bengali Hindu family, Sarojini Naidu was indeed a gifted poet and was one of the most prominent faces of Indian freedom struggle. Being a prodigious child, Sarojini wrote the play "Maher Muneer", that had earned her a scholarship to study abroad. Sarojini became the second woman president of the Indian National Congress and was the first woman Governor of an Indian state after independence. Her relentless work for the independence of the country like actively supporting M.K Gandhi's movement and other campaigns like the Montagu-Chelmsford Reforms, the Khilafat issue, the Sabarmati Pact, the Satyagraha Pledge and the Civil Disobedience Movement gained her great respect and appreciation. Along with these, due to her political activities and role in the freedom struggle She had to lead several stints in prison – in 1930, 1932, and 1942 where she was in prison for 21 months.
3. Kittur Rani Chennamma
"Why should I pay you tax (Translated from Kannada phrase: Nimageke kodabeku kappa)? Are you my brother, sister, relative or a friend?"
Born: 23 October 1778, Belgaum
Died: 21 February 1829, Bailhongal
Kittur Rani Chennamma, was India's valiant freedom fighter and was the first ruler woman independence activist. Nevertheless being born in a small village, the present Belagavi District of Karnataka, she never feared to oppose the wrong.
She belonged to the Lingayat community and was proficiently trained in horse riding, sword fighting and archery from a young age. She got married to Raja Mallasarja of the Desai family at the age of 15.
Rani Chennamma, after losing her husband and son, had to take over the responsibility of her kingdom as well as carry out the uphill task to save it from the British led an armed rebellion against the British East India Company in 1824 after the Doctrine of Lapse was imposed on the territory. She initially tried her best to avoid the war, but the request was turned down. Rani Chennamma could not succeed in the final war but did evoke the fire of freedom in everyone's heart.
4. Jhalkari Bai
"Amidst the sound and fury of the battle at Jhansi, Jhalkari plunged herself into the battlefield to confront the British"
Born: 22 November 1830, Jhansi
Died: 1890, Gwalior
We all know about Rani Laxmi Bai. No wonder her grit and valor have been a tremendous source of inspiration for both women and men. But not many know about another such lion-hearted lady, Jhalkari bai.
Born to a Dalit family, Jhalkari was an extremely courageous woman and history states the same. She once had an encounter with a tiger in the jungle and killed it with her axe. On account states that she not only challenged a gang of dacoits who raided the house of a village but also forced them to retreat. Her remarkable resemblance to Rani Laxmi Bai and incredible fighting tactics led her in the 'Durga Dal'.
Jhalkari Bai was the one who played a very crucial role in the battle of Jhansi as she disguised herself as Rani Laxmibai and took command of the army, thus giving the real queen a chance to escape in the meantime.
5. Umabai Kundapur
Born: 1892
Died: 1992, Hubli.
Married off at the age of nine, Umabai was yet lucky, as her father in law encouraged her to complete her studies from the Alexandra High School in Mumbai.
Umabai grew up to be a part for a number of freedom fighting acts and was the founder of the of 'Bhagini Mandal'. She was also the leader of women's wing of Hindustani Seva Dal.
Very less are like Umabai Kundapur who shunned limelight from the beginning and refused all voluntary posts and honors that came her way. She was the one who used to provide shelter to the freedom fighters from the British. Her life and achievements are an example of a long life of unselfish service to the country.
6. Savitri Bai Phule
"If you are an Indian woman who reads, you owe her. If you are an educated Indian woman, you owe her. If you are an Indian schoolgirl reading this chapter in English, you owe her. If you are an educated international desi woman, you owe her."
Born: 3 January 1831, Naigaon
Died: 10 March 1897, Pune
Above lines are referring to Savitri Bai Phule, said in Thom Wolf and Suzana Andrade's piece titled 'Savitribai and India's Conversation on Education', published in the Oikos Worldviews Journal in 2008.
Savitri Bai Phule was India's first female teacher at India's first girl school.
In the 19th Century, this lady along with the support of her husband, Jyotirao Phule, rose and dared to break the traditional stereotype of the society during the British regime.
Back then, to educate women was considered a bad omen, but Savitri Bai was not a lady who would succumb to the people's criticism. Some orthodox localities used to throw stones, mud, rotten eggs, tomatoes, cow-dung and dirt at her, but she still taught the girls by carrying an extra sari with her to tackle this issue. She has brought about social reform in Maharashtra and is widely acknowledged for the same through her literary works.
7. Capt Laxmi Sehgal
"Political democracy has given a new meaning to our independence. We have got the resources and the manpower. But, because of widespread greed, we have not been able to make the best use of them, to benefit all of us."
Born: 24 October 1914, Malabar District
Died: 23 July 2012, Kanpur
This multi-faceted personality, a hidden gem in our Indian women, Capt Laxmi Sehgal, was Not Only Led India's First All-Women Regiment but was also A Doctor, Social Activist & More. She was the one who led the Rani Jhansi Regiment, one of the first women contingents of the world.
Born in Madras in the family of lawyers, Laxmi always listened to her heart. It is said, when untouchability was in practice in India, she went to a tribal girl, held her by hand and requested her to play.
She looked after the patients in Kanpur and charged them a minimum fee till she was 92 years old. She received the Padma Vibhushan, the second highest civilian award, for the undying contribution to the society.
8. Moolmati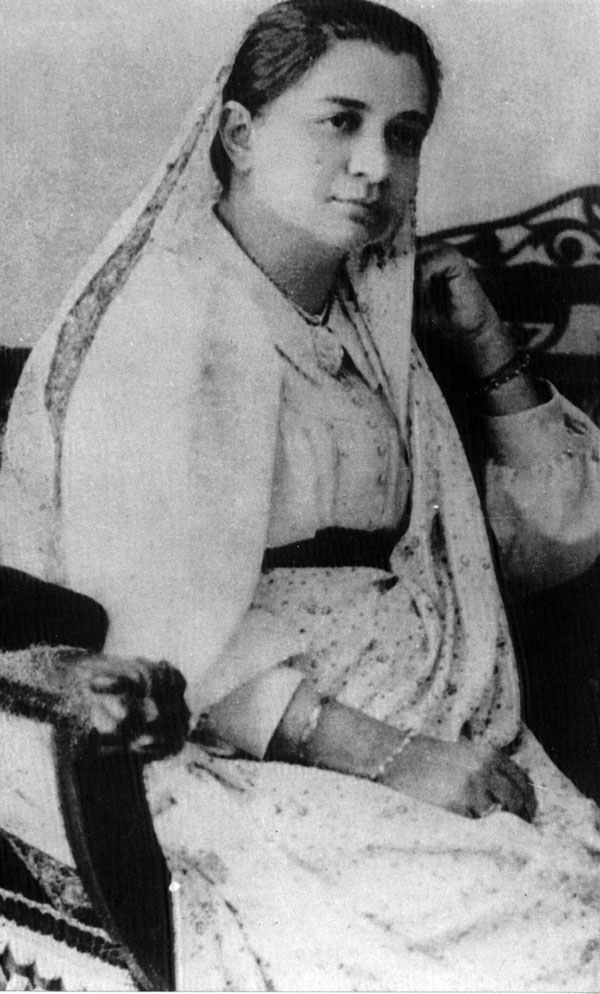 Moolmati is yet another great woman, a fierce patriot, who inspired the freedom struggle. She was the mother of Ram Prasad Bismil.
Bismil was the one who famously formed the Hindustan Socialist Republican Association in 1928 along with Bhagat Singh, Chandrashekhar Azad, Ashfaqulla Khan, Rajguru, and others. Moolmati was a simple lady who was unmoved when her son was hanged till death by the British rulers, on the contrary, she was proud about the fact. She also addressed a public gathering and offered her other son to the freedom movement. It is always due to such brave mothers of India, that the sons serve the country and do it with happiness.
9. Uda Devi
Song on Uda Devi and other women says,
"Koi unko habsin kehta, koi kehta neech achchut.

abla koi unhein batlaye, koi kahe unhe majboot."
Born: Lucknow
Died: November 1857, Lucknow.
Uda Devi and other female Dalit participants are fondly remembered as the warriors or "Dalit Veeranganas" of the 1857 Indian Rebellion.
Bold, resolute and a woman, Uda Devi had a humble background. The anger of the Indian people with the British administration was at the peak when Uda Devi reached out to the queen Begum Hazrat Mahal to enlist for war. The Begum helped Uda Devi form a women's battalion under her command to prepare for the battle that was headed their way.
Uda Devi and her husband, both fought bravely for the war. Based on varying accounts it is claimed, Devi had climbed a pipal tree, from where she shot dead 32 or 36 British soldiers. It is believed that, in respect in recognition of her brave feat, British officers like Campbell had bowed their heads over her dead body.
10. Janaky Athi Nahappan
Born: 25 February 1925, Kuala Lumpur, Malaysia
Died: 9 May 2014, Cheras, Kuala Lumpur, Malaysia
Not many might have heard this name, but she was the founding member of the Malaysian Indian Congress. Belonging to a well to do Tamilian family, when Janaky heard about Subhas Chandra Bose' appeal to give whatever they could to help in gaining Indian independence, she immediately donated her gold earrings and determined to join the women's wing in the Rani of Jhansi regiment of the INA.
She was among the first women to join the Indian National Army that was organized during the Japanese occupation of Malaya to fight for Indian independence with the Japanese. After the second world war, she emerged as a welfare activist. She was awarded the fourth highest civilian honor of Padma Shri in 2000, by the Indian Government.
11. Ammu Swaminathan
One of the arrogant inmates in the Vellore jail once called a sanitary worker "Shudrachi" (making her caste as her identity). Ammu, even though belonging to a Nair stood up against this and sternly replied to the inmate,
"I am Shudrachi too. Now say what do you want?"
Born: 1894, India
Died: 1978, Palakkad district
Ammu Swaminathan was an Indian social worker and political activist during the Indian independence movement and also a member of the Constituent Assembly of India.
Ammu never went to school. She received only a rudimentary education at home, to prepare her for married life. After her father's death, through Sambandam System, she was later married to Dr. Subbarama Swaminadhan.
Under her husband's tutelage, her life transformed and blossomed. She studied, honed her skills and transformed to be one of the prominent faces in the pre-independence struggle of India.
Ammu was very conscious of the arrogance of the upper-caste. By all the means, she constantly tried to unsettle them by standing against it. She was also a member of the committee for drafting the Indian Constitution. ALong with numerous social work, she had a political career and went to Russia (erstwhile USSR), China, USA, and Ethiopia as a goodwill ambassador. She also served as the President of the Bharat Scouts and Guides from 1960 to 1965.
12. Matangini Hazra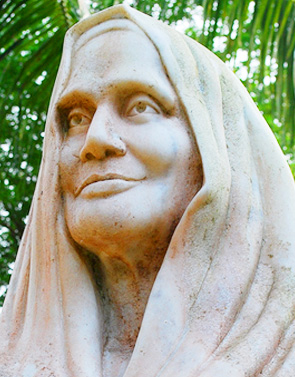 Born: 19 October 1870, Tamluk
Died: 29 September 1942, Tamluk
Matangini Hazra, was a die-hard patriot and is well known for her unshakeable spirit. She was an Indian revolutionary who actively participated in the Indian independence movement. Affectionately known as the 'Gandhi Buri' meaning the old Lady Gandhi, she was shot dead by the British Indian police in front of the Tamluk Police Station (of erstwhile Midnapore District) on 29 September 1942. Her contributions toward the country have been commendable in spite of having a tragic personal life.
Being born to a poor peasant family, widowed at the age of 18 without any offspring, Matangini has always participated in many protests against the British Raj and has been jailed a couple of times.
During the involvement in the Quit India Movement, 71 years old Matangini led a procession of six thousand supporters. She was shot repeatedly by the police but she chanted "Vande Mataram" till her last breath and held the Indian flag high up.
13. Nellie Sengupta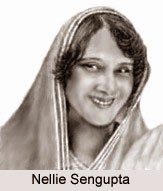 Born: 1886, Cambridge, United Kingdom
Died: 1973, Kolkata
Nellie was an English woman, who went door to door during the pre-independence time to sell Khadi. When she was a young girl, she fell in love with Jatindra Mohan Sengupta, a young Bengali student at Downing College.
Despite severe parental opposition, she married Jatindra and returned to Calcutta with him. Her husband was a renowned Lawyer by the time he had decided to join in the freedom movement initiated by M.K Gandhi. Neelie also supported her husband and went down on the street to show her protest. She did not stop there, she defied the law by selling Khadi (hand-spun cloth) door to door.
For addressing an unlawful assembly, she suffered four months' imprisonment at Delhi for addressing an unlawful assembly, in 1931. Nellie was also appointed as the President of Congress when many senior leaders of the party were arrested during Salt Satyagraha.
14. Rani Gaidinliu
"We are free people, the white man should not rule over us."
Born: 26 January 1915, Manipur
Died: 17 February 1993, Manipur
Known for the armed resistance against the British Raj, Rani Gaidinliu, is the forgotten daughter of the hills. At the age of 13, she started to preach the people in her tribe. She joined her cousin Haipou Jadonang, who had led the Heraka Movement. This movement was for the revival of the Naga Tribal religion. She led this movement against the British when she was 17, which resulted in her arrest. She was then sent for a 14-year long imprisonment.
Her forces had started to engage in armed rebellion against the British in Cachar Hills (16 February 1932) and the Hangrum village (18 March 1932). Her growing followers and popularity threatened the British forces, which made them launch a manhunt for her. This, in turn, forced her to go underground.
With many more sacrifices, this Rani of Nagas was fondly acknowledged by Pandit Jawaharlal Nehru, for her indomitable spirit and for the freedom that she fought for valiantly.
15. Sucheta Kriplani
Born: 25 June 1908, Ambala
Died: 1 December 1974, New Delhi
India's first woman chief minister, Sucheta Kriplani, chartered her own independent course. She was committed to the Gandhian ideology, Sucheta was fearless in her mind and spirit.
She was born in Ambala, Punjab (now in Haryana) to a Bengali Brahmin family. She completed her education at Indraprastha College and Punjab University prior to becoming a Professor of Constitutional History at Banaras Hindu University.
She came to the forefront during the Quit India Movement. She worked with other Gandhians during the partition riots and was one of the few women who were elected to the Constituent Assembly and was part of the subcommittee that drafted the Indian Constitution. Sucheta also became a part of the subcommittee that laid down the charter for the constitution of India.
---

Sainy Banerjee Pal
---
---