Simple DIY Ideas If You Are Bored Of Your House
Last updated 21 May 2019

.

1 min read
Given our disruptive lifestyles these days, a home may not be the place where we spend the maximum of our times, but it is definitely a place we long to come back to - after a long day at work, or at school and then tuitions.
So, it's important that the home you live in is lively, pretty, and comfortable. It's equally important to keep giving it a makeover. The same colour of walls, the same sofa in the same position, the same table in the statue mode ever since its arrival could get boring.
Oh no, don't worry about the economics of the makeover, or the manpower it will require.
The ideas that we are suggesting are simple and can be done by yourself or with somebody's help at home. More over, these are ideas that are something that I have personally made use of or have seen friends do so.
My own house gets a makeover every few years and these modifications are mostly laboured by us - a lot of mixing and shifting happens with a lot of changes in the colour of the door and a lot of decoratives get circulated in and out every few years out of the storeroom.
My room has a lot of personalized touch with painted doors and souvenirs from across the places and as the trend changes the stuff inside the room also does.
Here are some simple and cost-effective home makeover ideas to bring a refreshing change to your home to make it more like you, more like your folks who share the house with you, and more like your life.
Let Your Folks Come In
Well, the kitchen is the most important part of a house. In fact, a house is a home if there is a kitchen. So, it goes without saying how necessary it is to make sure that the kitchen looks and feels good.
Yes, feeling good is very important for people like me who cooks occasionally, purely out of the joy of chopping vegetables, stirring the soup, and having colourful spices around myself. So how do we bring in that style to the kitchen? Maybe change the hue to a colour that is relaxing and soothing for the long hours of joyous toil in the kitchen. Light sea blue is one of my favourites. Or even pale green is good.
Or how about bringing in a small dining table inside your kitchen. It will give a different feel to the kitchen as your folks will be included in the process of whipping up the parathas and spraying the spices in the curries. It may be the construct that is getting the makeover but in the end, it is you who have to feel good after the makeover.
Make Your Bathroom A Fun Space
Well, in this space which is your 'Me space,' make sure everything is interesting and meets your needs. If it's a common bathroom for the family, you could include changes that are personal to each one.
Like, keep fun soaps such as Batman and other superhero soaps if you have superhero fans in the family. There is plenty of such cute stuff in the market. I personally use an organic Batman, Superman, etc soap and since the day I have brought myself this soap I look forward to taking a shower.
If there is a nature lover in the family, you could keep potted plants in the bathroom space, somewhere near the bathtub to make you feel like you are in a natural surrounding. Just in case, there's a window - plant the pot near the window.
Our Indian bathrooms do not include a bathtub. But, it's time to move over the old ways. If you want to bring in some style to your bathing chore, get a bathtub to fit inside your bathroom space. Choose a pop colour - like pink or yellow. To enliven your washroom.
Mix And Shift
A bedroom is a private space. Its interiors are personal. Also, it's a space that you wake up in. It must feel good when you wake up in the morning.
Try using a really soothing wall stencil/ art. It's affordable and when used on your wall will give your room a completely new look.
Go cost-effective and do a bit of mix and shift. Take that huge painting hanging on the wall of your living room and let it go right next to your bed. The old painting will make your bedroom new.
Do you have a window in your room? If yes, how about shift your bed to space in front of that window. You could also use some plants at the window.
Imagine waking up to sunlight every morning and feeling the warmth of the sun, it could be as good as being in a holiday destination.
Collect all the painting of your house. Mix them with your personal photographs. Now, create a collage on the wall. Maybe behind your bed or on the opposite wall. It adds a touch of personal space to your bedroom. You could also hang any other artefacts that are close to your heart.
Clear all the clutter. Yes, look around your bedroom and see what's not necessary, what's old and not important any more, and you'll realize you have made so much difference to the look of your room. If you want to feel like sleeping beauty, you could use a canopy. Spread it over the bed. An off white canopy is preferable.
You could also use a rug in your room in contrast with the colour on your wall. If the rug is sea blue in colour which will really make it look as calm as the sea, keep the walls white. White and blue always works.
Create More Space
You spend a lot of time in your living room, so make sure it is relaxing and comforting. If the books in your living room are overflowing and you aren't sure how to keep them in, it's probably time to think smart and make a shelf that occupies little space and accommodates more books.
Just take a long piece of a wooden slab, get it hammered into the wall and your wall shelf is ready. It will occupy less space yet allow more books to be in the house, and also look unusual from the other bookshelves.
Yet another idea to renovate your living room would be to paint the wooden table. Give it a colour that is unusual.
You could also draw art on it. Use a monotone or different shades of colours, whatever defines the personality of your living room.
Let It Be The Child's World
There is so much you could do with your child's room. Maybe, get the child to paint one portion in the room. All his favourite stuff go right on the wall in his way. Or get him to write his favourite poem. This way the room will get a special touch. If possible, you could pick up the paintbrush and paint the world map covering the entire wall. Don't fret over the nitty-gritty of the map. The big outlines with colour filled in will do.
You could photo frame his favourite drawing and hang it up on the wall. Or you could create a toy story.
Collect all the favourite toys of your child and create a story that is personalized. It'll be one of the only stories in the world.
Your Home Theatre Has A New Address
If you have a home theatre at home, it's time to shift it. To where? To the basement. Clear up your basement and move your big TV in there. You could also use the old cupboards of your house to store food packs for munching while you are relaxing. Refurbish the cupboard by painting it in subdued hues. If the basement has no sunlight flooding in then lighter shades are preferable.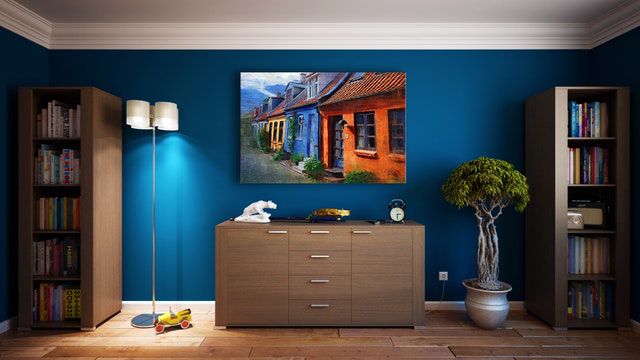 You could also create a small board game space in the basement, with one rack piled up with the various board games you and your friends like playing and a comfortable table to use.
There could be a little sofa with lots of cushions to relax, in a corner of the basement. Or the sofa could be from where you watch your favourite TV series or movie.
These are simple ways to give your home a makeover. These are also economical ways to spruce up your house. You could mix and shift more similar ideas that describe your personality. Your home should reflect who you are while also keeping the elements of modernity and calmness.
Play with your home and have fun, after all, it is your space. Also, redoing your house gives that much-needed freshness to your routine. No one is complaining, right!
---

Suhani Dewra
---
---
Similar Articles You love