Mahima Sharma
Last updated 14 Mar 2018

.

1 min read
How This Woman Is Healing Orphaned Children Through Books
Kavitha, an orphan was rescued with HIV/AIDS in Pune. Once a traumatized child, today, she wants to believes she is of value.
Aarti's mother was a commercial sex worker. She was abandoned on the streets of Mumbai. She could not come out of her trauma; her mother's life chased her like a nightmare. Today, she believes in writing her own destiny, that she will not be reliving her mother's life.
Who brought about this change and confidence in these children?
One woman who keeps flying to India and other developing nations like Bangladesh, right from another continent far away from the comforts of her luxurious home in Chicago, USA. And, of course, her books!
Today I take you to meet Seena Jacob, founder of the Bookwallah Organisation based in Chicago, who is bringing about a positive change in the lives of orphans in many countries.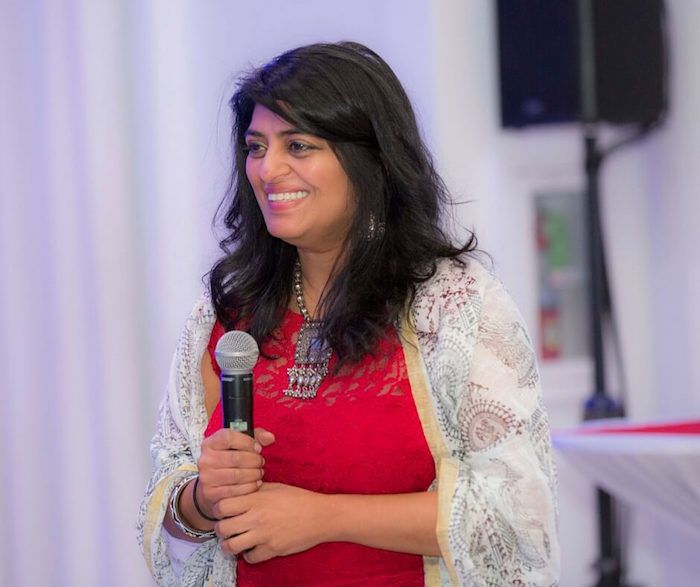 Seena Jacob at the Bookwallah Dream Launcher Annual Fundraiser in Chicago, 2015
So what is Bookwallah?
Seena explains, "I conceived the idea of Bookwallah in 2009 because I believe in the magical healing power of storybooks since they helped me forget my own deep childhood hardships. I know the power of a good book and what it can do for a child's soul. In 2010, I took my first trip back to India, when I donated a few storybooks to an orphanage in Mumbai. But later realised that the books were un-utilised and they didn't have space to display them. It was then that I realised these traumatised kids needed a lot more support to reap the benefits socially and emotionally.
This epiphany led to the evolution of the Bookwallah project so now we build beautiful havens for reading and recruit passionate local volunteers to help sustain and bring about joy and healing to these kids. Little did I know that this small visit will become my life's calling."

The launch of a library in a Pune orphanage with HIV-hit children.

So the Kerala born left her blue-collar job and decided to make Bookwallah the mission of her life. In a way, she says it was easy since as an English Literature Graduate she knew which books to pick for the children and as an MBA, she knew the basic of starting an organisation. But then changing children's life was still a challenge.
"The challenge was not in starting Bookwallah but in bringing them out of their thoughts that "their past life was their destiny' - it was about changing their consciousness. A garbage picker must never believe that he will do so for the rest of his life. Children need to believe in the magic of Cinderella because only when you dream, the dreams can come true!" Seena asserts and adds, "We believe these children's lives can be healed and transformed through the power and magic of story-books. We read out stories to them till they build a social-emotional connect with us as well as the books. And side-by-side, our love and the inspiration embedded in books transforms their lives."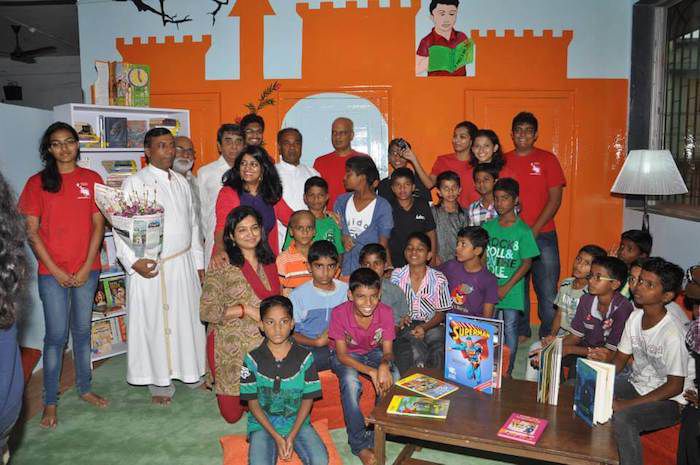 Seena at the Kings of the Castle Library Launch in a boy's orphanage in Mumbai
My next query was obviously about the memory of one such child that was closest to her heart.
Her voice quivers as she shares another story of a girl who was sexually abused by her biological father, "This child was brave enough to speak up as well as save her sister from her father. But she was so traumatised that she used to stay very upset and angry all the time. One year after she was brought into our project, one of our volunteer project leaders received this beautiful drawing of several ducks swimming, but one of them flying alone in the sky. When asked, she told us it was her who had taken flight to a better life, since now that she had found her hidden power, the power of her wings. It was a very emotional moment for me. I felt as if the purpose of my life has been served."
Not many know that Seena was in Bangladesh very recently to read out stories to the children of the Rohingya refugees. The same people who were driven out of their own land in Myanmar, which led to a global outrage. "Mahima, I am not doing this for publicity, so how will people know I was in Bangladesh? I did not tell anyone, you too came to know only when you saw my personal social media posts, since you are on Facebook with me. People who volunteer, those who want to join me in my mission and help traumatised children matter to me. None else," Seena asserts at a strong pitch.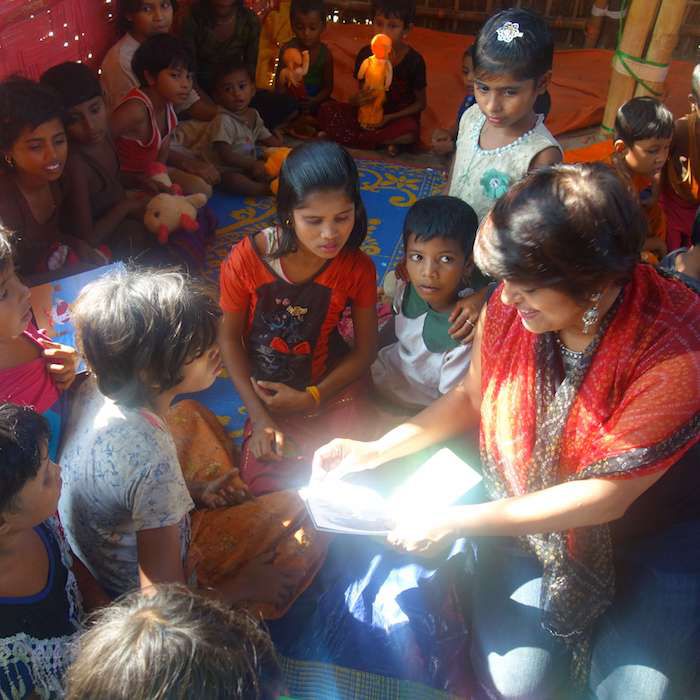 Seena in Bangladesh at the Rohingya refugee camp

And I can vouch for this fact since I got this interview of hers after chasing her for five long months! So why is she so averse to the media?
"I am not averse to the media, but my work is my primary focus. Secondly, 90% of the funds to run this non-profit organisation comes from US citizens. I haven't even tapped the Indian government for funds yet, so media isn't my focus at all. Right now, our children and our volunteers are my focus, and my target is to cover the developing world where the need is great. I want to reach to many more children who've gone through trauma; I need to reach out to them through the magic of story-books, especially the refugees, the HIV-hit and other abandoned, orphaned kids," says an emotional, yet determined Seena.
So did she face any hurdles in her mission, especially being a woman, who was taking an unknown journey?
"I am the eldest child of my parents, with three younger brothers. I'm a strong woman and got over hardships in my life because I saw so many representative examples - heroines in the stories I read. All of them had passion, courage, and overcame struggle. They all recreated a happier life. This is the message that I took on."
Beaming with joy and pride, Seena went on to add, "Hurdles come in any and every work of passion. What matters is how focused you are towards your mission. Bookwallah was the calling of my life since before it happened, I had always felt something was amiss. Today, if I leave the world, at least I'll know that I've been able to help other kids who've experienced pain in their lives."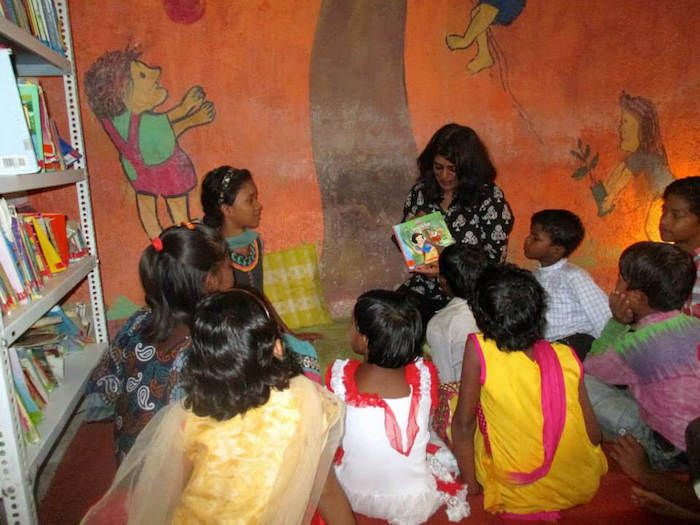 Seena at FAITH

So how does she manage to operate in the developing world from Chicago?
"Recently, we created a fellowship-leadership position to volunteers, be it India or elsewhere. If you have the will, you will always find a way," she smiles.
And how does this super-energetic 'Bookwallah Aunty' (that's what the children from her organisation fondly address her) unwind?
"Every work of passion demands full attention. I have done all kinds of adventures as a youngster, even skydiving and white water rafting. But since the time I started Bookwallah, the organization has been an 'obsession' and is what I live and breathe for. For now, I love to unwind by reading fantastic books, visiting art galleries and eating Kottayam-style Fish Curry, similar to the one that my mother used to make," Seena chuckles.
And we chat on-and-on into the night over the phone, till she makes me realise it is already 3 am, India time!
Such is the aura of this magnetic woman who promised to meet me on her next trip to India. And bid adieu advising, "Life is all about bringing joy and love to the people around you because that is the only legacy you will leave behind you."
---

Mahima Sharma
---
Similar Articles You love