Lola Jutta
9 Feb 2018

.

1 min read
Is Your Home Safe From Abuse?
Do you know that incest abuse is very much prevalent and now is the time to raise our voices? Let's throw some light on incest abuse. Incest is referred to as sexual contact between family members, under which a trusted family member or a friend uses his/her power, as well as a child's love and dependence, to initiate sexual contact and often to ensure that the relationship continues and remains secret.
Since sexual contact is often achieved without overt physical force, there may be no obvious signs of physical harm. Whether or not the signs of abuse are physically obvious, sexual abuse in childhood can have lifelong consequences.
Supreet Dhiman started endincest.org to bring out in open the issue which seldom finds any mention in popular discussions.
What drew you to the cause of ending incest abuse?
I was a student at the University of Warwick when I started getting actively involved in social projects. Thereafter, I worked on European Social Fund research, examining discriminatory employment practices affecting migratory communities in the UK. I also led an advocacy-based project with The British Army focusing on race relations.
Upon returning to India, I founded CATS, the first community based adventure group in the country. CATS spearheaded a blood donation drive and today, we send blood donors 24/7 to 10 regional hospitals to fulfil medical emergencies. Because of the passion to transform lives of the underprivileged by creating sustainable livelihoods, we registered a charity, Can and Will Foundation. Through our project eduCATe, I take pride in our emerging army of graduates working in fields as diverse as medicine, engineering, accountancy gardening and stenography.
I guess this combination of being deeply entrenched in humanitarian causes and the willingness to ask difficult questions, while chartering unknown territories, is what led me to research incest sexual abuse within the families by the closest of relations.
Given that incest is such a taboo, what are the challenges you faced in your endeavour to research incest?
This circle of silence around incest is precisely the reason why almost everyone discouraged me against undertaking such a study, which disturbs the seemingly apple pie order of our family structures. "Not even two people will respond to your questionnaire," is what I was told vehemently by academicians.
Concerned about my personal safety, a senior police officer warned me of impending trouble, as this research potentially leads to public hanging of the dirty linen of our society. However, in the face of discouragement, I dug my heels in to wake up to these behemoths.
Why should another Nirbhaya have to die a brutal death before society takes any action?
Perhaps this was my way of challenging the society by providing evidence through this research that sadly confirms the high incidence of sexual abuse within our families.
I believe that someone has to raise the voice, we have to start from somewhere.
How did you proceed with such opposition to even the mere suggestion of incest? How did you formulate your research?
The research into incest started purely as an academic exercise to fulfil the requirements of my Post Graduate Diploma in Human Rights.
An extensive questionnaire was prepared after several brainstorming sessions with academicians, psychologists, sociologists and mental health specialists. It was designed to serve the purpose of raising awareness about incest and also to sensitize the participants about its impact on the victim, and the options to report it to different authorities.
Apart from scrutinizing the usual family dynamics, we also examined this social taboo from all possible aspects of demographics to see if region or socio-economic background has any role to play in incest. I wanted to be able to analyse incest from all potential angles.
Designing and launching the research was only one half of the battle. The harrowing feedback I received, as part of this research, at first shocked me to the extent that I actually disowned it within a month. One-line stories are the most difficult to deal with, to be honest.
How does one react to,
"I was raped by my father when I was 8 and I am a boy." Or "She finally succeeded in committing suicide in her 4th attempt"?
I could not fathom the kind of sexual abuse the participants had suffered at the hands of their own family members. How could fathers, fatherly-uncles, brothers and on odd occasions, even aunts turn into predators?
Given that incest is such a taboo, how did you get people to even participate in such a research? How were you able to get them to open up about such experiences?
The fact that the participants could fill the questionnaire anonymously from the comfort of their homes, at a time most suitable for them, at their own pace and even abandon it at any stage, perhaps encouraged wider participation from all walks of life. In 18 months since the questionnaire went live, we have dealt with the submissions sensitively, without using the traumatic feedback as a tool to further the cause. We respect the participant's desire to remain anonymous.
Perhaps this policy of discretion encouraged even those who were afraid of their details being revealed, to participate eventually. I have had parents asking what would be the correct age for their children to undertake this questionnaire. Teachers have called seeking permission to use this questionnaire in their classes. Slowly and steadily, the awareness about sexual abuse within families is gaining ground, but we need to reach out to the masses across the country as this is a universal phenomenon affecting us all.
What is incest and how is it any different than the sexual abuse that we know of?
Why do we hide behind the label of 'sexual abuse', in which the perpetrator may or may not be known to the victim, while incest is clearly a sexual contact between family members who are close blood relatives? The impact of being sexually abused by a stranger, in comparison to being abused by someone you love and trust, someone from within the family, is much higher and far more devastating. Let's not confuse incest with sexual abuse.
General awareness about incest is so poor that 18% of our respondents wrongly believe that incest is actually legal in our country, and a significant 21% of the respondents just don't have a clue!
Let's take the case of Oprah Winfrey to understand this difference a little more clearly. When Oprah was nine and was raped by her nineteen-year-old cousin while babysitting her, it was incest. However, when Oprah was later sexually abused by a family friend, it can't be classified as incest because there is no direct blood relationship between the two.
Help us to understand the psyche of someone who sexually abuses his or her children, nieces or nephews.
Incest occurs when a trusted family member or a friend uses his/her power, as well as a child's love and dependence, to initiate sexual contact and often to ensure that the relationship continues and remains a secret.
Since incestuous sexual contact is often achieved without overt physical force, there may be no obvious signs of physical harm to the victim.
If a family member develops a sudden aversion to visiting a certain relative's house, take it seriously. Extremely withdrawn with shifty eyes in the presence of even family members should be a cause for concern. Is someone around you in a habit of tying two knots in the drawstring of her/his loose pants (salwar/pyjama)? Unexplained bursts of anger need to be handled gently. Whether or not the signs of abuse are physically obvious, sexual abuse in childhood can have lifelong consequences.
Finding the behaviour of a sexual predator within the family is most traumatic for anyone as these are the people whom we are supposed to trust the most. Do look out for any creepy behaviour in both men and women around you, but be aware of the perpetrators that they are - the most unsuspecting people around us.
We would never suspect a father to rape his own son or sexually assault his daughter, but it happens. Uncles rank quite high on the abuse meter, as do cousins. Sadly, they are also repeated offenders, as each victim silenced, boasts their ego to find the next one.
Time most favoured by a perpetrator is usually between 1pm-4pm in the afternoon and 10pm-4am through the night, when either no one is at home or asleep, and hence the victim can be easily found alone. The sheer threat of position within the family or taking advantage of one's dependency is the primary reason. With the older victims, it is offering to help with homework, career guidance or placements to the school/college going victims while attractive gifts and chocolates work for the little ones.
No age group is safe from those who have a tendency to violate.
A few months ago a 47-year-old son was booked for raping his 70 yrs old widowed mother in Punjab. In another case, a 10-year-old girl gave birth after being raped by not one, but two of her maternal Uncles in Chandigarh.
Can you list the misconceptions associated with Incest abuse in the Indian context as the organization has conducted a lot of research in this area?
Incest is not limited to a particular religion or a certain sect. Boys and men suffer as much, if not more. Incest finds its victims in all age groups and socio-economic segments of the society. Incestuous assault can happen in traditional, conservative joint families as much as westernized, nuclear ones.
Even though there are culturally sanctioned incestuous relationships, also known as consanguineous relationships, we must be aware of the genetic implications of the offsprings from such reunions. Do we really have the right to make our children pay for the relationship decisions we make today?
What are the dynamics involved and how does the power play go unnoticed between the perpetrator and the victim in an incest abuse?
Incest is all about someone availing the opportunity to sexually exploit, using his/her relationship in the family, power and position, exploiting the innocence and ignorance of the young and other dependents. He/she hinges his bets on the silence bought under threat to hurt the victim's mother/sister or other loved ones, need to save family's honour by silencing the victim in a rare case of protest being lodged with elders.
Silence around incest is the key to its dark progress in our society.
Help us unveil this taboo and diminish its power over us.
What stigmatizes this issue to an extent that people shun the reality and retort to shaming?
Family reputation is the primary reason no one speaks out when a matter is brought to the attention of the family members. Who would marry our kids if the word got out? The fact that both the perpetrator as well as the victim belong to the same family and multiple relationships stand at the altar of being snapped or humiliated publicly, the victim is usually asked to grin and bear, sadly causing double victimization.
Somewhere all of us are to be blamed for propagation of incest. When asked how they responded if someone confided incest to them, 35% of the respondents said they simply don't know what to say! 33% felt too embarrassed to talk about it. Saying 'our religion does not permit incest' or 'it is their internal matter' is not a solution. Denial and ignorance should not be an option in a responsible society.
What are the coping mechanisms of the victims in the face of such denial of empathy from within the family?
My endeavours to end Incest are motivated solely by the plight of the victims emerging from the research because statistics represent real people. Incest victims suffer enormously and often alone and in silence. Shock, guilt, self-blame, karmic account, shame, embarrassment soon becomes denial, anger, nightmares and thoughts of self-harm - and when they can't take it anymore - suicide!
Would we ask for change only if our own brother, sister or mother would be affected?
Are there any significant findings you would like to share from your research with us?
Some of the facts and figures from the last analysis include but are not limited to:
a. Most vulnerable age for victims is 7-18 years.
b. Most Perpetrators fall in the age bracket of 12-30 years.
c. All Victims are NOT females.
d. 40% of the respondents have been a WITNESS to incest.
e. 18% of the respondents have been a VICTIM of incest.
f. 92% of the victims never shared/disclosed their trauma to anyone.
g. Two respondents lost their elder sisters to incest, by committing suicide.
Tell us the vision of 'End Incest' and how does it position itself to create awareness, and eliminate incest abuse?
We are striving for a world free of incest abuse through comprehensive awareness initiatives, collaborative planning, policy research, advocacy and community action.
Collective action on every front is our mantra. We have made provision on our website for visitors to share their story related to incest with us. They may contact us seeking medico-legal or mental health-related issues arising out of incest abuse they might have endured. This service provision is of course, free of cost. One visitor a week is writing to us.
We have a REPORT INCEST RED BUTTON on our website which can be pressed anonymously to report a case of incest with just a click of a button. This INCEST METER is a visual record of the presence of incest around us. Currently, it is being pressed 11 times a week.
We are also creating reporting and intervention services for victims, perpetrators and their families by collaborating with the local administration and police. As Dr Wig says, "You help 1 victim, you save 1 life. You help 1 perpetrator, you save 5 lives!"
Tell us about the questionnaire that a user is asked to fill, how does it help in recognizing a victim/survivor of incest abuse?
The power of data when analysed methodically, cannot be denied. If only 5,000 people from across the country spare 10 mins of their time to participate in this comprehensive research, it would help us take research results to the relevant government agencies to introduce awareness and advocacy programs at a grassroots level.
The questionnaire is available on our website endincest.org and is open to only Indians who live or have lived in India (NRIs). The questionnaire can be filled in anonymously using a desktop computer and even a smartphone. It can also be filled in on someone else's behalf, for example, your maid or if your friend is too traumatised already by an incidence of incestuous abuse.
Additionally, if you are a teacher then you may get one's students to fill the questionnaire to raise awareness about incest abuse locally, or even as a parent you may want your children to become aware of the signs and symptoms of incestuous behaviour around them.
We wish to reach larger segments of the society to bring incest out of the closet with this research evidence. We seek partners to help create an echo of awareness to shatter through this barrier of silence.
Let us not be afraid of questioning the conscience of the society and resolve to end incest abuse now.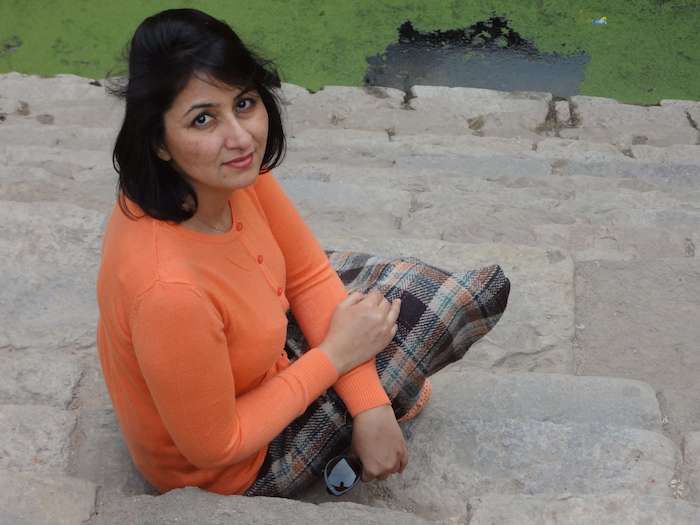 Supreet Dhiman
If you know anybody who has been through or is going through incest abuse, report them now. Let's put an end to this suffering. Join our community to discuss any issues related to abuse, mental health or violence.
---

Lola Jutta
---
S*****

I am truly grateful to both Lola Jutta for spending a considerable amount of time in understanding the basics of incest and the kind of behaviour patterns to look out for in both the victims and the perpetrators, the extent of impact it has on the individual in detail and what can we do tackle this menace in our homes. One way readers can HELP END INCEST is by participating in the RESEARCH and sharing it with their circle of friends and colleagues. https://goo.gl/8bCS9Z Please be assured that all data collection is anonymous and confidential.
Similar Articles You love