A Happiness Bag Of Rakhi, Sheroes Across Religions And Some Innocent Smiles
Last updated 20 Aug 2019

.

1 min read
"Mahima, I am not sure if you are aware. My elder brother, who was reeling under blood cancer, has passed away. We are not celebrating Rakhi this time. Nevertheless, I will participate in your noble cause. Send me one Rakhi for my other brother. And some Rakhi in bulk. In memory of my elder brother, I wish to distribute the same to underprivileged people," Satvika Sharma said this in a single breath, with sheer calm, in 2018. I was stunned with joy, as I listened to her. I didn't know how to react. All I knew was that a young girl in her early twenties had made me a better human today.
Who is Satvika Sharma and why was she doing it?
Satvika Sharma is a native of Ahmedabad who works at a very reputed publication house (in the HR department) in South India. She was doing this because my husband and I had taken up a cause in 2018. We wanted to buy customized walking sticks for some 100 visually-impaired, underprivileged children in some six schools across India. And we wanted to do this by raising funds in a unique manner. Advised by a philanthropic friend, we were selling designer Rakhis through social media! Yes, pick a Rakhi from the ten designs that we share; it will reach your brother with Tilak and a handwritten note by me! The idea was to reach out to people for funds, but in a manner where they can connect to the cause with full dedication.
The proceeds from the Rakhi Sale went to buy more than the desired number of Rakhi as some 110 plus people joined us from across India, just through word of mouth...
"मैं अकेला ही चला था जानिब-ए-मंज़िल मगर....
लोग साथ आते गए और कारवाँ बनता गया. "
And during this overwhelming journey, I met amazing people. But Satvika stood out among all. Her words kept ringing in my years, in the months to come.
Once all the rakhis were sold, we went in person to distribute walking sticks to the children belonging to the National Association for the Blind, RK Puram, New Delhi.
Mukhtar's Birthday had just gone by and Meenakshi Chandwani the coordinator and also a good friend now had told the children in advance that Mukhtar Uncle celebrated his birthday working at the office! So the kids ensured that we had a gala time, singing and playing with them before the sticks were distributed to them.
"Happy Birthday to You Mukhtar Uncle" they sang, and their voices moved my husband so much, that I saw him profusely weep with joy for the first time in life! Such is the power of positivity. And Meenakshi ensured we were left overwhelmed, not because she was the coordinator, but also because she is a SHERO. You can read her story here - Meenakshi Chandwani, A Woman With Low Vision Lighting Up Lives Of Visually Challenged Children
Time flew, months went by. And come June 2019, two months before Rakhi 2019. I began getting calls from across India. Some 18 calls asking me, "Mahima, what are you doing for charity this year? Let us know, we wish to join." I was overwhelmed but was busy with certain exams. So I told them, I don't foresee an event like the one in 2018. Each one boosted me up, saying they believe I can manage exams with such work, as they have faith in me. But two women stood by me like rock support.
Shilpi Pun, my schoolmate, and an Army wife and Manjari Sinha, my ex-colleague from ANI and a close buddy. Shilpi said, "Mahima you have to do this. You can't back out after showing us the way last year." Manjari Sinha went a step ahead. She simply said," Mahima you have sowed a seed of empathy in us. You can't let the sapling die by not nurturing it this year. Rather, it has to become a Banyan Tree! " Manjari requested.
Her, Shilpi's and above all Satvika's words kept ringing in my ears for two days. I reached out to fellow SHEROES member Poorvi Tiwari, founder of On Fashions (How Learning New Skills Helped Me Start A Business) and shared my idea with her.
"Poorvi, I wish to sell a Happiness Bag of Rakhis for INR 500/ each. It will have a bunch of good quality Rakhis. And I will ask people to distribute it, just like Satvika, to the needy. Do you think it will work? "
Poorvi said, "I don't know about others, but I am buying one, send me a Rakhi for my home too!" This started a chain reaction and some 10 other SHEROES members responded. Poorvi, my husband and I were overwhelmed.
With hands shivering with joy we packed some 50 "Happiness Bags of Rakhi" for 50 people across India. But among the ten members of SHEROES, the one who stood out among all, was Varanasi, Uttar Pradesh based Sana Saba. Sana is the co-founder of SHURU-ART, whom I came across when I covered her interview in #MeetTheSheroes Series. (Faced Several Rejections Before I Became The CEO Of SHURU-ART: Sana's Take Charge Story) Her response to my appeal was, "Mahima send me a Happiness Bag of Rakhi...and one Rakhi for my brother as well. And donate that amount too, wherever you wish! " I was overwhelmed not just by her interest but also what happened over the next few days.
And what did Sana do with the Happiness Bag of Rakhis? I invited her to pen in her own words, "I remember celebrating the festival of Rakhi as a child. My sister and I would dress up for the day, decorate the thali with Rakhi and toffees and then would go out to celebrate it with families in our neighbourhood. I had almost forgotten how much fun it used to be. And for one day all the girls and boys of our colony, irrespective of our differences, used to get together to celebrate the spirit of love and harmony. I got a chance of reliving that childhood bliss with the students of Orderly Bazaar Primary School. My colleague Karishma and I decided to organize a Rakhi Party there. My favourite thing about being with these children is that we never have to organize/manage a single thing during an event. It is the children who take charge and organize everything on their own. Everything there was so electric, that instead of being under any stress of the event we ended up enjoying the whole thing."
She added, "Mahima, the boys were all acting mature now since they were entrusted with taking care of their new sisters. The girls were giggly and happy about tying the beautiful Rakhis sent by Mahima for them. The funniest part was about the new teen-boys though. They obviously had a crush on someone in their classroom, so they demanded that instead of their classmates we (I and Karishma) should tie Rakhis to them. The teachers frowned a bit, but we respected the boys' decision and happily complied with their demand." Sana laughs, and so do I.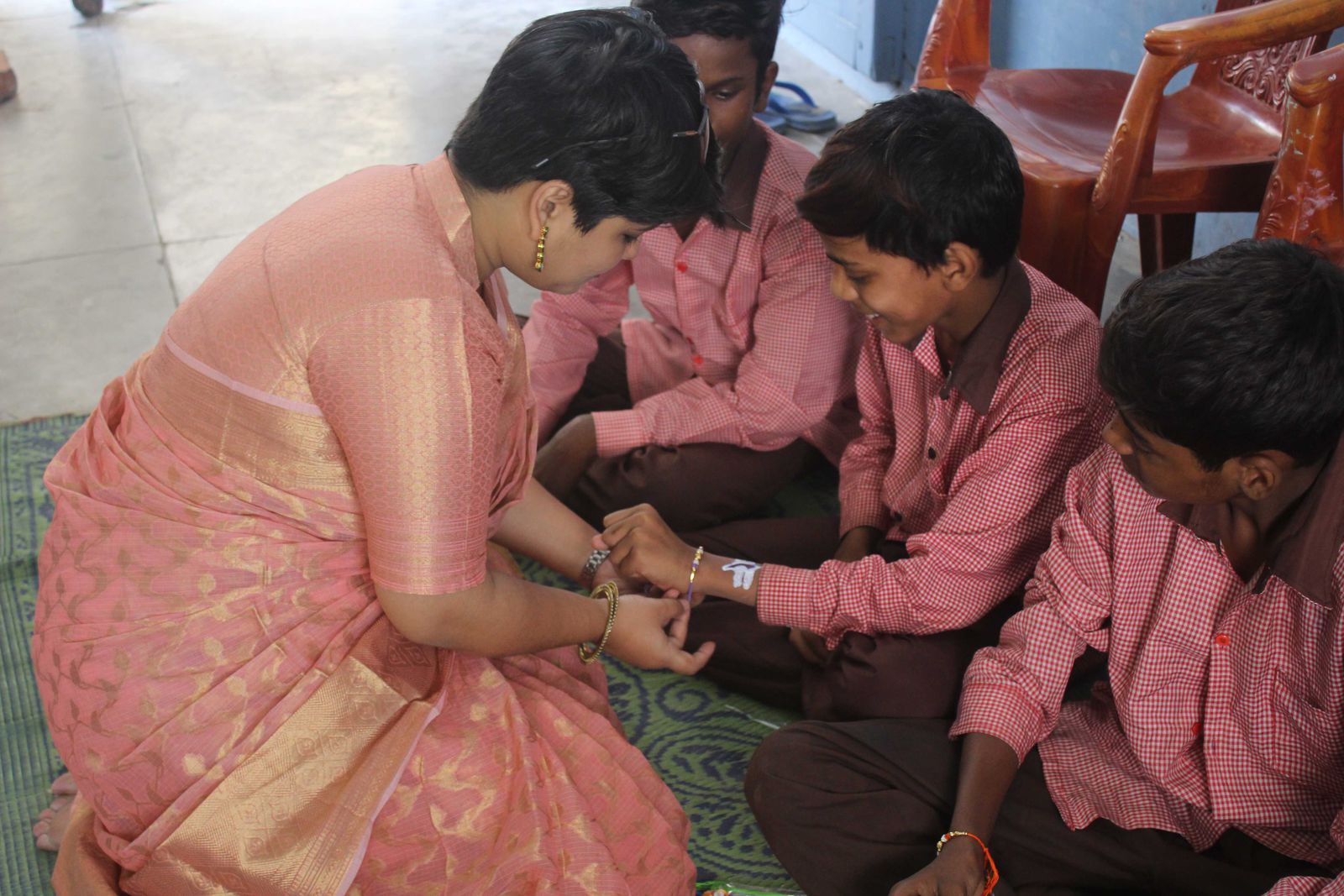 But what she adds next, left me so moved, that I will never be able to put it into words. Sana wrote,
"There was this one little Muslim girl, probably 5 or 6 years old, who had inhibitions about celebrating Rakhi. She said, "I'm a Muslim, what if Allah gets mad at me?" I tried convincing her that Allah loves to love and there's nothing wrong with tying rakhi to her favourite person in this class. She wasn't convinced so I decided to not push her. After 5 minutes, she came to us asking for a rakhi to tie on the wrist of her best friend. Karishma gave her a "Chota Bheem" rakhi and chocolate without asking anything. The girl was elated. I think this was the best outcome from our event." Indeed Sana, I had not imagined that a simple act of charity planned by us, would go an extra mile through you to unite hearts forever! My heartfelt gratitude to you.
Shadab Muzammil, my ex-colleague, and very good friend, also ordered a bag. She had come to Delhi from Hyderabad to meet her mother who underwent a sudden surgery. Despite all the busyness, she came home all the way from the hospital to pick her bag of Rakhi and made sure it was distributed among the right ones! Shadab said, " I wish to teach my children the values of being an Indian." I don't think any more words are required here!
The next story is of author and SHEROES member Supriya Shukla, resident of Kolkata, West Bengal. She is one of the few genuinely warm women I have connected to in life.
She happened to be one of the Debate Winners on SHEROES where I raise daily debates under the hashtag #MahimaDebates. My next on-phone encounter with her, was when I interviewed Supriya Shukla at #MeetTheSheroes Series ( it is coming soon).
Responding to my charity appeal she said, "Book me Rakhis for 1100/- an auspicious figure. Let me kickstart my act from this year with an auspicious figure!" She ordered a Happiness Bag of Rakhi as well as few for her brother. On Friendship Day August 05, 2019...I was having a lazy Sunday. Suddenly my phone went abuzz with constant message tones. It was Supriya with images as below...
Supriya not only went to distribute rakhis to the children and women in the nearby slums, but also took her teenaged daughter along! "The sapling of empathy must not die, it has to become a Banyan Tree!" she shared. In Supriya's daughter, I saw the seeds of empathy being sown into another soul.
Supriya shares her experience, "The giggling sounds of the kids running across the streets of Kolkata often made us curious about their life. In a slum near Ruby Crossing, Kolkata (West Bengal), from where thousands of well-to-do people cross by, I realized how easily we ignore these kids. We chose Friendship Day to distribute Rakhis. I and my daughter were in-fact fortunate to share a new bond of friendship and love with them. These kids were so happy receiving Rakhis and chocolates from us – their infectious smile even melted down all our distress of life. Even though our Bengali was a bit broken we connected with them in a jiffy. " And what Surpiya has refrained from sharing is that she ordered two more Happiness Bag of Rakhi, one each for her brother and sister who reside in Bihar!
Next to join the effort was Sonia Jolly, Founder of UPKAAR HUM HAIN Society in Satna, who got in touch yet again with me this year. Sonia is a mother to some 50 plus underprivileged girls through 'Upkaar Hum Hain'. Her younger brother Yashvinder Jaggi and she had participated in our charity movement last year.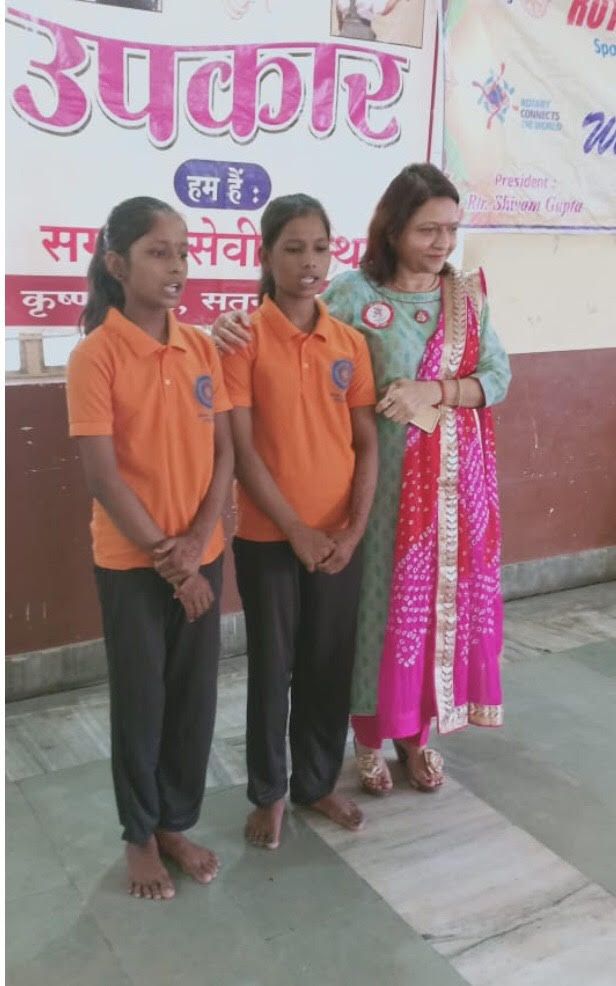 And this year too she bought three Happiness Bags of Rakhi, two for self and one for the brother. And look what she did! Her 50 plus daughters tied Rakhi to boys and men volunteers of another charity organization who has been helping UPKAAR HUM HAIN girls in many ways! Sonia Jolly wrote to me, "Thank you Mahima. Till last year these girls used to make Rakhis and learn various crafts around festivals. This year someone sent Rakhis for them! And they were so overwhelmed. When I saw your message, to my brother, I knew you and I will remain tied through this bond of Rakhi, but in a very special and unique way. I had to motivate people to join my cause. And then I saw you motivating others. I knew this was our common calling. And our effort reflects in the eyes of these girls and their brothers!" See for yourself!
The story doesn't end here! SHEROES member, Attinder Kaur from Jammu, owner of a hardware store, and a Sikh by religion, also bought two Happiness Bags of Rakhi to be distributed to underprivileged children who she says are there in plenty in villages below the poverty lines, close to her showroom. Attinder Kaur is a Ninja Nari, in her own style! How? You will soon read about her in our ongoing #MeetTheSheroes Series.
Then there is Bhakti Rathod, mother to a Special Child, a motivator to other such Star mothers and also the founder of 'Star In Your Child.' Vblogging series. She bought a Happiness Bag of Rakhis, and she tells me her daughters were super happy to see that Doremon and Chhota Bheem Rakhis were sent for 'charing and sharing with others.' We will also bring you her inspiring life-story very soon.
Another SHEROES member who joined the cause was award-winning Blogger Pinky Bajaj who wrote to me," I was initially not sure how to do the distribution as I have a small child. But when I spoke to my maternal family, they asked me to send the Happiness Bag of Rakhis to my native place. And I was overwhelmed." And so was I Pinky!
Not just members of SHEROES, but even the senior staff like Nidhi Thawal, embraced the cause with open arms. Nidhi is a lady of few words, we mostly interact through chats. But she reached out and ordered a Happiness Bag of Rakhis. I am sure she will share her joy on the App with images directly. And my heartfelt gratitude to her.
And then there are the likes of Nidhi Kalia, Founder of Gulabo Travels, a haven for Solo Women Travellers, Rashmi Menon, an Editor in a very reputed Book Publishing House; Afroz Jahan a News Editor with a highly reputed News Channel in India - all these women bought Rakhis. But since they had certain obligations, they made sure that Ninja Naris like Sana Sabah and Ritu Aswal, a Delhi-based Corporate Lawyer did the distribution on their behalf. I met Ritu through social media and she has been a buddy since the days she joined my first charity event. Mother to a teenage daughter, she is already sowing the right seeds of empathy in her child!
And then there is also Shivani Sharma an erstwhile corporate woman who took a break for her daughter. I met her during a holiday last year and she hopes to join the SHEROES platform once her daughter has gone past her class 12 exams. She ensured that an NGO takes up the Happiness Bag and shared it with the right people!
Chhavi Upadhyay, Entreprenuer and Wife of the Founder of STAIRS ( an organisation that support poor children and youth , in India's urban landscape, to come out and play) also joined the cause. She informed that her daughters, especially the elder one loved the idea. And we know...the journey has just begun!
Last but not the least, I would like to mention my friend and newsperson Neety Prasad, who despite having a toddler, bought a charity bag. She did ask me, "How will I go with this super active kid of mine, Shivansh, to distribute Rakhis?" But in the next breath, she asserted, "OK, I will take him along, he will be happy to share sweets and Rakhis!" I had no words to respond to her, I just said THANK YOU NEETY. I was speechless…
The whole exercise was very fulfilling for me as a person. In the end, I express my gratitude to Sairee Chahal and the SHEROES network, due to whom I have made an extended family here. I thank everyone mentioned above and others beyond SHEROES (men and women from all walks of life) who joined the cause and helped me become a better human being with another passing year.
Before, I call it a wrap, do check out this image sent by army wife Shilpi Pun, who went all the way to Cheshire Home and celebrated Rakhi along with her lady friend by sharing Rakhis, Love and Sweets with specially-abled kids. As they say, keep the best for the last, so I have kept this very impactful image for the finale....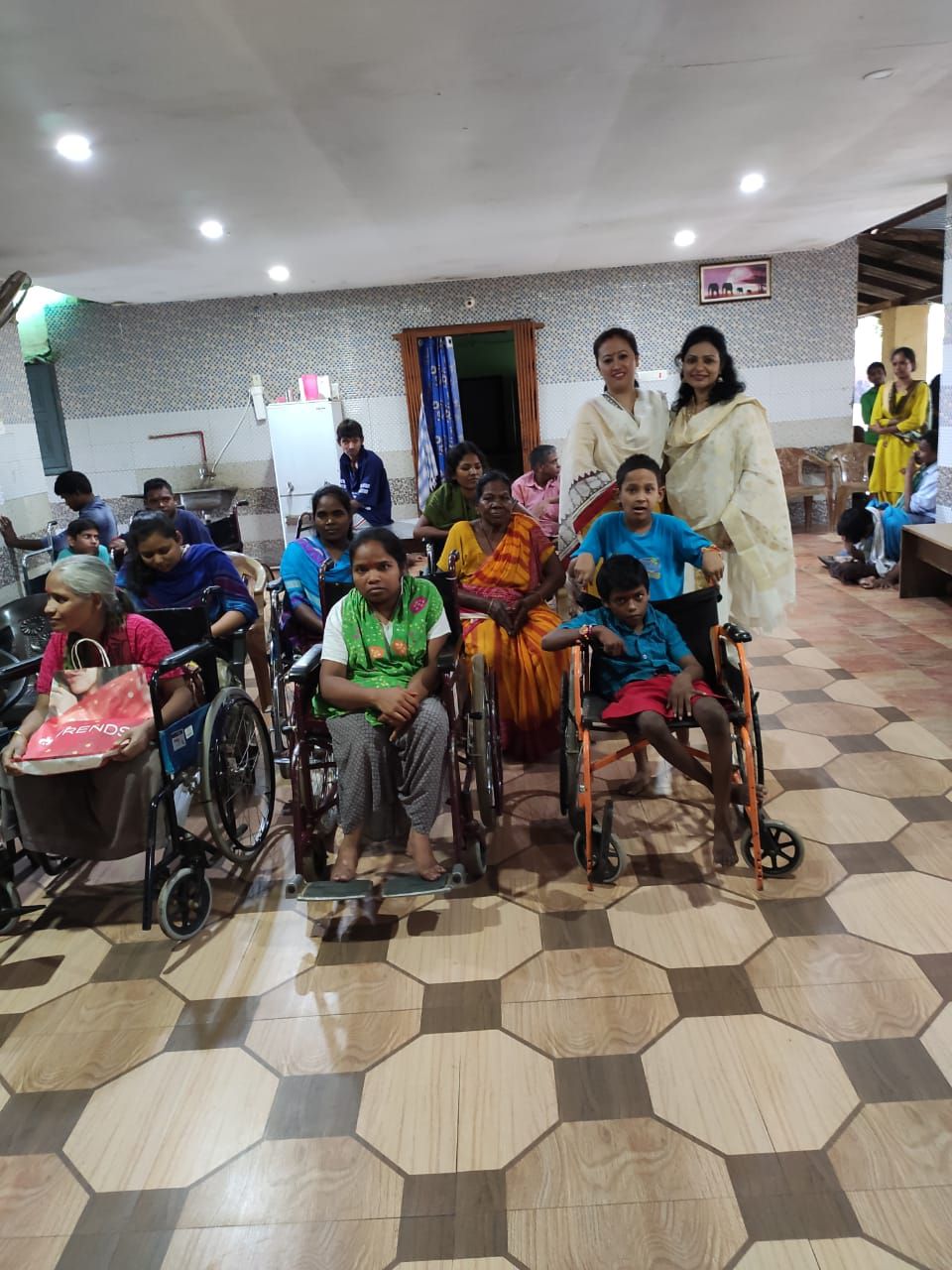 And then last but not the least, arrived heartwarming images from Manjari Sinha, my soul-sister in all this effort. Manjari lost her father just a few days ahead of Rakhi. Nevertheless, she ensured that she lived his morals through her actions. And with teary eyes, but iron determination she went to distribute Rakhis just a day ahead of Rakhi....leaving me deeply motivated.
Manjari's words will never leave me alone. I know I have arrived at a point, where there is no looking back! Thus, I end this inspirational piece, with an excerpt from the famous poem by the legendary Robert Frost...
"...I have promises to keep,
And miles to go before I sleep,
And miles to go before I sleep."
Thank you SHEROES and it's #NinjaNaris. Look forward to your love in the comments columns. And don't forget to share this story, you will only end up cheering a few souls and inspiring many others! Cheers!
---

Mahima Sharma
---
---