How Learning New Skills Helped Me Start A Business
Last updated 6 Mar 2019

.

1 min read
Today I take you to meet 31-year-old Poorvi Tiwari who grew up in New Delhi and is now based in her hometown Indore. She is rewriting the definition of 'chasing passion over profession in life.' But before I take you through her life story, take a look at a couple of posts she has done in the BAAZAR COMMUNITY at SHEROES.
An ace freelance re-seller of such attractive fashion wear, Poorvi is actually an MBA in Information Technology. As I hear her in awe, she laughs and asks," I have read that you too are chasing your passion these days, so don't be surprised, it is mutual." And we both laugh.
She begins unfolding her life's journey,"I have 4 years of diversified experience in sales and digital marketing, worked with IT company in 2011, then switched to the telecom sector (2014), financial company (2015). I have a hunger to learn new things, I never put restrictions in my career, open and quick learner."
She adds that joining a Start-up in 2017 was the turning point of her career. "I had joined this start-up in Indore where I got a lot of exposure as a Digital Marketing Expert, acquired SEO knowledge, Social Media Marketing, Online Sales, Online customer interaction, Web Research, Excel, change the content in WordPress back end and Online strategies to boost sales. I loved this streamline because I got the opportunity to learn new things. But this was also the time when I was struggling with certain health issues. I could not continue with my full-time job."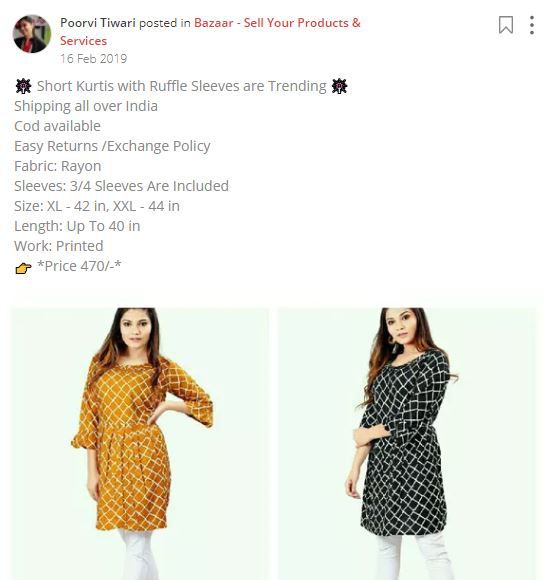 She informs that here is when certain friends pitched in to help her advice and restart life as a freelancer. "Initially, I was skeptical. But as guided by friends and a few former colleagues, I began exploring success stories over the internet and YouTube. It was challenging to keep exploring work as a Freelancer for months, with no sight of work," she recalls. And then one day she informs that she got a commission based work for a client from the US.
"With the same project, I developed my interest in video animation, it was a beginning not related to my background. But hard work paid and my client observed that I am open to exploring new skills. So they offered me another project and soon I became a team leader within 2 months. I had not expected growth so early, but what I learned on-the-go was that it was the result of upgrading my skills. I had even done a Certification in Online Advertising." She further adds that what started as an optional profession, soon became her chosen passion.
And today she has OnFashionz to her name - her own online Fashion Label! How did this happen Poorvi? This isn't even close to what you began doing as a freelancer in the IT industry, right?
"My online job with the US-based client gave me great confidence. And one of my friends introduced me to online re-selling in the Fashion world. I decided to give it a try.
OnFashionz is my part-time business, I haven't given up my freelance work as an IT Professional. OnFashionz is my online brand that deals in women's wear and accessories. We have manufacturers and wholesalers from different cities. We ship all over India," replies a very confident Poorvi.
Her next response shows that with time she has trained herself to be well aware of what she is doing, even though she calls it a side business, "All products are quality checked with the vendors and catalogs are shared with the customers via social media. In case of any issues, we have strong policies. Easy exchange and return policy and 100% money back guarantee. We never ask for advance payment from the customers, it's their choice. We offer Cash on delivery service."
But then Poorvi adds that this step-by-step success wasn't a cake-walk, "High competition was the biggest challenge. There are tons of sellers like me and they are doing it very well. Identify customer choice of clothes. Initially, I used to get too frustrated with no or bad response." And then how did you overcome these challenges Poorvi?
"Mahima, you are well aware that learning is a never-ending process. I had to keep myself updated and open to learning new skills. I trained myself by taking inspiration from YouTube and even from blogs on the Internet.
I had to fight depression when I was jobless. I had to ignore the vile jibes. I had to NEVER GIVE UP and stay focused on my life and goals, rather than falling for the idea to get married at the so-called suitable age. I had to convince my family to let me be who I am and take this decision when I was ready for it. In short, I had to be my own motivation at times, to stride on," she smiles.
And then she began taking online surveys to know customers' :
Buying capacity
What kind of clothes she is looking for
Who are the audience which prefers online purchasing
She claims that today her sales pan-India. And she takes pride in being a reseller. She says, "At SHEROES BAZAAR COMMUNITY, I not only got the chance to spread out my work reach but also learned how to go beyond the box. I learned a few great things like:
A) Online selling is a great concept to reach out to a wider audience, but don't expect early growth and huge profits in the beginning. Be prepared to face the challenges. You may encounter some negative perceptions and feedbacks. In that case, we have to quickly work on it.
B) Online Selling is not about sharing pictures and getting sales. It's about trust and professionalism. You have to ensure your prospective customers that you provide a safe shopping experience.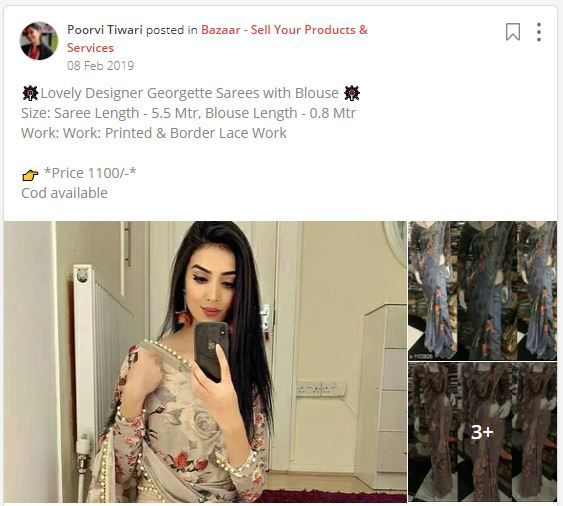 And Poorvi has no qualms sharing some tips with ladies who wish to be a reseller. She sums up her work experience and Benefits of a Reselling, as below:
You don't have to invest money
You don't have to set up a shop
You can reach out to a wider audience through social media.
You can work from home and manage your family life
You can even do as a part-time reselling along with your full-time job.
An online freelancer, an online fashion re-seller, a motivator at SHEROES and also a constant participant in #MahimaDebates where I seek solutions to women-related issues through daily debates. How do you manage to do all this with ease Poorvi? She laughs, "Mahima, it isn't tough. I love expressing my thoughts in the debate because I know, my views will have an impact on others. As a human being, I don't want to live a life like a robot. We all are busy, but that doesn't mean we can't do our bit for society. So I try my best to motivate others in whatever little way I can. And now I am rather addicted to SHEROES."
And a very-bubbly Poorvi Tiwari signs off by saying:
"You know I joined SHEROES because I love this space. And through it I wish to contribute something for the society, helping others and while interacting with new people. I love this platform feels like I am home. I was so happy when I found this app because apart from the professional goals I want to contribute something for the society by helping people. My dream came true. Thank you so much Sairee Chahal, you rock! I wish if we could spread overseas too. I am sure you must be planning out. Awesome App. Big thanks!"
If #HerStory in our ongoing #MeetTheSheroes Series has touched your heart, do share it among your friends and also pour love in the comments column for Poorvi. You can follow her on SHEROES.
---

Mahima Sharma
---
---
Similar Articles You love