This Woman Is Ensuring A Gala Time For Travel Enthusiast Women
Last updated 1 May 2018

.

1 min read
Nidhi Sharma had been fortunate to stay independently in Delhi for 9 years before marriage. And she had the liberty to travel to multiple places like Goa, Jaipur, Ajmer, Himachal and Rishikesh. The experience, she informs, has always been enriching and helped her grow as an individual. Her marriage to Prateek Kalia further added fuel to her love to travel. Prateek has been in the travel business for ten years and ensured that Nidhi travelled farther, without clipping her wings by restricting her to travel with him only.
She felt liberated but also realised that most of the women in India do not get to live such a life. That's when she decided to do something for women. And an idea came to her mind - why not launch a project which encourages women to travel solo, which expands their horizons and learning - the way it happened to her? She spoke to her husband who runs a travel outfit, known as 'Himalayan Outdoors' that ventures in various adventure activities.
That's how Gulabo Travels took birth on 19th February 2017. A mission started by Nidhi, that began on a domestic level in India and will soon be spreading its wings abroad.
I got to know about Gulabo Travels through Instagram and decided to get chatty with Nidhi - a young woman with lots of dreams in her eyes and the confidence to make them a reality - asking her questions about her business.
What's the thought behind Gulabo Travels? Why restrict women to the colour pink?
I understand being a girl, how difficult it gets for one to plan their trips. One major factor that your parents are concerned about when you plan to travel alone is your safety. We take care of all these worries. We, as a concept, celebrate women - we deserve that break, from home, from work. A Gulabo trip is our time to unwind and celebrate life.
For me, pink is the colour that celebrates women. I don't see it as a restriction, I see it as a celebration.
What hurdles did you face while establishing Gulabo Travels and now, while running it?
We could have launched Gulabo earlier but convincing people around me about my idea was a big hurdle initially. Unfortunately, in most parts of our country, it is still believed that women need men for everything outside their homes and hence, my clientele becomes limited. Also, finance becomes a problem for girls at times.
Making girls and women believe in Gulabo, and protecting the concept was really tough for me. Only once we knew we had 'girls only' groups to start the journey, we could launch our venture. And since then we haven't looked back.
Another important factor is awareness - slowly and gradually people are becoming aware of the concept and queries are pouring in. I live in Rishikesh, India and that is where I operate from, but the majority of my clients are from Delhi NCR. Within a year, we have begun getting queries from around the country.
What all does Gulabo Travels take care of, in a women-only expedition?
Gulabo Travels looks after everything related to the trip. We organise scheduled departures with itineraries and everything - like meals, accommodations, travel - is arranged by us. We have our teams at all the places which make the trip very safe and comfortable. So far, I have been travelling for all the trips myself. In case I am not able to join for any of the trips, I have women in my organisation who have been in the travel industry for years.
How do you ensure the primary concern - the safety of women?
We have professionally trained female escorts, who join the expeditions. Also, I make sure to travel along for most of my trips. Late night travel by road is avoided. The team we work with is very professional and knows that safety is the top priority. Our itineraries are deeply thought through and planned to handle various situations.
What kind of accommodation, in terms of budget as well as security, does Gulabo Travels provide?
We understand the sensitivity our business deals with so we don't compromise with the quality. We make sure to provide the best of hotels or camps to our girls, which are pocket-friendly at the same time. The hotels or sites that we offer are all shortlisted by us very carefully at the time of planning our itinerary, to make sure that we do not have any problem during the trip.
How many expeditions has Gulabo Travels conducted so far?
We have done 2 trips to Ladakh, 1 to Andaman, Jim Corbett, Goa, 3 trips to Rishikesh and 4 trips to Kanatal. So far, we have done trips only in India; but vacations to countries like Dubai, Sri Lanka, Bhutan are also in the pipeline.

Gulabo Travels - Ladakh Trip

How big is one batch of women and what is the average cost of a trip for, say, 4-7 days?
Our group size differs from 5-6 girls to 12-15 girls. The cost of the trip depends completely on the destination we plan; but as I said, it is pocket-friendly. For instance, we have a 5-day trip to Ladakh coming up in July and in August 2018. It is going to cover everything there and also includes one-night camping at the Pangong Lake. The overall cost of the trip is under INR 30 thousand. Also, we are working on our road trip to Rajasthan in November.
What is your message to women who want to travel solo?
I think if you believe in something, it gets easy to convince others of the same. So you need to believe in the idea of travelling. In case you want to convince your parents initially, you can always start with a small trip. It will take time but India has evolved as a country in many aspects over the years.
Similar to how one bad story generates several others, I believe one good story, one good-intention effort like Gulabo Travels will also do the same. Which is why, I am keen on promoting the individual stories of women who have travelled through Gulabo, rather than just promoting Gulabo. I am working on these.
Maybe SHEROES can one day take them up. I have plenty of eye-openers to create awareness as well as enthusiasm. The change has begun, all it needs is sustenance.
Anything else you wish to detail about Gulabo?
My parents have made me the independent and liberal girl I am today. They have made me believe in myself and my husband is always guiding me and giving me the confidence I have. But not all get a chance. I am here just to ensure that even if such girls get one chance in life through me, I will be the happiest.
Travelling solo liberates a woman, it changes her way of thinking. And when these women come back with their fondest memories of travel, they will be able to think about their future in a better way. Being a girl I understand their requirements. We also understand the important safety factors.
Last but not the least, your message to women who need to break the shackles of the society, but are bound by circumstances and are unable to.
Believe in yourself. Always remember we are the creators, there is nothing we cannot do.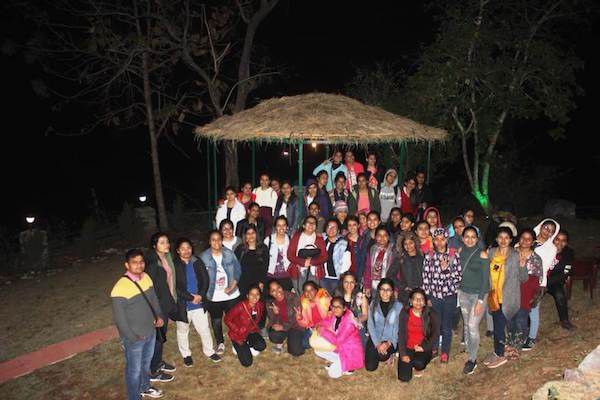 Gulabos in Rishikesh

Nidhi Sharma is the Founder of Gulabo Travels, a women-only travel experience provider. Join our Travel community and share your experiences with us.
---

Mahima Sharma
---
---
Similar Articles You love