10 Essential Graphic Designing Tools To Create And Collaborate
Last updated 2 Feb 2018

.

1 min read
Earlier, a career in graphic designing seemed quite daunting. There were not many free design software programs floating around on the Internet that you could pore over to set your hands.
If the cost of buying one was not demoralizing enough, add to that the complex interface that only professionals with degree training could decipher. Those difficult days are now a thing of past.
If becoming a freelance graphic designer is your aim, tons of software are at your convenience to learn at your most comfortable pace, and they are for free! Read on to know the choicest of the lots, loved by millions of aspiring graphic designers out there just as you are.
The easy, comprehensible package has boosted the will to learn more and help graphic design grow as one of the most preferred work-from-home jobs. The list is strictly not in order because each one complements the other in some way.
The quintessential software for learning graphic design, this should be the first software that should come to your mind if you want to take graphic design career seriously. Photoshop comes packed with the primary levels of photoshop and is the easiest to learn. There will be no dearth of teachers to teach you this one, given its pioneering contribution in the field of graphic designing.
The basics begin with flipping, cropping, rotating, and straightening. Features like auto-fix, one-touch filter blemish removal, image rendering make it the first choice for learners to know more about graphic design.
This software keeps growing with the simple tools that have made it quite attractive among the beginners. You would want to start out easy. And the software does not disappoint. With thousands of fonts and layouts to choose from, drag and drop options, and most prominently, free photos at your disposal—Canva is the best choice for preliminary graphic design courses. It paves a smooth way up to the professional line of infographics because the user's concept of the subject is greatly enriched.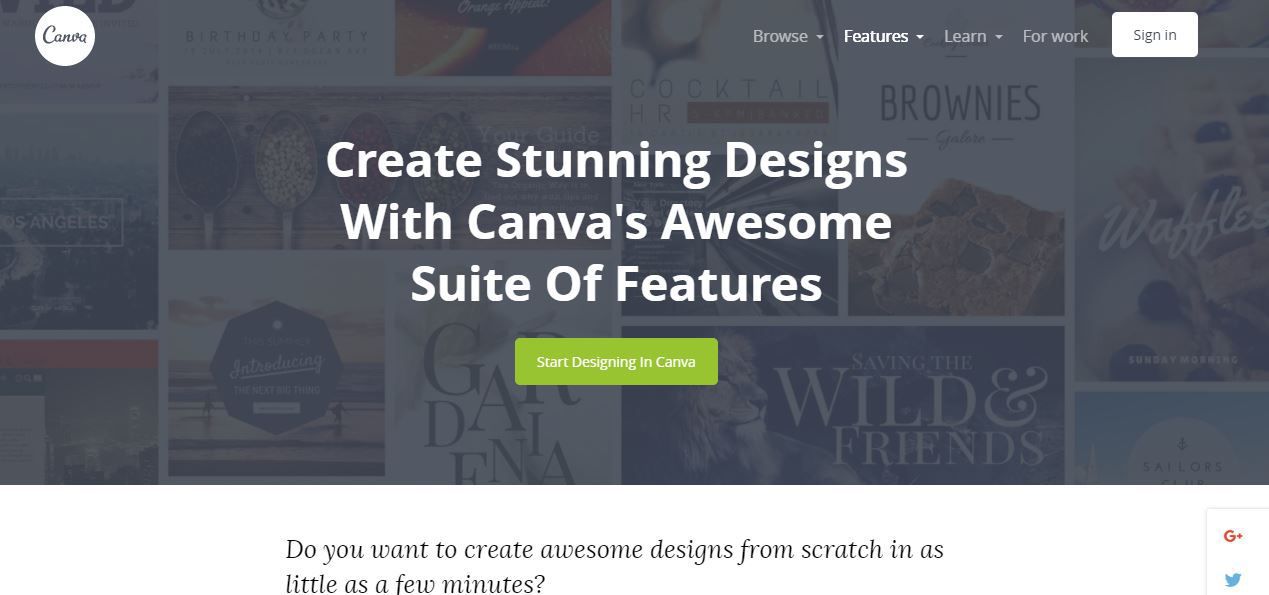 CorelDraw, Adobe Illustrator requires a bit advanced knowledge in designing logos; here Inkscape can be a great alternative for that matter. Logos are made catchier with SVG (Scalable Vector Graphics), and such files can also be saved in that format.
The interface is extremely user-friendly which should be for learners. Hence, self-tutorial sessions will not be disappointing.
Google has it's very own graphic design software to offer. Why not give it a try as well since we spend now half our lifetime on its search engine? Jokes apart, you can count on Google for the most innovative tools to enhance a mundane image or a project into something lively and vivacious.
Suggestive from the name, the software lets you create a virtual world of your own complete with props, places, environment in its entirety. This is where you learn 3D modeling. There is a lot to do with the designing tools allotted with this software. You can even shape them.
You can make presentations, cards, 2D graphics, and logos with Vectr. The graphics will be neat and clean, hands down. There is a whole load of options to choose to enhance a regular logo. Online or offline, Vectr is available both ways. Like Inkscape, there are plenty of filters to choose from.
This is mainly an image editing software. If you want to learn photo editing, learning how to use this software is what you might have been looking for. If you find Photoshop hard or Microsoft Photo Editor seems too flat for you, Paint.net can be a suitable alternative. It is very simple and user-friendly and thus making the learning process far more enjoyable.
The infographic has a spreadsheet feel to it. You can also publish your designs on its website. This looks like a wonderful way to boost your level of confidence regarding publishing.
You can learn how to create great charts as well and other infographics using Infogr.am.
As an open source software, SVG-Edit makes it easy for you to learn if you want to learn and eventually work from home. No extra software for the file format conversion that may be the case for other software. Vector drawings can be reproduced as a program using SVG-Edit. The code is customizable and downloadable.
Notable features of SVG-Edit are freehand shapes options, flexible canvas size, SVG icons, specialized color gradient and all relevant tools will help you learn the essentials in a graphic design portfolio. This is a must-learn software.
For learning 3D graphics, this software is the perfect fit. 3D applications include video games, various types of animation such as animated cinema, advertisements, videos, etc. The main tools of this software stand to reason why this is the best choice for a graphic design career in 3D content. It allows Real-time rendering to photos so you can get a constant preview of the changes you made to your content. The cool part is its 3D modeling options. The texturing, simulations, etc. are very rapid and real-time. Extensions are available too. Time to get the pen and paper ready to learn.
The list is not necessarily in the order of preference because each one has its own characteristic skill to offer. Your task would be to choose according to the difficulty level you can handle in your course.
To summarize, all these software programs offer the basic tools for graphic designing. For that, you can begin with any one of the above. Once you have mastered the preliminary skills, then it will be time to prioritize the software that will help you if you are keen to start off freelance graphic design.
Choose the software you would be comfortable if you decide to work from home because it is not humanely to master all the graphic design software out there. Also if you wish to learn more about Graphic Designing and wish to connect with other Graphic Designers, you can visit the Graphic Designers Community on SHEROES.
---

SHEROES
---
---
Similar Articles You love