Cerebral Palsy Can't Stop Me From Loving & Living : Vinayana Khurana
Published on 3 Dec 2018

.

1 min read
Her SHEROES Bio reads -
I'm a young woman with Cerebral Palsy, I love to live life to the fullest! I am doing masters in English from Delhi University.
Her Facebook Bio reads -
"ABILITY IS ALL I SEE IN MYSELF!"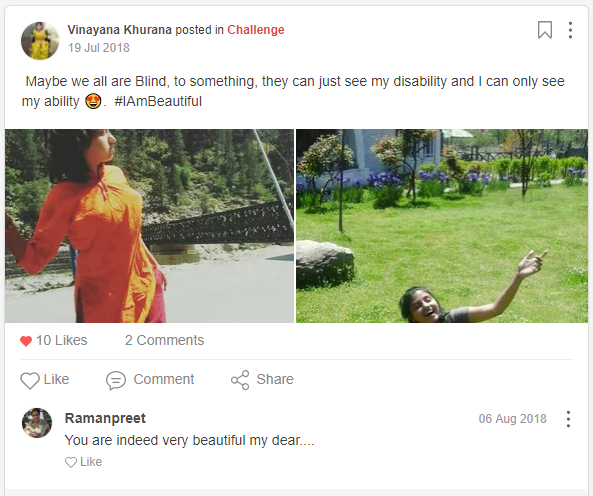 Meet 24-year-old Vinayana Khurana from New Delhi, whose both social media accounts are full of poetry penned by her - the poetry of love, the poetry of aspirations and poetry of inspiration. She is a star in the MOM OF KIDS WITH DISABILITIES' COMMUNITY at SHEROES because she keeps inspiring the mothers, the members with her poems, her one-liners as well as her antics. Take a look at one such post...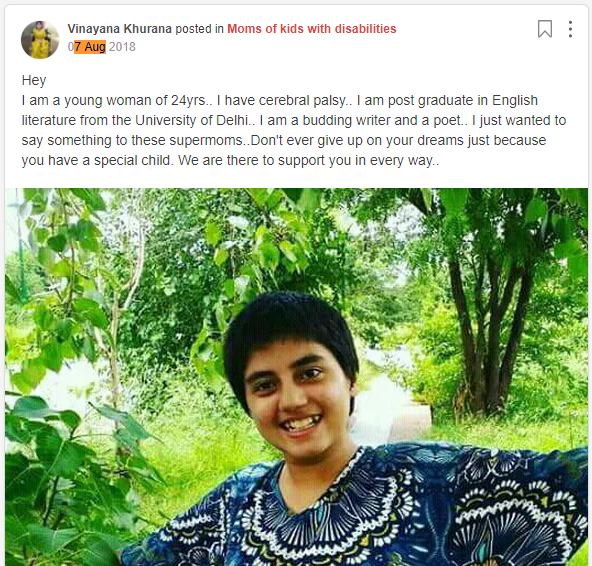 So what is Cerebral Palsy? Let's learn from Vinayana in her own, simple words, "Mahima everyone has challenges in personal life. I have a physical challenge, somebody else would have a social and psychological challenge. I have a physical problem due to my condition of Cerebral Palsy. I have problems doing things myself. It's like, your brain knows how to cook, how to make your favorite dish but your body doesn't obey you. That is the story of my life. I know everything but my body doesn't obey those messages."
But that doesn't stop her from dreaming to make it big or to inspire others. Take a look at yet another post she wrote at SHEROES...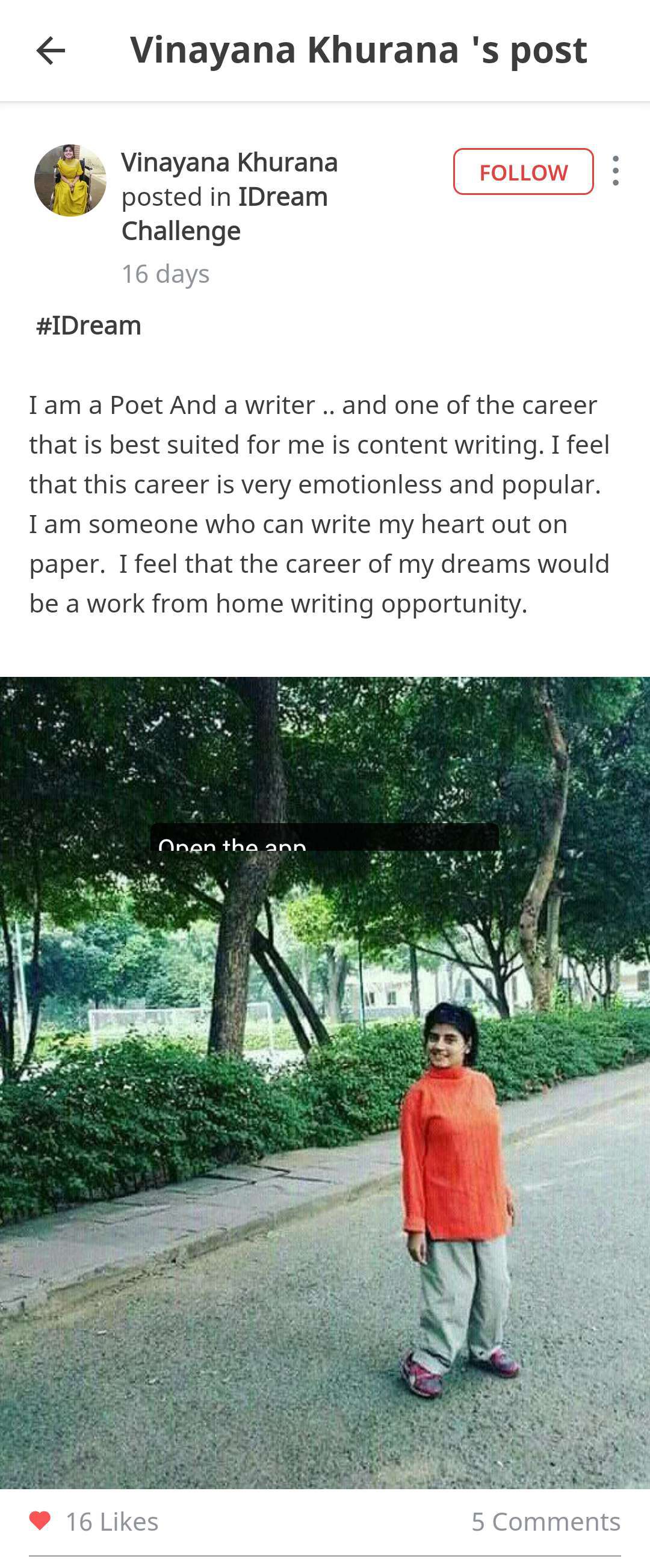 But these aren't the images that caught my eye, these aren't the reason why I decided to do her interview. Take a look at this note about her FIRST DATE!

I was a little startled and scenes from the film 'Margarita with a Straw' began to flash in in my brain. (The film is based on the life and struggles of the protagonist who has Cerebral Palsy). And the journalist in me became quite inquisitive and I decided to take on some direct questions with this bold girl whose Instagram and Facebook profile in full of songs, dances, and poetry on love.
I wrote my question to her and she sent back a heart as well as laughing smiley, "Mahima, I don't really know about a relationship but yes my disability can't stop me from desiring love or sex. Love, means a lot to me and the feeling of Love can come to anyone, be it disabled or non-disabled. This is a Universal feeling. I feel that every person has the right to love.. so why not me? Cerebral Palsy is no hindrance in my Love Life!"
And what this postgraduate in English from Delhi University next wrote back to me, was really overwhelming, "Yes, I have been in Love, but it was just one-sided. I was really young at that time, I didn't know what love was. The guy used to help me out a lot. On all my little things, We were in 6th standard and he was in my Class. I didn't know how and why, I fell in love with that guy. It was after two years I found that the guy doesn't reciprocate the same way. It was heartbreaking.. but I soon realized that… this was the best for me.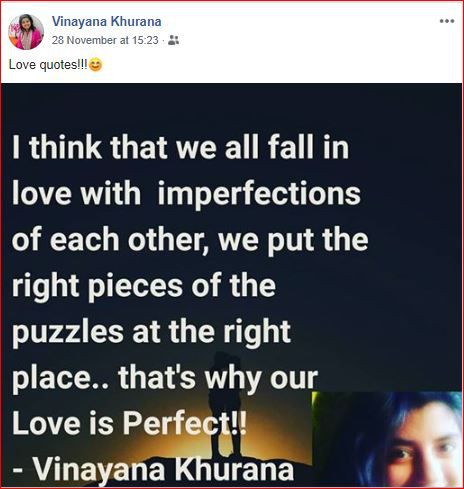 She accepts that she was very heartbroken but she also knew that she had to heal herself. How very mature! She wrote, "You have to remind yourself to Love yourself the same way you love the other person." Heartbroken in love, but her disability has not made her give up in love - Yes, now she in love again! She types back a smiley and writes, "Yeah... I think that guy has come to my life as a blessing but there is no love without complications. There is a strong friendship from his side and this is everything I need right now. His family is skeptical about our friendship but I think it would improve as the days goes by.. it is just a long wait or maybe God has other plans."
A fighter in spirit or have the sex hormones taken you over Vinayana - I put another direct question to her.
Un-rattled she shoots back immediately, "I remember correctly when the guy I had a crush on, held my hand for a few seconds. It was a beautiful moment for me and it still lingers in my mind. People always have this conception in mind that how can someone with a disability can have sexual desires but why can't they. It is really wrong to say that, and in my point of view sexual desires are not just to make Love, it is to have a level of intimate relationship with the one you love. The feeling of love, desire and sexuality are universal to everyone. I don't know about my sexual desires. I have some of them like cuddling or hugging. I think that it is natural to have them but sometimes I feel guilty of having them, I don't know why… I hadn't yet thought about how should I satisfy them. I think that would happen with time."
And where does all this strength to fight against life, the society come from? Her parents, her younger brother…but especially her mother - she informs. Look at this post she dedicated to her Mom.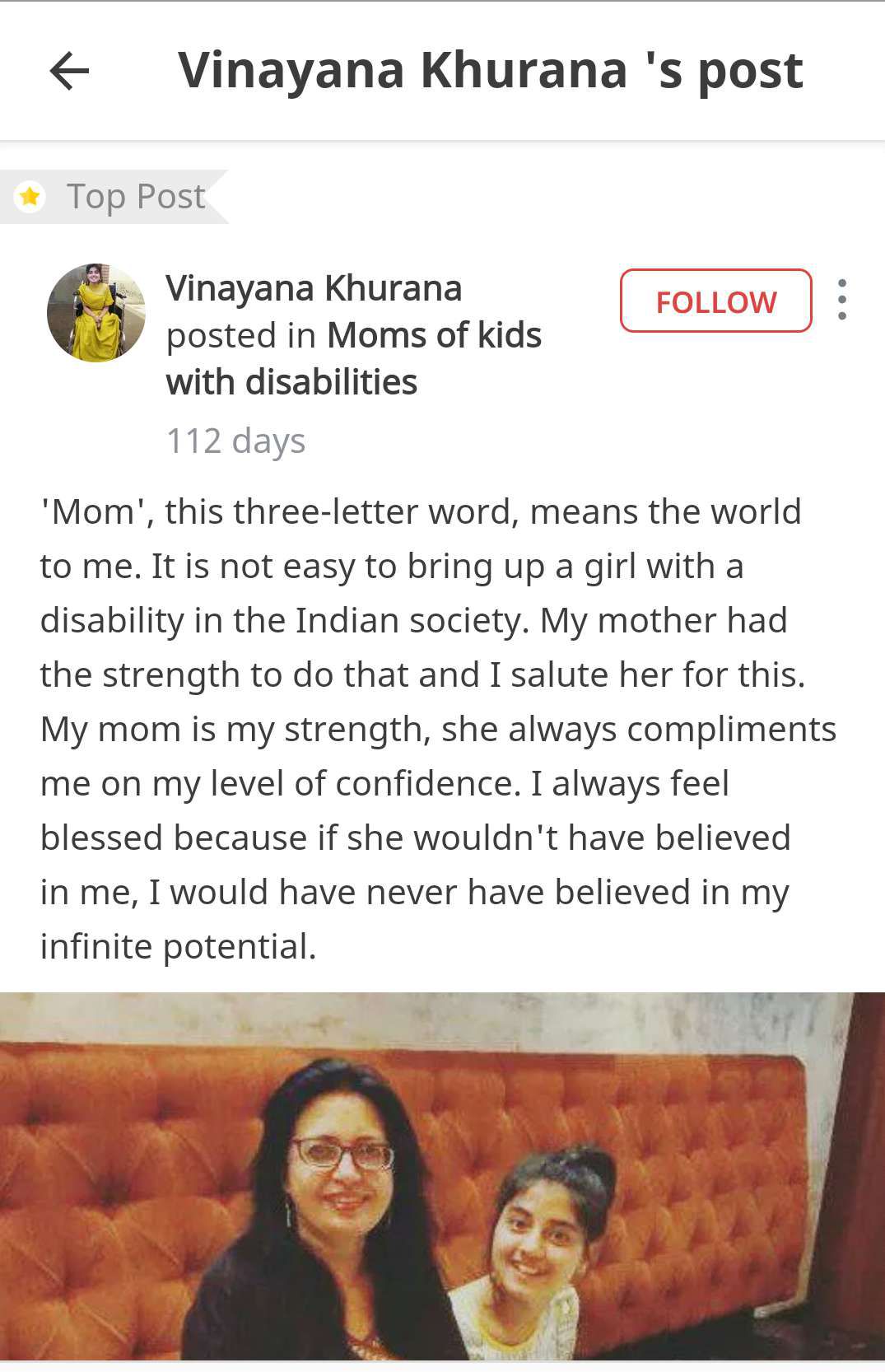 "Yes, I have been discriminated, I haven't been considered eligible for friendship by a certain group of children because I can't stand and go out with them or party with them. People have been rude to me because they didn't understand what I want to say and labeled me like a mad girl in my childhood. This term did hurt me a lot all my life. By the grace of God, I have Friends who understand me and love me for what I am. There were times when I used to cry because the people around me, called me Mad, but I did overcome that by the love of my friends and family," Vinayana writes to me with lots of smileys and hearts again.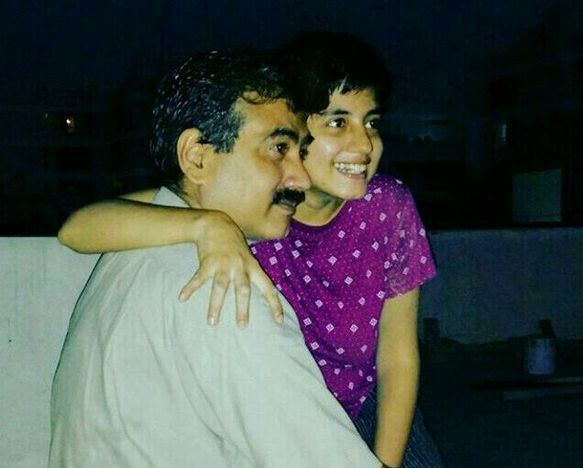 Parental support and unquenched love. Or support and dream to be loved? So I ask her what does she think lies ahead in future for Vinayana? Considering that she is a die-hard romantic, how does she see her life unfold...
"Mahima, I don't really know about what lies in the future but one thing is for sure, I will not give up on my romantic dreams. Even if I don't find the right guy. I will never give up on my romantic dreams. Being as crazy as Pooja from Dil Toh Pagal Hai.. I really believe in that philosophy that somewhere someone is made just for me. Lol. I think there has to be someone, who would fall in love with me… and believe this to be true. But for now I aim to be a freelance writer and I am working on the lines, to hone up my skills."
And what motivates her beyond family? Here she expresses gratitude to SHEROES and tells me how it changed her life, "My mentor Merril Diniz introduced me into SHEROES - it was here I that I could openly talk about openly on those feeling, I never had the courage to talk about. And then recently I attended SHEROES Meet with parents who have children with a disability, in November 2018. It was a wonderful experience. I wish that there would be more meets, such as these, where everyone can share their emotions without being judged in any way."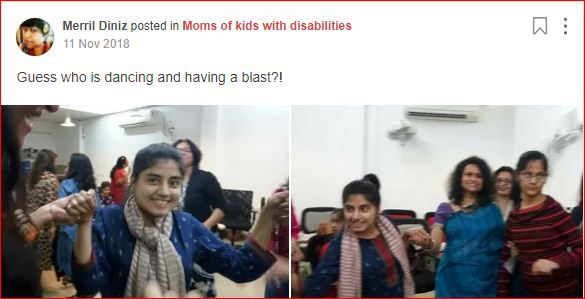 And she dedicates few lines to SHEROES.....
Something empowering,

Something fun,

Something crazy,

Knowledge and news,

We are the community of women,

Always beautiful and smart..
And yet another few lines to the parents of children with disabilities...
"Don't restrict,

Let them fly,

With their wings,

Or whatever they have,

Do not compare,

Because Your child is Unique…"

So what does a typical day look like in this UNIQUE CHILD's life?
"A day in my life, is me, my window, my sofa and lots and lots of poetry…. Sometimes music too…and some dance!" writes a very upbeat Vinayana, whose remorse is the fact that accessibility is a major problem in the country like India. And in future, she wants to work also to create an India, a country where people like her can travel alone on their motorized wheelchair.
Despite taking exams for the NET and being super busy, Vinayana took out time for this elaborate interview, because she believes that opportunity to be heard by the world comes rare and we have to make the best of it.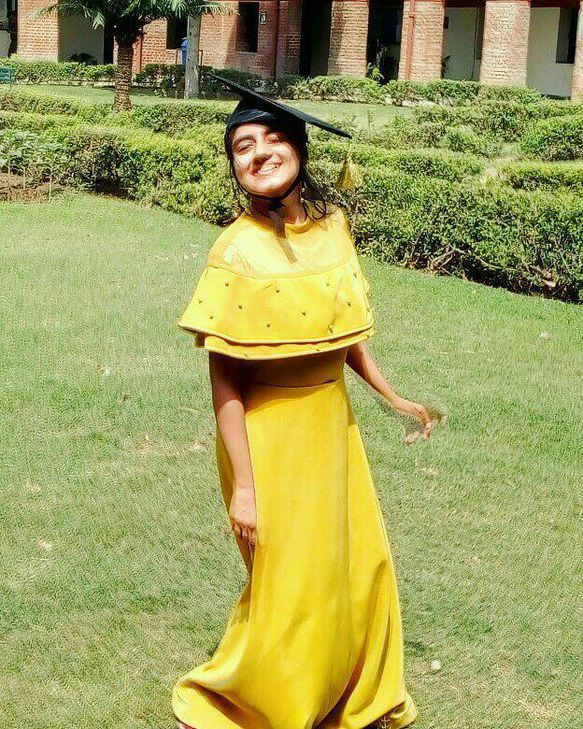 She also tells me frankly that like any other human being she also has her days of breakdown when people say," I have heard, oho, ye chal nhi pati, Beechari.. ab Iska kya hoga (Oh, she can't walk, what will be her future)…. And I find it tough, but revert smiling … wahi Hoga jo manjure Khuda Hoga…(God's will, shall happen)," And she moves on ahead with her life because, "The most encouraging words, I have heard from my teachers, parents, and friends… Humein Pata Hai ki tu karlegi… (we know that you can do it)"
So she signs off for the day sending me a lot of hugs and hearts in smileys while typing back....
"People look at me, as a glass,

Easy to break,

But after a lot of fire,

I have turned into diamond,

Hard to break,

And shining like a star…"
So don't forget to share Vinayana's inspirational life story and leave lots of love in the comments column. Because we SHEROES are all about love and care, isn't it?!
---

Mahima Sharma
---
---
Similar Articles You love