6 Essentials Of A Bengali Bride's Perfect Marriage Get-up!
Last updated 21 Aug 2019

.

1 min read
Everytime I meet a new person in my life and every time they learn that I am a Bengali, I don't feel Bengali enough until they ask me some of the following, utterly illogical questions,
" So fish must be your favorite no? How can you eat fish everyday?"
" Ami tomake bhalobashi! That is correct, right?!"
" I heard that Bengalis are bound to be either a singer or an intellectualist, is that true?"
" Why are you guys so obsessed with football and politics?"
However, one particular question fills my heart with nostalgia and makes me speak volumes on it. That is,
" How are the Bengali brides such a perfect blend of simplicity and beauty?"
Whether you are a bong, or not, at some point in time, you must have been amazed at the "Bengali" quotient. And when it comes the to Bengali wedding scenes, with all the distinct and divine rituals, the beautiful bride hiding her pretty face behind the betel leaf, is truly the center of attraction of that evening!
Therefore coming back to the question, how does she looks no less than a goddess on her wedding day?
With no bridal lehenga, no extravaganza makeup artistry, limited jewellery, a simple bun and at sometimes without even mehendi put on, how can she look absolutely mesmerizing as a bride?
Are you curious to find out? Read to know the factors that make a Bengali bride stand apart from the crowd with unique grace and beauty,
#1. The crown of good luck "The Topor"
Just as the old saying goes, "Queens don't step out without their crown on", the Bengali bride never steps out without a "Topor" along with a veil on her wedding day.
However, this white coloured crown is not just for show but it is also worn for bringing good luck to the couple.
The "Topor" aka "Mukut" or crown is made up of "shola" (Indian Cork), which is a very delicate yet elegant looking material. The "Topor" is considered as a mandate for every Bengali bride as well as groom. Along with it being a head-framing adornment, it also has some mythological connection.
It is believed that Lord Shiva wanted to wear something special on his wedding day, so he asked Vishwakarma to prepare some headgear for him. Now Vishwakarma dealt with majorly hard materials and was not sure how far he could do justice to the wedding wear, hence he appointed a young man named Malakar, who made a beautiful piece of headgear made of "shola" for Lord Shiva.
#2. An intricate design of Chandan that ornates the Bindi!
Once the hair and head of the bride are done with the "Topor" and the veil, the hair is usually tied back as a graceful bun, occasionally accompanied with a Gajra or other hair accessories.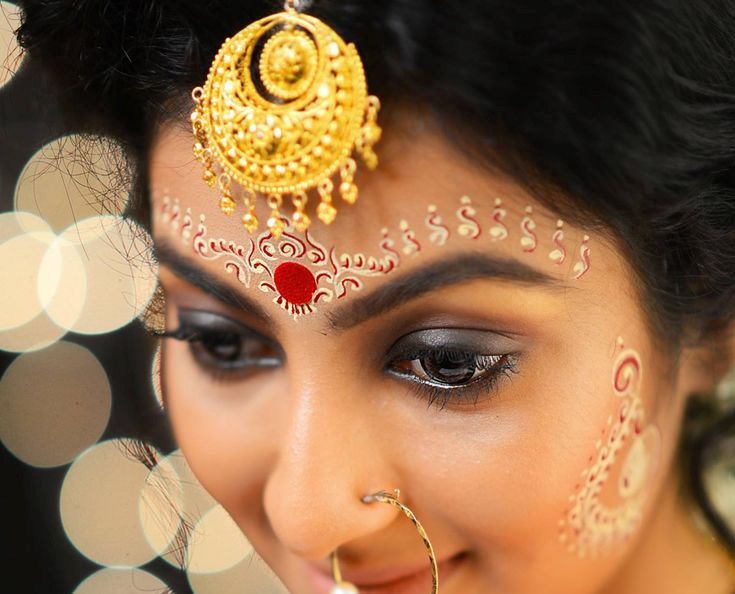 After this comes yet another, very distinguishing feature of the Bengali bride, that is the decorous design made out of Chandan paste (sandalwood) and kumkum. There are numerous design patterns that brides explore, but my personal favourite has always been a simple one.
This pattern of design again is not for some vogue, but has a special significance. The colour combination of, white and red, holds a significant meaning. On one hand the white colour stands for peace and tranquility and on the other hand, the red stands for love and matrimony.
A bindi is one thing that multiplies a woman's beauty a thousand times and hence the bride makes sure she is wearing a red bindi, as prominent as it can be. This big red bindi on her forehead combined with the delicate design drawn white the sandalwood paste, makes her look simply marvelous.
#3. Alta is the prototype, while Mehendi is stereotypical
I remember during my wedding, when I opted for Alta instead of Mehendi, my cousins and friends were quite apprehensive. They thought it was an old fashion statement and would not look that great.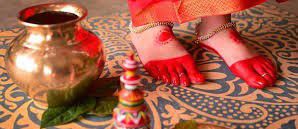 But when I was ready, to their complete surprise, the Alta complemented the entire look in an absolute quintessential manner.
Firstly the Alta looks very beautiful and ethnic, secondly it is hassle-free and lastly, it takes barely 10-15 minutes to apply it.
What more can a bride ask for, when her hands get free within few minutes!
It dries up quickly, anyone and everyone can apply it and stays for a really long time.
It was traditionally made from betel leaves and was used widely for the wedding purposes but as time passed and as the Mughals started to dominate our culture, Mehendi took the place of Alta eventually.
Why I love Alta is because it not only enhances the beauty of the hand and the feet but also provides a cooling effect on the body. Nothing other than the Alta can complement the "Shakha-Pola", "Topor", red-Benarasi so well as it does.
Also, we can not deny the fact that the Alta too, has few historical beliefs and references. From the Upanishads extolling its importance to the mythological depictions of Lord Krishna seen applying Alta on the Goddess Radha's feet, Alta does have its importance unsung.
Furthermore, Alta is considered to resemble blood, which is, in turn, a symbol of fertility and prosperity. No wonder a bride wearing Alta will always have an upper hand.
#4. Antique jewellery that are worth a longtime stare!
Bengali jewellery has always been favourite amongst all. Bangles such as Thorbuja Bala, Ruli, Moyur Mukh bala, Pashar Bala, Meenar Bala etc are worth dying for. Apart from the bangles, there is something called a Mantasha, which is a bracelet but looks more than that.
The necklaces like Golar cheek, Pathi Har, Sita Har, Paati Har are the most eye-catching pieces of jewellery a bride can wear. The craftsmanship of these beauties will make you go weak in the knees.
Coming to the earrings, there are Jhumko, Kan bala, Kan Pasha and many more that never fails to make a Bengali bride look even prettier. The node rings called as "nouth" and many other types of jewellery complete the look of the face of the bride.
Along with the classic rings and payals, Ratnachur is something that will steal your heart away! The five finger rings which is attached to the wrist through individual chains gives an exemplary look to the bride and thus is my personal favorite too.
#5. Shakha & Pola: The heart & soul of the Bengali Bride
Have you seen the red and white bangles on the hands of a Bengali bride? Aren't they another salient feature of a Bengali bride?
A Bengali bride's attire is incomplete without the "shankha" (conch shell bangles), "pola" (red bangles made of coral) and "loha" (iron bangles). She wears them on her left hand.
The white (Shokha) and red (pola) combination again gives the bride yet another option to complement her entire attire. It is considered to give a different radiance to the bride's hand and makes her look as divine as possible.
She usually wears the "loha" first, followed by "pola" and "shankha". This trio not only, is said to give the marriage, stability along with a perfect balance between the negative and positive energies but also is a symbol of health and prosperity.
"Shakha Pola" symbolizes good health and prosperity. These should be worn by women on both their hands and the "pola" must be worn between the "lohabadhano" which is an iron bangle. This is given by the husband and symbolizes strength and unity of their marriage. The concept of Shankha also means that there is no friction between the positive and negative energies since iron signifies the flow of positive energy.
#6. The Benarasi Saree: a complete stunner that rules out the lehenga craze
When it comes to the typical Bengali bride, she and her family hunt for the best of the best Benarasi Saree in the market. A Red or different shades of red Benarasi Saree made of silk and heavily embroidered with gold zari threads has always been a hot favourite.
It may be draped in different ways, but the 'aath poure' style is the traditional Bengali style.
If you doubt a bride on her wedding day without a lehenga, I would request to hold that thought and see a Benarasi silk sari. This silk saree looks amazing on the new bride and gives an opulent look to her; a kind of look that a lehenga at once may miss to give.
Along with the above-mentioned pointers that make the Bengali bride exceptionally gracefully, there are many more that could be included.
Nevertheless, I would want to leave that on you. Do tell me in the comment section, what all are the things that amaze you when you see a Bengali bride.
However just before all of this, here's something you might wanna go through - What Questions To Ask A Boy Before Arranged Marriage?
Sources -
https://www.culturalindia.net/weddings/regional-weddings/ Bengali-wedding.html
https://www.craftsvilla.com/blog/the-bengali-bride-wedding-rituals/
---

Sainy Banerjee Pal
---
---
Similar Articles You love