21 Sarees Online From The August SHOPonSHEROES Saree Collection
Last updated 1 Sep 2021

.

1 min read
Choose from the latest saree designs in August and buy sarees online from the sarees collection in this SHOPonSHEROES saree sale.
From fancy sarees below 1000 to handloom khadi cotton sarees online, Kanchi cotton sarees to Kalamkari sarees online, you'll even find a simple cotton saree for daily wear in the SHOPonSHEROES saree sale.
1. Silk Gota Patti Sarees
This beautiful art silk leheriya gota patti saree from Krishna Collection comes with a blouse and is great for daytime wear.
Buy an art silk gota patti saree from Krishna Collection
2. Linen / Lenin Silk Sarees
Check out the soft linen/lenin silk sarees with price from Sandy Handlooms Shop. This linen/lenin sarees collection has a flower print with satin border and comes with a contrast lines blouse with border.
Buy linen/lenin silk sarees from Sandy Handlooms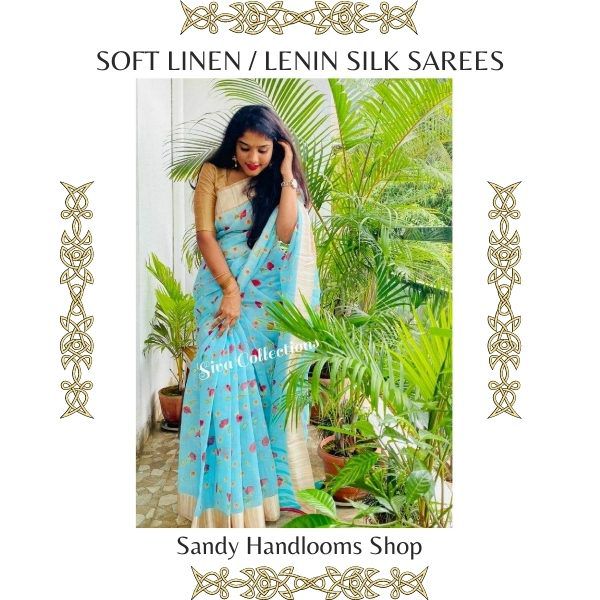 3. Kalamkari Cotton Sarees
How elegant are these beautiful, heavy Kalamkari cotton sarees with tassel on pallu! Kalamkari sarees make a wonderful traditional dress for the festive season.
Buy these Kalamkari cotton sarees from the Di Moda Vastra Store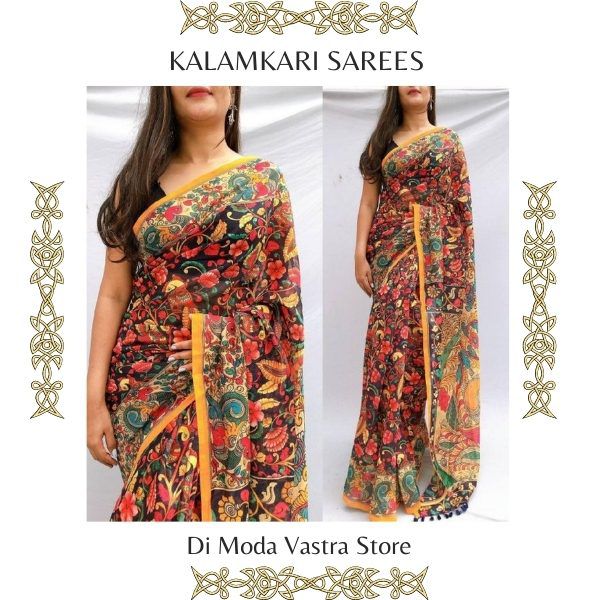 4. Chitrarekha Lycra Saree
This fabulous Chitrarekha lycra saree will make a great traditional dress for a function or evening out. The silk blend blouse piece has a solid pattern printed.
Buy this lycra saree from the Fashion Mantra shop
5. Designer Readymade Saree Blouses
Looking for readymade saree blouses online? This gorgeous fabric art silk pattern embroidered designer saree blouse is perfect for a wedding function or a festival celebration.
Buy the latest saree blouse designs from Fashion Mantra
6. Banarasi Silk Saree Collection
This Banarasi silk saree collection includes a light-weight, easy-drape, slim-fit Banarasi Munga Silk Antique Zari border design with gorgeous pallu and blouse piece. A great yellow Banarasi saree for brides or for festivals!
Buy the latest Banarasi silk sarees online from Designers Collection
7. Pure Mulmul Cotton Saree With Zari
Want to buy pure mulmul cotton sarees online? This Synercent Craft Mulmul saree with zari and bagru with blouse piece is a pure mulmul cotton saree.
Buy mulmul cotton sarees online from Harsh Communication
8. Georgette Sarees With Designer Blouse
Send out desi vibes all the way with this collection of georgette sarees with designer blouses in light pastel colors. The pure net saree blouse designs come with chikan embroidery work with sleeves and Dori.
Buy georgette sarees online from Styleocean
9. Stylish Kanjivaram Silk Saree & Blouse
Looking for a Kanjivaram saree under 2000? Buy this stylish new Kanjivaram saree and blouse piece with zari for the festive season.
Buy Kanjivaram silk sarees online from Fashion Mantra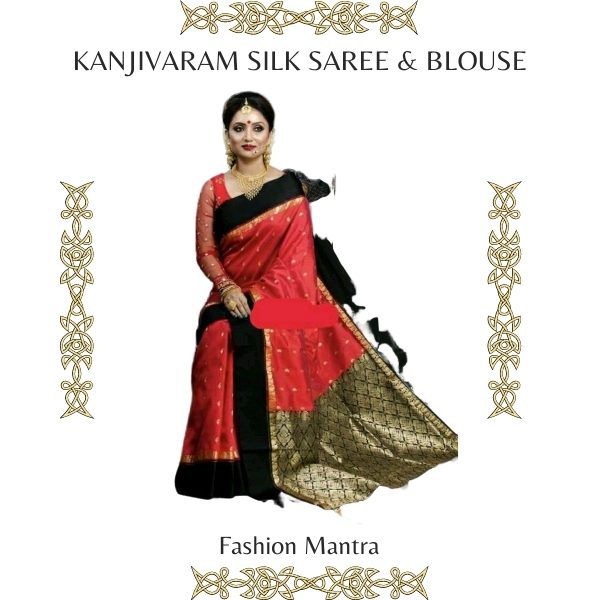 10. Beautiful Hand-Painted Traditional Kerala Saree
Try something different with this unique and beautiful hand-painted traditional Kerala saree with blouse. People won't be able to take their eyes off you.
Buy this hand-painted traditional Kerala saree in Rajju's Online Shope
11. Pink Art Silk Saree
This beautiful pink art silk saree with Blouse is the perfect traditional dress for a get together with family and friends.
Buy art silk sarees online in the Women Store
12. Pure Kanchipuram Silk Sarees
Check out this wedding collection of pure Kanchipuram silk sarees (also known as Kanchi sarees, Kanjeevaram or Kanchi pattu sarees). These gorgeous silk sarees come in different colours, each with an attached brocade blouse piece.
Buy pure Kanchipuram silk sarees from Vimsit Creations
13. Sana Silk Sarees With Embroidery Work
These gorgeous Sana silk sarees with embroidery work are made with Banarasi silk and come with a separate embroidered Sana silk blouse. Check out this Sana saree collection and Sana silk saree price.
Buy a Sana silk saree online from the Indian Seller shop
14. Georgette Daily Wear Sarees
Looking for daily wear sarees below 500? These new daily wear sarees are made from Georgette fabric and come with a Running Blouse. Get these pure georgette sarees and look good every day!
Buy daily wear sarees under 500 from Fashion Club
15. Tussar Silk Sarees
Tussar silk fabric has a rich coarse texture and is very comfortable to wear even in summer. This pure Tussar ghicha silk saree with cotton border and stripes is a beautiful example of the ghicha Tussar silk saree online.
Buy a Tussar silk saree online in SG Collections - Sindhu's Shop
16. Designer Handloom Ikkat Silk Sarees
Ikkat sarees are made from a fabric in which the yarns have been tie-dyed before weaving. These incredible weaved pure Katan Ikkat silk sarees online will add a touch of class and grace to the festival and wedding season.
Get high-quality Ikkat pattu sarees with Mina work and a very big border for majestic contrast. They pair with a contrasting blouse with a border to make them look even more classic and beautiful.
Buy Ikkat pattu sarees below 5000 from Sandy Handlooms
17. Mysore Silk Saree
Looking for pure Mysore silk sarees online? This beautiful maroon Mysore silk saree with blouse designs is elegantly crafted and will add a touch of mystique to your wardrobe. This Mysore silk saree collection is available on SHOPonSHEROES.
Buy pure Mysore silk sarees online in the Red Peonies Shop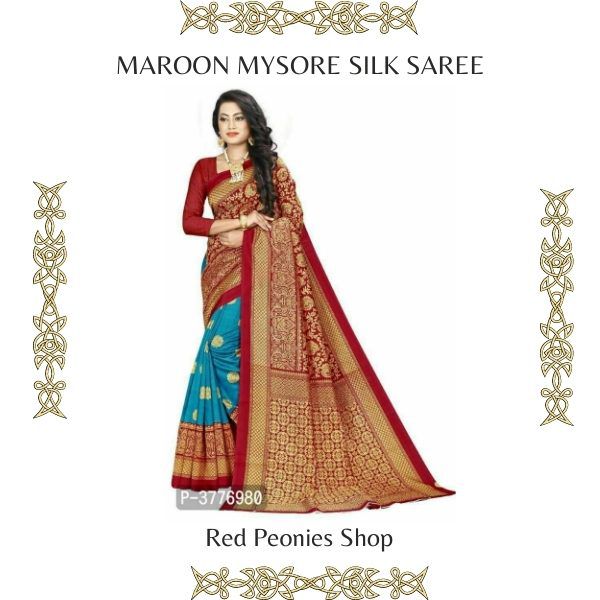 18. Satin Silk Sarees / Party Wear Saree
Looking for designer sarees with price below 1000? This plain satin silk saree with designer blouse is the perfect party-wear saree under 1000! The velvet designer blouse comes with an appliqué pattern. Heads will turn when you walk into the room wearing this satin silk saree!
Buy satin silk sarees online from Tashu Saini's shop
19. Off-White Banarasi Silk Saree with Blouse Piece
Few things are more elegant than this off white Banarasi silk saree with blouse piece from our Banarasi silk saree collection. A real stunner, it will make you the cynosure of all eyes when you wear it to a party or wedding!
Buy the latest Banarasi sarees from Soumi's Store With Love
20. Kalamkari Khadi Silk Saree
When Kalamkari hand painting and khadi silk combine it makes for a splendid combination! This trendy Kalamkari khadi silk saree (also known as Kalamkari pattu sarees) comes with a Kalamkari khadi silk blouse and will make for a memorable combination when you step out.
Buy Kalamkari khadi silk sarees online in Ranjana's Online Store
21. Khadi Cotton Saree
If you love to wear khadi cotton sarees and are looking for a saree under 1000, you'll love this simple khadi cotton saree with blouse.
Buy khadi cotton sarees online in Yatee's Collection
Also see:
---

Priya Florence Shah
---
---
Similar Articles You love