The
SHE

ROES Contributor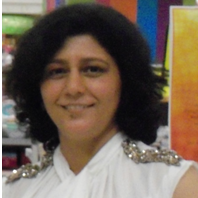 Sonia Golani
Sonia Golani has a BA (Hons.) in History from Lady Shri Ram College and a Masters degree from the University of Delhi. An entrepreneur, she manages her firm, Management Consultants Group which specializes in recruitment of professionals (MBAs and CAs) for Banking, Financial Services, Insurance and FMCG sectors. She had the distinction of securing second rank in Rajasthan State in class X Board examination. Later while pursuing ISC from Maharani Gayatri Devi Girl's School, she topped her school. In college, she was elected as Treasurer, Students' Union. in Nov 2011, Sonia came out with her first book, Corporate Divas published by Penguin. Her second book My Life, My Rules: Stories of 18 Unconventional Careers was published by Tata Westland and the next titled Decoding Bollywood will soon be published, also by Tata Westland. Passionate about life and its nuances, she plans to write several more books, play golf, help people make better careers for themselves—and hopefully do all of this with equal fervor!
I would like to begin with the famous mystic poet Rumi's quote that expresses well the crux of how life has revealed its true beauty and wonder to me: "Let yourself be silently drawn by the strange pull of what you really love. It will not lead you astray." It's been my personal experience that when I became alive to my inner calling and started responding to it, opportunities started opening out and one after the other my dreams started coming true.
As is natural for most women, for me as well, my earliest learning's are from my mother who set her own example before me. She fulfilled her dream of setting up and successfully running a school. She walked never behind but in step with my father and raised the family with equal aplomb. That's not the status many women enjoyed in the larger world; I gradually realized when I came across more families over a period of time. In that sense, my first inspiration of a bold and charismatic woman was none other than my mother and that's how I imagined I would lead my life too, on my terms and I understood that a good education and financial independence were clearly the key to such a life.
The beliefs I imbibed at home got further reinforced when I joined Lady Shri Ram College in Delhi and had the fortune of spending three wonderful years in an intellectually vibrant and emancipated environment which promoted independent and analytical thinking and encouraged us to assume leadership, to be proactive and make a difference to society and the world at large. The opportunity I got at Maharani Gayatri Devi School in Jaipur to discover my potential academically and through extracurricular activities was beautifully nurtured further at LSR.
As I have seen it unfold in my life, the lives of my friends and of several women business leaders like Naina Lal Kidwai, Shikha Sharma, Chanda Kochhar, Vinita Bali, Zia Mody, Manisha Girotra, etc. whom I met in the course of writing my first book Corporate Divas (features personal and professional journeys of 18 Indian women business leaders with a focus on what motivates and sustains them) published by Penguin, I believe that the true empowerment comes through enablement and the key to that is an enlightened education which equips one with the confidence to navigate life with all its uncertainties, twists and turns, that are inevitable.
In a way, I can say that the reason I took to writing was to make better sense of my environment and in the process make my own little contribution to the world, in gratitude for being able to do so, when there are countless women in the country who don't have access to even basic education and many who have adequate qualifications but face limitations due to their gender. I believe that stories serve as a wonderful and simple medium to inspire change. If Corporate Divas can inspire even a fraction of the aspiring women themselves or their parents or husbands to support them, I would have achieved my objective. I believe that each woman who goes ahead and achieves her dream makes it easier for another woman to do the same and in as much as that impacting a small number does not actually remain small. And similarly in case of my second book, My Life, My Rules, published by Tata Westland (covers 18 stories based on my meetings with people from diverse walks of life like Manohar Parrikar, Harsha Bhogle, R Madhavan, etc. who followed their heart and made unconventional career choices), if it succeeds in liberating even a small number of individuals from conventional thinking about education and careers, I think the book would have served its purpose well.
When I wrote my first book, I had seen four decades of life with all its unpredictability and realized that all the difficulties and challenges we face in our journey are but disguised opportunities and have a purpose – to strengthen us, to take us where we ought to be - and I could fully comprehend this truth about human life only in retrospect.
After experiencing both, the ecstasy of academic success and my share of disappointments, all of which happened by the time I completed my post graduation, I was ready to flow with the tide and chose the next logical step which was getting married. With marriage comes a major change in a woman's life and it did in mine too. It's a delicate period that brings in its wake several career related challenges. Most of the women business leaders I met believe that if a woman is able to show up at work for the first few years through marriage and motherhood, it's likely that she would sail through the rest. To be able to do so, invariably she needs the support of her parents and in-laws and a husband who as Sheryl Sandberg puts it in Lean In is a 'real partner' backing her completely and having a collaborative attitude towards home responsibilities. Most of the women leaders I met were lucky to have both parental and spousal support, or either of them.
However, the larger truth is that such a situation is more an exception than a rule. In most cases, in the absence of good quality childcare and support system and in the face of prevalent social norms and prejudices, it's invariably the woman who stays back home while the husband assumes the full charge of being the primary bread winner for the family.
Fortunately, things have begun to change in recent times. An emerging trend that is quite heartening is that women are rising up to the challenge and opting for flexible work opportunities. The advances in communication facilities and the era of the web have made it possible for women to engage in productive and purposeful work from the comfort of their homes, for as much or as little time as they can give to their professional aspirations.
I believe that on occasions when family responsibilities put limitations on women, they should never give up on adding value to themselves. Through my pregnancy and initial few years as a young mother, I didn't give up. I tried to pick what was feasible for me to do in my circumstances and tried my hand at a few tasks, albeit unfulfilling, like currency trading and teaching and finally settled into what I enjoyed the most: voracious reading – mainly about corporate world and management, introduced to me by my husband, Dilip.
With all the incomparable joy that motherhood brought with it, it is also true that there were days when I yearned for the independence I had enjoyed as a girl. I wanted to be in a stimulating work environment where I could utilize my potential and grow. And through it all, somewhere deep down I had a strong belief that my education and upbringing would not go in vain and my opportunity would come; all I had to do was to be prepared for it and keep the desire alive to participate and not let life pass me by.
By the time my son turned two, such an opportunity arose in editorial and marketing with a niche publishing house and ended up giving me a tremendous business exposure via interaction with policy makers in the government, decision makers in the corporate world and successful entrepreneurs, work that completely suited my orientation.
After a couple of years in publishing and garnering appreciation for my work, I now wanted to expand my horizon. It was actually the entrepreneurial bug that wouldn't let me be at ease. Considering my people orientation and keen interest in the corporate world, I zeroed upon recruitment consulting as a suitable business option. Thus was set up Management Consultants Group in Bangalore in the year 1998 where Dilip was posted on a Unilever assignment.
I started by recruiting for the hospitality sector and then added Bangalore's leading companies like UB, Titan, Mindtree, GSK, etc. to MCG's client list. Undoubtedly, it was a lot of hard work and I remember I was so consumed by it that for several years, consistently for several hours each day, I only thought, breathed, discussed and lived recruitment. But I was not complaining and who would if you got the money, great learning and quality interaction – all on your own terms! And honestly, work was a lot of fun too as I thoroughly enjoyed interacting with a cross section of people. It was a pure delight to discuss business issues with Dilip and get his strategic inputs which helped the firm grow steadily.
Just about the time when life looked quite settled, Dilip conferred with me and signed up for a new assignment in Mumbai. I had a choice to stay back in Bangalore or set up a fresh base for MCG in Mumbai. I chose the latter and took the challenge headlong. To my delight, Mumbai proved to be the city where the business boomed, also because it coincided with the time when the BFSI sector, which I had decided to focus on strategically, was in an upswing. MCG's team size and business grew manifold and we worked with a slew of top notch clients in India and overseas like ICICI Bank, Citibank, Prulife, Godrej, AVB group, RBS, Standard Chartered Bank, Investate, Cadbury, J&J, Bajaj, Pidilite. I was indeed living my dream and enjoying every minute of it.
But as the adage goes, the only thing that is constant about life is change. Paradoxically, when MCG's business peaked and it was flush with revenue, I started getting a feeling of being stagnated. Money no longer remained a motivation. Work became so overwhelming that there was no time even to spend the money we were earning. Infact what we desired most in the midst this frenetic mode of life were things for which actually not even much money was needed, like more time with the family and friends, a walk on the beach, a splash in the pool, the joy of leisurely reading and so on. I realized that money and achievement couldn't be equated with inner peace and happiness. Life needs balance. It was not necessary to chase the templates the world offered but it was most essential to create your own template, a unique one, which suits your needs and gives you comfort.
That was the time I decided to go slow and do something that made me happy and on introspecting realized it was writing and since then I have had an extremely fulfilling journey as an author, having written three books, the third titled Decoding Bollywood soon to be published by Tata Westland.
At this juncture when my son Varun is pursuing the second year of computer science engineering at the University of Warwick in UK and faring reasonably well, Dilip too having firmly consolidated his experience, I look back and feel happy and content in the knowledge that we followed a collaborative approach and constantly tried finding creative solutions to the new life situations that confronted us from time to time. In these years, I realized very closely that it's the balance in our microcosm, relationships, ambitions, desires and inner truth that decide how we respond to the macrocosm to make the best of what's available to us. Therefore I profess that it's important to focus and get the microcosm right and the rest will take care of itself.
Going forward, even as I feel enthused about writing more books and handling select recruiting assignments, I have two wishes close to my heart: the first to spend more time with my parents and the second, to play golf more often, for my love of nature, for the quiet concentration, almost like meditation, that it involves and of course in the hope of bringing down my handicap to the elusive single digit!