The
SHE

ROES Contributor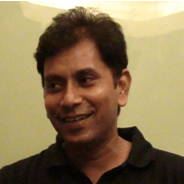 Prashant Bhaskhar
Prashant Bhaskhar is called the Lord of Abstract, he founded the plugHR and never stopped ideating after that. Prashant leads the management team of plugHR as CEO and lives in Mumbai. He did an honours program in Physics from Punjab University, Chandigarh, studied marketing at Symbiosis Institute of Business Management Pune and dwelled in Venture Capital Management and Finance at Indian School of Business at Hyderabad. He was part of early team of JobsAhead.com that saw successful exit through a merger with Monster.com, his earlier corporate stints include Hutchison, BPL US West.
plugHR comprises of some 40 professionals, 3 of us are Men, so that's my claim to writing this piece.
Nothing has been a bigger enabler for Women at work than Workflex. Why it took so long for employers to figure this out is a case study in common sense activation of grown up humans.
Globally, and more so in Asian context, women come from a very different setting than Men. So while for most Men, work begins when they reach workplaces, Women are already done with their season one and are switching role which they'll again switch after some 8 hours for the last leg of their day that they'd head into. So most formal jobs as we know them are one of the minimum three jobs Women do every day.
Considering that at all the three jobs, seekers are pretty strong and vocal stakeholders, none of these jobs are any lighter than the other. If you use common sense you know that in this scenario, just making the day end peacefully would remain one of the key goals for the protagonist.
At plugHR our policy of work from anywhere coupled with unlimited vacations made our part of her three jobs, set in peace. So she could get into our role easily at her convenience, slip out and re-enter at her will or craft her own work condition while at it. Since we don't measure her time but only care for the quality of outcome, smarter ones perform sharp and free their time between other two jobs. So our piece of three jobs is easier, naturally it draws traction.
Let me add here that even for Men this works. Since we do not discriminate basis gender, same work policies apply to Men and the few Men we have don't complain, probably we have "The few good Men".
What will it take to offer both Workflex and unlimited vacations in your company policy? Trust. Just trust and it works. Nobody at plugHR stayed on vacation all 365 days since we rolled out this policy.
Now that was about getting started with Women, give them Workflex and your's is the best of the three jobs she does. What about Leadership?
Here you may need to play mentor to worthy ones and patience is your currency.
From my experience of women in leadership at plugHR, I'll highlight few observations
Women know most of the ingredients well, going hands on, delegating, risk taking, attention to detail, team playing, incentivising, rallying, putting a show. They deploy all of it day on day, see that's how we love our lives, isn't it?
But two things, be prepared to mentor them on.
One, to look at big picture, as prolonged entrapment in operational rigour and worrying about minute slips takes their focus away from looking far. It's not to say they don't worry about long term, but that's worry. So force them to dwell in big picture and allow for few slips in short run, let them know it's okay to blow up few times.
Two rush them to some financial management program, no not the accounting types but ones that educate on venture maths, about building value, about trading. This one will align them very quickly with entrepreneur's thought process, so essential for leadership roles.
And of course, if you can play Guitar, nothing like it, fortunately I could.
I dedicate this piece to the few extraordinary Women I have had the pleasure of being around. My mom Sushma, a paramilitary officer, who handed me over to my wife Ashwini, a marketing professional and the amazing leaders at plugHR, each one managing an entire company's HR, some even handling multiple companies. Our Operations Heads, Parul Mudbidri, Chetna Manglik, Archna Sharma, Richa Ramola, who built plugHR with their exceptional leadership. I'll do another article on dedications to cover rest.