Sainy Banerjee Pal
20 Jun 2018

.

1 min read
How to Start a Play School in India
A few days back, I was talking to one of my aunt who stays in Pune. She is in her mid-50s and is going through the phase when the children grow up and get busier with their work. She lost her husband 5 years back. Staying all by herself, she strives hard to make her life beautiful in her own ways. She cooks scrumptious meals, has profound knowledge about clinical psychology, leads to a zero waste life, makes crafts from the waste and absolutely adores toddlers.
On speaking to her, anyone can sense the motherly love that she naturally emits. Maybe because of all these characteristics, I recommended her to opt for opening a play school.
She would be financially independent, she would be doing what she loves to do and would be all occupied by the best company. As a matter of fact, there has been a tremendous increase in the pre-school and playschools in the past few years. As an industry, preschool education in India is worth Rs 8,000 Cr. It is growing at a rate of 35% on a yearly basis.
(Also read - 17+ Proven Business Ideas For Women)
As we discussed on the idea more, we got to know that opening a play school in India is not a cup of tea for everyone. There are several factors like good infrastructure, locality, legal requirements, procedures, and certifications etc.
Read on to know more about the rules and regulations to open a play school in India.
Things to know before you start a Play School
Opening a play school is not just a business, it is a huge responsibility. Here the motive of money-making should be secondary and provide the best services should be the prime most.
Children who will come here would be below the age group of 5, hence an attentive yet friendly environment has to be created.
You will face a lot of challenges and complains, and you have to address them with utmost care and empathy.
Do a thorough homework, on the playschool nearby and the challenges they face.
Also try to find glitches in their services, so that you don't repeat them and stand out from the crowd.
Design a business plan, which should comprise the number of children you think you will take care of.
Business Mode: Daycare, preschool, playschool with after-school activities, crèche etc
Investment mode, and the budget required to build up the play school.
Recruitment of teaching, administration staff and deciding curriculum to be taught that focuses on the overall development of the child.
After you have done your study all about the concept of the playschool in India, you will then need to consider drafting your steps:
The legal requirements for starting a Play School
First and foremost, you will need to get permissions to start a preschool.
Though some Indian state has laws like 'Private School Education Acts' in Tamil Nadu, Maharashtra and others for starting a new pre-school, there are many other states which have letters issued by the State Government (under the guise of RTE Act), for starting and running a preschool. This law enacted by the State Government has to be fully considered as they may provide for registration of playschool.
When you are setting playschool in the independent premise the key requirements provided by the municipal cooperation and education department of the city of the location selected has to be fulfilled. The applicant also might need to pay the application and registration fee. If you want to know more details, you may want to consult a Preschool Consultant.
Or,
You can also find some of the Play School owners in Sheroes community like this one and consult with them to start with.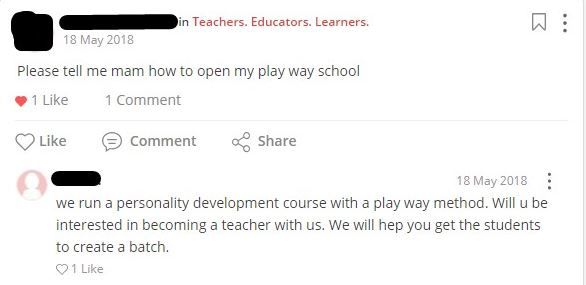 Furthermore, it is advisable to take the below two pointers under consideration and speak to any CA or legal advisor for a clearer picture,
Complying with labor laws
Service tax applicability
Find a Catchy name for your play school
Secondly, think of a catchy name for your play school and develop a preschool curriculum.
We have heard of some famous names like EuroKidz, Kidzee, SmartKidz Playschool, Footprints so on and so forth. With catchy names like these, business gets a considerable amount of lead. One should try to emphasize the aim of the playschool by using a crisp name.
The name of the playschool holds a lot of significance. The name should be crisp and efficient to convey your message at the same time.
However, if you copy other entity's name, it is illegal as well as unethical. If at all you want to know other options on how your preschool would sound like, consider the entity formation pointers and ask your legal advisor to explain you in depth,
Franchise institution
Setting Up One's Own Institution
Profit organization
Nonprofit organization
Developing a perfect curriculum for the child's wellbeing and development, it is crucial that you design a very strong curriculum.
Choose the best Location and Infrastructure
The location of the pre-school plays a major role in the business development. For example, if the preschool is closer to the office scapes or some IT parks, parents find it convenient to drop and pick up their kids. Also in case of an emergency, it is approachable.
The location should also be one of the safest and cleanest places in the city because the parents or the guardians would never prefer to leave their kids at any untidy place or locality.
In case you think of taking a place on rent in any residential property, you might want to rethink on the same decision, as your rental agreement should permit it. If you live in an apartment, the apartment association should grant you a permission to run a play school.
Write a Budget Plan for your Play School
With a lot of basic infrastructural requirements like furniture, indoor and outdoor games, healthy snacks along with the advanced techniques like CCTV and live screening app on the parents mobile, please bear in mind that you might need a good amount of investment.
Also, not to forget the salaries of the teachers and the caretakers, expenses around the supplies equipment, marketing, and advertising, might lead to a considerable amount.
Therefore, it is much advised that you do the calculation of the budget beforehand and make sure if you need any loan.
Last but not the least, what more can you offer?
Nowadays, not only working women but also women who are housewives, want their kids to be ultra smart. They want their kids to learn things faster and overcome shyness. In fact, scheduling weekly or fortnightly meeting sessions with the parents to showcase significant improvement in the child, through the graphs and other pieces of evidence, enhances the trust factor in your brand. It also leads to brand endorsements.
Consider, incorporating hobby classes and mid yearly events.
Also, Read - 29 Riddles And Brain Teasers For Kids (With Answers)
Providing pick and drop facility can be a cherry on the top. Try to search for various opportunities to market your brand in the most humble, effective and empathetic way.
Additionally, as mentioned earlier, a robust curriculum helps a great deal in achieving success. If we observe the growth trend of the famous playschools in India, we can easily crack the code. One major parameter that has always helped the playschools perform extraordinarily, is it's well designed, well researched and extremely well-taught curriculum. Introducing a timetable, and following the same, along with interesting and interactive sessions, makes the child want to come to the playschool.
To conclude with all the above content I would also request the aspiring preschool entrepreneurs to establish a vision and stick to it. After all, this business is not only about money but is also about the future of our society.
---

Sainy Banerjee Pal
---
D*****

Ladies, do not trust offers like the one from Pooja Mitra above for admissions. These comments are not checked by SHEROES and can be fraudulent.
R*****

Hi can u help me is their any online course to become a personality development trainer . I just want to work and help ppl here in remote villages as when they move for jobs in city faces prob regarding accent and proper pronunciation of English .etc etc and I feel bad for them that made me think about this
S*****

Its very useful information. I also want to start day care and play School but I don't have any knowledge about this. I need help how to start and from which consultation help for this. I m from Pune. If anyone need helping hand in their preschool then also I am interested as a part time job
J*****

Are we require any particular qualification to become pre school entrepreneur??
S*****

Really very helpful information
Similar Articles You love