Mahima Sharma
17 Jun 2019

.

1 min read
This SHEROES Champion is Healing Women, One Post At A Time
I happened to connect with Dr Sindhujaa Udhay Kumar through my #MahimaDebates posts on SHEROES Platform in the News Community. She has been the winner several times, but every time she ends up motivating women as the last liner. An unusual spark, that left me intrigued, because at times we debate rape and work-place harassment too. Sindhujaa always leaves a comment that ends with a positive note. Thus, I decided to explore the persona behind the person.
And the 30-year-old begins unfolding her life journey by sharing, "Mahima, by education, I hold a Doctorate in Alternative Medicines [MD (A.M)] with 4 core specializations: Nutrition, Exercise Science, Emotional Intelligence and TCM (Traditional Chinese Medicine which has a lot to do with Energy Healing and Herbalism). I am also certified and licensed by ACSM (the international gold standard for fitness and health coaching). But then, practically, speaking the truth, mine has been a story of transitions, transitions that most people would find surprising. If I could title my journey, I think it would be called something like JOURNEY TO THE CENTRE OF THE HEART."
Sindhujaa informs that she got into holistic wellness when she was 18. "I was struggling with body weight issues, severe hormonal acne, and I can say I was an angry young adult!
Overall, the state of my body and mind messed with my confidence and the way I interacted with people. I had lost self-confidence, despite being a topper in education. But with a lucky twist of fate, and encouragement from my mother, I took my health – both physical and emotional – into my own hands. And with time, I began suggesting the same holistic techniques to my friends as well. Their and my own life's transformation made me realise that holistic wellness or mind-body wellness is my calling. But, I had to stop doing certain things before I could guide others."
And the same reflects in her posts at her SHEROES timeline as below:
But then, every life has its own struggles. It is not easy to achieve a goal, even if you know your target. Same happened with Sindhujaa.
"Living in Bangalore – the Silicon City of India – Information Technology (IT) was all the rage, at my age. I lived in a community that discriminated against non-science students and adulated Information Technology. So despite being the single child of the most loving and supporting parents in the world, I succumbed to societal mindset and without much thought, I opted for engineering. I needed more soulfulness and impact. And my many years of prioritizing self-reflection and self-care – gave me the courage to quit my corporate job, and start studying wellness."
Sindhujaa informs that she signed up for a part-time program in nutrition and fitness, and went on to pursue her Master's and Doctoral degree in Alternative Medicine. In other words – what is today known as Lifestyle Medicine or Natural Medicine.
She adds, "Side by side, I was working in a PR firm as a bridge-job. I got into PR because I identified communications as one of my primary skills, and it also gave me the opportunity to meet inspirational personalities and get a high-level understanding of businesses. By the time I was done with my PR stint, I had basic qualifications in place to professionally take up wellness!
I started by training state level athletes, including the under-18 cricket team and members of the state women's cricket team. I was also designing fitness and nutrition programs for corporate executives and had begun corporate wellness workshops. I also got into the export of organic agriculture products such as cold pressed oils and herbs. This led to the development of my company – Sai Sindhujaa Wellness Ventures. Beyond the elite, we are also into CSR initiative takes on some public health projects, addressing hygiene, health and malnutrition issues in underprivileged societies and slums. Their smiles give me utmost satisfaction!"
"Mahima, why am I telling you about my past? Well because, till we accept our past and make peace with it publicly, we cannot heal others, who have mentally sailed in the same boat," asserts Sindhujaa. And myself doubling up as a journalist as well as Meditation-cum-Motivational Speaker, I can very well relate to what she means. And then Sindhujja adds that one fine day she came on SHEROES as a Champion. She is very upbeat, when she talks about this phase," It's my soul calling to hand-hold women in their healing and personal transformation, and SHEROES lets me do that in easier ways.
What happened was, I kept coming across SHEROES – in the news, in forums, in online communities. One day I reached out to Merril Diniz, the Communications Head because I felt that SHEROES is creating the exact kind of platform where I want to contribute. I truly value the kind of open conversation and connections that women build on Sheroes.
Once I started using the app and sharing my messages there, the responses and interaction with different women, from different backgrounds – has been very fulfilling. I feel that my knowledge, education and experiences are reaching the right people, and making a difference.
I had the privilege of personally meeting some of the SHEROES in an entrepreneurial event held here in Bangalore. At SHEROES these are real women, with real achievements, real challenges, real soulfulness and real lives. And the quality of conversation we have here is different from other platforms. I look forward to engaging with the SHEROES a lot more in the future, and serve as a source of motivation and healing."
And this is when I ask her, "Sindhujaa, every single piece of advice you give, has one thing in common. Heal the mind, body and soul. Even if someone is just physically affected. So can you elaborate on that?"
She responds, "A healthy body is never the same without a healthy mind, healthy soul and vice versa. The way you treat your body has mental repercussions. And the way you deal with your mind has physical repercussions. We have too few people bringing services in this integrated wellness space. So let me address it in three steps as below."
As a Holistic Wellness Specialist, Dr Sindhujaa says that her focus is on Mind-Body Wellness and Mind-Body Transformation. Her work takes a 3-pronged approach that integrates:
1) Functional nutrition
2) Exercise science
3) Emotional intelligence and soul-work.
"I address all 3 aspects since I believe that one without the other can only improve your health partially, but this trio, when combined, can create powerful shifts in your personal transformation and healing – both inside and out!" informs Dr Sindhujaa.
And this is where I ask her, how does a woman strike a work-life balance, where she can have a healthy mind, body and soul? A woman who had no backup, or support at home, and struggles to juggle all...perfectly. Sigh!
Dr Sindhujaa takes a pause and says, "To bring in balance to our lives, we don't always need to make dramatic lifestyle shifts (unless you are battling with serious mental/physical health issues, in which case, we need to re-think life). But for the average working woman, some of us having non-supportive families, there are several tiny shifts we can take up in our habits and thought-patterns that can bring back the lost balance. Let me share a few tips step-wise Mahima...."
Morning Routine: Wake up a bit earlier than others and steal away time for exercise, meditation, affirmations, pranayama, meal-prepping or just some quiet time for yourself with a hot cup of herbal tea. ME TIME IS THE BEST TIME AND WILL TRANSFORM YOU TOWARDS BEING A POSITIVE PERSON.

Night Routine: Sleep as early as possible, so you can rest deeply. Always avoid arguments, watching disturbing news or violent movies etc. At the end of the day, it can mess with your sleep. No Mobile, No Screen will help you stay positive into the sleep. Simply cutting down social media time has been proven to boost our happiness levels, and frees up space for creativity and self-discovery.

Organize: Pre-planning each week and each day avoids rush and stress. Set a fixed time for your daily workout and self-care routine, weekly goals and stick to it.

Take breaks to Center Yourself throughout the day: Every once in 2 hours, take time to stretch, breathe deeply and tune into your heart. Ask yourself, "What do I need?", and truly hear your heart's answer. Do you need rest, do you need some sunshine and a walk alone, do you need an open conversation with someone, do you need a laugh, do you need to hydrate or eat something? Pay attention to your body and heart, to consciously release any stress and nourish yourself. Release frustration, and approach any issue with peace and positivity – you can turn around any situation!

WHERE THERE IS A WILL, THERE IS A WAY!: When it comes to non-supportive family, there are 3 ways to handle it:
Have a firm, yet polite and loving conversation, to make them understand. Approaching with love, a no-blame attitude and polite assertiveness – almost always works.
Take up self-care without really talking about it: Many of the tools above can be integrated into your life without disturbing your family's daily routine. So you needn't even talk about it if it's going to cause confrontation. However, gentle hints and talks about healthier, happier lifestyles, over time, can change the family's way of thinking.
If you have an abusive relationship, then it's time to take some serious action on it. If there are mistreatment and trauma that a spouse or family member is causing, then maybe your self-care needs to begin with directly confronting this issue. Stand up for yourself, seek external help from other family members or relationship counsellors etc. But you need to create a family life where you can be yourself.
And her advice reflects in her works at SHEROES in the manner this SINGLE CHILD of her loving parents, has created a family at SHEROES beyond her own. Isn't it dear SHEROES?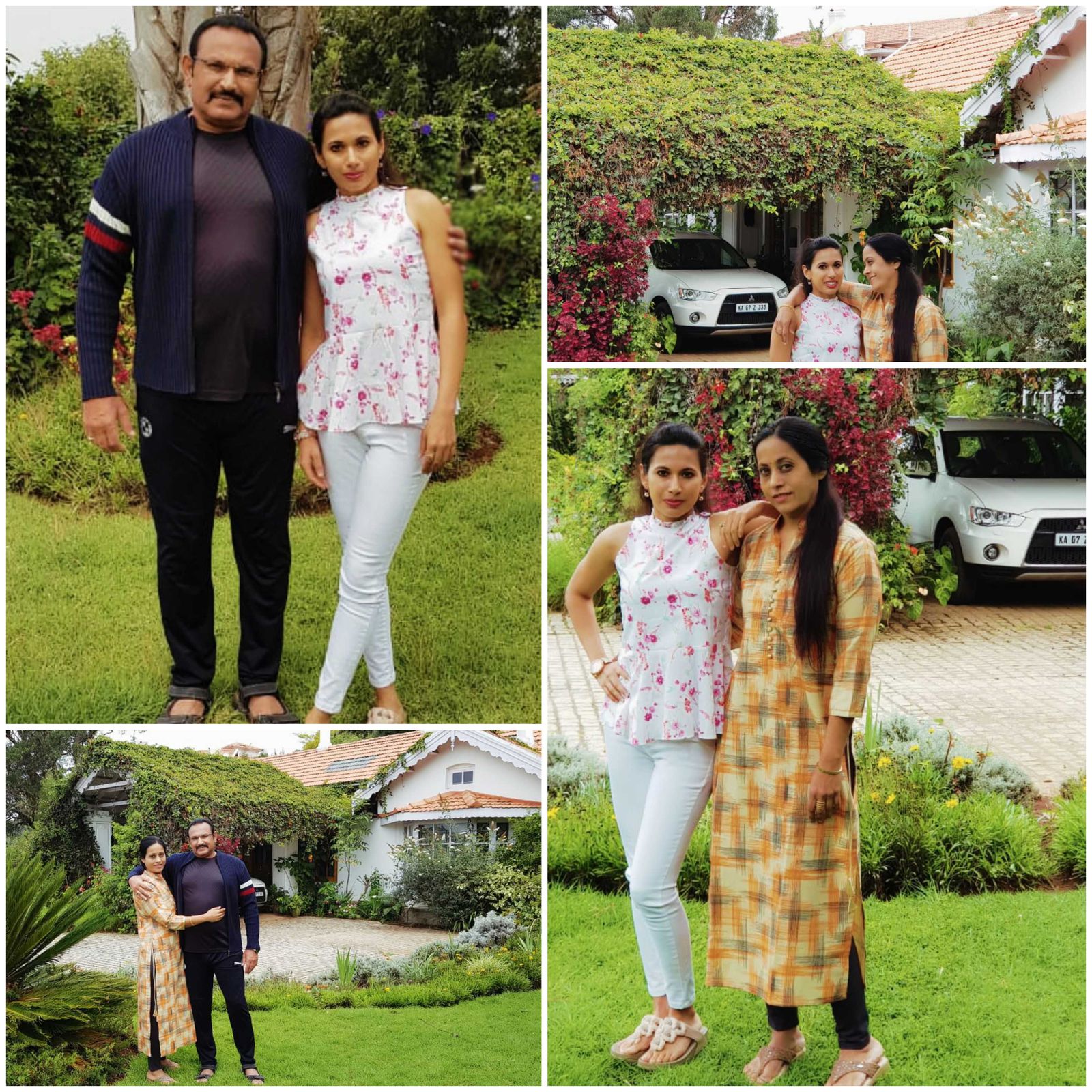 After all the elaboration above, I had to ask Dr Sindhujaa, the simple three steps for a woman to stay happy, if she doesn't have the kind of freedom that is required to follow the above steps. And she enlists as below:
1) Self-discovery is the key to happiness. We can't do what society asks us to do. We can't live for others' opinions and ideas. The ONLY way we can come in contact with health and happiness is by sitting down alone, quietly, put our hands on our hearts, and stay there till we discover what our heart and body is TRULY asking us to do, then DOING that!
2) The only way to avoid criticism is to say nothing, be nothing and do nothing – a quote I came across and repeat to myself everyday: "You can be Obama, Aishwarya Rai, Gandhi, Sachin, or ANYONE noteworthy - and you will still have critics, all the more in fact. Hear them out, absorb useful feedback, brush aside the rest and keep moving. Your tribe will love you."
3) Life happens FOR you, not TO you – So we need to honour our challenges and not stop looking for the treasure in them.
And this reflects in her own lifestyle too. Check out this post that she recently shared...
And before you jump to conclusions, saying it is saying is easier than doing it....Let me inform you that beside being a Holistic Healer, Dr Sindhujaa is a published poet as well. And just like a typical young girl loves to go for long drives, spends time watching movies and loves to travel. In short, she has transformed and metamorphosed her life from a caterpillar to a butterfly, before beginning to transform yours!
Dr Sindhujaa has lots more to tell and share, but we have perhaps a limited space and will do another round of interaction with her. And till then you can read this doctor and her inspiring posts at her profile.
Till we come back with another inspiring story in our ongoing #MeetTheSheroes Series, don't forget to share Dr Sindhujaa's inspiring story...and leave loads of love for her in the comments column.
---

Mahima Sharma
---
S*****

@Reena Girase Lovely to connect and join hands with you here. More power to you 💛
R*****

Too inspiring....first day on sheroes and feels amazing motivated and a go get attitude touch....
S*****

Kitty Jain.. thank you for taking the time to read this story. 💛 I'm glad it resonated with you. 💛
S*****

Manisha Singh... Thank you! 😊 I keep reading your posts, and they are a pleasure to read. Stimulating... Good to connect with you here 😊
M*****

What a fascinating journey Dr Sindhujaa!
K*****

This inspirational story means a lot to me, thank you,thank you so much for sharing this.
S*****

Dear @Poulami Banerjee, @Seema Sharma and @Uma Krithi... I adore you guys too!!! It's a blessing to be connected with vibrant, positive women like you! Thank you for watching my work and connecting with me on it! Totally makes my day!!! Lots of love to you 😘💛❤
P*****

Amazing lady... She inspires me a lot... I m personally a fan of hers.. Thanks for sharing her story...!!
S*****

She is beauty with brain. I'm fan of hers😍😍 She possess an aura of positive vibes. Love💞💞
U*****

Always, had a wait for Dr.Sindjujaa Kumar's interview. Am her fan Too, like our fellow Sheroes. Perfect sync of. "Practice, what you. Preach". Glad knowing you in details our, fitness preach!!!!to lift us peak💜💜
S*****

@Mahima Sharma, @Sairee Chahal, @Merril Deniz and all my SHEROES... Thank you so much for this interview and highlight. ❤💛 And also for having me as a SHEROES Champion. Your recognition means a lot.😊 It's an honour to be an Energizing and Healing presence on the SHEROES platform, meaningfully connecting with all you wonderful women every day! ❤💛
Similar Articles You love