Mahima Sharma
5 Jul 2019

.

1 min read
Stylish & Dusky, Devleena Is Redefining Fashion For SHEROES
A young girl, as young as 17-year-old, is lighting up various communities at SHEROES these days. Whether it is her artistic expression through words or her lively posts where she shares her skills of art and photography, the serene vibes that she brings to SHEROES hooked me on to her.
And I decided to have a candid chat with her, a young girl who has a very strong aura about herself.
Meet Devleena Sarkar who is the student of grade 12 at Dhanbad in Jharkhand, India. She aspires to be a fashion designer and that reflects in the umpteen posts she does in the Fashion and Lifestyle Community at SHEROES.
Devleena begins unfolding her story, story of a free skylark, who is singing the songs of beauty and strength in her own little ways. She speaks, "I always had an interest in doing stuff related to Art. I love to sketch and paint. It's like my first love. I started learning painting when I was in Grade Three. As I am also preparing for NIFT entrance and NID entrance exam, so I practice drawing daily to upgrade my skills because practice makes a woman perfect. For the entrance exam preparation, I am generally drawing body postures and daily life composition and beside this, I love to make portraits and realistic paintings."
"Mahima Ma'am, my ultimate goal is to be a fashion designer with a unique sense of style. For me fashion is the way you are, it is not only about wearing branded and expensive clothes and accessories but bringing out the best in whatever source one has in a unique and creative way. And style is the way one expresses itself in front of others," asserts Devleena. And this reflects in her own style of fashion. Take a look.
She also tells me that a year back she developed an interest in photography as well. "I love to click nature with particular flowers, animals, the Sun, etc. It is more like a hobby for me. Though I use my smartphone to click these, I keep watching videos to upgrade my photography skills as well," chuckles Devleena. But looking at the images clicked by her, a common person won't be able to tell that she is learning! Take a look.
Devleena tells me that she stays in a joint family of sixteen, headed by her doting grandmother. "In my immediate family, I have my father who is a Senior government official. My mother is a homemaker and I have a younger brother in grade nine. But actually in the family, we are 16 members and I have a gang of five cousins too! And we are a well-knit gang of brothers and sisters!" She laughs while detailing.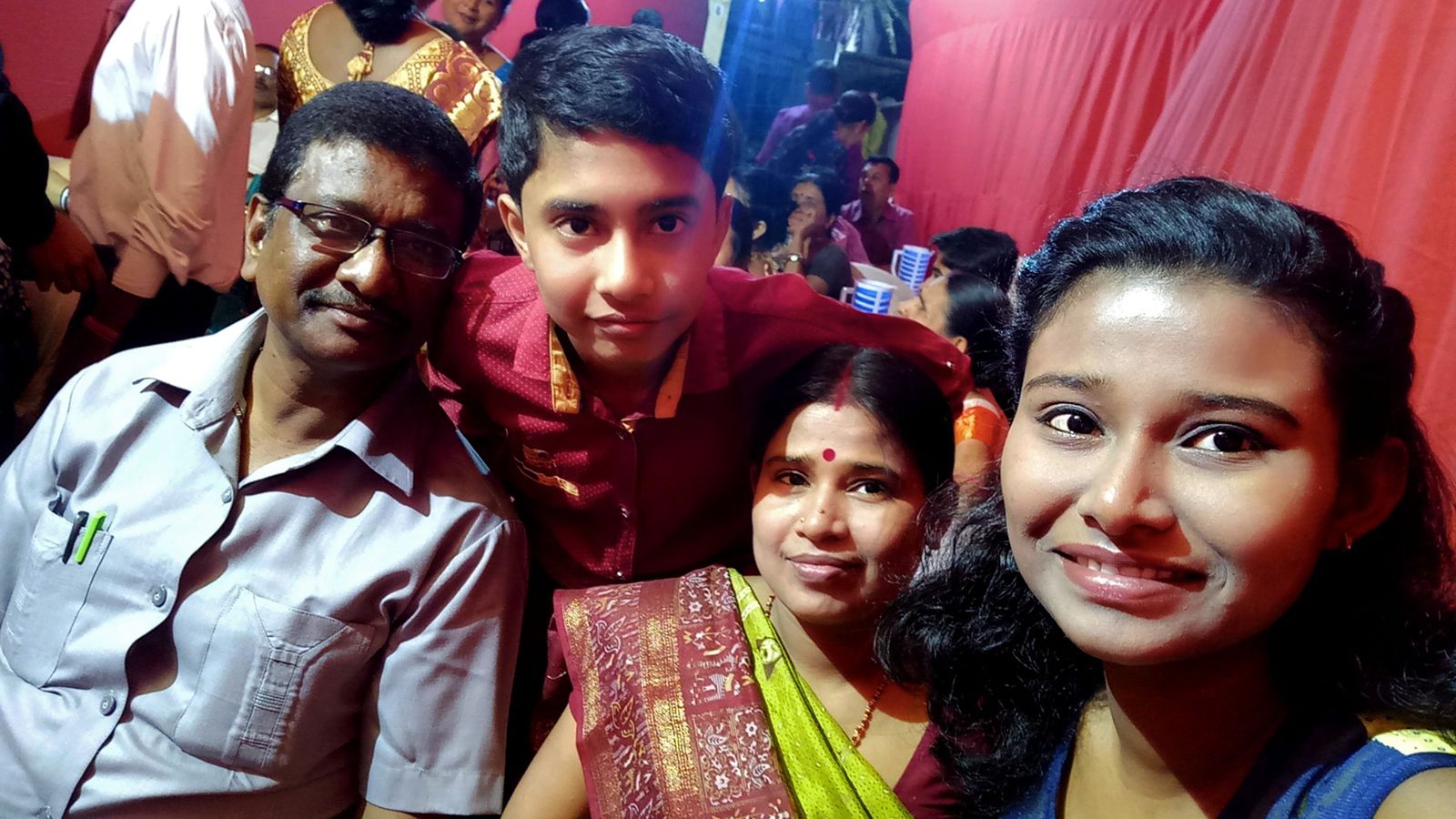 And then she takes a serious tone, "Mahima Ma'am, people these days think how can one live in a joint family? There must be a lot of restrictions etc? But believe me, there are more advantages than disadvantages of living in such a big family. One gets to know the value of love and relationships. It develops the skill to strike a balance in relationships by valuing emotions and feelings of others. And during tough times everyone is together and so every trouble can be tackled," says the 17-year-old, who is perhaps far more mature than her age.
She compares her joint family with SHEROES, to which she calls a "big international joint family of women" where the females are accepted as who they are, without judging them. "No trolling, no nasty comments, just a pure bond of love and camaraderie. It is the place where I got the confidence to express myself, share my skills. I love Communities I like Art, Craft and Photography, Beauty and Makeup, Just for Fun, Animal Lovers. But above all, I am a great fan of THE SHEROES HELPLINE, which is lending a patient ear to women in distress and helping them find solutions to their life problems," details the teen-aged girl, who wants to open some kind of organisation to help the poor and the needy when she grows up to be a successful fashion designer. And for that Devleena says she is learning self-love and love towards her dreams, through the motivation she gets through fellow SHEROES.
Motivation from fellow SHEROES? But Devleena you seem to be a very strong girl child who is rather a motivation for others?
"As a girl child, my life has not been always easy. But through family support, I have been tiding through. I have a dusky complexion. So not just children my age but even neighbours use to tease me and my family. I used to cry a lot. I had lost all my self-confidence. But with the support of my mother and that of fellow SHEROES, I have developed the confidence and courage to #BeMyOwnRani. I now take pride in who I am since the skills I have, belong to no one else, right? I take pride in myself, because ultimately it's my talent, humanly nature and behaviour, that will matter to the world. My dark complexion is now my unique style statement," asserts a very confident Devleena Sarkar.
She adds that she does face limitations of not venturing out late at night, unlike her male cousins, but she also knows that even big metros aren't safe for ladies. Thus, she has made peace with such small restrictions.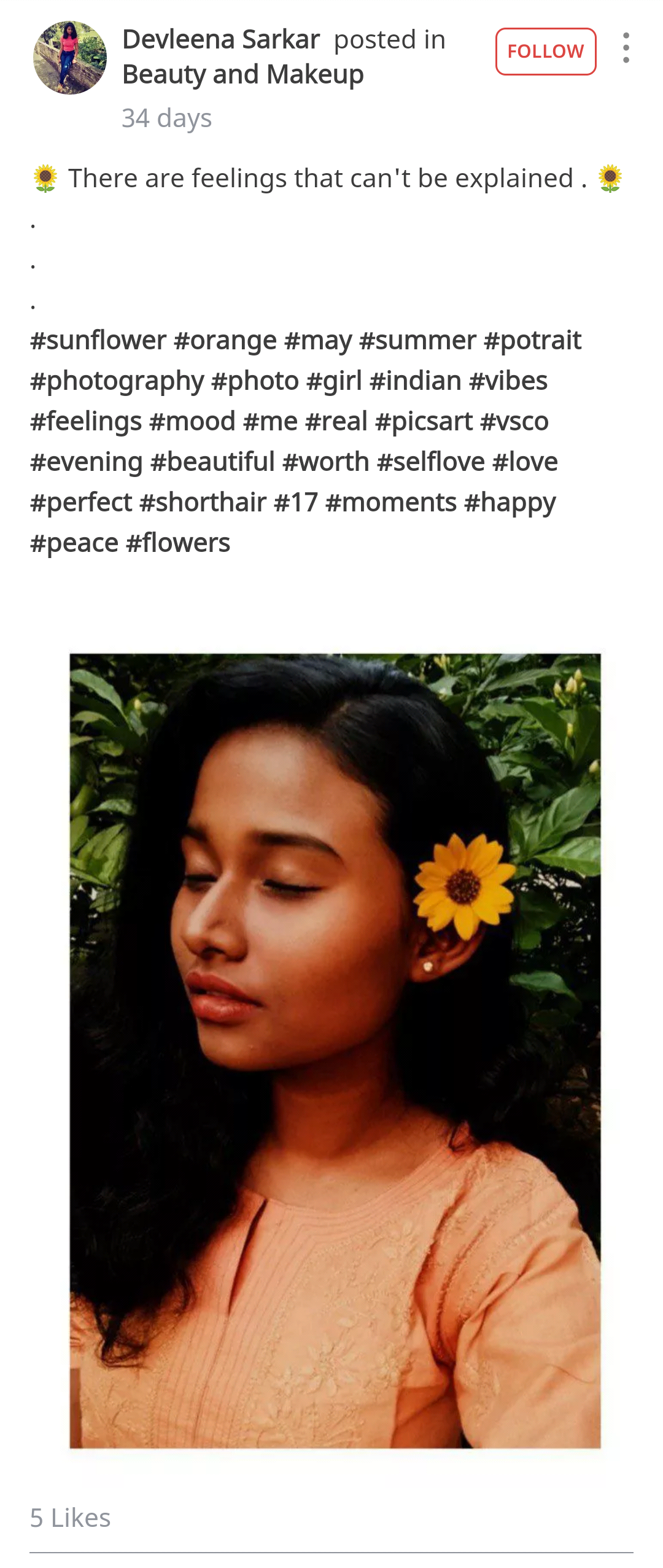 Apart from being an artist and budding photographer, Devleena also loves to pen short poems. She says this is her way to express her hidden emotions, which at times cannot be sketched. Like this one.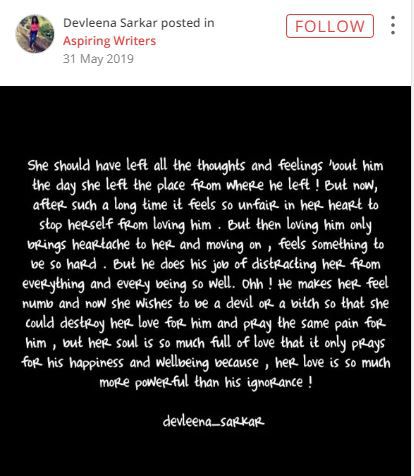 So Devleena, what's your message to all the SHEROES who are reading your interview as a part of the #MeetTheSHEROES Series. A humble Devleena smiles and says, "Though I am too young to say anything, I would just like to wish all the best to all women of courage out there with the message below:
"You are not alone. Your courage is with you, as no one is as strong as a woman. Just believe in yourself and don't forget to smile. You are worth everything because no one can play your role in your life better than you. Be bold, but also be kind enough to forgive. Never compromise your dreams for anyone. And last but not least, love your parents the most, because come what may, they will never leave your side. So never leave them, for being a married lady. Standby them the way they stood by you."
Isn't this an inspirational story coming from a 17-year-old Devleena Sarkar? So don't forget to share it across in your social circle. You can follow Devleena on SHEROES.
---

Mahima Sharma
---
R*****

It's so nice to read all the beautiful thought in lines. Art and Photography give me peace. Loved it.
U*****

Bahut khub God bless you
D*****

Lots of best wishes for your future.god bless you
U*****

God bless you dear 😊❤️❤️👍
G*****

Indeed an inspiring story of a blooming flower as young as 17 years. So artistic and brave girl . Way to go dear. God bless you. ❤❤
D*****

Thanks everyone :)
A*****

Keep going Devlina😘
M*****

Lovely girl! Salute to your thought process!All d best for all your endeavours in life! Lots of love n blessings.
A*****

Superb creativity.. All the best for your bright future. Go..and Chu lo Aasman Ko.😊 Stay blessed Devleena.💐💐💐💐
Similar Articles You love