She Works With Farmers To Make Amazing, Eco-Friendly Products!
Last updated 12 Sep 2017

.

5 min read
It all began when I visited Sweden. I experienced the most sumptuous sheets I had slept on. While trying to find the same quality in India, I was left disappointed. Firstly, there was no existence of organic sheets at the retail level. All conventional cotton sheets were marked with inflated thread counts and felt like sandpaper. Products labelled 100% cotton on the packaging did not talk about the fibre quality or the chemicals that went into it.
Upon doing some research, I realised that conventional cotton is full of pesticides and other potential carcinogens such as formaldehyde. Digging further, I was shocked to find out that the average life of a cotton farmer was 35 years, on account of use of pesticides and purchase of GMO-patented seeds! Cotton has long failed our farmers, with more than 3 lakh farmer suicides since 1995. This further cemented my belief that organic (free of any toxins right from farm to fabric) was the way forward.

Women working at cotton mills
This dream was brought to life with a range of bed sheets, quilts and comforters that were a combination of Scandinavian minimalism and hand-block prints inspired by my travels - from Morocco to Colorado, Iran to India, among others. Thus my venture Amouve, came into existence.

Amouve stands for 'the love of dreams' - a concoction of two French words - 'amour' meaning love and 'reve' meaning dream. That's what we wish to do - manifest dreams for consumers in the form of soft, natural organic products; for farmers, by giving them a respectable and debt-free livelihood; and for the environment through sustainable practices and the use of certified organic cotton.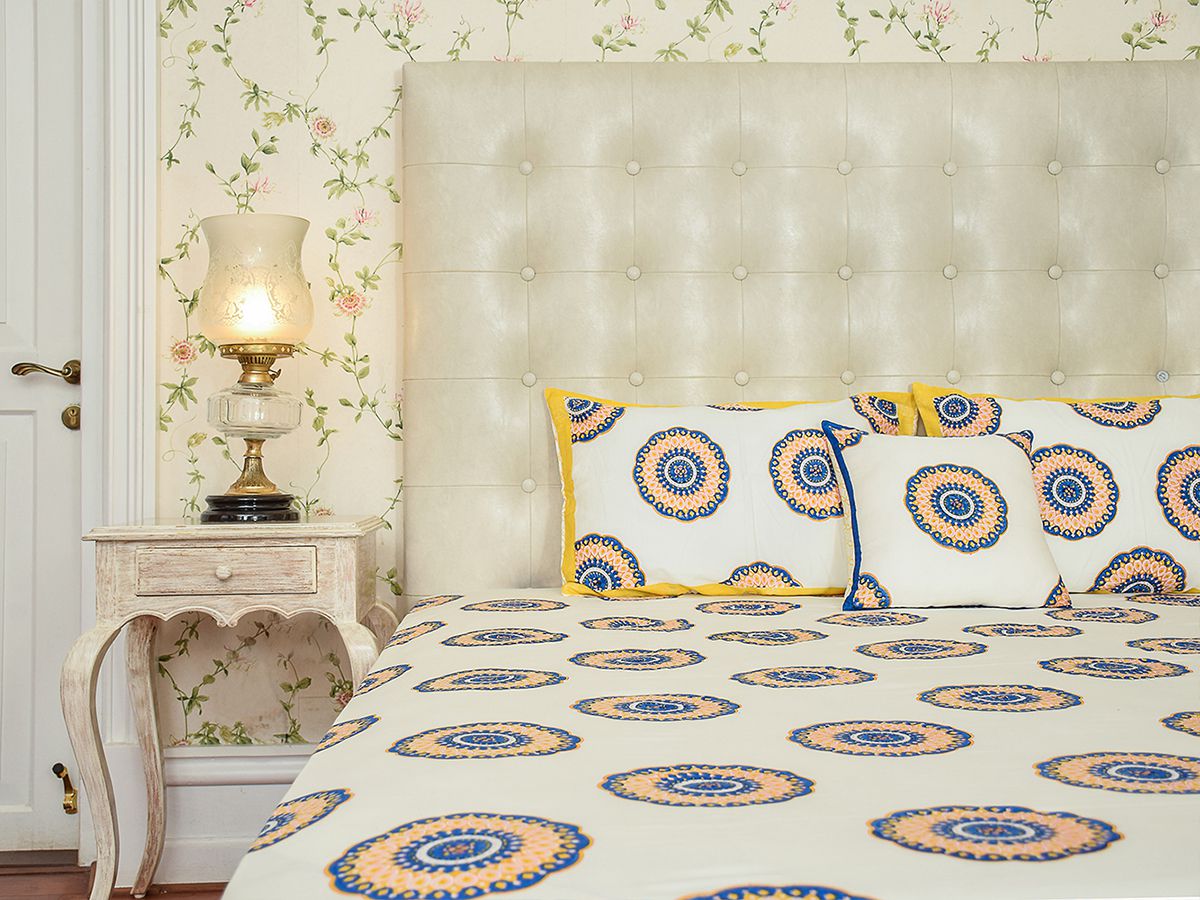 Moroccan bedsheet design from Amouve's collection
Challenging The Status Quo
While our country remains one of the largest exporters of cotton, the state of cotton farmers remains in doldrums. Hence, a core idea behind Amouve is to cut down on offline rentals and middlemen margins so as to pass on the cost benefit to the consumer. This is why we sell through our own website www.amouve.com. By doing so we offer luxury bedding at affordable rates because we are not paying money for slotting products on store shelves. Also, by being a single point of contact directly with consumers, we are able to keep strict quality checks that make buying bed sheets online a hassle-free task.
Secondly, I realised that most manufacturers don't know where their cotton comes from! After a lot of research we carefully chose our manufacturing partners, who abide by our own philosophy.

Ikigai cushion covers from Amouve's collection


Challenges and learnings
Our biggest challenge has been educating our customers about the ill effects of conventional cotton and the importance of making informed decisions about the products they purchase. Over a period of time, we have taken steps to overcome the challenge of awareness through swatches to offline pop up shops, to block printing workshops, to organic markets.
With regards to learning, green entrepreneurs must realise that consumers will not simply buy a product because it is eco-friendly. A product must first provide value. If it is beneficial or has the good of its people or processes at heart, consumers will most definitely pay a premium. It is also necessary to educate the consumer about the underbelly of the problem you're trying to solve by being succinct and putting your product as an alternative. Rethink how your industry works. Put aside outdated practices that don't serve what you're looking to do.
My Advice To Budding Entrepreneurs
One: You've got to be BRAVE to challenge convention and create your own path.
Two: NEVER give up. Entrepreneurship is a lonely road and the only way to keep going is to be resilient. Grit is one's biggest ally.
Three: Believe in yourself. It is VERY important to continue to believe in your journey before others believe in you.
This is a personal narrative by Ami Sata, Founder of Amouve. She has a Bachelor's degree in Media with a major in Advertising and Branding from Mumbai University. After working in the marketing department of a bedding brand during her job, she realized the need for healthier sleep product alternatives.
---

SHEROES
---
---
Similar Articles You love