Lola Jutta
Last updated 9 Apr 2018

.

1 min read
She Danced Her Way Through Taunts To Become An Entrepreneur
At 26, Neha Rajabzade is an entrepreneur. But like all entrepreneurs, she didn't have it easy, especially because she chose a discipline that the Indian community enjoys the most, but does not, however, respect it if it is someone's profession.
When I was in college, I used to miss out on classes so as to be able to work. After office hours, I would rush to practice dance. I worked at various avenues in various capacities. After I graduated, I started teaching dance for sangeet functions, schools, corporates, etc. I was determined to raise enough capital to be able to start on my own.
And in 2017, I founded the 'Diwakar's Gotta Dance Studios' for which I had been saving up for around 5 to 6 years.
The Journey Has Been Difficult
It does make me feel proud of my achievement. But the journey has not been easy, especially because I come from an Islamic background. Until before I became an entrepreneur, everybody - except my mom - at home was upset with me for what I did. For the mere fact that I wanted to dance. They did not see dance as a consequence of anything. For them, it would lead to nothing. The long hours spent would be a waste as I was to derive no tangible gain from it.
I recall an instance from those days. I am a trained belly dancer too. In belly dancing, it is a part of the process to roll up your t-shirt which leaves the belly exposed. When my family learnt about it, they got furious at me and said that they gave me the liberty to dance after I fought much for it, but a dance form where my belly was exposed was the limit to indecency. To top it all, some of my relatives who saw my belly dancing photos on Facebook would call home to complain to my folks.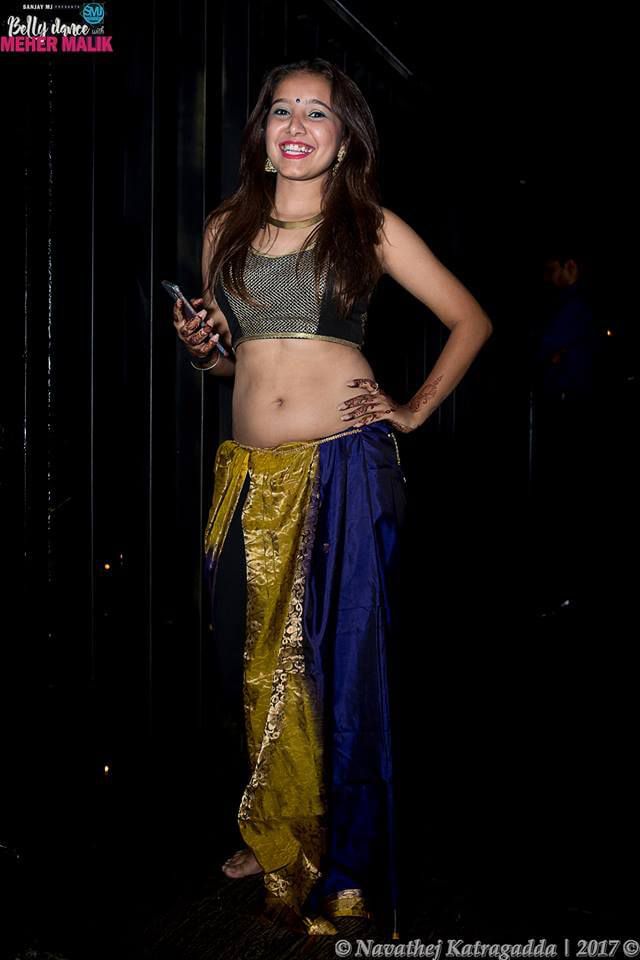 There was another instance I vividly remember. Back in college, a friend's dad would taunt me saying, "Tum to kuch karte nahi ho...tumko toh bas naachna hain...meri beti ka peecha chodo." (You don't do anything, you just want to dance. But leave my daughter alone.)
I used to stay quiet but today, I have shut all their mouths. Now, everybody who thought I was an unworthy girl, sees my studio and respects me.
All those years I turned a deaf ear to all such taunts. I knew I had a purpose and I single-mindedly worked towards my purpose.
Everyone is very happy now. Family and friends look forward to having me choreograph their dances during various functions. I am glad that things have changed because nothing gives me as much pleasure as dance does.
There are lots of dancers in the community. You have to get better and better each day. You have to keep updating yourself about the dancing scene.
And there is another challenge I face. As a part of our services, we also offer dance classes at functions. So if it is a sangeet ceremony, I am busy taking classes at the client's house till late night. Some aunties there say, "Hum hamare ghar ki ladkiyon ko aise nahi rakhte hain." (We don't allow our daughters to wander late at night.)
I explain to them that even big corporates have night shifts. Even the highest qualified ones, at times, have to work at night in the office.
Choosing A Dance Studio Over Being A Choreographer
Like an engineer or a writer, even the dancers come from good backgrounds. But in the Indian society, the dancers are looked down upon. I want my dance studio to be that space where every aspiring dancer can find his/her wings. It was difficult for me when I was learning the art form. It was hard to get the space. Then I thought, why not start a studio and help the dance community grow.
Right now the studio focuses on various styles of dance such as hip-hop, belly dancing, Bollywood, contemporary and also the fitness forms. Plans are afoot to also integrate event management services.
---

Lola Jutta
---

Similar Articles You love