#MeettheSHEROES Geeta Upase make "Mann ki baat" a community of self-discovery and emotional support for women
Last updated 3 Sep 2020

.

1 min read
If you love yourself then you can spread love in the world with others as well. You can see from a new perspective and explore new things. You must analyse the struggles you go through and not give up on yourself in this journey of life. After all, your happiness is in your own hands. This is how Geeta paved her path towards the journey of self-discovery.
Her journey of motherhood started at an early age, exposing her towards greater responsibilities. It was filled with tiring days and sleepless nights. Yet the joy of motherhood kept her sailing. The subsequent year she had her second child and now it was a tough job for her to handle both the children. Her mother was her greatest strength who helped her make it manageable. Geeta was devoted to her children and helped them grow, now that they have begun their own professional life Geeta felt something was missing. She wanted to rebuild her identity.
The beginning of a new life
Every member of her family was busy in their own lives therefore she felt a little left out. This made her feel lonely and she felt there was something missing in her life. Like a piece of a puzzle that she still needs to find. The first step to complete this puzzle for Geeta was to accept the digital world. Slowly, she made herself acquainted with the digital world and merged into this marvellous platform. She feels that Blogging allows you to vent your thoughts and at the same time boost yourself with positive thoughts. Now she feels independent as she writes blogs, earns money, also did her MBA in HR.
Geeta is not only a blogger but also a freelance writer who recently published her debut poetry book. It is an anthology of poems called " The Lilt of Love and Life".She feels accomplished by the fact that she discovered herself and went through this journey by herself. She has gained confidence over the years and ventured into her own entrepreneurial startup called "Vintage Collections" of handwoven sarees.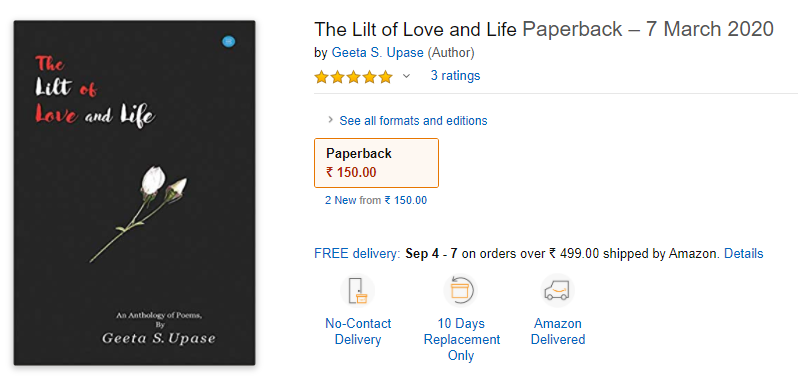 A community to support each other's dream/ Women for women
She believes that all this was possible because of "SHEROES". SHEROES has been a significant part of her journey and she feels proud to be a member of this community. She herself has now formed a community named "Mann ki Baat" to help other women share their innermost feelings and discover themselves. All her fellow members have been encouraging and supportive and she wishes to reciprocate that feeling to them. She also extended her love and gratitude to the CEO of SHEROES, Sairee Chahal.
Geeta says."If you love yourself you can love the world. Happiness is contagious, let it proliferate. It is possible when it is generated within you. Happy blogging friends. Motherhood is a wonderful experience, despite the pain and perseverance going through. Never give up your dream, time is not the determiner of destiny, carve your destiny chessil towards excellence. I experience freedom, I experience happiness, I experience the totality of womanhood in the path of self-discovery. To relish the importance of womanhood, you need to go through the hurdles of difficulties and self restrain."
Follow Geeta on SHEROES and join her community to express your "Mann ki Baat"
---

SHEROES
---
---
Similar Articles You love