Mahima Sharma
26 Dec 2018

.

1 min read
Kavya Shree: Brightening-up Lives Through Her Excellent Art & Noble Heart
Recently a 26-year-old lady caught my attention at SHEROES Arts, Craft and Photography Community. Not because her artwork is quite attractive, but because she has recently creatively hand-painted an entire school just on the request of the Principal. That too single-handedly and without seeking any remuneration in return!
Let's hear the story behind the effort from Bengaluru, Karnataka based Kavya Shree.
"Mahima Ma'am...arrey, there is nothing big about it! I simply heard my inner voice. This school - Sri Manjunatha Vidyalaya - lost considerable strength after the demise of its founder, who happens to be my close friend's father. She being married off and having other responsibilities, could not take on the task of bringing back children to its fold alone. One day she called me and asked if I could use up my creativity make the school campus attractive; maybe more children would join in the new session," Kavya begins detailing the story behind these beautiful walls.
She adds, "The school is for children of people belonging to a low-income group. It has a very good staff and yearly results. The school has women-only staff plus also encourages girl children towards a better future to a large extent. So I immediately gave a nod for painting the campus. And it took me five days to paint the campus. For me, it was just a matter of some strokes, but for children, the art became a very big attraction because childhood imagination and creativity has no limits," details Kavya who is otherwise a Masters in Technology!!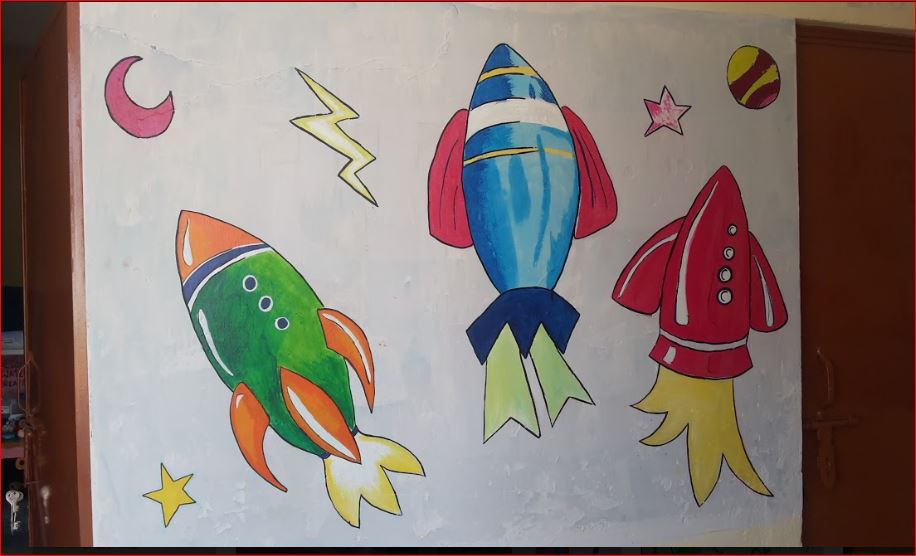 This school is for children of people belonging to the low-income group. The only money that is charged here is for admission forms plus the cost of the books. And thus Kavya decided not to charge any remuneration in return, she informs.
She believes that her work will bring out the hidden artist in every child in due course of time. And she also adds that as a result of her selfless work, Kavya has found a great friend in the school principal...and that's her reward.
So what does this PG in technology doing, besides making the world around her a beautiful place? What she tells me next is pretty moving in an age where the elderly are left away alone at old age homes.
"My father, is in defense services and mother is working in the medical field (senior staff at a reputed state government hospital). I am currently on a sabbatical to take care of my father. He was suffering from issues with the spinal cord and various stages of his treatment require different kinds of fixed diet. Since mom is a working woman, I chose to drop everything else for him. I am the eldest at home. I have a younger brother. And I have seen dad double up as the mom for us when she was at work. I have seen how they balanced life as a couple not caring about what society says. And it is my turn now. Thus, I took a sabbatical six months back, as my dad needs me the most at this stage; the job can be resumed later," Kavya details all this with the same ease with which she creates an artwork. Not a pause, no remorse, no afterthought, no such emotion. Just a determination to provide the best care to her father. Forcing us all to introspect.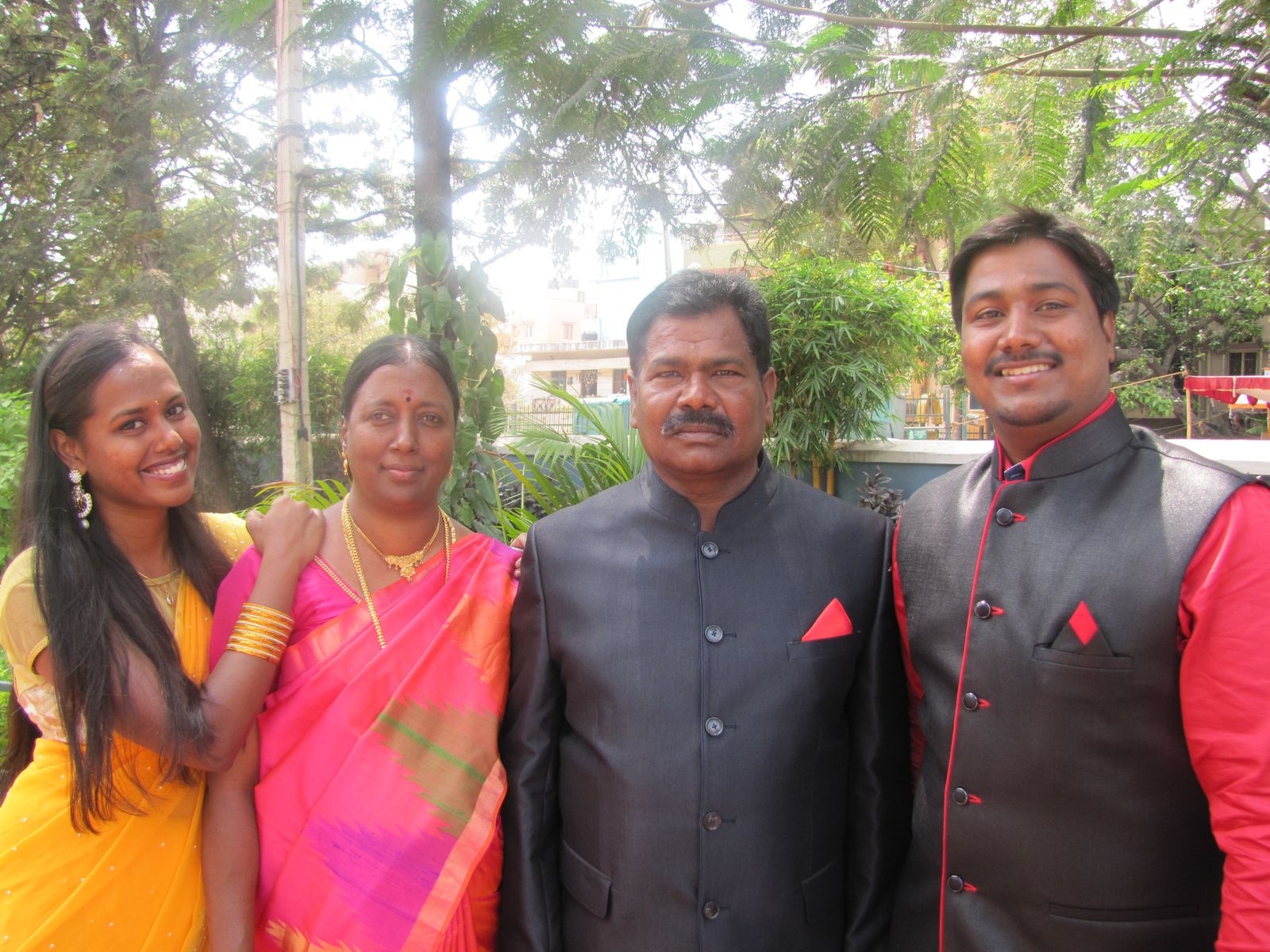 "What are you thinking, hello you there?" Kavya's voice from behind the phone brings me back to the current moment.
"How do you detail all this with such ease Kavya? I know it is pretty tough to handle such a situation."I ask her.
She explains, "I don't think too much, I just manage my time well between taking care of my dad and pursuing my hobby. I do art-work, I am into photography also to some extent. Thus, I am utilizing my sabbatical well. Recently I discovered SHEROES and now I share my works, my thoughts in various communities. And this is also helping me becoming more confident." Recently a short fiction has got shortlisted to be featured in an anthology called- The Mindful Thoughts. And Kavya is on top of the Moon, about it!
Kavya goes on to add, "I guess, every person on Earth has this phase in his/her life where they feel extremely lost and have no idea about what to do in life. There were days when I felt that I am a major failure. Though I was there at home for my parents, I always found my career vanishing. That's when SHEROES happened. I re-started my journey at SHEROES, started expressing, pinning my opinions and shared my ideologies. I could feel that security, I found answers to my fears, my queries and above all I found the lost me. I discovered the SHERO in me."
Today Kavya loves SHEROES so much that recently she made the biggest announcement on her life here. Take a look....
Kavya Shree gives a hearty laugh, "Yes, I chose SHEROES to announce that I am in love. That is because I have found an extended family here that accepted me as who I am, when I was so emotionally low. They never judged me. So SHEROES had to be the place to break the news! I met him on the 2nd of December and fell for his simplicity. While most men express dominance, he charmed me over with his smile and simplicity. After getting to know him more, I feel connected since our thought process and basic humanly values match. When I was sure, I announced it at SHEROES!" She chuckles again like a little girl. The man of her dreams she informs, is a lead graphic designer in one of the reputed MNCs; he loves art and they are getting engaged in the first week of February 2018! Voila!
So what more and what next Kavya? The bubbly girl takes a serious tone, "I am still working towards grabbing a Ph.D. and move towards astronomy; the process is taking time and many other factors are to be considered. I also create other artwork like personalized candles. I love to travel and explore new architecture so I have plans of starting a travel-art/architecture blog. And now that writing is a newbie in my kitty, of course, I plan to have a few books under my name."
During the course of time, when I canned a small yet touching chapter of Kavya's life-story, her mom has come home from work. It is time for a family get-together. And Kavya Shree who calls herself a simple yet talkative person, signs off leaving a lovely message for all of us:
"Hey you, the one who is reading, you are such a beautiful soul. Remember this. Every person has ups and downs in life. Whatever situation you are in today, all you need to do is smile with confidence that you shall beat out all odds. Be proud of who you are, because no two lives are similar! Simply keep fighting away the odds like a duck wading off rushing water. The duck is always calm and composed when you look at it, but the feet are constantly taking efforts to beat the water current. So stay calm, keeping wading on, the time never remains the same."
If #HerStory of determination and care...of colours and vibrance....of sacrifice and simplicity, has touched your heart...then don't forget to share it. And remember...Kavya Shree is getting engaged in February 2019, so don't forget to leave best wishes and loads of love for her in the comments column.
You can follow Kavya on SHEROES.
Also Read about The Artistic Journey Of Praaggya Sharma Who Claims Art To Be Her Escape Door.
---

Mahima Sharma
---

P*****

Awesome really inspiring 😘😘best wishes and lots of love❤
S*****

Awesome Kavya Shree. You are an inspiration to all. Keep rocking dear. Stay blessed.
K*****

Thank you so much dearies for all your good wishes and support😍😘 .. Love you all 😇🤗
B*****

Ohh so now I get to know the real Kavya..so many facets to her lovely write up..
R*****

Source of Inspiration Kavya! This article made my day.
V*****

So proud of u dear kavya ....u r inspiration of us......n glad to know about u....lovely dear...lots of love n hug u😍😍😘😘
R*****

Well done . Your work is very impressive
T*****

Such an inspiring story...hats off! Thanks for sharing Maam!
L*****

I am really overwhelmed by reading story of your life. it's really rocking, mind-blowing and inspiring.hats off to your unconditional love and effort.i got idea of decorating my school by yours art.actually i am going to open my school for the children of parents who get very low income and leaving in Delhi in rented house.wish you all the best and stay blessed always
K*****

Thankyou dearies for showering me with so much blessings and love .. Each of your wishes mean so much to me .. I'm just over the moon.. Love you all my dearest .. 😍❤😘 Mahima cant thank you enough for this piece .. You are getting tears to my eyes .. Much much love .. 😘
C*****

Always cherubic and ready to help. That is Kavya we know. Here is wishing her all the success in every stage of her life henceforth.
P*****

Such a loving soul you are... Grt job..good to know you dear Kavya ...wishing you a successful life !!! Stay blessed
R*****

Wow! Simply beautiful journey...a big hug to you both Mahima n Kavya🤗🤗 your courage commitment and devotion is outstanding!!👍
G*****

Excellent job Kavya....so proud of you n best of luck for ur bright future,keep smiling 😘😘
S*****

Proud of u..gud to know you..a big thumbs up.. keep up ur gud work and lots of love n blessings..
B*****

Wow @kavyashree you're so awesome. Proud to hv a friend like you
A*****

Lovely.. Lovely lovely dear.. 😊🙌 Today I am feeling I am seeing a different Kavya Shree 😊😇 loved it.

S*****

Wow, great Kavya. Wish you the best in life. Keep rocking.
P*****

Oh kavya u r awesome dear... proud of you.. really u r inspiration for us.. good bless u...😊😊
A*****

Woww Kavya, hatsoff to u for this unconditional effort n ur talent,feeling glad that I know u,God bless u dear😊😊
L*****

Wow. Kavyashree u r a real artist who can draw smile on anyone's face. Proud of you dear.Love you.
U*****

Lovely dear Kavya!! Heartwarming deeds, wishes for a beautiful, future that is an art, by itself. Keep inspiring, stay blessed😊😊
S*****

Awesome. ...kavya...u really deserve it. U r true inspiration of younger generation n.
N*****

Am so so so proud of you my dear. Am glad that I know you... 😊😊
B*****

Kavya Shree u r amazing dear... M so glad to know about u such a positive things..💗👌👌 In my life i also want to bring some beautiful n inspiring changes.. But never get to the point how n where from to start..:/ But i m sure i will make my parents proud n will never give up..👍💟😇
S*****

So proud y dear Kavya....💕💕. Your truely inspiration for all ladies .. you are truely Proud of Your Parents.... For us too. Lovely dear ...💖💖. Keep the same pace and wish you all d best for your future career .
A*****

Really tremendous!! You are an ideal for all of us ,I.really admire you from the bottom of my heart I am 60 years old but very rare I have see like you ,it's a god gift stay blessed always
K*****

Omg .. This is a pleasant surprise .. Thankyou so much @Mahima Sharma mam.. Hugs to you all to having taken time off to read this article .. ❤🤗😘
S*****

Really proud of you kavya proud of you, No words to say u r doing very excellent job 👍👋👋
S*****

So proud of you @Kavya. I am indeed honoured to be amongst one of your acquaintances. Proud, proud, proud!!!😘😘😘
N*****

I am so moved by your humane acts...to know your selfless side.
P*****

You are a simple, loving soul,stay blessed.Loads of luck for your future endeavors and your life.At last you have found your soulmat❤️❤️
P*****

Wow congratulations dear Kavya Shree😘 👏👏 we love you so much keep it up 🤗🤗♥️♥️
S*****

Wowwww so inspiring !!! Kavya ...you are awesome I Wishing you to get a Happiness and successful life !!! We are proud of you stay blessed kavya ...
G*****

Great Kavyashree 👍 i always felt the spark in you , you are a beautiful soul 💐💐💐 stay blessed .😘😘
S*****

That's why i love you Kavya Shree😍😍 Wish!! every parents be blessed with such a dutiful,loving and talented daughter. Proud of you dear. More power to you. 🙌🙌❤❤
K*****

This is so inspiring! Kudos to you, Kavya, and wish you fulfill all your dreams! Thanks Mahima Sharma, for the beautiful write up!
Similar Articles You love