SHEROES
Last updated 5 Jan 2018

.

6 min read
In A Director's World: Treading The Less-Known Path
Showbiz is a challenging industry to work for. But debutante director, of the upcoming Tollywood movie Raju Gadu, Sanjana Reddy, shares her experience and calms the scared souls. "The stakes are too high in the movie business. None has the time to think about anything apart from work," she says.
Tollywood has only a handful of women directors. Why do you think the number is so insignificant?
Directing a movie is not a structured job. There are no fixed timings. In fact, there is no fixed office. You move from one set to another. Just because one is a woman, one will not be exempted from staying back late. Also, unlike a regular 9 to 5 job, there is no regular salary. You may work on a project and then be totally out of work. One movie may be a hit, another may be a flop. While these two reasons hold back many women from grabbing the director's chair, the strongest reason is that everybody doubts a woman's safety on the sets. As a director, one has to work with a crew that comprises mostly of men. I worked with a team of 300 technicians - mostly men. There were women, but only a handful. I guess this is what keeps us - women - from donning the hat of the captain of the ship.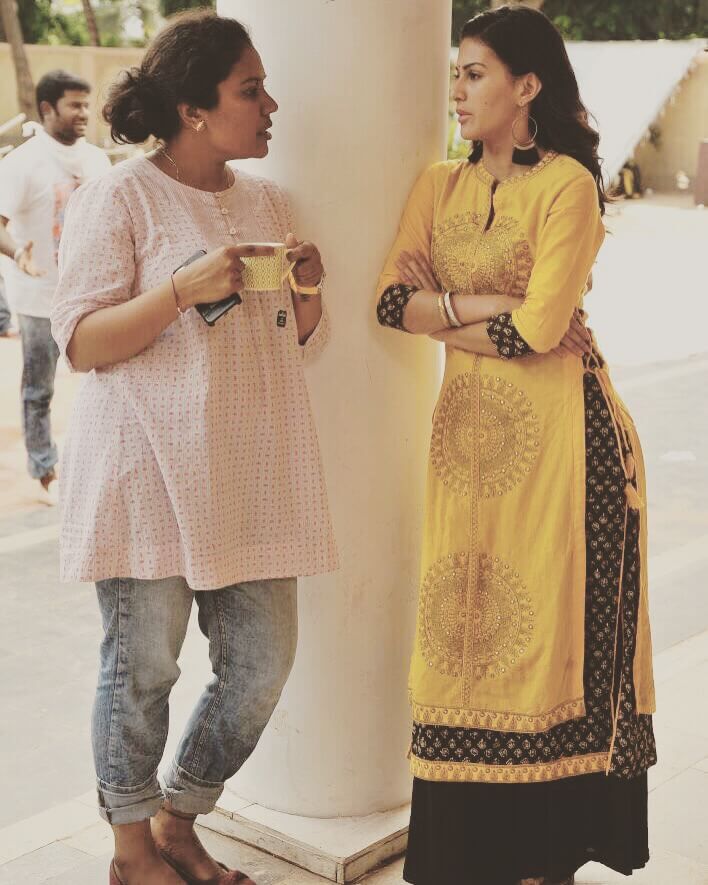 Sanjana with Amyra Dastur on the sets of Raju Gadu
As a young woman director, what challenges did you face?
There were talks in the industry, that somebody like me - who hasn't studied direction or films as a course or even did not have a vast experience in direction - is not capable of steering the ship in the right direction. I took it up as a challenge to prove them wrong and to break all the rules.
How did you overcome these challenges?
Challenges are a part and parcel of every job. Even if you have a comfortable corporate job, you will have to meet certain targets. That can be stressful too.
I knew that the best way to cope with such challenges was to focus on my work.
I am generally a happy person, simple pleasures make me happy. A cup of apricot delight works wonders on my mood. Having said that, it was not that I never reacted to challenges, but my reaction was never at work or on those who I worked with. I used to share all the issues with my parents and they ensured that I don't lose my confidence, and they kept me going. They would tell me to take the challenges in my stride, learn and move on.
It's a glamorous world out there. Any scary moments?
None. Crores of rupees were invested in the movie. The stakes were high. Everybody on the sets was aware of that fact. With such high risk, none would even think of anything apart from work.
Besides this, if I speak of a general context, the cameras on the sets do their job even when they are not on the job. They capture everything - moments of the day that escape the human eye. If somebody is holding somebody's hand or is even attempting to stand closer, the camera has everybody's story.
Like God has every detail of our right doings and the wrongdoings, the camera also captures every activity that takes place on the sets. And everybody on the sets is well aware of this fact.
You were a journalist with a TV channel. What got you interested in direction?
I wanted a change. I was on a vacation from my reporter's job. During that period, I met Ram Gopal Varma, accidentally. I learnt that he was looking for a female assistant director and I expressed my desire to work until he found the right assistant; to which he agreed! From RGV, I got a hang of the process of the work - starting from writing the story, narrating it to the hero, and then taking it to the producer... everything.
I assisted him for a week, post which I realized I wanted to be a part of the movies. I started looking out for projects and assisted directors for Ad films. During that time, I realized I wanted to be a director, not an assistant director. I set a deadline - of six months - to find a project. Before I hit the deadline, I had Raju Gadu on my plate.
Don't you think you got lucky? Just a week of experience with RGV and a couple of other assignments.
Maybe. I am actually glad that I didn't work on too many projects. In that case, I would have been a replica of some director. I wouldn't be me. When I worked with RGV, he would assign the job to me and not preach me as to how I had to do it. I had the freedom of thinking. That's the most important lesson I learnt from him.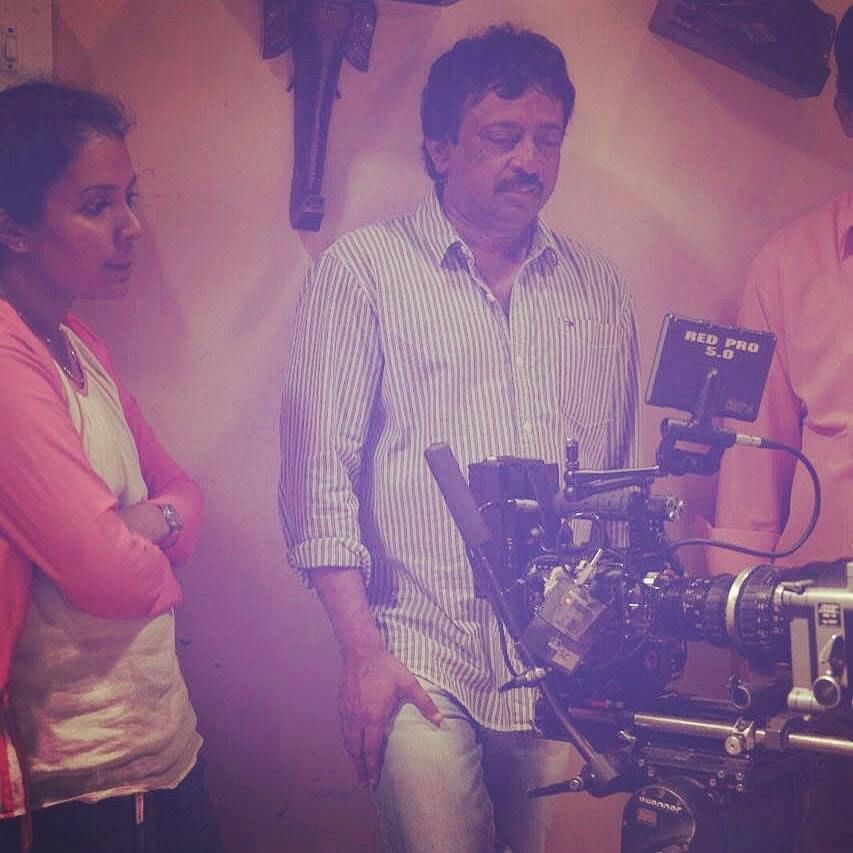 Sanjana with RGV
While directing Raju Gadu, what was your typical day like?
I would wake up by 4 in the morning, feed my dogs and get started for the movie location. The crew would be there by 6 am. We would begin the work by checking if all the properties needed for the shoot were available. Then I would plan and divide the work amongst us. We also had to work on alternatives, for circumstances under which an actor wouldn't turn up.
After the shoot for the day, we would analyze the mistakes we made. And then visit the set for the next day to decide how the scenes would unfold. Then we could call it a day and rush back home for a sound sleep.
The shootings would happen in a non-break mode, for 20-30 days in a row. There were no holidays or weekends.
Did the crew give you a tough time because you were a fresher?
The crew didn't have an option. They had to take my instructions.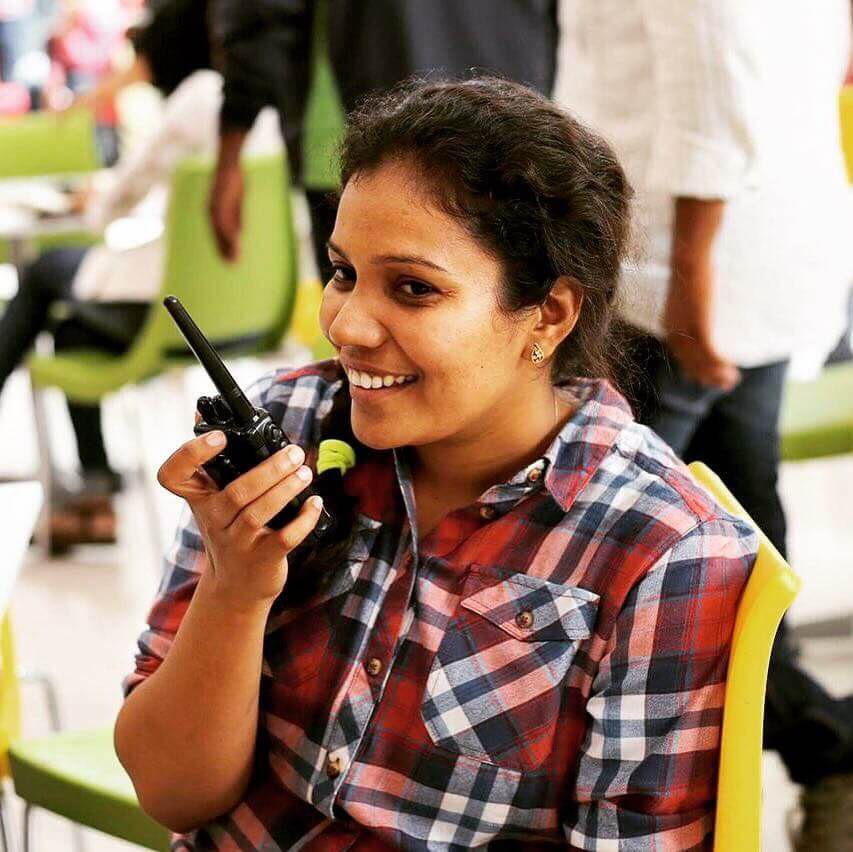 What message do you have for young women who are aspiring to take direction as their profession?
Never let the fact that you are a woman bog you down. Every work has some pros and some cons. It's the same with direction.
This interview has been taken by Suhani Dewra.
Did you like this article? Would you like to read more such articles? Let us know in the comments below.
---

SHEROES
---
Similar Articles You love