Meet Artists From SHEROES Who Are Their Own Muses
Published on 15 Mar 2019

.

1 min read
The recently concluded #ICreate contest in the Art, Craft and Photography community saw huge participation from the artists within our community. The campaign was an effort to invite and encourage members to share their original art and craft work.
The lovable community champion, Chandini Wig handpicked the best entries. This is our way of saying thank you to all the talented women in this community.
Priyanka Kumawat
Priyanka is from Kishangarh, Ajmer (Dist.) Rajasthan and has been an active SHEROES member for about a year now. She is from a commerce background but enjoys painting.
"I have been learning from different sources such as YouTube videos, guidance from some artists, etc. I keep practising to polish my work. I am doing it professionally as well. Currently, I take orders from different social media, complete them and then post/parcel the artwork to the customers."
Priyanka isn't afraid to dream big and is her own biggest cheerleader.
"I am my own biggest supporter. My dream is to be a great successful artist. I keep cheering myself on. I explore, learn daily from the work of different artists and try hard to perfect myself. I learn from mistakes and try not to repeat them."
Self-belief is what pushes dreams forward and Priyanka is doing just that.
Rashi Roy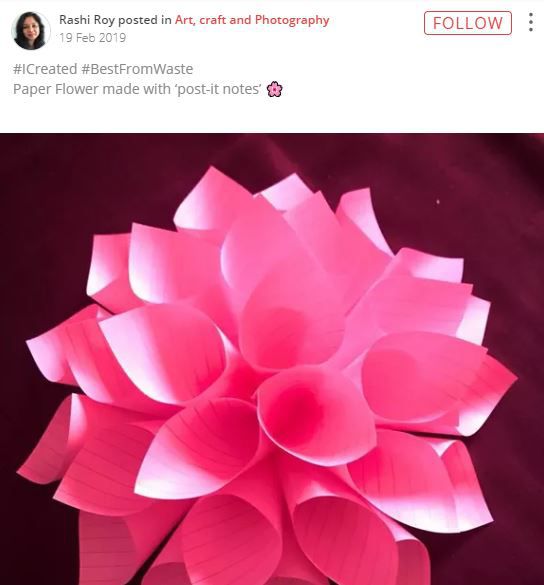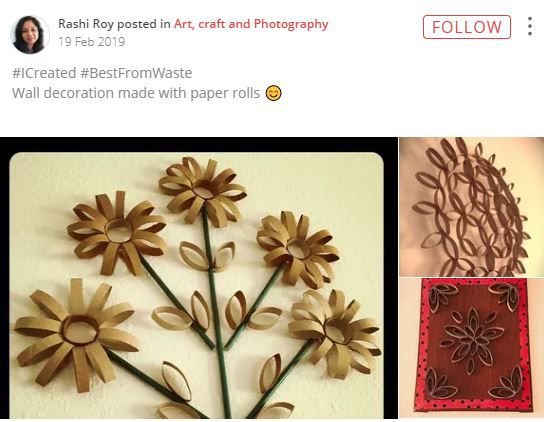 An HR at Infosys by day, Rashi also practises art in all its myriad forms.
"I love to write stories, poems and blogs and have authored two books. I am a keyboardist and I share my music videos on my YouTube channel. I have a passion for art and craft and I try to recycle and reuse household things.
The Art, Craft and Photography community on SHEROES is my favourite platform and I keep posting my creations regularly. It's a group of creative SHEROES and the best place to showcase your talent and appreciate others. It has been an overwhelming experience and I wish this community keeps growing. I have seen some extremely talented creations in this community and I am sure if we all share it, more and more hidden talents will come up."
She hopes to take up her art professionally and start up her own creative space in the near future.
"The reason and the motivation behind it is the appreciation I receive for my artwork. I get queries if I take orders or not, so, I know it's time to take it up seriously. My biggest supporter, my strength and the rock behind me is definitely my family. It is because of them that I get the confidence to dream big."
Muskan Gupta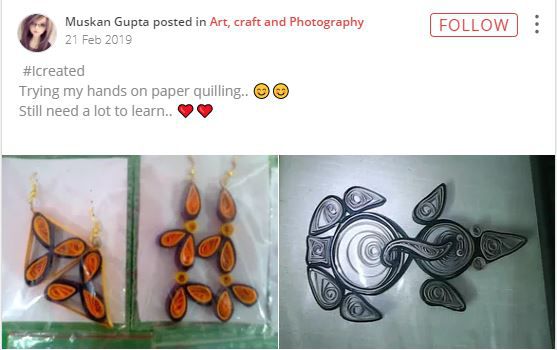 This 19-year-old from Dausa district in Rajasthan is pursuing a dual degree in BA and B.Ed. In her free time, she enjoys exploring the arts.
"I love trying different things and I love reading books and occasionally try my hand at writing too. Letter designing has been a favourite for a long time. I also love to click pictures of everything around me."
A new member of the SHEROES community, she still feels like she has known everyone forever.
"Everyone is very friendly and supportive there and my experience so far has been very amazing. I love it and I'm very happy to be a part of it. Art, Craft and Photography community is an amazing community giving chances to everyone to identify their talents. Anyone can post their work/s in the community and get feedback, suggestions and compliments - everything in a very positive and comforting environment." a chirpy Muskan says.
Deepa Rani
Deepa is a BE graduate in Computer Science with 5 years of work experience in recruitment, IT analytics and also as a System Engineer. Raising her two children now, this unstoppable SHEROES now uses her spare time to run an online business.
"I am an energetic, creative, motivated person. I got a chance to explore my talents at SHEROES. Most of us don't even know about our hidden talents. I got so much appreciation here that I would love to do more and keep doing it."
In future, once her kids grow a little older, she'd also like to explore art professionally. She feels her mom and her husband are her biggest support systems.
Narayanee Sai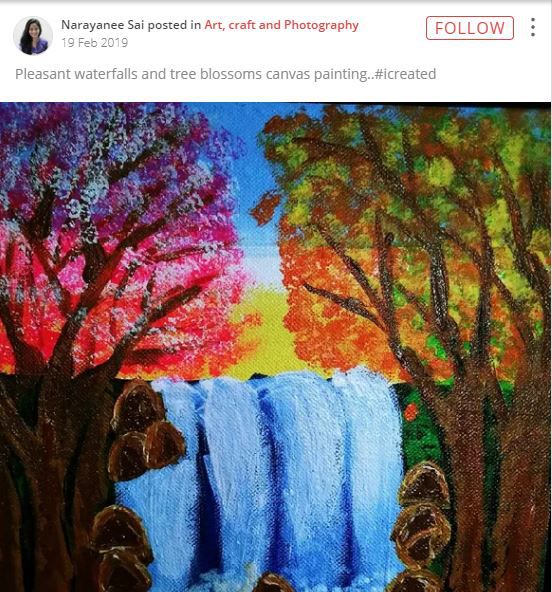 Narayanee is a Computer Science engineering graduate. She is very much passionate about Mandala art, geometric art, doodle art, and canvas paintings, pot painting, embroidery, paper quilling and silk thread jewellery making.
"The Art and craft community at SHEROES is the best platform for women to exhibit their talents. The special thing about our art and craft community is that they appreciate each and everyone's work and this encouragement acts as a motivation and gives us more confidence to pursue our good work. It has also helped homemakers to bring out their hidden talents. Only after becoming a part of Sheroes family I became active in these arts and now I am working on attaining the perfection and studying the details."
Other than the SHEROES family, her own family is also a huge support and her backbone.
"I would say my family is my first fan. They enjoy and appreciate every little thing I do. They will never call this a waste of time. My parents always used to tell me "whatever you do just do it from your heart".
Vrinda Duggar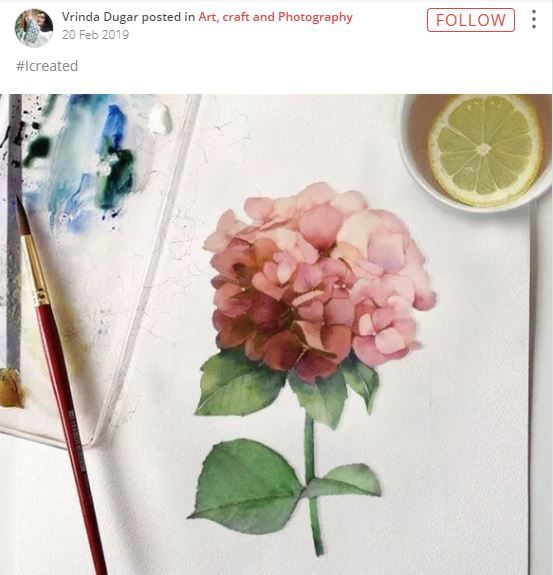 Vrinda is among the most prominent faces of the Art, Craft and Photography Community. She calls herself a self-taught artist. She sold her first painting when she had just completed her class 12th exams and held her first solo exhibition in college, where she sold 14 paintings in just one day. Since then there has been no looking back.
"When I had joined SHEROES, I was not in a healthy frame of mind. Work was slow, pressure from my family to get married was building up, and I was contemplating moving to another city to look for a job. Anything seemed better than getting married. I stumbled across this community through social media. What interested me was how it helped girls and women alike to find employment and that was just what I wanted at that time. Then I also saw the different communities they had for Art and Relationships and Start-Ups and Cooking and what not. That piqued my interest and I joined the Art and Craft Community. And the response I have received ever since has been heartwarming. It's contributed to my journey by giving me several opportunities."
She is now the proud owner of Art by Vrinda, she leads a team of 20 and is hoping to expand over time.
Harshita Sharma
A 19-year-old from Kanpur, Harshita cleared the entrance exam for NIFT, the top designing institute of India in 2017. But she couldn't join it because the annual fees were too high. But that didn't mean she was anywhere close to stopping. Learning everything from YouTube, she is now an Art Entrepreneur who uses stone art to fuel her future education.
"I was casually browsing the internet when I came across this women-only community. I am overwhelmed by the support that I have got through various community members. Not only they appreciate my work, but there are some seniors in the Art, Craft & Photography Community who answer my queries, help me improve my art and also act as critiques. I cannot describe in words how much I love SHEROES and what it means to me. All I can say is a BIG THANK YOU." she smiles.
Shubhangi Kaushik
"When the world pulls you back, be your own muse and do what you want to do. I worked as a teacher for 8 years, born and brought up in Meerut (Uttar Pradesh)
I have done M. Sc, B.Ed and got married in November' 17. I have always been drawn to art & creativity since my school days. But my real interest lies in creating things from raw or junk material. I made my first art piece from my sister's kurta, dry leaves & sequins.
I heard about SHEROES but never thought of joining it. When I finally joined it, I felt blessed as the platform gave a wide variety of communities to share your talent & ideas. Through art and craft community I got the privilege to share my art and also love to know that there are people in the world who appreciate such work. My message for all the artists- Stand up & Be your own muse!"
The community is a lively space for all the budding as well as established artists to showcase their talent. Realize what magic they are capable of and make the world a more beautiful place, 'pun intended'
To tap more creative minds the Art, Craft & Photography community is set to come up with #IClick contest soon. Stay tuned to catch all the clicks and action in this creative community.
---

Palak Kapadia
---
---
Similar Articles You love