Mahima Sharma
14 Mar 2018

.

1 min read
Meet the Only Indian Woman To Bag The 11th Int'l Researchers Award In Japan
At a time when the country's farmers are on the roads to protest, we decided to acknowledge the efforts Dr Sheetal has taken for improving their lives.

Dr Sheetal explaining the importance of soil nutrition to farmers in Orissa, India.

Eldest of the two daughters of her parents, soil scientist Dr Sheetal Sharma still shudders to recall the day her grandmother wept profusely when her younger sister was born - who would be the heir now?
The star of International Rice Research Institute, New Delhi, Dr Sheetal recalls the constant pressure her mother used to face to bear a son! I can see the pain, yet a twinkle in her eyes. A twinkle born out of a moment of immense pride, a twinkle born out of the fact that the same two girls are the pride of the entire clan today. And Sheetal is in-fact the current pride of the nation.
Dr Sheetal Sharma is the first Indian woman to recently win the 11th Japan International Award for Young Agricultural Researchers.
Yes, you heard it right. Dr Sheetal leads IRRI's research in design, evaluation and dissemination of soil and nutrient management technologies for the rice-based systems of South Asia; and has brought laurels to India.

Dr Sheetal shattering the glass ceiling at the Award Ceremony in Japan.
As per IRRI website, "Dr Sharma's research focused on the development of innovative approaches to enable smallholder farmers of South Asia to achieve gains in productivity and profitability. And this was done by her, motivating them to use the cutting edge Information & Communication Technologies (ICT) to guide the application of site-specific nutrient and crop management options. Dr Sharma has led initiatives in India to transform the provision of information to farmers and for the first time, make site-specific recommendations available to smallholder farmers."
A smiling Dr Sheetal begins detailing, "I am no wonder-woman, I simply did what I was passionate about, thanks to the support of my parents. Our society is still struggling with patriarchal societal values. I come from Kangra, a quiet town in the quaint little state of Himachal Pradesh (HP). My parents struggled a lot to wave off the pressure they faced of 'not having a son'. But they ensured we sisters got the best of education. After schooling from St Luke's High School, Solan (HP) where my mother was a primary school teacher, post-1996 I moved on to do a B.Sc. in Agriculture from the College of Agriculture, HP Agricultural University, Palampur (HP). I did my post graduation and PhD in Soil Science from the same University.
My parents did not bat an eyelid in funding the education of my sister and I. Neither did they push us to marry, despite family and friends counting my age! Marriage happened only when I was ready for it and to a person whom I loved. Atul is a scientist in Agricultural Economics."
As she speaks, I constantly look into her eyes which tell me the journey hasn't been as easy as she detailed it out, in a single breath. I point it out and she has a hearty laugh, "Does anything come easily to women, Mahima? Coming from a small hill state with not much exposure to a metro city like Delhi, it was a paradigm shift. I was the only woman scientist in my field of Soil Science here, and it was hard for me to engage in discussions or even to get my point across to the team.
I was often shunned (in public too) and ignored. There were many in the group who left no opportunity to show my incompetence.
Being a woman, I was never a part of their group and most of the discussion, scientific exchanges happened during non-office hours. As a result, I was mostly out of these. An ignored woman scientist, I struggled a lot to strike a personal and professional balance."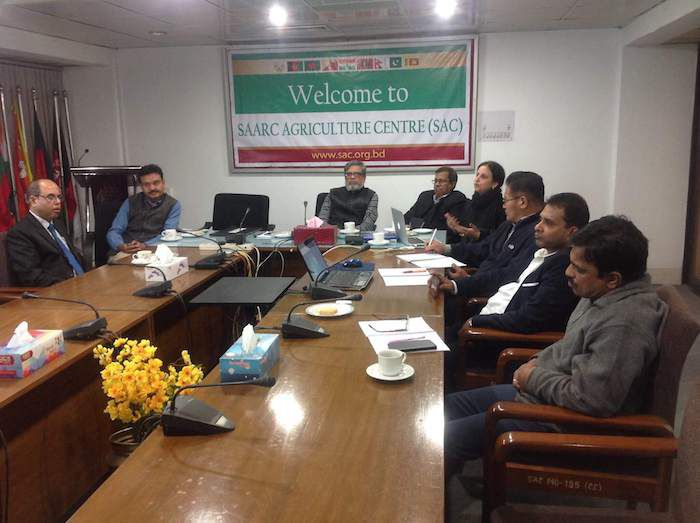 Dr Sheetal representing IRRI at the SAC-SAARC meet.

I can feel goosebumps as my fists tighten, while Dr Sheetal goes on....
"I kept my cool and focussed on my work with no involvement in office politics. I concentrated on my research work and strategically chose to work with people who value my opinions and value me as a scientist. I put in extra efforts in whatever I did. With the help and support from my family, I made extra efforts to strike a balance between my personal and professional life.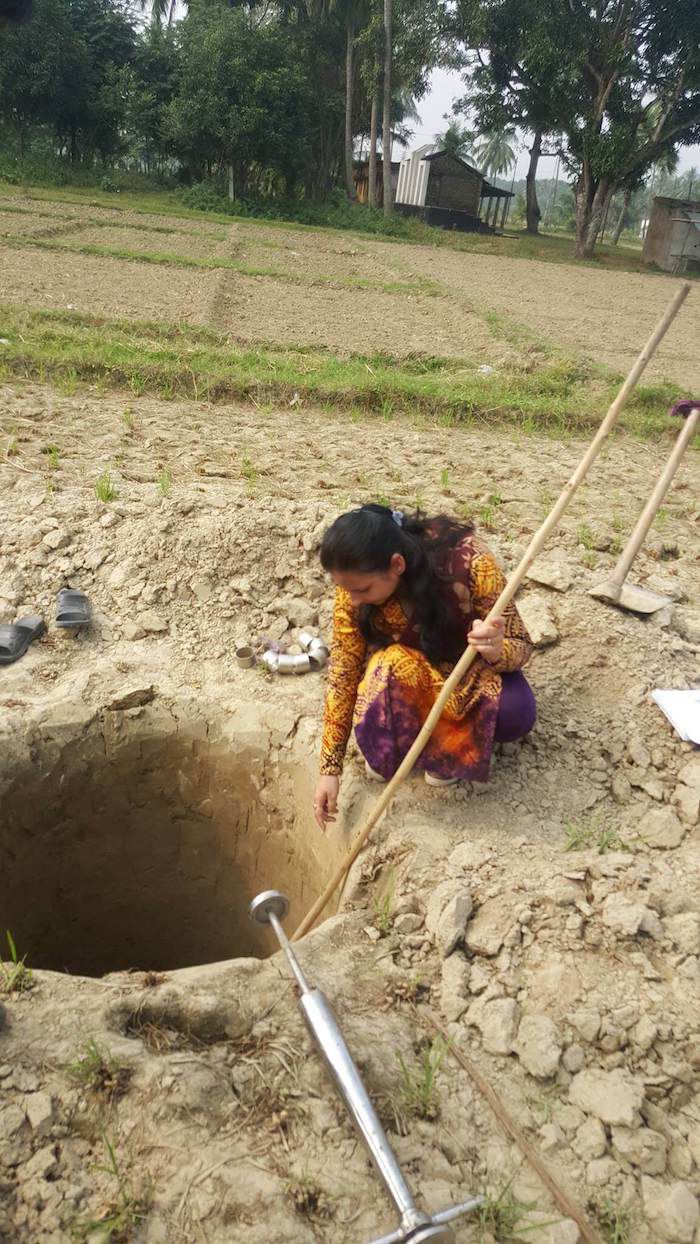 Dr Sheetal at work in Indian fields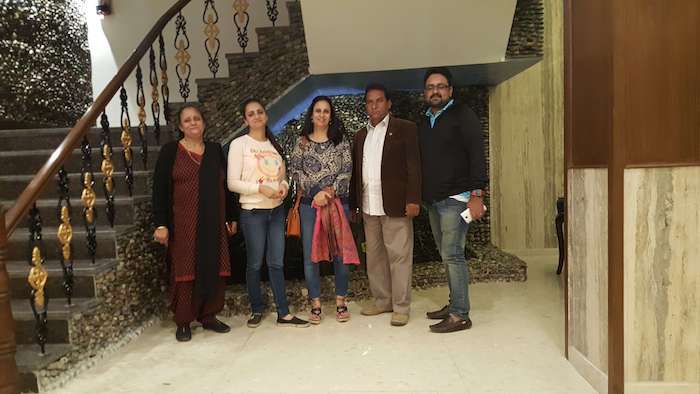 With her parents, sister and husband.

My daughter was barely three months old when I had to resume work since a longer absence would have cost me all the effort I had put in so far. And resuming work meant flying abroad very frequently. A new mother trying to strike a balance between life and work - people were not satisfied with that too. But by now, I had learnt to ignore negative people and negative comments," Dr Sheetal tells me in a very assertive voice.
The only woman scientist in her team. Would life have been easier if she did not choose this field?
Dr Sheetal details, "Well, it was not my first choice. Like many others, I wanted to become a doctor, a surgeon to be specific. But as I was not selected for Medical I started looking for other fields. I already knew about Agriculture as my father belonged to the same field. At that moment, I was not willing to have a gap year and chose Agriculture. Once I decided, I was keen to do my best in this field. Eventually, my interest increased and when I realized the potential of this science in making an impact on the poorest of the poor, I was more motivated to excel.
I was even guided by many to change my field since it was male-dominated. But then the whole society is male dominated!" She takes a pause only to resume with gleaming eyes, "So, as I say, nothing comes easy and being one of the very few women across the world in my field, may be a matter of dejection for others, but for me, it has always been a moment of pride."
My but-obvious next question had to be - How do you manage to don so many hats - scientist par excellence, doting mother, loving wife, a daughter who needs to check upon her parents and in-laws who don't live in New Delhi, etc, etc?
A beaming Dr Sheetal says, "I credit my husband for this who is my rock solid support in bringing up our only child - my daughter - who is seven now.
I have heard people feeling pity for my husband just because he helps me equally at home. Sometimes, he is also looked upon by them. That's our society which needs to change and needs to understand the real meaning of the word - life partner.
Yes, my work and life do drain me out at times - I won't shy in admitting that I too have my own breakdown moments. But then I remind myself of my working mother and try to balance my time. Maybe I climbed my career ladder a little slower than my male peers, but then I have a daughter with good values and a well-kept house to welcome guests. Sometimes I have to stay up late to finish my office deadlines but then the good time I spend with my family before they sleep keeps me motivated."
A proud mother to Anaiah, who has just called her to inform that she is back from school. Do you see Anaiah walking in your footsteps?
"Why should she walk in my footsteps? She must create her own. Right now she is preparing for her first theatre act. You never know, it may be her calling in life!" Dr Sheetal informs me with a hearty laugh once again before she bids me adieu. She has an important meeting before she runs off home, to make her daughter rehearse for the latter's theatre act.
But she leaves us with this message, "When my daughter grows up to decide her calling in life, I will tell her what I always advise other women too - there will be many hurdles and pitfalls, just keep doing your best. I can definitely say that it is still not an easy world for women. They are judged more, evaluated more to be looked as equal to men. Don't ignore your family for your career. You may have to put in that extra hour or walk an extra mile but then, it is the beauty that only a woman possesses - the power to juggle both family and professional responsibilities with elan and excels in both!"
And we part ways only to meet again and raise a toast to her award. I had to chase Dr Sheetal for three good months for this interview since she has been constantly flying in and out of the country. And today I am a proud woman too since Dr Sheetal happens to be my childhood friend and the way our lives have turned around from 'Oh, the girl child' to 'Wow! The Wonder Women'....leaves our parents immensely happy!

Dr Sheetal with her husband Atul and daughter Anaiah.
Do share the story of Dr Sheetal and also leave your thoughts in the comments below on how SHEROES can take forward its mission to empower the girl child, in turn empowering our women. Team SHEROES take pride in bringing you such exclusives since we believe in chasing a mission.
---

Mahima Sharma
---
A*****

It is good to read the interview.
S*****

Hearty Congratulations, Dr. Sheetal. Your name gives the coolness a woman needs to celebrate life as a scientist, researcher, daughter, wife and mother. You are an example for the unlimited power of Shakti. God bless you.
P*****

Kudos to Dr. Sheetal, patriarchy is quite prevalent in our society. I too have undergone this to prove myself. Need more people like Dr. Sheets to break the stereotype.
D*****

Congratulations Sheetal Nd good work Mahima.......proud of you both👍😃


Similar Articles You love