Amita Chauhan: SHECO Partner Of The Month For July 2020
Last updated 25 Aug 2020

.

1 min read
It's our utmost pleasure and delight to announce that our Super SHERO, Amita Chauhan, is SHECO Partner of the Month for July 2020.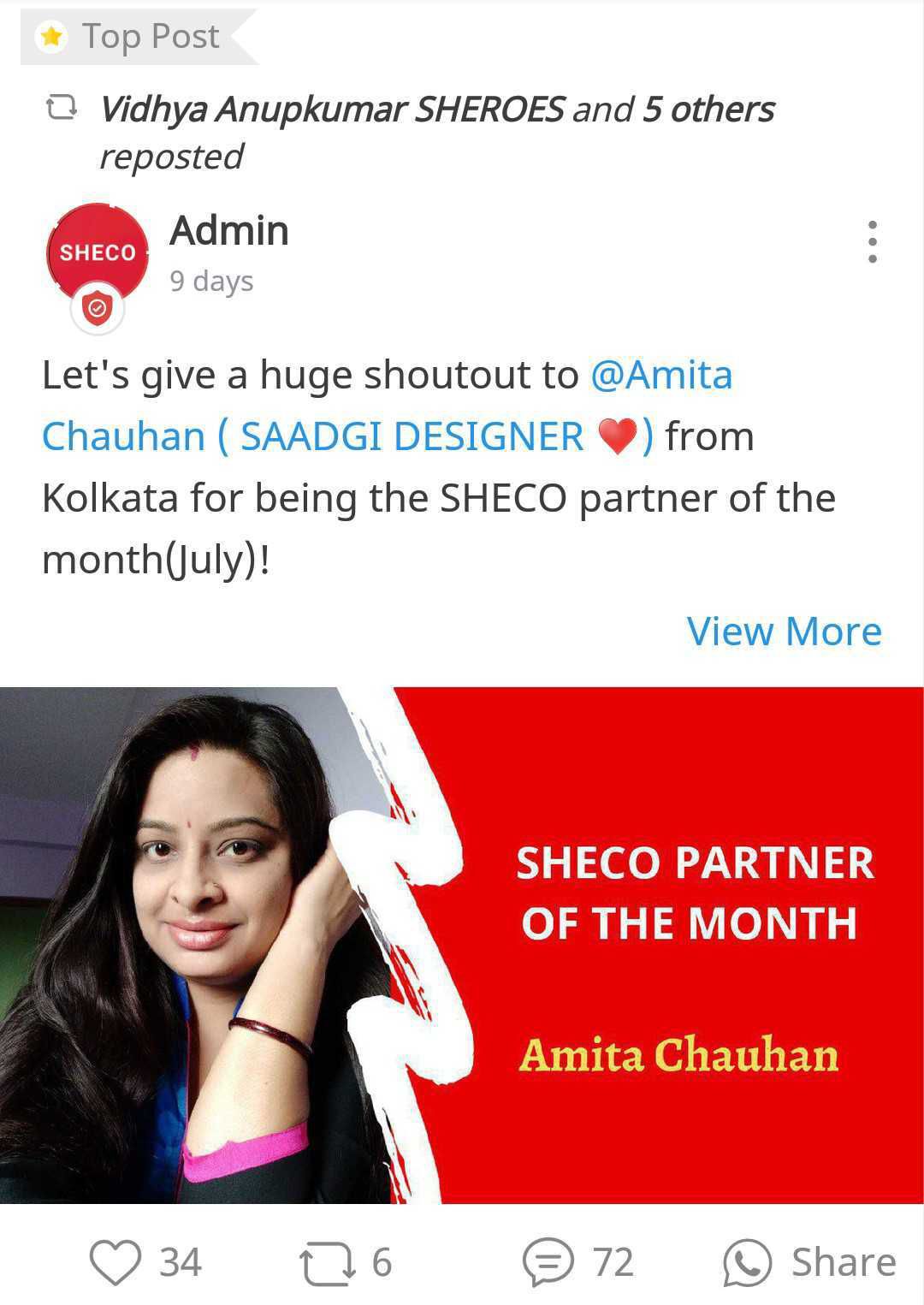 For those who are not aware of what SHECO is, this is SHEROES' social commerce program and stands for SHE Commerce, an ecosystem that connects brands with women entrepreneurs and leverages the SHEROES platform as a distribution channel for their products and services.
SHECO Partners can resell products from brands like Sugar Cosmetics, BeatO, Toppr, MedCords, Keto India, Emoha Elder Care Subscription and more, on the SHEROES platform or anywhere on the internet.
These high-margin brands are not available to resellers on other platforms, so being a SHECO Partner is a huge advantage, even if you're a reseller with other apps and programs.
The SHECO Partner program is one of the ways that SHEROES helps women earn money without investment from the comfort of their homes.
If you've never started a business before and are hoping to start a business from your Smartphone in your spare time, click here to sign up as a SHECO Partner.
​Also Read: 10 Secrets Of Successful SHECO Entrepreneurs
You'll get access to a number of benefits, including training with Sairee Chahal herself. 😉
But back to our favorite SaadgiDesigner, Amita Chauhan.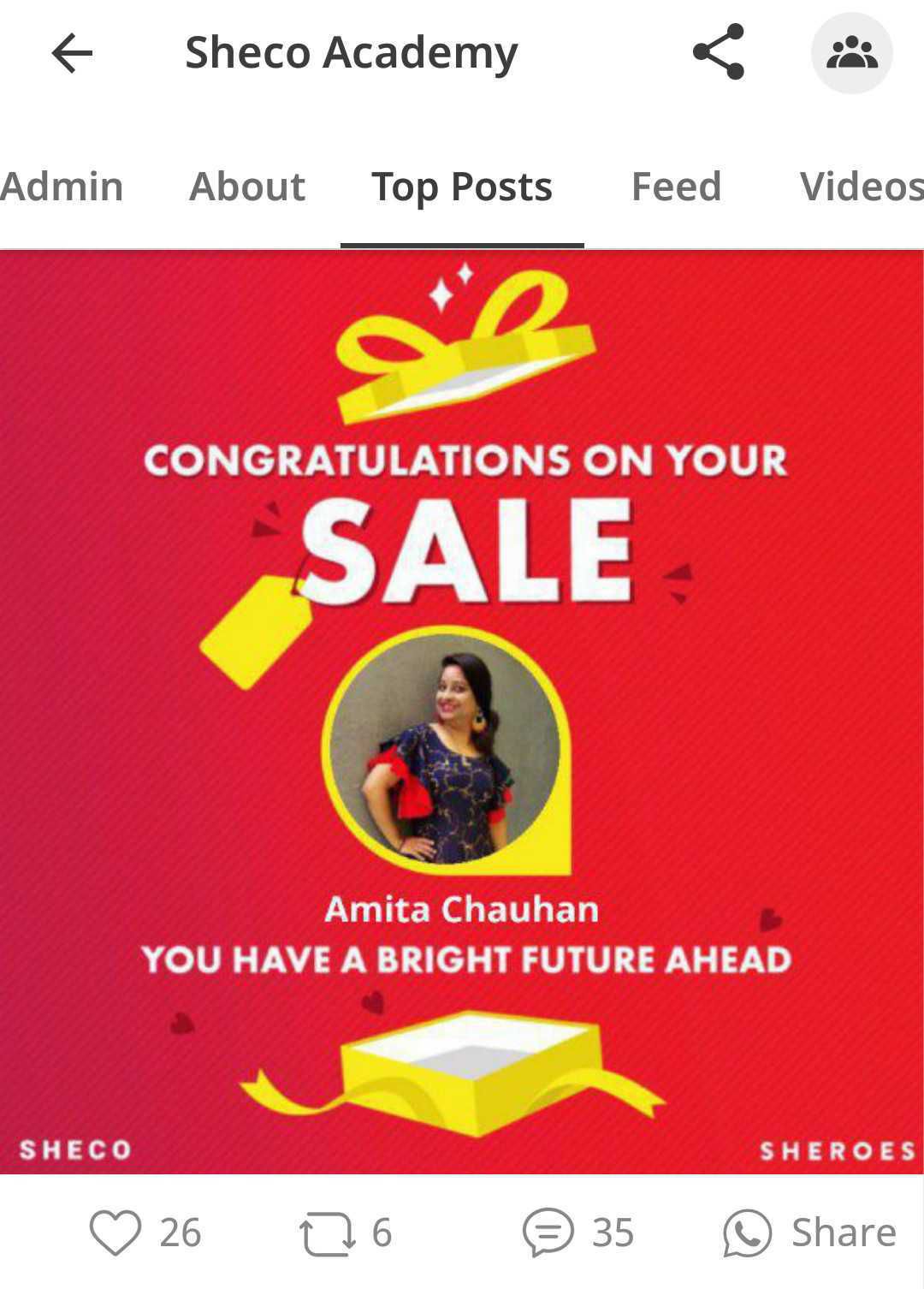 She has won us over with her bubbly personality and hard work. Amita shared with us her message to all SHEROES, and especially to other SHECO Partners, with some tips on how to be a successful SHECO Partner.
✨ ✨ ✨ ✨
I'm AMITA CHAUHAN from Kolkata, a fashion designer, Sheprenuer, Food Stylist, Blogger, Freelancer, Poetry and Content Writer, Artist, Online Tutor and a Homemaker .
I have 15+ years of experience dealing with customers. I love myself and love dealing with my lovely clients.
Though I had a good academic background and 8+ yrs work experience at TATA MOTORS, I was always fascinated to be a designer and have my own designer label. So, I quit my job and worked towards establishing my dream label and today I can proudly say that I a SHEPRENUER.
I joined SHEROES in 2018 and was active in lot of communities. I signed up for SHECO recently and realized the potential it has to grow and earn from home. I started sharing various products which are a part of SHECO catalogue and saw success in getting sales from my network.
Also Read: Know, Like and Trust (KLT) - The Key To Creating Happy Customers
My hard work and my dedication has never let me down. It might be slow sometimes, but I'm always appreciated by everyone who believes in me, my clients, my team, my family, my parents.
I felt really HAPPY for being the SHECO Partner of the month. The feeling was not much different than getting the Badge of Top VERIFIED SELLER OF THE WEEK with maximum sales consistently for weeks and months.
I get motivated with these Little Achievements to do more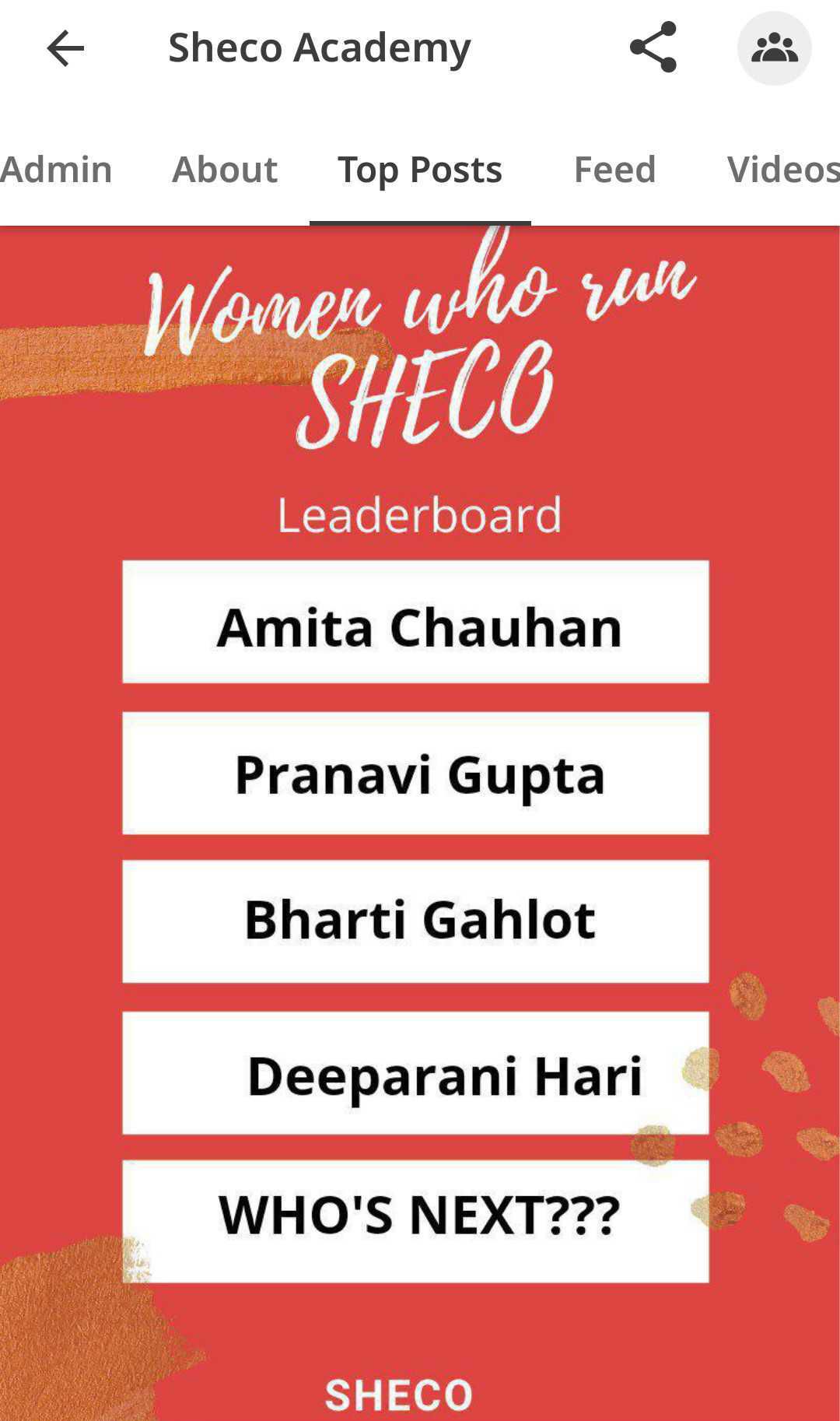 As SHECO Partner is my first title, I would like to add more of it to my account and live up to others expectations. It took lots of patience, hard work, with no time limit, and lots of follow up with my existing clients as well as new prospects.
I tried to be innovative and creative in my presentation, which I shared with my clients and also with the SHEROES Bazaar Community. Listening to Clients, learning about their requirements, their feedback, it helps me a lot.
My Message to SHECO Partners:
You are already doing great, Queen's! We are all in a place where hardly anyone can reach us. Just keep going with full passion and hard work. Your hard work will show results for sure.
Also Read: 6 Steps To Nurture Leads And Get More Sales
Lots of love to all my SHECO Partners and all the best to everyone. We are all going to rise with SHECO!
"WE ARE ALL SHEQUEENS - A WARRIOR IN OURSELF"
✨ ✨ ✨ ✨
Please join us in congratulating Amita by leaving a comment below.
Would you like to follow in her footsteps? Click here to become a SHECO Partner and earn money from home without investment.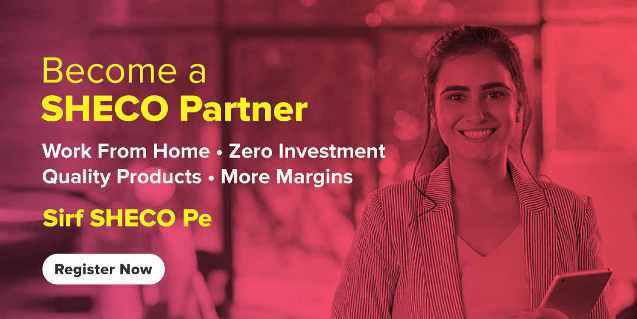 ---

Shiny Hoque
---
---
Similar Articles You love