How To Get An Air Hostess Job In India
Last updated 7 Sep 2021

.

1 min read
Want to know how to get an air hostess job in India? Learn all about air hostess jobs and how to become an air hostess in India.
Many young women in India are still interested in an air hostess job despite the fact that the travel industry and international flights were severely impacted by the pandemic.
Since the time of early commercial flights, an airline career has been thought of as a glamourous job for women. However, while being a flight attendant or cabin crew member seems attractive and exciting, it's not all fun and glamour.
You need a lot of effort, dedication, hard work, and professionalism to succeed in your aviation career. In the Glow & Lovely Career community, you can get free online career guidance from career coaches and professionals to help you find career opportunities.
What is 'cabin crew'?
The term 'cabin crew' is used to refer to the airline staff in charge of managing the area from the aeroplane's cockpit door to the rear kitchen area.
While 'flight attendant' is the gender-neutral term, male flight attendants are called air hosts and female flight attendants are known as air hostesses.
Part of an air hostess job description is carrying out the pilot and co-pilot's instructions in the area outside the cockpit.
Is an air hostess job safe?
In the movie, Neerja, we saw the story of the courageous air hostess, Neerja Bhanot, who sacrificed her life while protecting the lives of 359 passengers on the Pan Am flight 73 in 1986. This showed us that being an air hostess is not without its share of danger and heroism.
Flight attendants are given proper training in first aid, and in handling and rescuing passengers during an air disaster or a fire, but they are expected to put their passengers' lives before their own.
Air hostess jobs are also one of the high-risk jobs as far as pandemics are concerned since flight attendants travel across borders and are likely to be exposed to new outbreaks while coming in contact with passengers.
However, since vaccines are now essential for air travel, the fabulous benefits and perks of airline jobs do make up for these risks somewhat.
Is an air hostess job good for women in India?
Many Indian women are attracted by ability to fly across the world and visit exotic places and becoming an air hostess is often seen an escape by young Indian women brought up in a traditional environment.
Another perk is that flight attendants get to wear stylish uniforms and meet interesting and influential people on the job. As an Indian air hostess, you get to fly free to new cities, countries or exotic locations, and enjoy complimentary stay and benefits anywhere in the world.
Getting paid to travel as an airline hostess and meet new and interesting people along the way is definitely exciting for young women looking to expand their horizons. Some more perks of an air hostess job include free travel and hotel stay, free First Class food, and flexible work timings.
Flight attendants also get airline crew discounts at hotels, restaurants, car rentals and shops all over the world. Air hostess jobs will let you explore the world on a budget in ways that most people would never be able to afford.
As an air hostess, you'll also earn an excellent salary and be able to upgrade your lifestyle, become financially independent, build your confidence and self-esteem. Travelling to new places will expand your mind and make you more resilient, resourceful, flexible, and open to new cultures and experiences.
Another advantage of air hostess jobs is that you don't have to be highly educated as the minimum qualification required is a 12th standard certificate in any stream from a recognized board and a valid Indian passport.
If you choose to get a graduate degree before opting for flight attendant careers, a Bachelor's degree or Diploma in Hotel Management, Travel & Tourism, Hospitality Management or any related subject is your best option.
Flight attendant careers are perfect for unmarried Indian women from 18 to 26 years of age eager to see the world, especially those who would like to avoid traditional arranged marriages and hope to meet their future partners on the job.
However, aviation careers may not be suitable for those who intend to get married and have kids soon, especially if travelling constantly and leaving your family for days at a time is not the life you want for your kids.
An air hostess job can also take a toll on your health because of working across time zones, jet lag, lack of sleep and rest, eating unhealthy food on the move, and not being able to spend time with loved ones. In addition, having to deal with rude, obnoxious passengers can affect your mental well-being.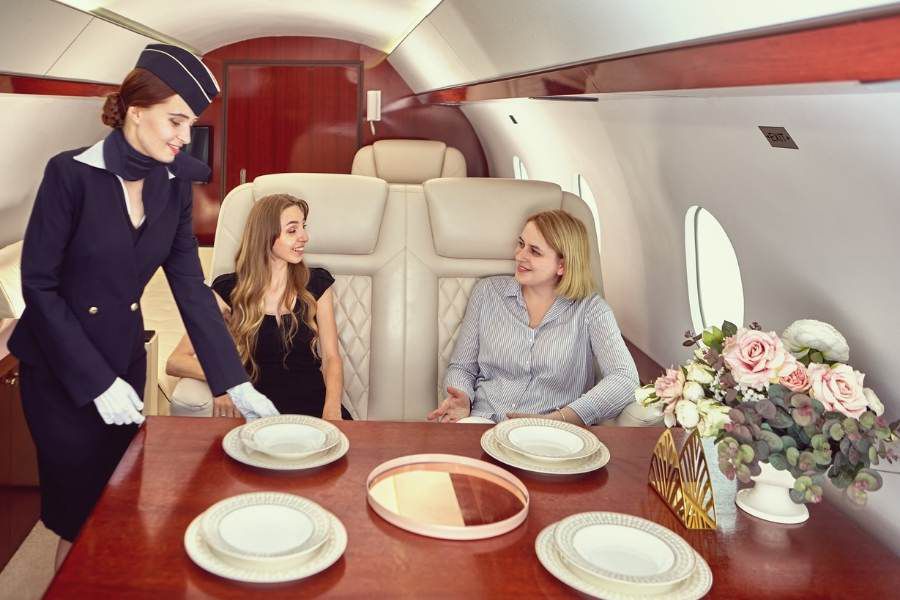 What are the duties of a flight attendant?
Despite the glamour and perks of an air hostess job, an air hostess' work involves hard, physical labour, like serving meals, ensuring the comfort and safety of the passengers, and cleaning up after messy kids and sick people.
A flight air hostess needs to be physically fit, good-looking, presentable, meet the height and weight requirements, have a pleasing personality with a caring attitude and the stamina to work long hours.
Having perfect spoken English skills, proper diction and an accent that can be understood clearly is an essential job skill for a flight attendant or air hostess.
Since you need to communicate with passengers from many different states and countries, knowledge of local Indian languages or foreign languages is also an asset.
What is the air hostess salary in India?
How much does an air hostess get paid in India? Based on salaries submitted anonymously to Glassdoor, the average air hostess salary in India is ₹35,854 per month, but it can vary widely.
For example, an Indigo air hostess gets an average of ₹37,730, and while a domestic flight attendant in India can earn up to ₹41,922 per month, an international flight attendant can earn ₹70,000 or more.
As far as starting salaries in India go, especially for undergraduate jobs, the salary of an air hostess in India is much more than in other careers.
So, how to become an air hostess in India?
The good thing about flight attendant careers is that you don't have to spend a lot of money on air hostess courses to get an air hostess job. Once you pass the personal interview stage and are selected, the recruiting airline will provide all the training you need.
Some of the subjects you will study during this air hostess training include:
Aviation knowledge
Good personal grooming
Communication skills
Interpersonal skills
Swimming skills
First aid skills
CRS training
Hospitality services
Foreign languages
In-flight services
Aviation rules and regulations
What air hostess qualifications do I need?
What qualifications do you need to become an air hostess? Can you become an air hostess without training? Here is a list of qualifications required for becoming an air hostess in India.
Basic air hostess qualifications
For domestic Indian airlines, the basic air hostess qualifications are a 12th standard certificate and an Indian passport.
You must be mentally and physically fit and pass a complete medical test as mandated by the airline. You must not wear spectacles (lenses are permitted) and must not have any visible tattoos, marks, or scars on your body.
So which are the best international airlines for air hostess vacancies and what are their air hostess recruitment criteria? According to YouTuber Sugandha Sharma, Middle-Eastern airlines only hire Indian air hostesses over 21 years of age.
So if you found an air hostess job after 12th with a domestic airline, you would have to work for a few years before you would be able to apply for Qatar Airways cabin crew careers, Etihad air hostess jobs, or Emirates airlines air hostess jobs.
Indian air hostesses can apply for British Airways air hostess and Air Canada cabin air hostess jobs after 12th standard, but Singapore Airlines offers air hostess jobs for female graduates only.
Good interpersonal skills
Airlines look for candidates who love to travel, have a warm pleasing personality, a beautiful smile, are easily approachable, and have excellent communication skills.
In the Glow & Lovely Career Community, you can find free online courses in India on topics like Self-Presentation Skills, Creating a Good First Impression, Basics of Communication, and Effective Conversation to help you develop better interpersonal skills.
The free Social Etiquette Course will teach you interpersonal relationship skills to maintain and respect personal space, practise good personal hygiene, and demonstrate proper etiquette and table manners in social settings after work.
Learn perfectly spoken English
During your cabin crew recruitment interview, the recruiters will judge you on your English communication skills.
If your English is not up to the mark, these free online courses with certificates in the Glow & Lovely Career Community will help you can learn perfectly spoken English and other important communication skills.
You'll also find free English for Tourism & Hospitality courses to help you learn and use travel industry-related vocabulary when applying for aviation jobs.
Send a well-written resume & professional photo
Always send a well-written resume with a cover letter and a professional photo wearing formal dress with your air hostess job application. You can use the free resume builder in the Glow & Lovely Career Community to create a professional-looking resume before you apply for air hostess jobs.
Create a good first impression
The airline recruiters will monitor everything about you once you step into the room - from your dress to your body language, the way you walk, smile, and present yourself, so make sure you're well-groomed for your air hostess interview.
Put on your makeup and a light perfume before you get dressed so it doesn't accidentally stain your clothes. Dress for the job you want and wear clothes that flatter your figure but are not revealing.
The air hostess' dress code includes a branded, elegant formal shirt with well-fitting innerwear and a matching skirt with stockings. You can boost your body confidence with shapewear to tuck in your belly fat, love handles, and thighs.
You can wear a dark business jacket since it is often part of the flight attendant dress code. It's best to avoid wearing jewellery as flight attendants are only allowed to wear a small and discreet pair of earrings.
Wear formal shoes with comfortable platform heels and use an elegant handbag to complete your flight attendant job interview look.
In the Glow & Lovely Career Community, you can find free courses on Self-Presentation Skills and Creating a Good First Impression to help you put your best foot forward every step of the way.
You can also do free courses on How to Impress in an Interview and answer Common Interview Questions during the recruitment process.
The air hostess recruitment process is extremely competitive so don't be discouraged if you don't make it through the first time as only a few candidates are chosen out of thousands.
To apply for air hostess jobs online, check the career section of the airline's website for alerts and announcements by airlines hiring flight attendants.
Is an air hostess job permanent?
Another disadvantage of air hostess jobs is that they are not permanent, nor is it possible to grow in air hostess or flight attendant careers, no matter how good a flight attendant you are.
However, after a few years of experience as an air hostess with a domestic airline, you can apply for air hostess jobs with international airlines or try for career opportunities in aviation such as administrative jobs.
Other jobs in the aviation industry include becoming a trainer or grooming instructor in air hostess training schools. Many former air hostesses have gone on to find acting jobs in Bollywood.
There are even former air hostesses who started their own image consulting, grooming, and etiquette businesses and have gone on to train Indian beauty contestants.
A former air hostess can also consider hospitality-related jobs such as front office manager jobs or guest services manager jobs with hotels. If you prefer work-from-home jobs related to airlines, you can consider remote customer service representative jobs.
The point is that the end of your airline career doesn't have to mean the end of your career altogether. You can always learn new skills online and consider changing careers in your 30s.
Did you enjoy learning all about air hostess jobs and flight attendant careers? Here's wishing you success in your career as an Indian air hostess.
Also read:
---

Priya Florence Shah
---
---
Similar Articles You love