How To Get Data Analytics Jobs For Freshers In India
Last updated 17 Sep 2021

.

1 min read
Want to learn about data analytics jobs for freshers? Here's how to get on the data analytics career path and find a data analyst job with no experience.
In this article, you'll learn all about the data analytics jobs description, data analyst job responsibilities, why you should work as a data analyst and how to find data analytics jobs for freshers in India.
What is data science?
As a Certified Data Analytics professional, Meghana Vyas, says, "Data is at the heart of everything we do in today's world."
"Data is at the heart of everything we do in today's world."
Technological advancements have increased the number of devices and systems that can generate data - from Smartphones to websites. To analyse, derive insights from, and make sense of all this Big Data, we need trained and skilled data analytics professionals.
Data science uses scientific methods, processes, algorithms and systems to extract knowledge and insights from Big Data. It allows you to see the bigger picture and predict issues, trends, and habits - skills that can enhance any organization and are essential today.
"After all, the best algorithm or data insight has no value if it can't be applied to everyday actions," says Rachel Stuve, Managing Director of Golden Seeds.
The field of data science incorporates skills from computer science, statistics, information science, mathematics, information visualization, data integration, graphic design, complex systems, communication and business.
What are data analytics jobs?
There are many types of data analytics jobs and data analysts are not just restricted to the science domain, as there are data analytics professional that come from both the science and commerce fields.
For instance, you could become a data management professional, data engineer, business analyst, machine learning professional, or data scientist. This means you can find data analytics jobs without coding knowledge, as you don't need coding to clean and normalize a company's data.
So, what's the difference between a data analyst and a data scientist? While complementary to each other, these data science jobs are not only defined by the tools they use and the skills required for each, but also by the roles they play in an organisation.
A data analyst gathers data with the aim of helping business leaders identify trends and make strategic business decisions, while a data scientist is involved with finding new ways of capturing and analyzing data, designing data modelling processes, creating algorithms and predictive models.
Are data analytics jobs in demand?
In 2017, IBM's report, The Quant Crunch: How The Demand For Data Science Skills Is Disrupting The Job Market, predicted that analytics roles would increasingly require skills related to big data, machine learning, and data science.
In 2019, data scientists partnered with data engineers to streamline data management and normalize the mainstream use of machine learning algorithms giving the field of data analytics a major push across global businesses.
Analysts predict that there will be more than 11 million job openings in the data science industry in India by 2026. In fact, hiring in the data science industry has increased by 46% since 2019.
"There will be more than 11 million job openings in the data science industry in India by 2026."
But, at the end of August 2020, there were still around 93,000 data science jobs vacancies in India, 70% of which were for positions with less than five years of experience. This means there are many data analytics jobs for freshers in India.
Is data analytics a good career for women in India?
If by a good career, you mean the future of data analytics jobs, the answer is yes! A career in data analytics is a good choice today as data analysis is required to make strategic and informed business decisions in most industries.
In 2021, data analyst job prospects are very good. According to India Today, India Inc is witnessing the rapid digitization of businesses and services, making it the second-largest hub for data science in the world.
As a result, there is a surging demand for professionals with specialised data skills in India and the high demand for data science professionals is one of the reasons for the high salaries being offered to data analysts.
Another advantage of big data analytics jobs is that you can work from home and do data analyst jobs remotely as your job mostly consists of analyzing data online.
This means a data analytics job is one of the best work-from-home job opportunities for women that pay a high starting salary and excellent perks, even at the entry-level.
Another advantage of business and data analytics jobs is that you can get into it from a different domain, like Dr Sandhya Kuruganti, who went from being an Economist to becoming an Independent Analytics Consultant.
These jobs will be in great demand even in the near future, so this is why a data analyst career future will be bright and becoming a data analytics professional is one of the best career choices for women in India.
What is the data analytics job description?
The field of data analytics requires a lot of mathematical calculations, graphs and statistical work, so if you love playing with numbers a data analyst job is the right field for you. So what makes a good data analyst and what is the data analytics job description?
If you're considering becoming a data analytics professional, you have to develop a technical skill-set, be very comfortable with numbers, and understand the data analytics job requirements. You also need to be able to apply logical frameworks to problem-solving.
Persistence and a sense of curiosity are essential as you're trying to solve complicated business problems and may not find the answer on the first try. You need to keep asking questions and adding the information you get to the solution until you get to the answer.
However, as part of the data analytics job's description, you will deal with numbers, not equations or derivations, and will have access to tools that help you deal with data analysis, once you acquire the skills required for data analytics jobs.
What are the data analytics job requirements?
The minimum qualification required for entry-level data analytics jobs is a Bachelor's degree, preferably in a relevant field such as Finance, Economics, Mathematics, Statistics, Computer Science, and Information Management.
You could also be an MBA, engineer, or accountant, but you will need a bachelor's degree for most entry-level data analytics positions in India.
As getting started in data analytics requires the knowledge of good statistical and analytical skills required for big data analytics, here are some of the data analytics job requirements you'll be expected to have:
Knowledge of analytics tools such as Microsoft Excel, R Programming Language, Python Programming Language, SAS, SQL, Tableau, and Big Data Tools.
A good understanding of applied statistics and how it applies to business data.
A good understanding of the analytics methodology or framework you apply to solve problems with data.
Knowledge of using advanced computerised models to extract the data needed and mastery of the algorithms required for the job.
"Once you have learned the basics and are confident about your skills, you must learn how to apply those skills in a business context," says Meghana. "Build proficiency in the use of an analytics tool and learn statistical and numerical analysis techniques to be able to analyse any kind of data."
Is a data analyst job stressful?
Data analysis jobs can be stressful because of the job expectations, tight deadlines, large volumes of data you have to sift through, and deliverables. You will often have to deal with demands from multiple people in the organisation.
However, data analytics may be the perfect job for introverts because you can end up spending a lot of time working alone, especially when working from home on a deadline.
Where can I learn data analytics skills for free?
How do I become a self-taught data analyst and acquire data analytics skills for free? Online data analyst jobs courses are the best way to do that!
As data analytics skills are not taught in many graduate programs, you can do the Free Big Data Analytics Course in the Glow & Lovely Career Community as part of your data analysis learning path.
This free course will help you gain essential skills to store, process, and analyse data to inform business decisions. You'll develop your knowledge of big data analytics and enhance your programming and mathematical skills.
You'll also learn key technologies and techniques, including R and Apache Spark, to analyse large-scale data sets to uncover valuable business information. The topics covered in this course include:
· Cloud-based big data analysis
· Predictive analytics, including probabilistic and statistical models
· Application of large-scale data analysis
· Analysis of problem space and data needs
By the end of this course, you'll have the data analyst jobs qualifications you need and the skills to approach large-scale data science problems with creativity and initiative.
The data analyst jobs educational courses from edX are free to access, but if you want a verified certificate of completion to show employers, it will cost USD 199.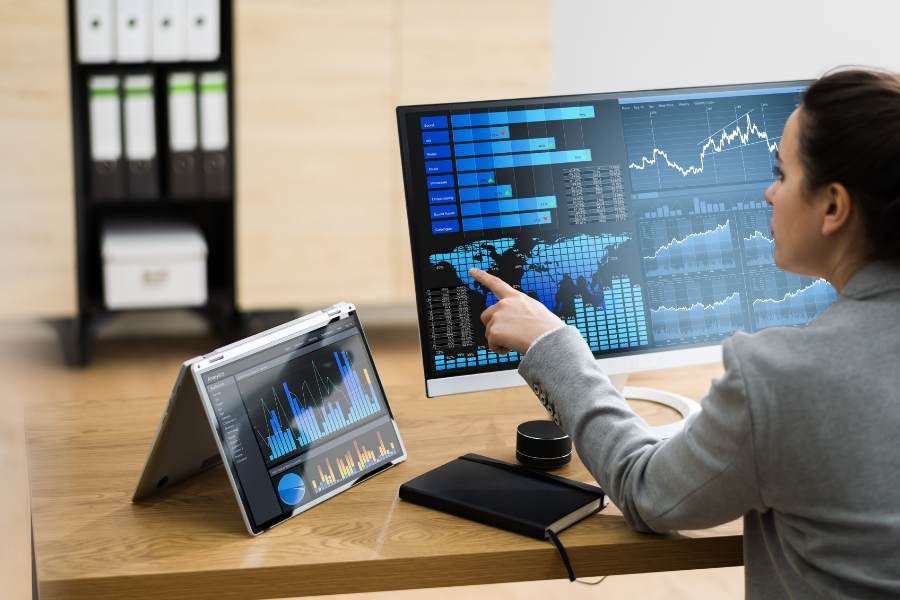 What are my data analytics job responsibilities?
So what is a data analyst job profile and what are the data analytics job responsibilities? The responsibilities of a data analyst are to:
· Work closely with the IT team and management
· Gather data from primary and secondary resources
· Clean the gathered data
· Analyse and interpret the results using desired tools and techniques
· Identify the trends, correlations and patterns in the results
· Prepare concise data reports
· Design and create relational databases
· Correct code problems and data-related issues
What is the data analyst jobs salary in India?
How much does a data analyst get paid and what is the salary of a data analyst in India? Do data analysts get paid more than other software professionals?
According to information on data analyst jobs from Glassdoor, the national average data analytics jobs salary is ₹5,50,000 per year or ₹38,243 per month in India. However, the average salary of a data analyst can differ from one organisation to another.
So while a data analyst with Tata Consultancy Services (TCS) might get ₹4,94,043 per year, an Accenture data analyst job pays ₹5,64,863 per year, and data analyst jobs at Google pay ₹8,13,107 per year.
How to get a data analytics jobs for freshers in India
Can I get a data analyst job with no experience? Yes, you have to start somewhere and you'll find some of the best ways to do that below.
As part of your data analyst job preparation, complete the Big Data Analytics Course in the Glow & Lovely Career Community so you have the skills and requirements for a data analytics job.
Once you've done that, here's how to get a data analyst job with no experience.
1. Get hands-on practical knowledge
To get a data analyst job as a fresher and gain a foothold in the industry, you must demonstrate a practical understanding of the subject, as this will go a long way in convincing recruiters to hire you.
You can get hands-on practical knowledge by applying for online internships, contests and competitions, and participating in community and personal projects.
If you're already working in another field and interested in a mid-career transition to data analytics, the easiest way to get practical knowledge in data analytics is to apply these skills in your current role and demonstrate value to your employer.
For instance, if you're in, SEO, content development, or other marketing jobs for women, you can use data to understand your customers, their interests and behaviours better, and help your employer get better results with their marketing campaigns.
2. Find freelance data analyst jobs online
Another way to find a data analyst job without experience is to get started as a freelancer or find data analyst jobs part-time with organisations advertising for freelancers or part-time data analyst job openings.
You can get a job as a data analyst with no experience by searching for data analyst jobs on Indeed and top freelance websites and applying to companies advertising for data analyst job openings for freshers.
You can find many data analytics jobs online, but without any experience, the salary for data analytics jobs for freshers may be lower than the industry standard.
3. Tailor your resume and cover letter for each job
When you start sending out job applications for data analytics jobs in India, don't just send the same resume and cover letter to all the recruiters and organisations.
Take the time to write a professional resume and cover letter tailored for every job application so you can make a good first impression. Recruiters are more likely to notice you if you have some knowledge about their organisation and mention it in your cover letter.
Data science and analytics is not just one career, as there are many different types of data analyst jobs that you can opt for. The data analyst career path will only help you get ahead with the skills you already have and the subjects you have already studied.
As a fresher, you need to know which types of data analytics job opportunities you're best suited for you so you can tailor your data analyst job resume and apply for the right ones.
If you need help making a resume for data analyst jobs, you can use the free resume builder in the Glow & Lovely Career Community.
4. Network and get mentored by women data analysts
As a female data analyst, you can join an organisation or community that offers networking, training, and mentoring opportunities to women in this field. Here are some forums for women in data science and analytics:
· Women in Big Data has a mission to strengthen diversity in the big data field and to develop leaders through technical training, career development, mentoring, and networking.
· Women in Analytics (WIA) aims to increase visibility for women making an impact in the analytics space and provide a platform for women to lead the conversations around the advancements of analytical research, development, and applications.
· ​Women in Data Science (WiDS) aims to inspire and educate data scientists worldwide, regardless of gender,​and to support women in the field. Attend the WiDS Worldwide Conference and regional events to network with other influential women in this field and learn from them.
· SHEROES' She Drives Data Community is a women-only data science community where you can share your data science ideas, questions, and resources and find some easy tutorials on machine learning.
I hope these career tips on how to get a job as a data analyst for freshers in India help you get the data analyst jobs and salary you want. Here's wishing you success with your career aspirations!
Also read:
---

Priya Florence Shah
---
---
Similar Articles You love