5 Women's Employment Rights in India You Should Know About
Last updated 6 Jan 2020

.

1 min read
Over the years, several enactments have been passed for the welfare of the working people and protection of Indian employee rights. Some of these enactments carve out special provisions for the women workforce. In recent times we have seen an increase in the number of women professionals in organizations, both public and private, due to the immense opportunities available and with the booming of specific industries like IT and start-ups.
Labour Laws in India for the Protection of the Working Woman -
There are various labor laws in India which exist as on date, which provides benefits and security to all employees (whether male or female). However, for this article, we will touch upon a few of the important laws and will provide you a gist of these laws.
As rightly mentioned by our honourable Prime Minister Mr. Narendra Modi in one of his speeches, women constitute 50% of our population and if they do not come out and work, then our country will never grow at the pace we all envision it to grow, and for that very reason, governments over time have taken special care to enact and amend laws to ensure greater participation of women in the growth story of India.
#1. The Maternity Benefit Amendment Act, 2017
Prior to this, the previous Maternity Benefit Act was passed in 1961. Just recently last year did this fresh Amendment to this act came into place. The amendment has not only expanded the term of the leave but rather has additionally prompted the presentation of numerous new provisions. A portion of the key arrangements in the altered Maternity advantage act are:
The maternity leave after the correction has been raised from the present 12 weeks to 26 weeks. Pre-natal leave has likewise been increased from 6 weeks to 2 months. However, a lady with effectively at least two kids is qualified for 12 weeks' maternity leave. The pre-birth leave, for this situation, stays a month and a half.

The correction has likewise broadened the advantage of the old represent supportive moms. A leave period of 12 weeks will be allowed to a lady who has adopted a child younger than three months. An authorizing mother is likewise qualified for a 12-week leave from the date the youngster is given over to her. An authorizing mother is characterized as a "Biological mother who utilizes her egg to make a fetus embedded in some other lady" (the lady who brings forth the youngster is called host or surrogate mother).

The Act has now made it necessary for businesses to educate a female employee of her rights under the Act at the time of appointment. The data must be given in written and in electronic form (email).

Female government employees are qualified for maternity leave for a time of 180 days for their initial two live conceived kids.

The new act has additionally presented the choice of telecommuting/work from home for new moms. Ladies could practice this arrangement after the completion of the 26 weeks leave period. Contingent on the idea of work, ladies representatives might have the capacity to profit this advantage on terms that are commonly concurred with the business.

Crèche facility has been made obligatory under the change for each foundation utilizing at least 50 representatives. Ladies workers would be allowed to visit the crèche 4 times amid the day.
The old Maternity Act, despite its existence, was not able to give sufficient leave for new moms. Ladies needed to battle to get from the latest relevant point of interest, with numerous leaving their jobs. Execution issues are one of the numerous issues that ladies confront when they join work too early. Thus, it was about time ladies were given the advantages they required. The new act won't just positively affect working ladies, it will likewise prompt a more advantageous and upbeat work culture.
#2. The Sexual Harassment of Women at Workplace (Prevention, Prohibition, and Redressal) Act, 2013 ("SHA")
Sexual harassment at work is not uncommon and we come across various cases dealing with harassment in the workplace. India finally enacted its law on prevention of sexual harassment against female employees at the workplace in 2013. The statute was enacted almost 16 years after the landmark judgment of the Supreme Court of India, in the matter of Vishaka and others v. State of Rajasthan ("Vishaka Judgment"). The Vishaka Judgment laid down guidelines making it mandatory for every employer to provide a mechanism to redress grievances pertaining to sexual harassment at work and enforce the right to gender equality of working women ("Guidelines"). Till the enactment of the Sexual Harassment Act, organizations were expected to follow the Guidelines, but in most instances, they fell short. The enactment of the sexual harassment act has brought the much-needed relief to the women workforce.
The definition of sexual harassment in the Sexual Harassment Act is in line with the Supreme Court's definition in the Vishaka Judgment and includes any unwelcome sexually determined behaviour (whether directly or by implication) such as:
physical contact and advances,

demand or request for sexual favours,

sexually coloured remarks,

showing pornography,

or any other unwelcome physical, verbal or non-verbal conduct of sexual nature.
Apart from dealing with sexual harassment complaints, an employer has additional obligations in the nature of:
providing a safe working environment,

display conspicuously at the workplace, the penal consequences of indulging in acts that may constitute sexual harassment and the composition of the Internal Complaints Committee (ICC),

organize workshops and awareness programmes at regular intervals for sensitizing employees on the issues and implications of sexual harassment in the workplace and organizing orientation programmes for members of the ICC,

treat sexual harassment as a misconduct under the service rules and initiate action for misconduct.
#3. The Factories Act, 1948 ("Factories Act")
The Factories Act is a legislation to secure to the workers employed in a factory, health, safety, welfare, proper working hours, leave and other benefits. The Factories Act aims at protecting workers employed in factories from unfair exploitation by their employers. The Factories Act also has exclusive provisions for women workers.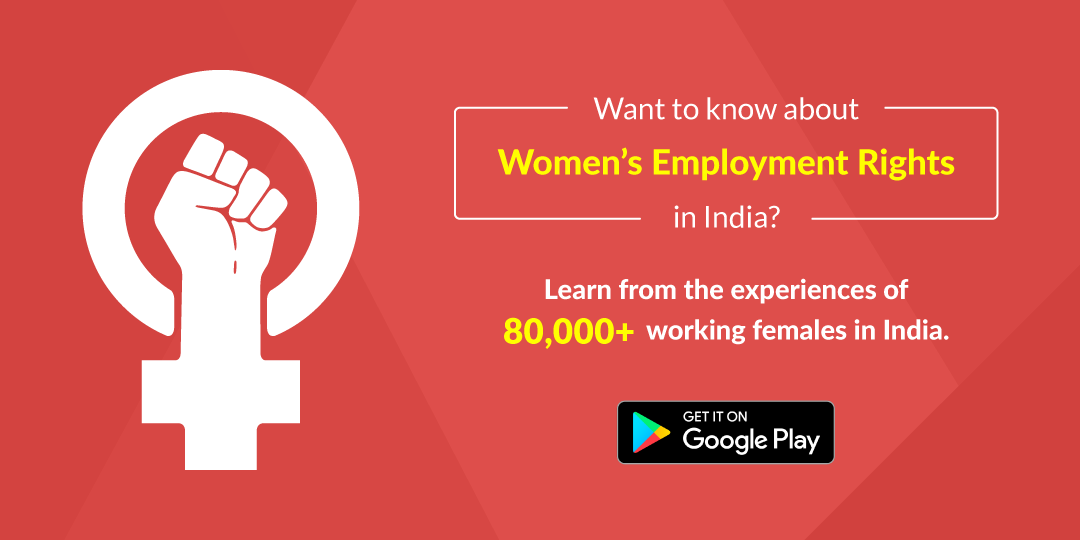 The Factories Act stipulates the working hours for all adult workers. It also provides for overtime pay to workers who work beyond the prescribed hours of work.

It also contains provisions pertaining to intervals or rest period during a working day, weekly off, annual leaves, etc.

Generally, in factories, it is observed that work happens on a shift basis, and there are requirements for workers to work night shifts. However, night shifts are required to be on a rotational basis. Further, shift timings and hours of work is required to be fixed beforehand by the management and displayed on the notice board of the factory.

No woman worker shall be allowed to work in a factory except between 6 a.m. and 7 p.m. The State Governments may by notification vary the limits as set out in this point, but in no circumstance will women employees be allowed to work between 10 p.m. and 5 a.m.

The shift timing of a woman worker cannot be changed except after a weekly holiday or any other holiday. Hence, women employees are entitled to get at least a 24-hour notice for their shift timing change.

There are prohibitions for women workers to work in a hazardous occupation, in pressing cotton where a cotton-opener is at work, and limits to the maximum permissible load.

The Factories Act also stipulates the employers employing 30 or more women workers to provide for cheches for children of the women workers, aged 6 years and below.

There are various other facilities which are required to be given to workers in a factory such as washing and bathing facilities for women, toilets (latrine and urinals separate for women), restrooms and canteens.
State Governments from time to time issue notifications for amending provisions of the Factories Act, which would be applicable to workers in factories in that particular State. For instance, on 1st December, President Pranab Mukherjee gave his assent to the Maharashtra Factories (Amendment) Bill, 2015, wherein, amongst other amendments, it is allowing women to work in factories in night shifts. Prior to the amendment, the Factories Act did not allow women employees to work in the factories in night shift between 7 PM and 6 AM. With this amendment, it also makes mandatory for factory management to ensure the security of women working night shifts.
#4. The Equal Remuneration Act, 1976 ("Equal Remuneration Act")
We time again come across discussions and instances of pay discrimination, where women workers are getting paid lesser than their male counterparts. This is a story across the globe, even in developed nations. Article 39 of our Constitution directs that States shall, in particular, have policies towards securing equal pay for equal work for both men and women,
Under the Equal Remuneration Act:
Employers shall pay equal remuneration to its male and female employees who are carrying out the same or similar work.

Employers cannot discriminate between men and women while recruiting unless there is a restriction under the law to employ women in certain industries
#5. Shops and Establishments Acts ("SEA")
The State Governments enact their respective shops and establishments act, regulates the working conditions of employees in a shop or commercial establishment. The SEAs provide for various provisions including provisions pertaining to (a) notice period for termination, (b) leave entitlement, and (c) working conditions like weekly working hours, weekly off, overtime, etc.
The Maharashtra Shops and Establishment Act, 1948 ("MSEA") is the applicable law in case of establishments in the state of Maharashtra and while the Delhi Shops and Establishment Act, 1954 is the applicable legislation in case of establishments based in the state of Delhi.
However, due to the nature of work of certain industries, they may require their female employees to work beyond the prescribed limits, for which they will need to take prior permission from the authorities. The approvals for allowing women to work late nights always comes with special conditions and obligations, on the part of the employer, such as, providing a safe working environment, providing adequate security during the night hours, provide transport to their residence after the late working hours for female employees in India. Women employees should be placed in a group while working at nights and not alone, etc. The IT sector has seen an exponential growth in the recent past and this sector is one which typically has a huge manpower. We see an equal number of men and women working in the IT sector, and they work late into the nights for their shift work, due to catering to countries across the globe, with varied time differences. In order to address the safety of women workers in this sector, apart from the provisions under the SEA, the State Governments have their independent IT/ITES policies, which address the issues of women working night shifts and the various measures to be undertaken by the employer to ensure their safety.
Other Enactments
Apart from the laws discussed above, there are other laws for the welfare and safeguard of employees. Additionally, women employees must also be aware of various enactments which provide for social security for employees such as, the Employee's Provident Fund & Miscellaneous Provisions Act, 1952; The Employee's State Insurance Act, 1948; Payment of Gratuity Act, 1972; Payment of Bonus Act, 1965, etc.
By Deblina Sen
Founder, Advent Juris
Deblina is the founder of Advent Juris. She has been enrolled with the Bar Council of Maharashtra & Goa since 2006. She was previously working with a reputed law firm in Mumbai as a Senior Associate in their corporate department. She has wide experience in corporate laws, and her practice areas include capital markets, employment, general corporate and commercial law in India.
If you want to start your own business from home with less investment than here is our Hindi article on it. Click Here to Read!!
Disclaimer
This article is for general interest purposes and may not be construed as legal advice. We cannot assume legal liability for any errors or omissions. Specific advice must be sought before taking any action pursuant to this article.
---

SHEROES
---
---
Similar Articles You love