{{data[0].User.first_name}} {{data[0].User.last_name}} {{data[0].User.personal_bios}}
{{data[0].Profile[0].summary}}
Q & A (1)
mentor Note (0)
Followers (2)
Following (0)
pallavi asked
---
Hi,I am looking for advice on how to become financially dependent women to support the family.I was working as process associates with mphasis,But from past 2years I am not working Now my baby is 2year old.So I want to start my career again but not into bpo .If you can suggest me some kind of guidlines what should i do what will b benificial for me and my family.
04 May 2017, 03:02pm
Dear Pallavi,\n\nFirst of all my apologies for a delayed response. \n\nI am glad that you are now ready to play the 2nd innings of your career and this is clear in your mind that you don't want to go back to BPO.\n\nMy advice to you is as follows:\n1. In view of your child's age, look at the support system you have and decide whether you want part time/ full time/ work from home job\n2. Put down a list of things that you are interested in and would want to evaluate for career choices. For example content writing, event management, networking, social media and administration etc\n3. Basis your interest areas see if there is a gap in your skills and expertise that you would like to fill through a short term course or professional training. If there is a need,do enrol for an appropriate course. Sharpening your skills will develop confidence in you to face interviews.\n4. Update your resume and register yourself on a couple of good job portals. Start applying for relevant jobs. Also get active in your old professional network and ask your excolleagues to recommend you for jobs in the areas that you are interested in.\n5. Update your LinkedIn profile so that recruiters can find you for relevant openings.\n6. There are many evolved companies who welcome women and provide opportunities to restart their professional lives. Look for those organisations and connect with them.\n7. Last but most important, have confidence in yourself and you will find that there is no dearth of opportunities.\n\nYou can get in touch with me for guidance or support.\n\nWishing you all the best.\n\nRashmi\n\nSent from my iPhone\n\n>
07 May 2017, 04:50pm
View Less
Dear Pallavi,\n\nFirst of all my apologies for a delayed response. \n\nI am glad that you are now re


Read more
Irfat hasan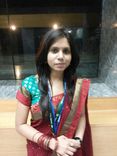 pallavi singh
People you follow will be shown here
Great! The question has been forwarded to SHEROES Career Helpline.