{{data[0].User.first_name}} {{data[0].User.last_name}} {{data[0].User.personal_bios}}
{{data[0].Profile[0].summary}}
Q & A (20)
mentor Note (0)
Followers (31)
Following (0)
Raagini Kaushal

Sairee Chahal reema jose Mounika sai

smriti middha
Shaily Malviya Deepa D Vaidya
Shruti Kukreti
Smriti Kumar Priyanka Kumar .
surbhita gupta

Roopa S Gowda
Karuna John Trina Pain pooja jaiswal Monika Arora vidhya J Bhavya Agrawal

Srishti Kush Monica Gupta Sonal Jain Indira priyadarshini ....my contact number 7573913060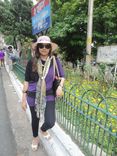 RACHANA BAGHELPMP

Neeraja Ganesh Priyanka Mathur Bharti yash Mahima Gaurav
Nivedita Ingle Deepika Mehrotra
Ajitha Kumari sonal lalwani
People you follow will be shown here
Great! The question has been forwarded to SHEROES Career Helpline.