Palak Nanda
Last updated 7 Sep 2018

.

1 min read
Here's What You Missed If You Weren't at SHEROES Summit Mumbai 2018
This year SHEROES is talking about Building Communities and the Summit rocked at Mumbai with the wild energy. The speakers, #TakeCharge stories, artists and the Community panel showcased a line up of inspiring personalities from different fields and this is what they had to say.
Captain Nivedita Bhasin talked about her life story and how her family supported her in achieving her aviation dream.
Her dad's golden nugget:
"Be sincere, Be honest, Be Truthful".
If you would have attended the SHEROES Summit Mumbai, your mind would have blown away by seeing the amount of inspiration at every corner.
"Don't expect every piece of the puzzle will fall at right place when you want- there's never a right time and everytime is first time!"
-Sangeeta Talwar, managing partner of Flyvision Consulting LLP.
She was the First female executive hired by Nestle India and she was there with Maggi, right from the inception. She also led the launch of the 'Jaago Re' campaign, the first social marketing campaign in India, which won international acclaim and several awards.
Life is all about making a change and change come when you decide to work towards your dreams. Miss Malini's session about safe spaces for women and how women can help and grow each other was a hit. Real stories were shared on the stage, bringing together the positivity of the #SHEROESSummit.
These ladies had a lot to share and their stories made an impact on the audience as they welcomed them on stage with enthusiasm. After the stories and fun with these ladies, the summit moved on a musical note with Tarit Pal and Harpreet.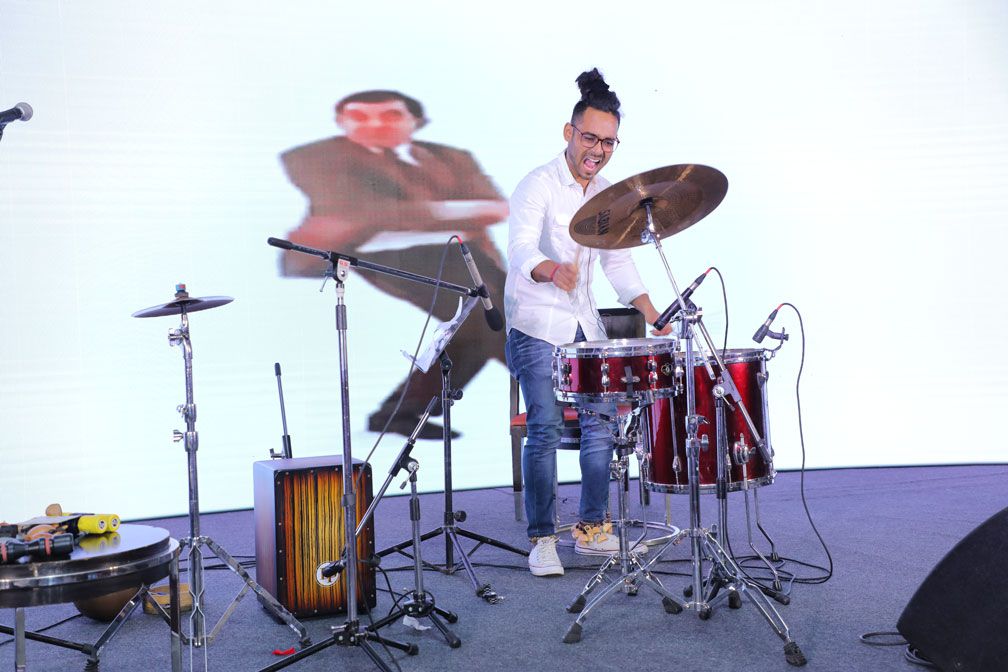 Music calms your soul and at the same time charges you with energy to go on with your life. Mr. Bean's performance on the screen on the beats of Tarit Pal was so crazy that it forced everyone to get up from their seats and move a leg on it.
You see our lives need a balance and who would have imagined that a summit can create an environment full of life and power.
Klay Prep Schools and DayCare handled the kids with love so that their mothers can enjoy the Summit without being tensed for their kids. I think these kinds of facilities should be everywhere to ease the lives of Mothers.
Plabita Borthakur, showed her acting skills in Lipstick Under My Burkha and talked about her struggles as an actor, stress, anxiety and quarter-life crisis. She shared her #TakeCharge story with the audience as the life of an actress is not all glamorous and happy as it seems.
Our partners UST Global aims at Transforming Lives, they are changing the pace of women in tech and are encouraging them to participate and grow their career with UST Global.
Humanity, humility and integrity are a part of their DNA and guide how they work with business partners and the global community.
To end the summit on a high note and enjoy their day to the fullest, the ladies let loose and showed their moves on the Summit. Believe me, the view was marvellous, the energy was magnificent and the day was filled with love and life. Here are the few snapshots of our community members and their glamorous moves:
We all had a blast at the summit, a fun day event which brought together the liveliness and inspiration in Mumbai. Next up we have SHEROES Summit in Trivandrum hosted at UST Global Campus.
---
Palak Nanda
---
S*****

It was truly and amazing experience.. We travelled around 1000kms and reached Mumbai on the same day by 7.30 am... The summit was worth it ! we came back with different positive soul. Now looking for Sheroes Summit 2019..
J*****

Want to attend next Summit
D*****

Hello.. I m a newone in this community.. Want to know more about the summit when its organise? .. How to attend? Want to know each and everything about it...
L*****

Oh i missed the programme, I would love to attend next program if held in Mumbai, please let me know.
S*****

What about in Goa?
A*****

waiting for summit in Amritsar ..punjab
N*****

Waiting for summit gauhati
K*****

Waiting for summit in gurgaon
M*****

I want to prove myself that I m not looser
J*****

मै अपनी बात रखना चाहती


P*****

Please meri sister ke ilaj ke liye mujhe paiso ki jarurat h
P*****

Please help money... Meri bahn bimar h
S*****

Excellent ! Congratulations. Pls organise at nagpur also.
T*****

A huge regard to the head of sheroes .. I feel too much lucky for iam also the part of it 🙏🙏🙏
S*****

Thank you team for this post.... . Its a great initiative to meet the community meet the leaders meet the winners..... which make possible by Sheroes team. I had missed that chance to attend the summit ..... but finally i got the invitation for Sheroes Summit at Delhi ..... definitely will go there with my baby. Thanks Sheroes Team

S*****

me too very excited
S*****

Ohhh by reading this post now I'm really so much excited for Delhi summit . Thanks for sharing @sheroes.
S*****

Who can attend dis sheroes summit ?? Any entry ticket need ??
Similar Articles You love