Vishakha Singh
1 Apr 2019

.

1 min read
Say Hi To The Real Life Ki & Ka
The world is changing and so are we. My parents' reaction on seeing Ki and Ka was "they have taken it a little too far. This can't really happen".
Well, I have managed to find a couple who are doing just that. The lady works while the husband is a stay-at-home dad who takes care of their young daughter. A new age couple for the new age world!
What's Her Situation
When I ask her so what's your situation like? How's your marriage? She responds, "Shandaar, Behtereen."
This reaction makes my heart swell with happiness. Her name is Nisha. She is from Panipat, Haryana as is her husband whom she lovingly calls Bhim ji. She hails from a farming family, where both her parents were farmers and she has worked alongside them.
She is a social worker, working with Piramal Foundation for Educational Leadership. She works in Rajasthan and stays in a village named Khetri, working in education. She stays alone while her husband stays in Samalkha Panipat, to ensure that their daughter has an education.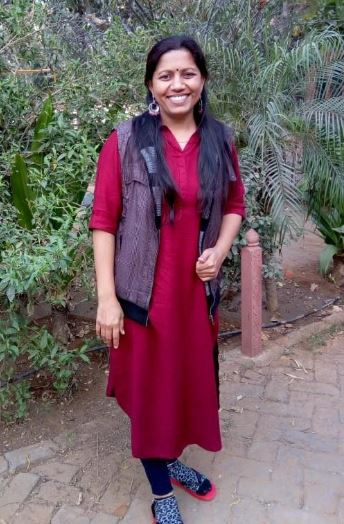 Why She Works And The Husband Stays At Home
They say it was a joint decision. She had her daughter from her first marriage and soon afterwards lost her husband at the age of 22. She chose to marry again at 26 and found love with Bhim Singh. Bhim ji, she tells, has also been a social worker all throughout as has she. He works part-time with Bharat Gyan Vigyaan, a national level NGO and is a state committee member.
The foundation of their relationship has always been freedom and giving space.
They had financial constraints and it was apparent that one had to work and one had to take care of the baby girl they were blessed with. Bhim ji chose to stay home and Nisha decided to work.
Bhim Ji And His Thought Behind Staying At Home
He doesn't feel threatened by his wife or gets insecure by being a homemaker. He does everything that any homemaker does. He cooks, washes utensils, sweeps and mops. He believes that every job is dignified and if a woman can do it so can he. He lives the progressive life and doesn't believe in being preachy about it. Way to go Bhim ji!
We need more men like you in this world. He doesn't suffer from ego issues and doesn't believe in explaining his life choices to people who don't understand.
Were There Problems? Hell Yeah!
When I ask her if there were problems, promptly comes the reply "obviously". The society was the obvious villain. There were all the relatives who did not like the idea that she stayed out and began gossips.
There were also those who thought of the man as emasculate. There was a demand for having another baby with the second husband (with his name) and also having a baby boy! But Nisha believed that if you did not want disparity then it was important to have just one baby.
There was also a pressing issue that leaving a girl with a man even though daughter and father, might prove to be a risk. But Nisha said that there is trust between all three of us. We believe each other and discussion is constant.
What Makes This Work
Discussions about the most uncomfortable topics and trust, Nisha says. We trust each other completely and have a transparent communication. Honesty is another cornerstone for our family.
We don't feed lies into a setup. And as a family, we have innumerable discussions about everything under the sun and my daughter Aarzoo is also a part of them. She is a mature kid and understands the situation. She is a very motivating child and has helped me gather wind for my wings. She is more attached to her father and finds it difficult to stay without him. As for her relationship with me, it is a close-knit one with space for any sort of talks.
"Jin cheez ko paap maana jata hai who sab cheez hum discuss karte hai"
In our time where women are increasingly going out of their houses and choosing to be working mothers, this family gives us a working model of how things can be sustained over the long term.
Nisha ji has been out of her house since 2005 and continues to be but that doesn't lessen her love for her family or her family's love for her. It's not the traditional setup where mothers are the caretakers at home. She is the financial backbone of her household and continues to dream for her daughter. When I ask how she finds the strength to fight against the society? She says;
"Agar hum samaj ke pressure ko le lete hai toh hum aage nahi badh paate"
Dealing with In-Laws
I am the eldest bahu and even though I am not their favourite I do everything in my capacity to nurture the relationship and maintain good relations with them.
I do not abstain from my duties as a daughter-in-law and try to be a good sister-in-law and have found a friend in the youngest sister-in-law. There was the initial pressure from them to have a male child but my husband was clear and reasoned with them. It wasn't an easy conversation but over 14 years of being a family we have made our peace with our choices.
Where Does She Find The Motivation To Go Against The Tide
"My mother! My mother believes that all women should stand on their feet and fend for themselves financially. She has motivated me to go out and work. Most women in my family got married after class eighth and tenth. I was the first woman to have gotten out and make a living in this manner.
Things have changed even within my family. My brother has changed the way he thought and we have tried to educate our younger sister better. Lekin jo nahi badalna chahte hum unse ittefaaq nahi rakhte lekin unko galat bhi nahi maante", she concludes.
When women stand up for their daughters there is nothing else that a woman needs to succeed in the world. If she has the backing and undying support from even one person, that is enough to make her the strongest. She can unabashedly be herself and fight till the very end.
This motivating story of a new age couple located in a semi-urban space of Samalkha is the example we need right now. We may sometimes not find the strength to go against the society and stand for what we believe in. But we forget that we are the society and what we do, shapes all of us.
Nisha and Bhim ji's love story is the fairy tale we should be telling to our children. Thank you to both of them for being candid and sharing their stories with us.
Will you be comfortable and supportive of your husband if he chooses to be a stay-at-home husband/dad? Tell us in the comments below. For more such conversations stay glued to the communities on SHEROES.
---

Vishakha Singh
---
U*****

Aaj bhi achhi soch wale man hai.

S*****

Strength of character from both sides. Th magic word communication..hats off guys
V*****

Hats off to you guys.
M*****

This family is a model family for all of us ....Things should change gradually..Women must be given wind to move Thier wings... Kudos to you guys!!!
V*****

Thank you everyone for your love and appreciation. It means a lot to me. And I am so happy to know that a couple I found so inspiring has resonated with so many of you! I hope to keep finding women who are leading change from the forefront!
R*****

Awesome. Kudos to the couple who fight all the norms of society. They are amazing example of true relationship.
H*****

Really amazing. I feel sometimes more than fighting with the society you need to fight with yourself. The fact about women working outside is good but often most of us today demand an equal status as well as contribution. In the long run, i feel when the financial pressures build on, you definitely want a partner who is supporting. Be it a man or a woman. Having said that, the reversed roles here - the way Nishaji is being like a financial backbone and Bhimji absolute support, without having any regrets or ego clashes is really commendable.
R*****

My Di I m proud of her ❤️😘😍
J*****

Inspiring .... Lots of respect to both of them for leading by example instead of not just talking ..
N*****

Amazing...... Can't control my emotions...started crying... Hope oneday my family, husband will also understand dis....
S*****

Nice work. God bless you.
P*****

Beautiful #fairy tale # God bless you both😍
K*****

Really yours is fairy tales.u blessed to have such motivator husband n so sweet n loving daughters
M*****

What an amazing story and also so well written Vishakha! 👌💪👭💞
D*****

A good read!!simply loved the wonderful story of ki and ka👌👍
D*****

Wow! This is different. I like the idea but i would rather my husband work nd get the cash or we both ✌
P*****

I absolutely love this.. so much different love story in real life. Hats off to you guys.
A*****

I have example too my father and mother. My father is stya at home dad, and my mother who passed away one month back was a working woman and her Name was Nisha too. That's why when we lost her everyone says we lost the Man of family.. I can write more.. Abhi itna hi..
B*****

Wah kya baat hai very impressive